American Dream Cuisine™
La Mirande Restaurant
Avignon, France receives

Society - Extraordinary
November - 2005
6 Stars & 5 Stripes
Cuisine & Service

The Ultimate Award:
Seven Stars and Stripes ™
"Quel bon accueil!" Arno our photographer was standing next to the entrance to La Mirande restaurant with his nose buried in his French phrase book. "What a nice welcome!" he translated smiling as we were being led into the restaurant by Chef Sommelier David Ripetti. By simple proximity to the Papal Residence, La Mirande restaurant is in a hallowed location well endowed with the virtues of the classical cuisine of Provence while seemingly safeguarded by the divine power next door. Its strategic position on a tranquil cobbled square at the foot of the 17th century Papal Palace is both central and yet off the beaten path. It wasn't long ago that the Stein family fell in love with the property and followed their dream to re-invent the definition of luxury based on consideration of the comfort of guests and not to the cost of achieving that goal.
| | | |
| --- | --- | --- |
| Sommelier David Ripetti wondered out loud "How was your day in Avignon?" in keeping with the genuine heart felt concern the entire staff had shown us throughout our stay. He led us slowly to our table, past the priceless Aubusson tapestry draping the wall, all the while Arno and I were straining our necks to take in the absolutely stunning 15th century French ceiling. I began to recall our day, filled with the clean crisp air of Provence, narrow cobbled streets slowly revealing their hidden antiquarian treasures at every turn, monumental Roman ruins some of which rival even those in Rome and especially the flowers, their perfume and their colors. Sommelier David Ripetti sat us right next to a Renaissance Belgian tapestry that seemed to cascade behind us on the wall. We were indeed ready for the culinary event to come. Our day was filled with excitement and pleasure, the kind of enjoyment that quietly ends with a celebration of cuisine. | | David Ripetti Thorsten Buehrmann |
The staff of La Mirande worked hard to make us feel invited, to feel that our presence was requested even appreciated. A list of 6 types of bottled water found its way to our table making it more difficult to decide on the Chateldon 1650 'gas' sparkling mineral water. We were told that at one time only King Louis IV was allowed to drink it because of its reputed healing properties. We dared to challenge its affect on a whopper of a hangover should the need arise. A special bottle of Castelas Huile d'Olive, a superb olive oil from Provence was poured on small plates and it proved to be peppery on the palette with a decidedly subtle taste of artichokes and sweet almonds. We relished it by dipping bits of homemade bread baked with walnuts and figs in this fragrant pool. We marveled at the hand-blown Riedel wine glasses that so gracefully dressed the place settings on the formally adorned table. We decided to check out the menu and as we focused you could distinctly hear the soft soothing harmonic melodies of a harpsichord playing a Napoleonic march.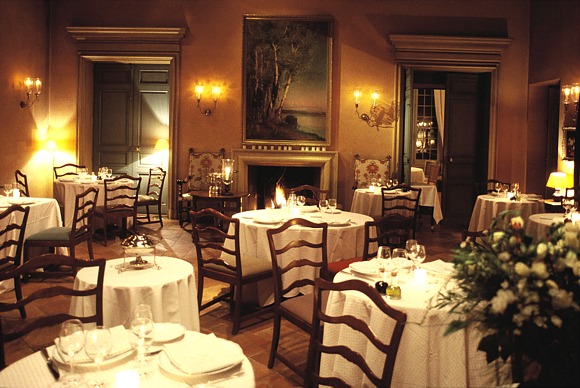 Please take a closer look
An irresistible archetypical rosè sparkler from Laurent Perrier was now being poured into slender delicate fluted glasses while we thoroughly scoped out the menu. With a flavor profile dominated by red fruits particularly strawberries, it beckoned recognition of its 100% pinot noir roots. Things began to move rather quickly from here on in since Executive Chef Sébastien Aminot instructed our servers to pull the menus so that he could begin to demonstrate his creative cuisine in full force.
| | | |
| --- | --- | --- |
| | | There was a bustle of activity as our four servers coordinated their movements around our table remembering even to refold Arno's napkin before he returned from the restroom. We were presented with a Tuna Carpaccio with Blini topped with Sevruga Caviar and a Tri-layered Patè with Sliced Black Truffles and Edible Flowers. We were awed by the painstaking detail endowed upon these works of art noting that even the smallest speck was a carefully carved bit of food. I saw Arno scrutinizing the table for something and realized he was looking for salt. It was only after moving things around in searching that he actually picked up the very thing he was looking for. There in his hand was a crucible filled with coarse salt and equipped with cute pocket-sized ladle for portioning. By the look on Arno's face I could tell that he was quietly wishing that nobody saw his obvious discovery. |
Plates were cleared with white gloves on and we were prepared for the next course with fresh silverware. An alert server quickly crumbed our table, since there were remnants of the scrumptious bread leading to the plate of oil like a Hansel and Gretel fairytale. Next up was Pan Seared Day Boat Scallops with Porcini Mushrooms as another appetizer and of course it was all I could do to refrain from asking for more. These scallops were so very tender in the center while the caramelization of the outer surface produced a sensation of flavor bursting in your mouth. But there were entrées yet to come.
| | | |
| --- | --- | --- |
| The focus now became the main courses, which were being placed in position on the table. For Arno there was Venison Filet with Braised Vegetables ala Provence in Bordelaise Sauce and for me it was Roasted Sea Bass with Fleurettes of Calamari in a Rougaille Sauce. As I savored the first bite of this artistic arrangement I was reminded at once as to the firepower of the Capsicum. This classic French tomato sauce comes from the Mascarene Islands and is typically spiced up in with the addition of Carri chiles. I concluded that it was time to sample another sip of the Chateldon 1650 mineral water to see if I could somehow benefit from its purported healing powers. Arno was busy dissecting his entrée to the sounds of muted pleasure together with gestures of raised eyebrows and satisfied nods. 'I think he liked it' was the thought that flowed through my mind as the table was once again being prepared for the next course. | | |
Oddly enough the wine selection for both entrees was a very drinkable bottle of CNP Clos du Caillou Les Quartz 2001. It was decidedly a Chateauneuf du Pape of the finest quality with the unmistakable signature of the Grenache varietal. It consistently earns scores of 90 or above each year and the grapes come from vines of at least 75 to 100 years old in fields exhibiting large chunks of quartz in the soil. It is harmonious and silky smooth with red currents and violets coming to mind supported by red and black forest berries, adding focus to the extremely smooth oak-free finish.

Arno and I sat for a moment in reflection of what we had just experienced at the hands of Executive Chef Sébastien Aminot. No doubt to us the cuisine was resplendent with originality, artistry, and resourcefulness combined with outstanding flavor profiles as well as good timing and pace. We noted preparations being made for the dessert course and our server approached with a bottle of Ron Zacapa Centenario 23 Year Old Rum from Guatemala. As I gazed at the bottle I wondered what this had to do with the entire evening. I watched as our server carefully poured its full bodied amber liquid into two brandy snifters exactly half an inch each, all the while gently caressing the bottle like a new born. I lifted the snifter to my nose and immediately realized that I was in the presence of something great.
"Visiting France, it was impossible to imagine passing up the cheese cart, which presented
an exceptional selection. The cheeses are usually arranged from left to right in the order
of type of milk, from front to back in order of increasing firmness." ~ TB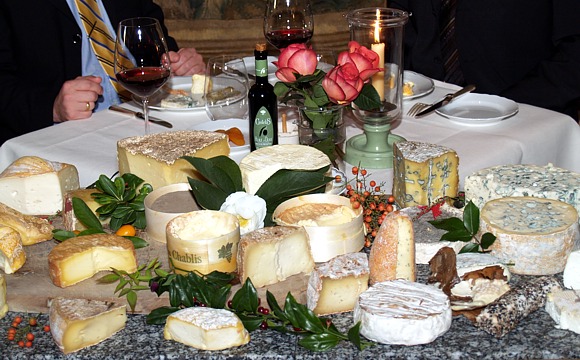 Cheese-Cart, please take a closer look
"The French... have surrounded food with so much commentary, learning and connoisseurship as to clothe it in the
vestments of civilization itself... Cooking is viewed as a major art form: innovations are celebrated and
talked about as though they were phrases in the development of a style of painting or poetry...
A meal at a truly great restaurant is a sort of theatre you can eat." ~ Richard Bernstein, The Fragile Glory
The first sip spelled Caribbean spices and vanilla with a type of complexity that would make it a crime to use it for a Mojito; it demands to be savored unadulterated and unaided. Just as the cuisine endorphins started to kick in there arrived a sort of pre-dessert or little creative treat of Tiny Shot Glasses filled with Coffee Gelee. Oddly enough this only added to the sublime pleasure of winding down after a great dining event and prepared us for a sort of dessert 'grande finale'.
| | | |
| --- | --- | --- |
| | | A super looking Granny Smith Apple over Torte with Ice Cream and Caramel Sauce was placed in from of me and for Arno it was Crème au Chocolat et Vanille covered with Chocolate Ganache and Caramel Filigree. Our evening was one of high cuisine and expert, caring service and it was on that note that we decided to take our double espressos to the well stocked ornate bar for a change of scenery. I must conclude that our experience was one of fine French dining owing much to the extreme attention to detail at every turn as well as the intrinsic desire for perfection; the same all the time. |
Sébastien Aminot is the Master Chef de Cuisine at the La Mirande. He previously worked with Alain Ducasse at the Plaza-Athénée in Paris, which is located on the prestigious Avenue Montaigne. In 2000 King de Cuisine Alain Ducasse joined their team and Sébastien Aminot's style though completely unique, was eloquently formed by his world renown teacher.
| | | |
| --- | --- | --- |
| "Aminot focuses on ingredients that come from the country, his technique is subtle and most appealing, his essence inspires ecstasy. Aminot has a unique talent for color concertos; his plate presentations don't get much art-zier than this. This young chef found a balance between the old and the new. His success is his passion; he can't loose with his focused energy and will leave a legacy if he keeps it simple. We had a wonderful meal, with fondest wishes." ~ TB | | Sebastien Aminot & Thorsten Buehrmann |
"A chef's kitchen is his church, he doesn't cook, he worships." ~ TB
Executive Chef Sebastian Aminot, a native to the Poitou Charente region, acquired an apprenticeship under Monsignor Ripauli until got his breakthrough under high caliber world renowned Alain Ducasse. It was with Ducasse that he got acquainted with a more contemporary cuisine, which leads to an explicit harmonious style of his own. Still relatively young at age, this chef has outstanding imaginative skills and must be watched.
| | | |
| --- | --- | --- |
| Please take a closer look | | A true gourmet meal deserves a grand finale and that shall be a cognac and a cigar in France. In our case - it was a Long Island Ice Tea and for Arno a Mojito. The Long Island Ice Tea was made with freshly brewed black tea, just the way it should be. I was served a Long Island Ice Tea in the Hamptons where the tea was unfortunately substituted with coke, I didn't like that. The cozy, definitely 'not anonymous' bar lounge pulled us in. Besides a decor that would put some museums into shame, there was a selection of interesting coffee table books and conversation pieces, nonetheless worthwhile amenities. |
by Thorsten Buehrmann (Piosczyk) & Arno Goudschaal

Editor: Ingrid Lemme

Editor-in-Chief: John Lomitola

© 2005 ~ Seven Stars and Stripes, Inc.