Philadelphia - USA

Society
September - 2006
6 Stars & 6 Stripes
Cuisine & Service
The Ultimate Award:
Seven Stars and Stripes®
The overall ambience at Lacroix was warm and decidedly Oriental I thought as Simone and I were led to our quiet table overlooking Rittenhouse Square. I pondered the restaurant's name as I carefully scrutinized the asymmetrical bonsai tree near our table and wondered how the very French 'Lacroix' had anything to do with all this. It was my wife Simone that mentioned how she felt here a sort of 'architectural acupuncture' of peace and tranquility coupled with a newfound respect for the importance of an uncluttered style that is functional. We were taking in the views from our table and the steady muted hum of people having conversation and seemingly enjoying the dining experience of one of Philadelphia premier establishments when the General Manager David Benton came over and greeted us cordially. It was 'Restaurant Week' in Philadelphia and Lacroix at the Rittenhouse was a participating partner, which meant that things were getting heated up with lots of patrons entering with high expectations of an exceptional dining experience. GM Benton is extremely proud of his flagship establishment and was there to make sure that all his patrons were comfortable during this critical time.
As we sat there chatting with GM Benton about the various aspects of guest satisfaction, he suggested that we try the 5-course tasting menu as a challenge to sample some of the best items on the bill of fare. To start with our server Troy followed instructions by bringing out a very special Cuvee Lacroix Champagne NV, Paul Goerg for an aperatif and it appeared golden honey yellow with fine mousse and a semi-dry light bodied structure with hints of white fruit on the palate. We followed suit by ordering as GM Benton suggested and prepared ourselves by noshing on some of the fresh baked assorted breads.

"Tataki of Kobe Beef deserves a presentation, this one was subtle art,
grabbing our attention until the last bite was gone and long thereafter." ~ TB
First out was the 'Amuse Bouche', or 'grettings from the kitchen' of White Tuna ala Plancha with Watermelon, Citrus and Star Anise Gastrique. This was an excellent interpretation of Tuna Carpaccio as it had a slight bite but was subtly tempered by the sweetness of the watermelon. We moved on to a Vouvray, Remy Pannier, Loire Valley 2005 which proved to offer a distinct dryness overall with a fruit forward playfulness on the palate. This worked well with Tataki of Kobe Beef with Anchovies and Peanuts in Textures as the butter-soft beef simply melted in the mouth while the astringency of the wine offered delicate support. Next came a very unique Sino-French creation of Grilled Maine Scallop and Banana Soup with Roasted Pork and Dark Chocolate and Cinnamon Flavors which just blew our minds with a cornucopia of sensations and it was aptly paired with a Cotes du Rhone, Jean-Luc Colombo, 2003.
| | | |
| --- | --- | --- |
| Incredibly, our entrée of Peking-Style Squab with Black Truffle Gnocchi and Dandelion Greens woke us to the sleeping giant of crossovers, as it seemed to cover all the major international bases. Naturally there had to be a well-balanced Pinot Noir, Reserve, Laboure-Roi, Languedoc 2003 in a supporting role working its balancing act with each culinary talking point. | | |
A further surprise of a different sort soon entered the arena with a triple dessert selection of Soufflé with Raspberry & Chocolate sauce, Chocolate-Cherry Transformation with Vanilla Ice Cream and a Special Crème Brulée. It goes without saying that a typical dessert wine like the Monbazillac, Doomaine de la Malette, 2001 should be paired to stand up to the terrific richness of the desserts. Monbazillac is a sweet white wine from Bergerac, east of Bordeaux and like Sauternes is produced from semillon and sauvignon blanc grapes for a honey-like straw gold color and complex structure.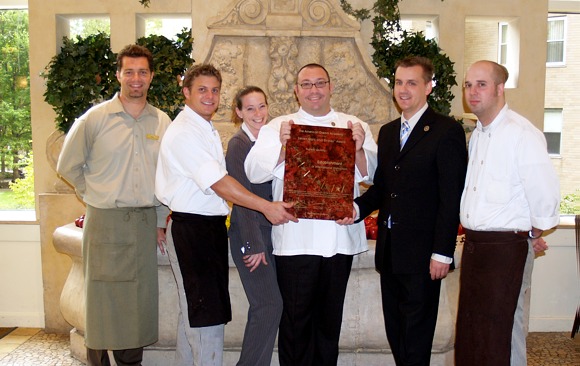 2006 Award-Hand-Out: Lacroix Restaurant at The Rittenhouse Philadelphia, USA
After several moments of savoring to allow time for reflection, Simone and I sat back and reminisced about this most satisfying dining experience. It is important to comment positively on the ingenuity and creative license demonstrated by Executive Chef Matthew Levin and his crew throughout our decidedly original menu featuring a fusion of divergent cultures.
by Thorsten & Simone Buehrmann

Editor: John Lomitola

Editor-in-Chief: Ingrid Lemme
© 2006 ~ Seven Stars and Stripes, Inc.