Le Mirador, Lake Geneva

Society
September - 2010
6 Stars & 6 Stripes
Overall - 'Cuisine & Service'
The Ultimate Award:
Seven Stars and Stripes®
It is a beguiling sight; somewhat narcotic in the sublime effect it has on ones senses while standing above the clouds and looking 1,300 feet down to the Mother of all lakes in Europe, Lac Leman. From our precipitous vantage point at Le Trianon Restaurant in Le Mirador Kempinsky, you can appreciate the lake's glacial ancestry and alpine character while witnessing giant arms disguised as snowy peaks embracing any one of a million different hues reflected off the surface of the lake depending on the time of day or night. It has an enormously beneficial affect on the appetite and so we tore ourselves away to enter the domain of Executive Chef Philippe Zemour, a relative newcomer at Le Trianon but accomplished nonetheless.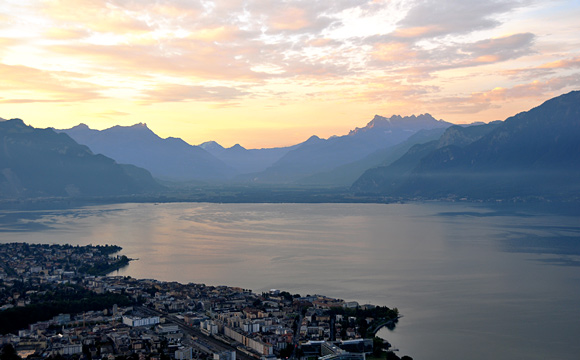 Le Trianon: View
Chef Philippe's résumé exudes acclaim and competence with stints in several Michelin starred properties in France and Switzerland as well as a touch of the exotic doing time in Bora Bora, Tahiti. This valuable experience translated into personal inspiration and creativity in the kitchen using the classical products and preparations of the region to forge his way at Le Trianon.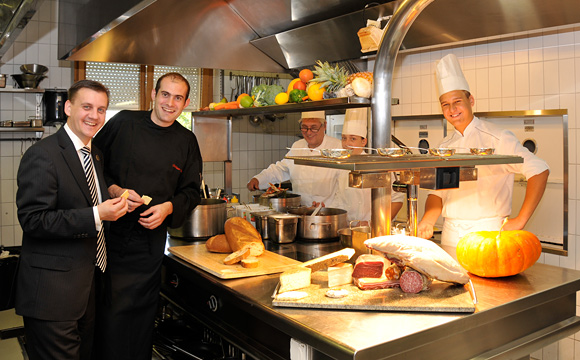 Le Trianon - Thorsten Buehrmann & Chef Philippe Zemour
As Mont Pèlerin looms behind and above the restaurant, we notice the remarkable architecture of terraced vineyards all around from which evidence suggests that vines have been cultivated in this area since Roman times. Chef Philippe has built his culinary concept based on local grape varieties and local produce that could be paired with and used in his regional specialties.

Le Trianon: Cuisine
To begin with Chef Philippe prepared an amuse bouche for us consisting of an artfully arranged platter of coconut chicken with sesame, foie gras mounds over rice crackers and crisp mousse rolls with caviar. A bottle of Domaine des Coccinelles Riesling-Sylvaner, an organically produced wine from Neuchatel, Switzerland supported all this. A first course of "Landes" Duck Foie Gras with preserved Chardonne wine-flavored spiced jelly and Valais apricot chutney with almonds appeared from the kitchen.
| | | |
| --- | --- | --- |
| This local preparation originates deep within the district of Vevey in the canton of Vaud further recognizing the value of using regional products. The second course presented itself as Zucchini Flower and Summer Truffle featuring smoked and souffléed young vegetables and crispy langoustine in a summer broth. The two courses were paired with Marquis de Pennautier Chardonnay providing both a creamy texture and long finish amidst a sensation of vanilla, spice and tropical fruit. | | Le Trianon: Cuisine |
'This could be the start of our Love Story', I thought as we paused to savor the very fine beginning of Chef Philippe's culinary show. So far we had been somewhat seduced by all this gastronomic wizardry and creativity. We moved on to Baked Sea Bass with Hot and Cold 'Gambas' in Open Ravioli with grey shrimp foam and lemongrass. This combination couldn't help but excite the palate with a strong contrasting of flavors and temperatures not to mention the addition of a delicate ocean-like foam to smooth out the whole dish. A local wine made up of petite arvine and chardonnay grapes from the Valais became La Tremaille Assemblage de Cepages Nobles, capturing the essence of tropical fruits tempered by spicy almond and a fine long finish.
| | | |
| --- | --- | --- |
| Le Trianon: Cuisine | | A second entrée of Pigeon from Racan rubbed with 'Sultan' spices, pigeon meat samossa, roasted red peaches and unsweetened cocoa flavored juice arrived arranged in three parts on the plate. The breast meat was perfectly cooked to medium-rare while the adjoining 'samossa' resembled a crispy wonton stuffed with well-cooked meat from the leg. To match the dark, rich full bodied flavor of pigeon, a bottle of Syrah, Frederic Zufferey, Chippis, Switzerland became the wine pairing. This deep, red syrah with lots of white pepper, chocolate and espresso seem appropriate for this entrée. |
For dessert, the Chef de Patisserie Adrien Bouvier suggested Raspberry in a Moist Biscuit, Ice Cream and Lemon Thyme Espuma. The triple layer symmetrical structure presented shapes and flavors to trick the mind into a sense of wonder. We couldn't help but accept a double espresso along with the finishing touch of a tower of petit fours as a nightcap. Well done Chef Philippe and team!!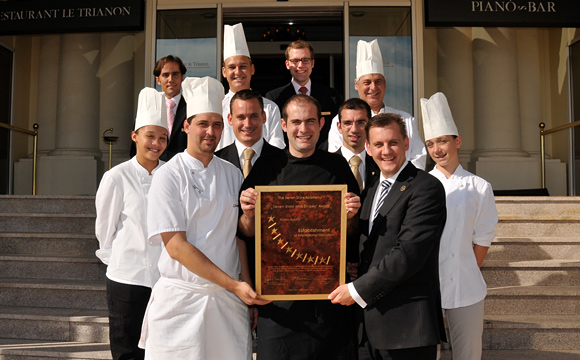 Le Trianon: 2010 Award
by Thorsten Buehrmann

Editor-in-Chief: John Lomitola

© 2010 ~ Seven Stars and Stripes, Inc.