Abu Dhabi, U.A.E

Society - Extraordinary
October 1st - 2006
6 Stars & 5 Stripes
Cuisine & Service
The Ultimate Award:
Seven Stars and Stripes®
"Each time you open a door around here it seems like you enter a new world" our photographer Arno said as we entered the Emirates Palace restaurant, Mezzaluna. After all, it was last night that we crossed the threshold of the underwater world of Sayed Restaurant for a very impressive display of culinary perfection featuring splendid seafood creations. Tonight we are told to prepare for gastronomic journey through the cuisine capitals of Tuscany, the Amalfi Coast, Sicily and Sardinia for a true Italian experience. A quick look up revealed a cavernous cathedral-like ceiling structure reminding us both of an ethereal Italian monastery. It is there at the entrance to Mezzaluna that we met Restaurant Manager Shambhu Acharya who welcomed us with a hearty "Buona Sera!" before offering us a quick detour through the restaurant while he shed some light on what to expect. As we stroll to our table, we pass a spotless open kitchen complete with a wood-fired brick oven and if it wasn't for the busy kitchen team moving smoothly around their domain, it could have been the ideal show-kitchen for a TV cooking series.
| | | |
| --- | --- | --- |
| We arrive at our table and suddenly it all makes sense. There, in front of us was a view of the pristine beach and beyond that the Persian Gulf as if juxtaposed on the canvas of a great Italian master. We look at the walls around us filled with gondolas depicted floating under Venetian bridges and then out to the beach again in a surreal game of scene changing between two paradises. A very warm feeling of assurance overcame me as I was handed the menu and I decided to remain, at least for the time being, in a sort of Italian-style suspended animation. | | |
We are told that the Executive Sous Chef of Mezzaluna, Luigi Antonio Piu had come to Emirates Palace via his humble origins from the village of Sassari, in Sardinia, Italy and brought with him all the earthy recipes from his life growing up with his parents. 'It doesn't get any better than that" I mused as the thought of a dine-around Italy featuring Chef Luigi's innovations seemed like the perfect way to go.
| | | |
| --- | --- | --- |
| | | From the first, it was decided between Arno and I to sample as many of Chef Luigi's creations as possible so that we could get a sort of highlighted tour of Italy's centers of cuisine. In Italy we were told, every dinner begins with the basics: bread and oil. At so it was that a basket of warm crusty rustic bread was placed in front of us along with olive oil; but not just any olive oil. We were given the opportunity to choose from a selection of Italy's finest extra virgin first cold pressing olive oils with the emphasis placed on a myriad of olive varietals. |
I think I whispered something like "I could live on bread and oil alone", to which our attentive server dutifully asked "More bread?" I guess I just can't keep a secrete. Sampling oils is much like sampling fine wines; there is a method and an art to it. Not all olive oils are created equal and one of the first things you learn is that different olive varietals produce different characteristic flavor profiles.
| | | |
| --- | --- | --- |
| The finest olive oils for tasting and flavoring are the 'first cold-pressed extra virgin'; they are known for their floral bouquet aroma, and the slightly acidic and spicy notes on the palate. Arno and I had a ball sampling as many as we could all the while using the great assortment of Tuscan breads and rolls for dipping platforms. My special way of delivering the goods was to doll-up the oil with salt, cracked peppercorn and shaved Parmesano Reggiano cheese. Ahhhh! Italian heaven in Abu Dhabi. | | |
Our server looked over at us and decided that it was time now to bring on the "Greetings from the Kitchen" before it was too late and there in front of us was placed Composition of Pan Fried Goose Liver topped with Pear, Timbale of Polenta with Dried Beef and White Asparagus in Cheese Fondue. It was a velvety smooth melt in your mouth rendition of foi gras that had been caramelized from the start in the pan thereby obtaining that wonderful crisp surface of glazed essence effectively enveloping a rich interior of deep earthy flavor. Northern Italians relish polenta as Americans enjoy their potatoes, with fervor.
| | | |
| --- | --- | --- |
| | | The addition of dried beef to the polenta allows for a display of some of the specialty items produced in the region close to the Swiss border. I'm sure that this is why Chef Luigi also included white asparagus and cheese fondue in his composition to fully round out the presentation as a perfect example of this area nestled in the Dolomites. An appropriate wine paring had to be the Pinot Grigio Friuli Venezia Giulia 2005 offering fine flowery and fresh fruit scents in a balanced and gentle medium body that finishes with crisp and dry spice. |
Antipasto was next on the agenda producing a course of Tuna Tartar with Infusion of Basil. What more can be said about tuna tartar except to remind you that you must start with the very freshest catch and you must only use ahi tuna (sashimi grade) to produce the desired results. Chef Luigi obviously has a great fishmonger for his seafood purchases as the tuna's only aroma was that of the ocean and Chef Luigi's cooking technique worked wonders to unleash its subtle taste profile. We moved now to an Italian icon, "La Pasta".
| | | |
| --- | --- | --- |
| In this case, we were treated to a regional specialty of Northern Italy consisting of Ravioli stuffed with Spinach and Ricotta with Lobster Claws and Sea Scallops in light Sage Sauce. I couldn't help but reflect on the exotic herbal essence of sage complimenting the fresh spinach and ricotta stuffed ravioli. It worked remarkably well with the lobster and scallops and we were pleasantly surprised to be served a couple of glasses of Gavi di Gavi 2005, which is made from an ancient Piedmontese grape varietal known as Cortese. The wine is crisp, medium bodied with hints of apple and citrus. We noticed a long clean finish and surmised that it would make a good summertime white wine, which when you consider it is summertime all year in Abu Dhabi it is the perfect choice. | | |
"...a dish that reflects the very essence of what Italian cookery is all about." ~ TB
It was time for the main course to arrive and Chef Luigi went with a dish that reflects the very essence of what Italian cookery is all about. Sliced Roasted Veal on Porcini Risotto with Balsamic Reduction was offered to us and eagerly accepted despite the sated feeling derived from the abundance of Tuscan bread we had already consumed. This time a full-bodied Barolo Giacosa Fratelli 2001 was presented along with the veal entrée making for a spectacular companion with a nice nose of licorice and cherry. It is very dry and tannic with good structure and rich vanilla and spice flavors on a medium length finish. Both Arno and I were especially impressed with Chef Luigi's ability to take a delicate cut of meat like this veal loin and roast it to perfection as to optimize its ordinarily mild flavor into a rich three-dimensional affair.
| | | |
| --- | --- | --- |
| | | As our servers were busy clearing the table for dessert, we noticed a serving cart being prepared for the next special event. With white gloves on, the captain approached the table to start the "Il Dolce" course of Sabayon Amaretto served with Vanilla Ice Cream and Fresh Fruits right in front of our eyes. The dessert wine chosen for the occasion was Vinsanto Chianti Classico 1995, a traditional wine of friendship and hospitality. The ancient method of making this wine has produced a dessert wine with a beautiful deep golden color with amber hues. The intense and fragrant bouquet leads to a full and lingering taste of almonds and raisins with a great finish. It was all we could do to push away from the table and get up now. |
We felt reassured that all the desserts are created and prepared under the direction of Chef de Patisserie Pascal Clair, a man of incredible talent. We witnessed some of his original delicate crystalline sugar sculptures and of course his magnificent arrangements of Petit Fors. It seems that this gifted team of culinary artists assembled here at Emirates Palace could only have been accomplished under refined skilled leadership.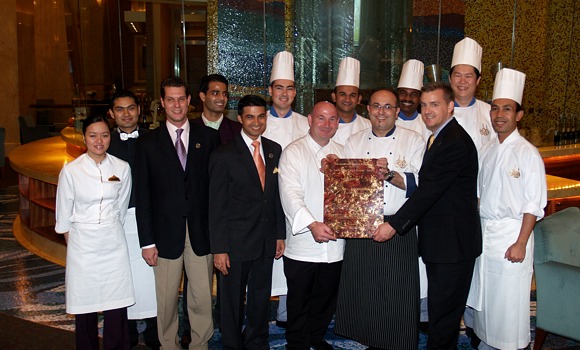 by Thorsten Buehrmann & Arno Goudschaal

Editor: Ingrid Lemme

Editor-in-Chief: John Lomitola
© 2006 ~ Seven Stars and Stripes, Inc.