Munich - Germany
Society - Extraordinary
September - 2003
6 Stars & 5 Stripes
Overall - 'Hotel & Service'
The Ultimate Award:
Seven Stars and Stripes®
The approach to Munich airport was as if the giant Airbus floated downward on a cottony cloud, unhindered by all outside natural phenomena. Our 're-entry' into the real world was gentle and calming and the flight crew continued to busy themselves with the comfort of the Upper Class passengers as we awoke to a new experience and preparations for landing.

Munich airport is large and modern, providing for many different ways of traveling to the 'Zentrum' and my ultimate destination, the Bayerischer Hof. My plans included a 2 night stay at this famous German landmark during Oktoberfest, the annual beer bash that brings Germans together with many other visitors from all over the world.

The idea is to celebrate autumn's harvest with one of history's oldest brews which clearly makes it all happen, and just about nobody does it better than the Germans. In fact it is rumored that they coined the phrase "Germans Gone Wild" before it became a cliché in modern times.

As I exited the customs area, I glanced up to see my name printed clearly and correctly on a framed poster being held by the driver who was scheduled to meet me. Helmut the driver now led me to the limo that was waiting nearby to deliver me to the Bayerischer Hof in opulent style. My contact Christina Graf-Eckhard the Public Relations Director for the Bayerischer Hof, would be there to greet me and check me into the hotel so that I could wait comfortably for my colleague Thorsten to arrive from Hannover with a brand new VW Phaeton TDI.

The newly released Phaeton is to become part of our tour throughout Germany, Switzerland and Austria in search of the ultimate award recipient for the Seven Stars and Stripes Global Award for excellence. As the limo wound its way through the city streets the driver Helmut began to give me a little history lesson about the famous Bayerischer Hof. It seems that in 1839 at the behest of King Ludwig I of Bavaria, a small guesthouse was purchased on the Promenadeplatz in Munich and eventually turned into a first class hotel in a matter of a few years. Just before the turn of the century the Volkhardt family acquired the property and entertained many prominent guests such as Empress Elisabeth (Sisi) of Austria.

Under the directorship of Herman Volkhardt the Bayerischer Hof prospered and survived several wars and the Great Depression. It seems he bestowed upon his son Falk the same vision and ethics that drove the business toward success and allowed it to prosper in the post World War II years to become the dominant force in the business of guest services. Current awards include "Business Hotel of the Year" and "Hotel of the Year" in 2000 & 2001, "Business Woman of the Year 2000" and "Hotel Manager of the Year 2002" awards for Innegrit Volkhardt the family's contemporary leader.

I felt well prepared by the time we reached the front entrance to the historical landmark. The limo door was quickly opened by a uniformed doorman, I was warmly greeted and all my belongings were efficiently moved into the lobby.

I entered looking in all directions at once, as I couldn't help noticing the incredible grandeur and elegance of all things around me. Ms Graf-Eckhard was waiting at the superbly designed Front Desk with kind words and a genuine concern for my well-being after my long trip. An invitation to have a quick chat and a welcome glass of Fürst von Metternich Riesling Sekt at the "empore" seemed like an offer I couldn't refuse. This is a well-balanced and harmonious sparkling wine produced from Riesling grapes from the Johannisberg region of the Rheingau in Germany, established in 1720.

I explained to Ms Graf-Eckhard that our plans were to experience the Bayerischer Hof with all its amenities and ambience also do a cuisine review in the premier restaurant of the hotel while combining all this with an Oktoberfest experience at the famous 'Kaefer Haus' located directly on the fairgrounds where all the action is.

Before I checked into my room I arranged for a guided tour of the premises for when Thorsten arrives, to get a true feel of this famous location that has played such a big part in the history of Munich. In the meantime, I was shown to my room and decided to relax for a while as I waited the arrival of my colleague.
| | | |
| --- | --- | --- |
| The suite was laid out nicely with luxurious feather down comforters and large soft pillows to match. The television was on and when I glanced around to view it I noticed a message displayed that personally welcomed both Thorsten and myself to the Bayerischer Hof with a warm greeting. Upon further inspection of the suite my eyes fell upon a lovely deluxe fruit basket (and the necessary knife to slice them) with premium German chocolates and large cookie heart fashioned out of gingerbread. Apparently the gingerbread hearts are a traditional gift during the Oktoberfest season and are often worn around your neck, in particular this one being emblazoned with the name Bayerischer Hof written in blue icing. Along with that there was a ceramic 'bierkrug' (beer mug) adorned with the hotel logo reportedly left for us in the event we wanted to start the Oktoberfest celebrations a little earlier than planned. | | Christine Graf-Eckhard & Thorsten Piosczyk |
The suite also hosted a control and command center located in the telephone system by the bed. You can turn the lights on and off, set a wake-up call, turn on the TV and control the volume and much more.

Suddenly, a knock on the door and a bellman entered with smiling Thorsten in tow after which a spirited conversation ensued with much talk about the drive down from Hannover to Munich with the VW Phaeton TDI over Germany's speed limit free autobahns.

It was time now to meet with Christine Graf-Eckhard for our pre-arranged tour of the premises and after quickly admiring the suite and the gifts including the excellent bottle of Bouvet Samur Saphir Brut Vintage 2000. "It was very zesty and full of flavor with a sort of sparkle in the bubbles. It reminded me of granny smith apples when it encountered my taste buds", remarked Thorsten after a sampling and a toast to our upcoming day of discovery.

Our VIP-TOUR of the historically eminent hotel with Ms Graf-Eckhard began in the lobby, which includes a business center, beauty salon and concierge.
| | | |
| --- | --- | --- |
| | | Thorsten reminded me that our next morning's excursion to the fair grounds for Oktoberfest would require a pair of 'lederhosen' for the photo-ops at the legendary Kaefer Haus. The concierge, having overheard us immediately sprung into action and before we understood why, he began a series of phone calls inquiring at the local men's stores for 'trachten', a traditional costumed shirt, leather trousers and a Bavarian felt hat complete with pom-pom. This was proof of the dedication and professional commitment to fulfilling guest's needs above and beyond the call of duty. |
Next was the Palais Montgelas, which is directly adjacent to the Bayerischer Hof and had become part of the hotel in 1972, just in time for the Olympics. It was built in 1804 and although refurbished many times, has retained a certain uniqueness with its own character gracefully reflected in its judicious use of prized antiques and the retention of the original wood paneling to create a princely ambiance. From there we proceeded to the penthouses on the roof and magnificent views of the city and all its splendor.

It seems that the truly fortunate who can experience living at the Bayerischer Hof can choose from one of many different theme suites in which to play out their fantasy. Guests can select one of the "Bavarian suites" which reflect traditional Munich life in genuine country style with open fireplace; or the "5th Avenue" suite which contrasts precious woods and fabrics in ambient light together in harmony; or the art deco "Paris" suite with subdued light and a fountain by the bed; or seduce yourself with exotic fruits and flowers in the "Paradise Island" suite with a bathroom of glittering sand and wait for the bellman to shout "De Plane!, De Plane!" as you arrive.

Thorsten was so inspired by what we saw on the rooms tour, that he was ready to trade in his new found 'lederhosen' for a sarong and a flowered lei. American Dream Hot Tip: Suite #535 to experience a tropical Shangri-la in the middle of Bavaria. Our tour ended in style and we were now ushered back to our room to prepare for our upcoming dining experience at the Garden Restaurant under the guidance of Cuisine Director Pierre Pfister and his capable team.
GARDEN RESTAURANT
Hotel Bayerischer Hof
Munich - Germany
Extraordinary - Society
September - 2003
5 Stars & 6 Stripes
Overall - 'Cuisine & Service'
The Ultimate Award:
Seven Stars and Stripes®
As we entered the Garden Restaurant at the Bayerischer Hof, Restaurant Manager Sigmund Biel greeted us immediately. His demeanor was warm and friendly and we were escorted to our table surrounded by an international crowd of happy guests seemingly savoring their dining experience. We strolled past a decorative table piled high with all kinds of attractive food items designed to enhance the appetite by giving you a peak of things to come. Later in the evening this table with its unusually tall bottles filled with 'schnapps' will play an important role in the winding down of a tastefully done cuisine presentation.
| | | |
| --- | --- | --- |
| As Thorsten and I were seated and began to scope out the menu, we were attended to by so many people that it almost made our heads spin. The sommelier brought us two Bellini Champagne cocktails, one made with fresh raspberry puree and the other peach. Then Restaurant Manager Biel came back to announce that our dinner had been planned and laid out by Executive Chef Pfister and soon after the first course of Warm Bavarian River Crayfish over Deep Fried Arugula and aged Balsamico arrived. | | |
This creative and tasteful appetizer was followed by the above pictured Lobster Tail and Papaya with twin sauces and Bean Sprout Salad. Both selections went well with the accompanying wine selection of 2001 Rheingau Riesling Weingut Robert Weil. Cover crops, exclusively organic fertilizers, and a complete absence of herbicides are particularly important to the production and excellent quality of the Weil wines. Aromas of hay with citrus, light-bodied fruit with lively acidity, flavors of bruised apples, light mineral notes.
| | | |
| --- | --- | --- |
| | | With the finishing touches being applied to the first two courses by Thorsten and myself, dinner was beginning to look like the gourmet Olympics. The superb quality and architectural designs of each course reminded me of works of art that were amazingly palatable. Our next course arrived of Sliced Loin of Bavarian Venison in porcini au poivre demi-glaze and thyme potato croquets and it was eagerly received by Thorsten. The ruby slices of venison offered a slightly wild aroma and delicately tender texture, while the porcini contributed just enough earthiness blended with the zest of whole black peppercorns. |
A glass of "Owen's Estate" Shiraz, South Eastern Australia Geoff Merrill, Mount Hurtle Wine Estate was offered as the perfect accompaniment to this artfully crafted main course. It was well balanced and appropriate for this game entrée and the wine produced a very dense display of dark red color while blackberries and currents wafted from the glass.

We paused briefly after the outstanding presentation of culinary mastery to continue to savor the wonderfully smooth lingering texture of the Shiraz. This wine should reach its full potential in another few years to come.
Clearing the table was a tableside performance as the servers cleverly moved in sync with each other to remove dishes and crumbs and reset with suitable tableware and stemware for the dessert course.

Caramelized pear tart with hazelnut gelato and champagne sabayon arrived with fresh berries and sugared red currants. A fluted glass of Veuve Clicquot Rose Reserve Champagne was presented and this sparkler was created by blending Pinot Noir, Chardonnay and Petit Meunier grapes to produce a balanced nose of apples and pears.
Espresso and petit fours ended this evening's activities in the Garden Restaurant, or so we thought until Restaurant Manager Sigmund Biel arrived tableside with one of those very tall bottles we had seen upon entering the restaurant. The bottles, though decoratively long and ornate, contain a special distillation of fresh fruits such as apricots or raspberries. It must be poured into tiny glasses very carefully as the bottles being so long must be held at a distance. There is much tradition and pomp involved in the consumption of this liquid, which is reminiscent of grappa and one must look in each other's eyes and toast to a 'shoenen abend' or fine evening in order to complete the custom.
| | | |
| --- | --- | --- |
| Sigmund Biel & Pierre Pfister & Thorsten Piosczyk | | A perfect time for a photo op presented itself when Executive Chef Pierre Pfister joined together with Restaurant Manager Sigmund Biel to have an event ending toast to a great dinner and a new and exciting day at the fairgrounds tomorrow for Oktoberfest. |
For those with enough energy and determination to continue the evening in style and elegance, there are several choices. Your instincts may lead you to the only room in the Bayerischer Hof to have survived the Second World War undamaged, Falk's Bar named in memory of Falk Volkhardt one of the family that has owned the hotel for over 100 years.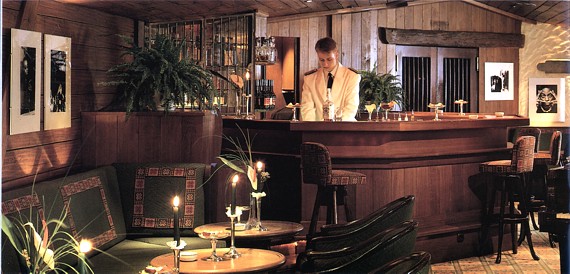 Maybe you feel like having a 'Tiki Puka Puka' cocktail at Trader Vic's Bar, the exotic Polynesian palace for an easy going evening till 3am? Or watch live concerts with Jazz greats without leaving your seat at the Night Club Bar? Quite possibly if the mood dictates you may wind up at the Piano bar to watch famous pianists entertain you from Thursdays through Saturdays. So many choices and so little time!

After a delightful night enjoying a creative and fulfilling cuisine experience at the Garden Restaurant, it was appropriate to sleep in the following morning and not worry about our next meal. Or was it?
| | | |
| --- | --- | --- |
| The smell of freshly brewed Jacobs Kaffe Kroenungs Mischung drew us like moths to a flash light. We walked zombie like to the direction of the aroma and somehow landed comfortably in a brightly lit, cheerily appointed breakfast room with a wrap-around view of the city. Most prominently featured almost everywhere you looked was the famous 'Frauenkirche', the large elegant cathedral and veritable icon of the city of Munich. Coffee was served immediately upon being seated by a well trained staff eagerly responding to our every request while uttering 'gerne!' or 'with pleasure!'. As I looked around the room and out to the view I failed to notice that Thorsten had snuck away and was eagerly wolfing down several 'weisswursts' at the buffet table. | | |
He later said that this delicacy automatically caught his eye when we entered and since it is only made for special occasions such as Oktoberfest he just had to have some. Germans really love their breakfast and it is reflected in the sumptuous amounts and varieties being offered at every buffet. There was an enormous selection of house baked breads representing most of the local varieties along with copious amounts of fresh and aged cheeses and cold cuts of Bavarian meat specialties such as Black Forest Ham and wursts, all exquisitely prepared by the Bayerischer Hof. I particularly liked the selection of yoghurts and toppings that often resulted in a gourmet debate each time I approach the table. Usually I just take a little bit of it all and then come back for more. I glanced over my shoulder to find Thorsten still in the 'weisswurst mode this time dipping it into 'susser senf' or 'sweet mustard' and expressing his pleasure with a "cat that ate the parakeet" smile.

After indulging in some fresh black currant juice and more Jacobs Kaffee, we decided that it was time to step outside on this glorious day and see a little bit of this historic city. The very capable concierge at the Bayerischer Hof supplied us with a terrific itinerary that would take us past some of Munich's most important features and edifices.
It was probably the balmy bright sunny day that brought out the masses as the old town was crowded with many strollers, all looking up at the magnificent structures all around us. The most prominent being the intricately fashioned Rathaus (city hall) where each tower, window and portal resembled a castle made of sand just waiting for the ocean to claim it.

MUNICH VIP-TOUR

Munich's most sought after destination has to be the infamous 'Hofbrauhaus' beer hall where patrons can enjoy large glasses of fresh draft beer in the same place that has existed for years as the pre-eminent meeting place for the local literati and artisans. Infamous I say because of Adolf Hitler's failed 'Beer Hall Putsch" during the 1920's.
The streets were lined with happy people in various stages of eating and drinking at the numerous coffee shops and restaurants offering sidewalk seating. Thorsten suddenly detoured from our unspoken direction and could be seen off in the distance waving for me to come right away. I found him posing next to a bronze sculpture of a wild boar seemingly mimicking his version of the same expression fostered by the creator of this beast. We headed next in the direction of the 'Frauen Kirche' the famous cathedral located in the heart of the city. On the way we heard lively music coming form a side street very close by and we decided to investigate. We followed the music for a while and turned several corners only to find a large crowd of people completely encircling a rather rag-tag looking bunch of musicians in a park. It turns out that this was a very animated group of Swedish students from a marching band playing for the public and passing the hat to pay their way across Germany. Ah, the innocence of youth!

It was now getting time to get back to the Bayerischer Hof so that preparations could be completed for our evening's Oktoberfest experience at the Kaefer Haus. Upon entering the lobby on our way to our room, the concierge called us over to the desk to inform us that a package had been delivered and was waiting in our suite. It was now evident that someone had taken the initiative to insure that the appropriate traditional 'lederhosen' had been procured for Thorsten for this special evening. Talk about attention to detail! The entire costume fit down to the socks and was accompanied by a personal note from the Director of Sales and Marketing wishing us 'Einen Shoenen Abend'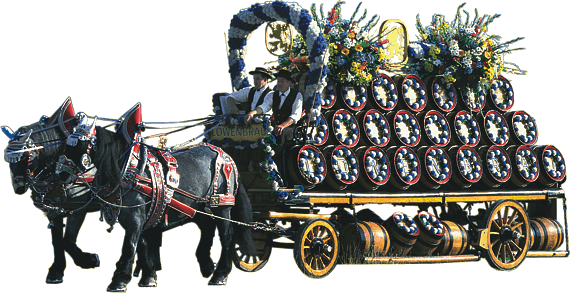 A call now came to the room to tell us that our taxi was waiting in front to take us to the fairgrounds. Thorsten and I beamed with excitement and anticipation at what was in store for us at the famous Kaefer Haus, the only wood framed structure allowed at the Oktoberfest except for giant tents. As we approached the area designated for the events, the crowds obviously became larger and much louder. Like colonies of carpenter ants, people swarmed everywhere carrying liter sized beer steins, funny hats logoed with their favorite beer companies, German and Bavarian flags and more obviously the German national obsession, BEER and WURST!
Although many people were obviously having a good time with their friends and families it was refreshing to notice that having fun did not necessarily translate to making trouble. The atmosphere was one of enjoyment of the moment, the events taking place and an unspoken respect for the strangers next to you. It was impossible to try to carry on a conversation without shouting to each other and the people around you and most of what you heard was just plain laughter.

Thorsten enjoyed showing me around the grounds and as we searched for the Kaefer Haus we couldn't help but marvel at the tremendous variety of local fast foods and the selections of beers available at every corner. We wound our way around the tents and amusement facilities stationed there until we found ourselves at the entrance to the establishment we were looking for.

Michael & Thorsten & Klaus
Michael Kaefer is well known in Germany as somewhat of an entrepreneur and head of the global company call Kaefer Feinkost, whose special expertise is arranging events from an exclusive intimate dinner for two all the way up to epicurean dining for 10,000 anywhere in the world. We caught up with him soon after arriving at the door, but every time we managed to start up a conversation, we had to move to let somebody pass as they were in the process of serving approximately 10,000 discerning patrons on this particular day.

Michael invited us to sit with him in the main dining room which was tastefully decked out in the traditional old fashioned elegant Bavarian wood trimmed décor. Even though each table had been reserved ahead of time some for as much as a year, Michael assured us that the American Dream Team was of course always welcomed even on such short notice. He began to explain to us his philosophy of a successful operation: well prepared gourmet comfort food at a reasonable price delivered in a reasonable time, in other words good value. It was obvious that his formula was a winning one considering the sheer volume of people scurrying back and forth all around us, many of them from all over the world.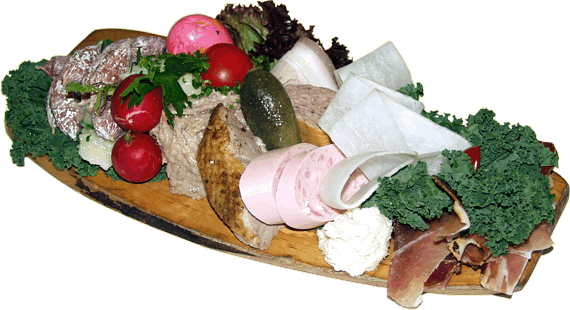 It was time to sample some of the local specialties that the Kaefer Haus had to offer. Michael recommended a 'fleisch braetl' for Thorsten to try as this was a sampling of various meats such as duck breast, cured aged ham and of course 'wurst' along with hard boiled egg, pickle, radishes and a hunk of black farmer's bread. For me we decided that I could try the 'kaiserschmarren', a sort of egg rich pancake that has been chopped up and sprinkled with powdered sugar and served with a sweet fruit compote made from plums. WOW!

Thorsten Piosczyk & Sabine Käfer
And what would all that food be without a couple of giant sized liters of fresh brewed Oktoberfest beer.

Thorsten needed no excuse to find the most beautiful girl in traditional costume to pose for a picture with the beers only this time it was Michael Kaefer's wife Sabine a former fashion model.

Good taste Thorsten!
By this time it had become almost impossible to remain in the dining room as many more happy patrons began filling up the tables and so we made a move for the kitchen. Michael was proud of this part of the operation more so than the front of the house as the necessity for assembly line -like techniques was essential and after many years of operation well perfected. The Executive Chef Klaus Geimann greeted us over the din of the well oiled machine hitting on all cylinders and made an effort to be heard.
He assured us that the volume of food that gets produced in his kitchen does not mean that the quality or taste has to suffer. We could certainly attest to that since our own experience was one of inspiring satisfaction.
Our curiosity peaked as our host allowed us to photograph actual orders of food being set up for delivery to the guests before being sent out.
The selections that we photographed all had one thing in common: they were well prepared, earthy and simple fare sometimes called comfort food back home. The pictured dish consisted of roast duckling with red cabbage, potato pancake and fresh made apple sauce. In the center was a small cruet with the pan drippings ready for dipping with a hunk of your favorite 'bauernbrot' or farmer's bread.
A lot of Bavarian food can trace its tradition back to the time when the people lived off the land literally by eating the wild foods of the forest and prepare them freshly each day at home.
The loin of venison pictured on the left is one of the favorite foods of the hunters of Bavaria past and present. This filet was grilled, sliced and served on top of 'spaetszle', a sort of gnocchi made from egg and flour.
Thousands of people pass through the doors of the Kaefer Haus each day and the food remains consistently good to the gustatory satisfaction of the masses. Of course what could possibly go better with all this earthy, old fashioned country food than the national beverage of the land, beer.
Thorsten figured it out right away that it would take an awfully special beverage to accommodate special flavors of the Kaefer Haus menus.

The beverage of choice was a 'no-brainer' of course since at this time of year, more beer was being consumed here at the fairgrounds than in some small countries during the course of a year.

Since Thorsten never does anything in a simple manner like just ordering a beer from the waitress, he called her over and issued a serious challenge.
"How many liters of beer can you hold at one time?" he dared and promised to drink them all if she could hold ten or more.

It was obvious to everyone but Thorsten that this time he may have met his match.

It seems that he picked on one of the most experienced employees at the Kaefer Haus who promptly rushed away to make him drink his words and returned with ten nicely foamed Oktoberfest drafts ready for consumption holding approximately 40 pounds and smiling no less!
It was very exciting to be in the midst of such a bee hive of activity and see things from the perspective of behind the scenes with the well-known owner himself, Michael Kaefer. Everyone that we spoke to in Germany knew about this legendary center for celebration and although many have tried to get in for years without success, it seems that they just keep on trying.
| | | |
| --- | --- | --- |
| John Lomitola & Thorsten Piosczyk | | It was time to move on and Thorsten suggested that we find another fun filled location that we might be able to sit down with some people to have a few 'Lowenbraus'. We walked from tent to tent observing thousands of well behaved people mostly complete strangers, sitting next to each other with only one thing in common, that is to enjoy the moment with your neighbor and your friends. Our biggest dilemma was where to sit and as we moved through the crowd the sound of Bavarian Um-pah music and the sight of people dancing on the tables filled us with joy as we tried to figure out who might be the most fun to be with for a few brews. |
We felt way too overdressed for the occasion since we had just finished our wonderful event at the Kaefer Haus but some party goers motioned us to sit with them and the two of us borrowed some hats to have our picture taken. The smiles tell the whole story!

As we left the fairgrounds, we felt that the partying would go on throughout the night and although there was a fairgrounds curfew of 1am, most of the people would carry on well afterwards at some of the local 'Gasthauses', pubs and 'Brauereis' in the area. Even the police seemed happy and Thorsten managed to get a hug from a female officer as we left the Oktoberfest to head back to the Bayerischer Hof for a nightcap.
Our taxi dropped us off in front of the great hotel located on the Promenade Platz, and we wobbled slightly as we entered the grand lobby. Many guests were also arriving back from the fairgrounds and everyone seemed to have the same idea to have a midnight cocktail at Falk's bar. This ornate bar was the favorite location for one of the originators of the Bayerischer Hof, Falk Volkhard who loved to sit there after a hard day and have glass of fine cognac.

The tall ceilings and faux art walls give it a regal look and window arches remind one of a secrete monastery somewhere high on an alpine meadow. The bartender works behind an ornate rectangular bar, and many superb cognacs and brandies line the shelves.
Both Thorsten and I noticed the King Louis XIII brandy at the same time and couldn't resist for this was a truly special moment. We toasted to the success of this fabulous place and to the great experience of joining with the locals and international visitors during this unique celebration of joy.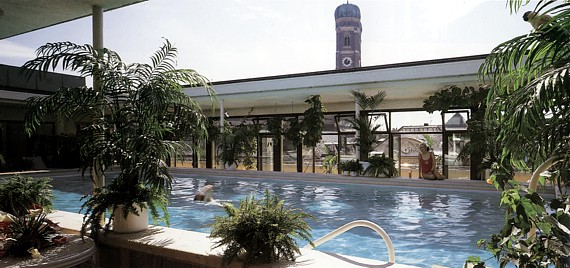 The next morning as we prepared to leave on the second part of our journey to Lago Maggiore in Switzerland, we were obliged to have an early morning swim in the pool on the roof of the Bayerischer Hof overlooking the magnificent city of Munich. Although eager for some serious laps for exercise, much of our time up there was spent gazing out over the city through the large glass windows retracing our previous day's tour through the historic city center.
| | | |
| --- | --- | --- |
| Thomas Gottschalk & Thorsten Piosczyk | | After drying off and freshening up, we quickly made our way down for a last sumptuous breakfast buffet of unequaled scale. Thorsten was the first to recognize the person standing next to him as we waited for the elevator. He began an animated conversation that resulted in a photo-op with "The Gummi Bear Guy" himself Thomas Gottschalk, the one that made every kid on the planet a fan of that colorful, rubbery, flavored candy. |
It seems that more than a few celebrities have enjoyed the facilities of the Bayerischer Hof over the years and continue to come back time and time again. The list includes: Dalai Lama, Franz Kafka, Nelson Rockefeller, Christian Dior, Phil Collins, Luciano Pavarotti, The Beatles, Andre Agassi, Muhamed Ali, Sir Sean Connery, Arnold Schwarzenegger, ...

As we stepped outside to say our good byes to Ms Graf-Eckhard and her staff we stood in front of the Bayerischer Hof for one more photo of the VW Phaeton in front of this magnificent edifice. While we were posing, a rather serious looking, no nonsense policewoman approached to move us back to the curb from our double parked position. A quick smile from Thorsten and the recognition by Ms Graf-Eckhard that they went to school together, bought us 5 more minutes to complete our assignment. We promised to meet again and slipped into the vehicle to continue our journey to Ascona, Switzerland and the Eden Roc on Lago Maggiore and then north to Vienna, Austria and the Grand Hotel Wien. For much more on those stories, follow the links below.
by John Lomitola and Thorsten Piosczyk

Editor-in-Chief: Ingrid Lemme
© 2003 ~ Seven Stars and Stripes, Inc.