Sicily, Italy

Society - Extraordinary
January - 2009
6 Stars & 5 Stripes
Overall - 'Hotel & Service'
The Ultimate Award:
Seven Stars and Stripes®
A trip to Italy in December will grab anyone's attention and Sicily in the winter is especially worth a visit. We were on the way to Mazara Del Vallo an ancient town in southwestern Sicily, which lies mainly on the left bank at the mouth of the Mazaro River but is administratively part of the Province of Trapani. We flew via Rome to Palermo and landed in the early afternoon hours of a still relatively warm December day. To our delight we discovered that there is a non-stop service available from New York to Palermo in season. At the airport we were expected by a nicely uniformed lady holding up a customized sign, which read: "Welcome Mr. and Mrs. Buehrmann, Kempinski Hotel Giardino di Costanza". Miss Linda inquired after our wellbeing and guided us to the hotel's limousine parked right at the exit where a friendly, uniformed driver, Asaro Vincenzo, seemed honestly delighted to meet us and greeted us with a solid handshake. Asaro stowed our luggage and after we had freshened up with moist guest towels, we were quickly on our the way.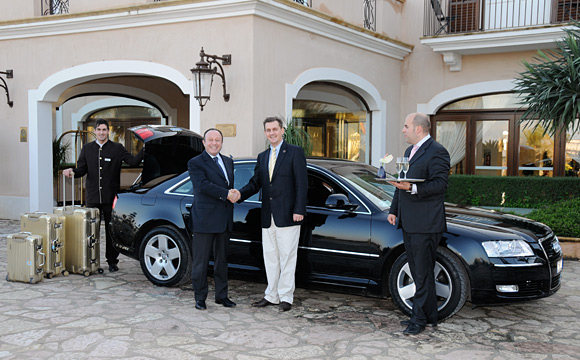 GM Paolo Sanavia & Thorsten Buehrmann
Within the one-hour ride from the airport to our resort in Mazara Del Vallo we were already able to get a little bit of the feeling for the rustic country sights, its people and their trade. While we were sipping on a couple of sparkling sodas on board, ignoring the nicely chilled Prosecco Spumante, we passed priceless historic sights and admired the enticing winter colors of the Mediterranean. As we came in distant sight of the hotel we saw two perfect rows of evergreen palm trees flanking both sites of the long driveway leading us directly to the main entrance. When the doors of the limousine opened we became instantly aware of the unique, flowery scent of the Mediterranean, even in the winter. Here General Manager Paolo Sanavia most graciously welcomed us.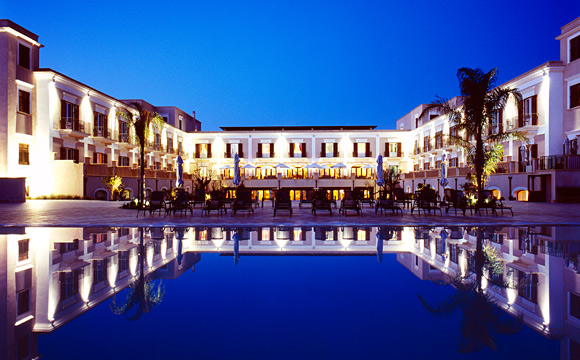 Kempinski Hotel Giardino di Costanza
Opened just four years ago, this luxury hotel with over ninety rooms is a small Mediterranean castle, for lack of better words. Check-in at the marble floored and columned lobby was pleasantly casual. We received the kind of eye contact that welcomes long gone friends. Quickly I confirmed our stay with my signature while my wife complimented the fresh scent of the exotic flower arrangements. Within minutes we arrived in our spacious accommodations, classy and comfortable, a grand bed, earthy tiled floors, precious throw rugs and a balcony with pretty views over casually manicured sprawling gardens, azure colored pools, Moorish fountains and meandering waterfalls. Another dominating feature of this 25-acre fairytale estate-resort is the full-service NAKHLAH health and beauty Spa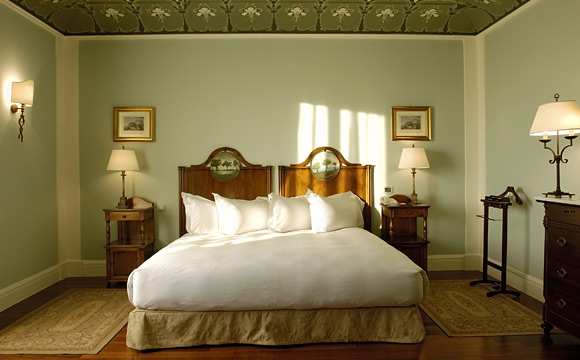 Kempinski Hotel Giardino di Costanza - Room
We took quick showers in the luxuriously designed bath facilities of our suite with spa amenities by Molton Brown. Who would have known, that when Molton Brown opened its doors first as a hair salon on South Molton Street in London's Mayfair, that some thirty-five years later their products would delight the guests of the Kempinski Hotel Giardino di Costanza in Sicily and then some?
| | | |
| --- | --- | --- |
| We tried the mouthwatering delicacies of Pastry Chef Gianni Ciotta, which we took as a sweet promise for the upcoming 'Back Stage Culinary Journey and Kitchen Party'. This unique culinary event (CLICK HERE for additional pictures) showcased the talent of Executive Chef Salvatore Barbara and his team through cooking demonstrations using his favorite 'in season, local and fresh' ingredients. Some of the recipes were already in use by the indigenous people of Sicily. Mazara was founded by the Phoenicians in the 9th century BC, with the name of Mazar (the Rock) and today it is an agricultural post and home of one of the largest fishing fleets of Italy. | | Welcome - Kempinski Hotel Giardino di Costanza |
In days gone by, the local people certainly prepared food in simpler ways, but here we were looking at food art inspired by the land and sea of the Mediterranean, displayed 'on location' in one of the squeaky clean kitchens of the resort. After a good night's rest and an opulent, casual breakfast feast the next morning, we couldn't wait to get to the spa.
| | | |
| --- | --- | --- |
| Kempinski Sicily - NAKHLAH - SPA | | General Manager Paolo Sanavia had added medical facilities to the already existing, renowned health and beauty spa facilities, rather recently. The new medical spa offers DNA pre-testing, analysis and full body evaluation and basically the entire repertoire of some of the most acclaimed and long established medical spas of Europe and Asia. My wife and I were scheduled for Sicilian High Salt Energizer treatments, which are based on natural local products such as Trapani salt and extracts of citrus fruits. This couple's treatment allowed us after the exfoliation process to float together in a pool of high concentrated, deeply penetrating and energizing salt water. |
Later we met Spa Manager Mariella Sforza, a gracious and knowledgeable lady with a soft-spoken voice. She explained the benefits of the treatments we had experienced and others we were scheduled for, such as 'The Kempinski head, neck & face massage' and on New Year's Day morning the unforgettable Nakhlah Spa - Couple's Herbal Massage - and the longevity program OLIS. OLIS was designed by Professors Giovanni Spera and his team, implementing the most recent scientific discoveries in age management, medicine and diagnostic technology.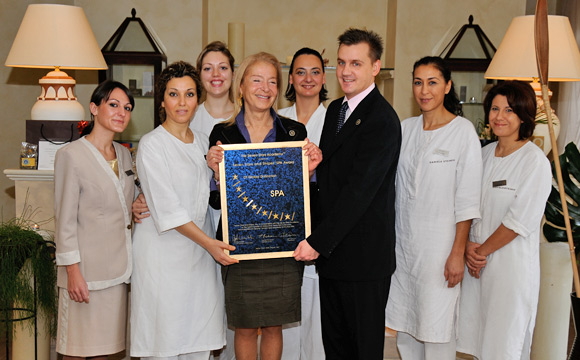 2009 Kempinski NAKHLAH - Award-Hand-Out
The center offers programs that identify your body's real age and treats it with early diagnostics, therapy, education and preventative medicine. If you are yearning for a real health, beauty and medical spa in the countryside, here you are surrounded by the best Mother Nature has to offer all together in a superb, world-class spa. One of the classiest New Year's Eve parties we have ever attended started at 4 pm with a little "Christmas Market with flavors, fragrances and Sicilian craftsmen" - a charming event and crafts show in the grand lobby.
| | | |
| --- | --- | --- |
| The New Year's Eve gala started at seven (CLICK HERE for additional pictures) with Spumante cocktails and canapés with live music and songs - introducing the agenda of the New Year's Evening Grand Gala to all. And a Grand Gala it was this one of a kind New Year's eve event: "Shakespeare - A Midnight Sicilian Dream" ! The staff outdid themselves and so did the performers, dancers, singers and musicians alike. It was an unforgettably colorful night at the Kempinski Hotel Giardino di Costanza, the night with … Shakespeare in Love! | | |
The grand balls of the Golden Age came to life through fabulous costumes, quotes, scenes, songs and dance from the most brilliant of all his plays within the course breaks of our gala dinner. The New Year's Eve menu was a delicious show in itself, the service well rehearsed with the ever-guiding eyes of GM Sanavia directing. I shall not readily forget the moment when at midnight a multitude of perfectly chilled Moet Chandon Imperial bottles 'popped' with Massimo Bonafaccia taking on the 'duty' for our table, and a rain of colorful confetti lit the faces of the well-dressed, cheering, ecstatic crowd welcoming Baby New Year.
When it comes to Shakespeare in Love, the world understands just how important those amazing scenes are and we must applaud the team and the management of the Kempinski Hotel Giardino di Costanza, who executed a New Year's week par excellence. The week was not only about celebrating the creativity, the spirit, and especially the magic of the famous play, it was about this Kempinski team that created an entire week of perfection and dedication to their guests. It is time for adequate and respectful recognition for some of the most capable people in the industry. We are congratulating GM Paolo Savania and his outstanding team.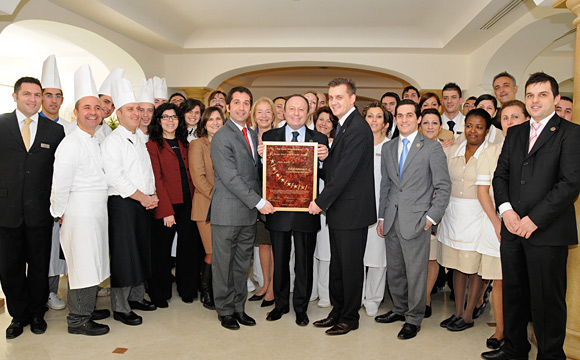 2009 Seven Stars and Stripers® - Award-Hand-Out at the Kempinski Hotel Giardino di Costanza
by Thorsten & Simone Buehrmann

Editor: Ingrid Lemme

Editor-in-Chief: John Lomitola
© 2009 ~ Seven Stars and Stripes, Inc.