Society - World Level Perfection
May & December - 2005
6 Stars & 7 Stripes
Hotel & Service

The Ultimate Award:
Seven Stars and Stripes™
Finally, a deep-rooted dream of mine came true with the confirmation to review the exquisite Grand Hotel Europe in one of the most fascinating cities in the world, St. Petersburg Russia. I was prepared to discover the history of this great and proud nation, what I was not prepared for was the experience of lavishing on caviar by the pound and vodka by the gallon. Russia here we come. St, Petersburg is renowned as the Venice of the North, Europe's 4th largest city and one of its richest places in open-air and indoor history alike. This precious, vibrant city attracts circa four million visitors annually from all over the world. St. Petersburg with direct airline connection to many major world cities is easy to reach. St. Petersburg, open for business and pleasure, welcomes the world.

We took the luxurious overnight Grand Express train from Moscow to St. Petersburg, a most pleasant way to travel over such a long distance, sound asleep ;)… A train ticket is more expensive than an airplane ticket, but we wouldn't have missed the experience of traveling cross Russia with this train for the world. Being able to get up, walk around, meet people at the bar for a drink - and 'lots of leg space' is hardly a mediocre way to travel. The new Grand Express Train is the latest in business and leisure travel between the great cities of Russia, a well-appointed hotel on wheels.
| | | |
| --- | --- | --- |
| We were granted splendid accommodations in the cabin for the night and the special luxurious bath amenities cannot be compared with traveling by plane. Our lovely host Anja did a superb job in her attempt to direct us in Russian to the bar while she turned down our suite for the night. Later in my comfortable bed I watched MTV (insane) on the LCD-TV screen, while Arno got to contact our offices in New York over Wi-Fi. We woke up to a gentle knocking at our compartment door by our friendly limo driver from the Grand once we arrived at the St. Petersburg Station. A new BMW 750 il was parked close to the main entrance ready to whisk us away to the grandeur of the Grand Hotel Europe. | | Please take a closer look |
Soon we arrived at our destination, the Grand Hotel Europe, a distinguished 19th century landmark. This 'Grand' elegant hotel from the days of pre-revolutionary historical pre-revolutionary days should later on reveal every modern amenity one could possibly imagine. In 1991, the Grand Hotel Europe reopened as one of the world's few true luxury hotels, strategically placed right in the heart of St. Petersburg. Located across from the Shostakovich Philharmonic, next to the Russian Museum, the Moussorgsky opera and ballet theatre and within walking distance of the Hermitage Museum and the Winter Palace Square. This is the place where it all happens and where one wants to be when visiting the eternal city of the Romanoff's, founded by Peter the Great of Sweden.

My photographer Arno Goudschaal and I were living, breathing history. St. Petersburg was founded May 16th 1703 and on that very day the six-bastion fortress was ceremonially laid on the Zayachy Island in the broadest part of the Neva river estuary. The dedication of the fortress became the culmination in the succession of events that lasted several centuries. The Finnish Gulf, the Ladoga Lake, the Onega Lake and the surrounding region became the arena of battles between Novgorod, and later the centralized Russian State and its neighbors, especially Sweden.
| | | |
| --- | --- | --- |
| Please take a closer look | | The Grand Hotel Europe was originally built in 1824 as a grand mansion and opened in 1991 in its present form after a three-year renovation project. The impressive sum of $35 million was invested by the time the mission is accomplished. An additional building had to be purchased to extend the spa facilities. 'She' was an orphanage in 1917 during the Bolshevik Revolution and a hospital during the siege of Leningrad from 1941-1944. This building is a national and cultural landmark and under preservation as a historical monument. |
"The grand entrance halls of the world create the memories that travelers will cherish for years to come." ~ TP
We had goose bumps when the elegant doors were opened, inviting us to enter these historic, and tastefully decorated halls. Check-in was a celebration of 'Old-World' hospitality, we were well recognized and thoughtfully welcomed in our mother language. From the moment the well-dressed doorman had opened the doors of the BWM town-car to the time we were shown to our suite, there was not a moment where we were left to our own devises.
| | | |
| --- | --- | --- |
| Our accommodations were downright charming and pleasingly spotless. The ambiance exudes understated elegance, relaxation and inspiration all at the same time. The soothing colors chosen by these designers would please any sophisticated world traveler. The antiques appeared to be carefully selected, mostly from within the same period. Few travel experiences will surpass the feeling of our royal, sumptuous, opulent suites. The extraordinary upholstery work in the rooms and in all public areas suggested to us the expertly trained old-world craftsmanship available on staff at the hotel. Overall 800 to 900 people are employed year-round. | | Please take a closer look |
The beds were dressed with luxurious linens and featured wonderfully light and cozy duvet covers. Down pillows seem to be standard but for guests with allergy concerns one may request a synthetic pillow. The sheets and duvet covers were undisputedly sewn of the best cottons in the world and were wonderfully soft to the touch, featuring exquisite details of old-world artistry. The bathrooms were supplied with stacks of super-soft and absorbent towels and double face micro fiber terry robes as well as lightweight cotton-slippers.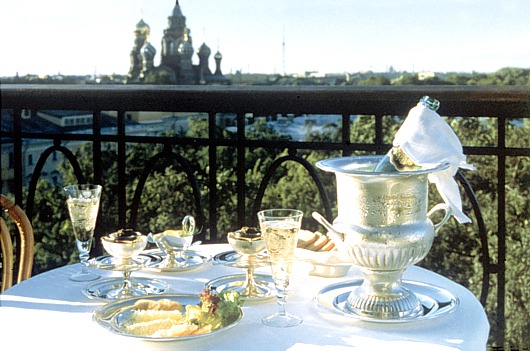 "A kind word is like a spring day." ~ Russian Proverb
We were still admiring these presidential accommodations when within moments there came a careful knocking at the door announced the arrival of a welcome table for two with Beluga caviar and a bottle of perfectly chilled Russian champagne. So far, no Russian vodka. This 300-room hotel offers about 90 suites, of which some have terraces overlooking the Russian Museum in Arts Square. One may gaze at the multi-colored domes and the golden gilded bell tower of the Church of the Resurrection while sipping a class of the finest champagne. I really didn't feel too excited about sharing the most romantic view over the golden city with my photographer Arno who got into a 'shooting' rage with his new Olympus E-Volt.
| | | |
| --- | --- | --- |
| | | The fantastic antique displays in the halls and accommodations were worth any museum entrance fee. The vision of Russia is here on display and for us it meant 'living in history'. Little crimson, lots of gold, we didn't know where to look first with all the splendor and we were in awe, we people from the newer world. |
During a tour with GM Thomas Noll we found out that this hotel has seven restaurants and bars serving French, European, Italian, Chinese and most certainly Russian specialties. Some of these facilities are located right under the most amazing original stained glass ceilings one can imagine. The main lobbies and piano / caviar bars (all with non-stop live piano music) are popular hangout places throughout the day and evening. The Grand Hotel Europe is also St. Petersburg's most all-embracing meeting facility, from the elaborate Kryscha Ballroom and characteristic Billiard room to conference rooms named after the crème de la crème of the late Russian high-society. "Many have frequently visited the hotel…" explains Thomas Noll "… and they will always be affiliated with our history, there was Tschaikovsky, Gorky, Pushkin, Dostoevsky. Hey and don't forget Shostakovich, Luciano Pavarotti, Elton John, Sir Paul McCartney and President Bill Clinton, just to name a few…" GM Thomas Noll is a true goal setter, as we found out during our detailed house tour. He actually built his own surfboard during the time when he managed a hotel in Malta and succeeded in securing 3rd place with that very windsurf board in a competition from Malta to Sicily, a respectable distance of about 58 miles. The Grand Hotel Europe in St. Petersburg is one of the best-managed hotels worldwide.
"Neither man or nation can exist without a sublime idea." ~ Fyodor Dostoevsky (1821 - 1881)
WORLD TRAVELER EXTRODINARE THOMAS NOLL

Elegant and sophisticated GM, Thomas Noll joined the highly successful Orient-Express Hotel group in February '05. Before that the well-regarded connoisseur and gourmet ran the Corinthia Nevskij Palace Hotel in St. Petersburg for about 3½ years. During his tenure at the Nevskij Palace, the hotel changed its ownership and it was Noll's task to ensure an easy transition and the re-branding of the hotel, while he was still steadily increasing the revenues. Starwood Hotels & Resorts imported Thomas Noll to Russia originally from one of their properties in Egypt, the Sheraton Sharm El Sheikh Hotel, Resort and Villas. This is where the GM prepared for the Grand Opening of the hotel and persistently led it to the status of 'Best in the Region'. Prior to that, he was GM of the Conrad International Hurghada, the Maritim Selmun Palace Hotel in Malta and the Beach Albatros Resort Hotel in the Red Sea.

Thorsten Buehrmann & Thomas Noll
Mr. Noll is presently handling a thirty-five million dollar renovation deftly, without sacrificing daily operations. That takes a pro. We were the first to see three demo accommodations, after the president of the Orient Express Group Simon Sherwood. The suites that are featured now have an even more ornate decorative style and are equipped with sunken plasma TVs at the bed's end. Noll's major concern was updating the rather long hallways and giving them visually more width through color, wall separations, additional mirrors and integrated wall decorations. The wall-to-wall carpets were indeed absorbing any sound, a job well done. GM Noll, a professional of German decent and highly motivated, has over 20 years of hotel management know-how. He attended the Hotel Management School of Poppe & Neumann in Konstanz, Germany and began his career as Executive Chef at a number of hotels in Europe, Kenya and Antigua. Always an expert in F&B, he was responsible for placing Russia into the `Chaine des Rotisseurs´, a society committed to promoting the culinary arts, enology and hospitality. While acting as the Bailli Delegue, (or President) for the society he was promoted to the Conseiller Magistral in Paris in 2003. A bi-product of Noll's leadership initiative was the successful A-list ranking of The Grand Hotel Europe as #34 in the top 50 hotels of the world according to Institutional Investor Magazine. This annual list is based on an exclusive poll of senior financial executives who have experienced the definition of what it means to be grand.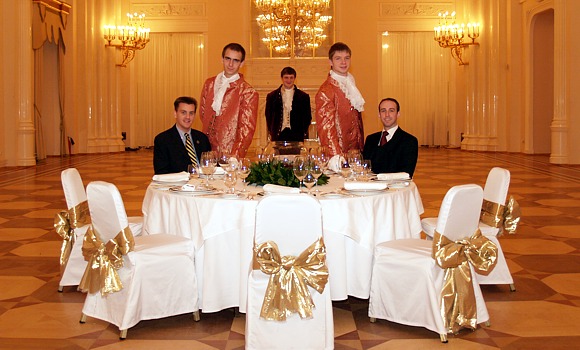 As a personal welcoming touch for his VIP guests, Noll developed 'The Piano Player at the Piano Forte Welcome Package' for those accommodations that are equipped with this instrument (Noll himself played the trumpet for seven years in concerto). Under his management the Grand Hotel Europe is now also offering off-sight catering that includes a historic museum. Can you imagine a fairytale wedding in these golden museum halls? Noll is intending to celebrate a traditional German Oktoberfest in St. Petersburg next fall with an authentic oompa-band performing during the festivities. Only in Russia . . ..
Heedless of the proud world's enjoyment, I prize the attention of my friends, and only wish that my employment could have been turned to worthier ends-- worthier of you in the perfection your soul displays, in holy dreams, in simple but sublime reflection, in limpid verse that lives and gleams. But, as it is, this pied collection begs your indulgence--it's been spun from threads both sad and humoristic, themes popular or idealistic, products of carefree hours, of fun, of sleeplessness, faint inspirations, of powers unripe, or on the wane, of reason's icy intimations, and records of a heart in pain. ~ Alexander Pushkin
American Dream Cuisine™
Restaurant: Caviar Bar & Restaurant
St. Petersburg - Russia

Society - World Level Perfection
6 Stars & 7 Stripes
Cuisine & Service

The Ultimate Award:
Seven Stars and Stripes™
Walking into the Caviar Bar for our much anticipated cuisine review of Executive Chef Dominique Ferchaud's 'nouvelle cuisine' was accompanied by the powerful allure of 'déjà vu'. During the previous night's deep and restful sleep, a recurring dream conjured up visions of opulence and regal majesty reminiscent of the long ago period of Czarist times. The central figure in my dream seemed destined to successfully offer up creative and tasty cuisine in an atmosphere only a Royal Family could appreciate. I tried looking around inconspicuously in every direction as we entered this dream world in order to validate my vivid recollections of the previous night. "It was here. . . !" I mumbled hoping all the while that someone would thankfully agree. It was Arno our photographer who cast a controlled glance back at me while shaking his head in disbelief. "Why are you talking to yourself?" he whispered as we were being shown to our table. Rather than answer Arno, I simply smiled reassuringly at our Maitre D' Dimitri as he held the chair while waiting for me to be seated.

"It was here," I said again, this time to Arno, ". . this is the place in my dream last night!" Arno still shaking his head quickly buried himself in the menu that was just handed to him. As attentive servers graciously placed napkins on our laps, I made mental notes of how elegant all the tables in the restaurant looked with candles lit and condiments perfectly aligned. I took some time as I listen intently to the three-piece ensemble performing selections of seemingly world-class Russian opera arias. It all fit nicely into my notion of the previous night's surreal event and I became more and more convinced that we were now in for a remarkable experience at the hands of Master Chef Dominique Ferchaud. It was an icy cold bottle of homemade Russian vodka flavored with exotic fruits that brought me out of my dream and into the present. Quick reactions by Dimitri anticipated the next move and before Arno could grab the bottle, he poured a small shot for me all the while still in doubt of my sanity and repeating "You need this" several times as if it were our secrete mantra. There were of course other choices as the Russian mind is not satisfied with mediocrity and so were placed several additional ornately 'etched' crystal decanters filled with various types of vodka. My personal favorite notwithstanding the exotic fruit flavored selection that brought me out of my dream, was vodka laced with garlic. It goes without saying that I especially liked the 'health' benefits of garlic and began to pay tribute to the incredible medicinal properties.
| | | |
| --- | --- | --- |
| Four types of house made breads including ciabatta and whole grain, were placed on the table along with very creamy butter in the shape of billiard balls and flavored with paprika, garlic and dill. I made it a point to continue looking around all the while absorbing the ambiance that indirect lighting creates in well placed locations. Menus were removed as Dimitri approached the table to announce the arrival of the 'Amuse Bouche' as a sort of greetings from the kitchen of Chef Ferchaud and his capable team. This is always a pleasant way of 'setting the stage' and teasing the palate into anticipating good things to come. The opening salvo was the Chilled Fish Soup with Coconut & Coriander topped with Crispy Shrimp, reflecting Chef Ferchaud's mastery of a real Russian tradition of soup-making influenced by years spent in the Middle East, Southeast Asia and the Caribbean. | | |
We also had the pleasure of sampling Kamchatka Crab Meat with Baltic Smoked Salmon served with Seaweed & Olive Oil Dressing. It is unique in flavor and texture with a resemblance to very meaty lobster although this particular preparation paired with smoked salmon over seaweed brought out the delicate nature to its fullest potential. A bottle of Sancerre Henri Bourgeois, 2001 worked well to compliment the seafood with an enchanting crisp, fresh medium body, alive with citrus peel and floral notes.
| | | |
| --- | --- | --- |
| | | Our impression at this stage was elevated by the continued attention to detail of the cuisine and impeccable service provided by Dimitri and his staff. In fact, our suspicions were confirmed during dinner after I dropped my napkin while making my way to the washroom and it was immediately replaced upon my return, fresh and folded on my lap. Plates were cleared with white gloves and preparations were in swing for the intermezzo of Plum & Armagnac Sorbet. Needless to say, Dimitri had a very good memory about our experience at the first cuisine review. We had noted that the sorbet served with Pernod was 'a little overpowering' and dutifully provided only a few drops of 18-year-old Armagnac to flavor the otherwise refreshing sorbet, thereby making a marked improvement over the last attempt. |
After the intermezzo, one of the most important events of any review, we were sufficiently rested and prepared for the entrée. Grilled Veal Filet with Artichoke Confit, Candied Shallot and Garlic with Thyme in a Winter Truffle Sauce (Please take a closer look) arrived in front of me as I continued sipping the never-ending flow of Russian Standard Vodka. Although vodka in Russian culture is held in high regard, it has become apparent that the taste for good European wines has increased in recent years and the Caviar Bar provides a top shelf collection assembled after years of research and collection. An appropriate bottle of Château de Marsannay, 2000 Les Clos de Jeu offered up a terrific sense of satisfaction and structure, which allowed it to support the meat dish without overpowering it. At first whiff it produced red fruits of raspberry and cherry along with a light smoky oak on the palate. Once swirled along the edges of the tongue, distinct earthiness and fine tannins unite in elegant fashion.
| | | |
| --- | --- | --- |
| Our second entrée of Roasted Angus Beef Tenderloin with Seared Spinach and Mushrooms, Potato Millefeuille in Rosemary & Port Wine Sauce caused quite a stir at our table. Here we were in Russia being catered to by an accomplished French master chef and we are looking at his interpretation of an American icon, the Black Angus beef. Chef Ferchaud's rendition decidedly exceeded our expectations in every respect. The beef was perfectly 'rose pink' in the center after I purposely sliced down the middle with my butter knife. The aroma of the earthy chanterelles lying over the seared spinach reminded me that we were in the presence of greatness in the making. It seemed the perfect harmony for mind and body. | | |
Ever present Dimitri scurried around our table at times filling our glasses, at times instructing his team as to the precise moments of when to interact with us in some productive way. Plates were cleared along with all silverware as the table was being crumbed and prepared for the final course. New utensils were replaced from a napkin-lined plate with white gloves and tea or coffee was offered. Russians pride themselves on their long history of tea drinking although I thought the coffee to be intense and flavorful in keeping with the great roasts of Western European coffee houses.
| | | |
| --- | --- | --- |
| | | We were now presented with a dessert of Roasted Pineapple with Chocolate Gingerbread and Strawberry Cappuccino with Grand Marnier. There before us came a very creative tempting ensemble of shapes, textures and distinct flavors arranged in artful fashion just begging to be sampled. All in all dessert seemed rather complete until Dimitri returned with a bottle of Calvados XO. As he poured the powerful liquid into our brandy snifters, we relished the pure clean very Cognac-like aroma and upon sipping noticed how smooth and peppery it was on our palates. I couldn't think of a better way to match the roasted tropical fruit over zesty chocolate gingerbread. Talk about chcocolate... |
All NEW are Ferchaud Chocolates; Executive Chef and Chocolatier Dominique Ferchaud is producing the finest hand created 'Made in Russia' confections imparting chocolate lovers with his treat from every part of the world. Ferchaud has raised the bar on the meaning of 'Swiss' chocolate artistry. The Grand Hotel Europe's Confectionery is a chocolate lover's heaven! They offer a diversity of mouth-watering dark and milk chocolates, dreadfully sinful truffles, and fabulous fudges. All chocolates are handmade, hand filled, and hand finished. It was rather recently that Ferchaud and GM Noll came up with the idea of producing a world chocolate brand producing superb chocolates in creative, deliberately delicate forms like Butterflies. The only suggesting I have for the master chocolatier is to present his rather dark delicacies on a light color laced plate. I am certain my wife would have experienced the great death by chocolate if she had been able to join me.
"Ferchaud's dedication to excellence is prevailing, once again." ~ TB
Ferchaud's Chocolates are just asking for comparison with Godiva, Neuchatel or Lindt. While Ferchaud's Butterflies are artfully irreplaceable to eat he is retaining the essential fundamental chocolate flavors that often get lost with these types of delicate creations. The packaging alone will excite not only those that are guests at Grand Hotel Europe, as I can see a line of chocolate addicts filing out of the door once the message has gone out. Russia is now open for true gourmet chocolate business. We were the first to see and taste the finished products. The elegant packaging is putting this high-society confection over the edge! I am honored.
"A Chocolate Star is born!" ~ TB


Please take a closer look
"Onward and upward" I heard Arno say as he moved from the table toward the Lobby and Piano Bar. It was the seductive sounds of live piano and violin music beckoning us sit for a while and absorb the provocative performance of the alluring ensemble. It was time to give thanks to Chef Dominique Ferchaud and his competent team along with Maitre D' Dimitri and all our servers, especially Victor who quietly performed his duties unobtrusively and efficiently.
"And Now ... Ladies and Gentlemen… The Piano Bar!"
| | | |
| --- | --- | --- |
| Thorsten Buehrmann & Tanya Noll | | I was daring to demand. The tone was rather reminiscent and more on the mellower side. The singer expertly handled the harmonic modulations and her English with a charming accent. The Piano Bar is renowned for its live entertainment, I was told by a local guest. This is an ideal place to relax and enjoy a quiet drink or meet people. The soft piano music adds to the special ambiance of the elegant bar. The dress code is undoubtedly dictated by its sophisticated clientele and is one of the reasons it tends to attract middle-aged well-healed guests. |
"Elegant, unique, world class and decidedly low-key." ~ TB
The bar is well stocked with a vast variety of top-shelf liquors and a light menu of international snacks is offered. Arno had has obligatory Mojito with fresh mint leaves ;) The ambiance created an atmosphere of congeniality and warmth bringing back the true feeling of St. Petersburg's elegant night-life. When I met the GM's wife Tanya Noll at the bar, she was on the way to meet with her husband for a private dinner with former President Mikhail Gorbachev. I noticed her extraordinarily beautiful features and fabulous dress style. Mrs. Noll had studied German at the Goethe Institute and conversed with us in that language.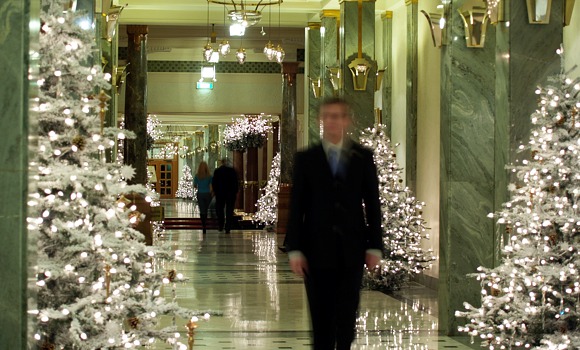 Due to an unfortunate incident at the bar, where a guest had spilled a cocktail over my entire suit, I went upstairs to change. We were passing through fairytale holiday halls of Christmas, millions of sparkling lights flanking us right and left. Talk about magic, I made a wish...and the dry cleaning staff made it come true in under two hours. With the push of a button, access to 24-hour room service, laundry and dry cleaning is at your fingertips. Back at our wonderful accommodations, the curtains that where purposely left open during turn-down and released the views of heaven, St. Petersburg by night – that is.
| | | |
| --- | --- | --- |
| Breakfast at St. Petersberg's Grand Hotel Europe is INSANE, a feast of international colors and tastes. Global is the theme and yes we did get to taste the most unforgettable blintzes ever, toped with Beluga caviar! This breakfast menu is definitely for people from different countries and it was created to inspire. In the background the ethereal sounds of a harp being played by a beautiful woman romanced our still sleepy minds. Waking up to a world of possibilities beyond frozen waffles brought to light the little-known truth about Russian hospitality and the way they see the most important meal of the day. My outlook on breakfast has changed forever, supported by the sounds of heaven on earth. | | |
After breakfast we were scheduled for a boat trip through the canals to visit other areas of this historical city. We reached the private boat slip after a leisurely 5-minute walk and were welcomed by our guide Tanya. The city was built on the water, the Venice of Russia, spread over several islands; actually connecting them through hundreds of bridges which explains the nickname 'City of 101 Islands'.
| | | |
| --- | --- | --- |
| Please take a closer look | | Throughout history numerous bridges were built to connect these islands across the various tributaries of the Neva and the city's many canals (Moika, Fontanka, Kanal Griboyedova, etc.) The architecture on these fascinating canals may be compared with Venice or Amsterdam - all of irresistible charm. The wide flowing Neva is conceived as the lifeline of the city. |
During a two-hour sightseeing tour through the canals we got to understand why 'Peter the Great' wanted the Neva River to be 'The Main Street' of his beloved city. A comfortable well-equipped boat took us down the river to St. Isaac's Cathedral, the 'Bronze Horseman', the Menshikov Palace, the University and many other points of interest. We admired the Strelka of Vasilyevsky Island, the Winter Palace and the Peter and Paul Fortress en route. By the time we got to the spectacular Bolsheokhtinsky Bridge Arno, our photographer had as stiff nick and a cramp in his hand ;). It was as if the light-blue sky and relatively warm spring temperatures were applauding our visit.
| | | |
| --- | --- | --- |
| Right after the boat-trip we were invited to the Grand Hotel Europe's 130th anniversary celebration. The creation of a new world-record for the longest caviar-toast was on the agenda, 130 meters (427 feet). At a press conference that Thomas Noll's PR team hat prepared to the 'T', the GM comfortably addressed the international press, as he'd done so many times before in his two decades of hospitality management. Here I feel the need to mention that the Grand Hotel Europe's purchasing director is in the unique position where he gets to sample the caviar in large portions before he makes a purchase and then he buys in large quantities. It then becomes a matter of ensuring that the quality of this precious delicacy is always consistent. | | Please take a closer look |
"The good does not interest us. The sublime does." ~ Raymond Blanc
Thomas Noll opened the celebration initially by addressing all his employees where he thanked them for their team spirit and dedication and praised them on how they had accomplished all their goals as a team. Then 168 lbs of red caviar was prepared on a 130 meters (427 feet) of toast by 130 chefs under the direction of Executive Chef Dominique Ferchaud. The long toast was placed on tables, which lined the main street in front of the Grand Hotel itself. The chefs and their helpers served 600 VIP guests while all were enjoying the wonderful spring sunshine. It was the start of the 'White Nights' season in St Petersburg . . .
| | | |
| --- | --- | --- |
| Please take a closer look | | . . . and we were there, 'inhaling' the 'priceless caviar toast one delicious piece at a time. The world-record attempt was carried out in accordance with the rules set forth and then certified by 'Levsha', the Russian Club of Records. The caviar toast record had been submitted to the Guinness Book of Records for inclusion in its 2005 book. We shall never forget the day or the people who joined the celebration. It was truly an extraordinary event. |
"Creating a winning team that works like one man towards that one common goal is his forte." ~ TP
French Dream Man: Raymond Blanc, A Gifted Chef
During the celebration we meet with Executive Chef Raymond Blanc who opened his first restaurant at the age of 28, which, after just one year, was named Egon Ronay Restaurant of the Year.
| | | |
| --- | --- | --- |
| Other accolades including Michelin Stars and Pestle & Mortar awards. Born in Besançon, France in 1949, Raymond Blanc is acknowledged as one of the finest chefs in the world. Raymond arrived in England in 1972 to work as a waiter at the Rose Revived Restaurant near Witney. When the chef became ill, he took over and two years later, the restaurant gained entry into the Michelin Guide. | | Thorsten Buehrmann & Raymond Blanc |
After the official part of the celebration was over and the Guinness Book of Record mission accomplished, Thomas Noll set the mood on 'party' and that's what we did, we partied into the wee-hours. The festivities where spilling over three banquet halls, while big bands were entertaining exquisitely dressed people to the swing tunes of Glen Miller and other classics from around the world. The rooms were extraordinarily efficiently climate controlled, never too hot and never too cold, just right though the heat was on. St. Petersburg high-society consumed caviar and the entire trimming by the gallons, and we joined in.
| | | |
| --- | --- | --- |
| Please take a closer look | | Arno felt that he had not seen more beautiful young ladies in years and when I saw him only once-in-a-while he was always dancing with one gorgeous debutant after another. In one of the adjoining festively decorated banquet rooms I found the 'Patron de Cuisine' of the Orient Hotel Group 'Raymond Blanc' in action - within an hour he prepared a 50 degustion menu 'from soup to nuts' for the gourmet ga-ga crowd. Supported by an uncounted battalion of ever-pleasing, professional staff, the crowd applauded after every course that left his little 'show kitchen' in excitement and anticipation of what they would get to taste each time. The man is a God in the kitchen; most creations were unheard-off, he doesn't copy. The finest Champagne, the coldest Vodka and any other top-shelf drop the spoiled world has to offer were ringing in the 'White Night' season in fairytale St. Petersburg. |
I could have sworn that I saw Dr. Zhivago entering the festive gala, but that was long after midnight ;) These are the Vodkas I tasted during our stay in Russia - made in Russia: Stolichnaya, Jewel of Russia, Gzhelka, Red Army, Moskovskaya Osobaya, Magadanskaya, Ladoga Tsarskaya Vodka. Vodka is said to have been 'discovered' in Europe's most northern regions. The Polish claim it was their discovery and the Russians will tell you otherwise. However, Vodka came to be a major part of the Russian culture, as it was already distilled before the word vodka came into its common use. Although it has been described with many other names, the word 'vodka' is a minuscule of the word 'voda'; in Russian, meaning 'water'. You decide. I drink to that.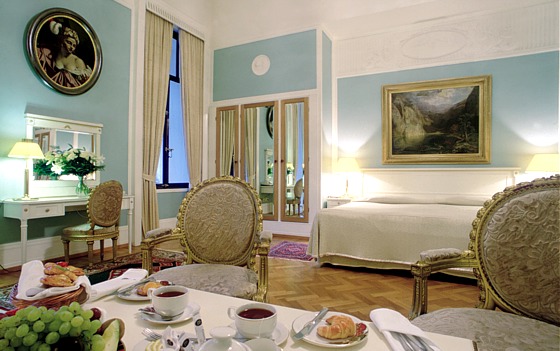 Please take a closer look
Waking-up was very difficult the next morning. We refused to get dressed for breakfast and instead jumped into our sweats and hung out at the spa for an hour or so. Arno couldn't shake his tiredness since he had slept only 3 hours; I couldn't shake the hangover. I must have had a hundred vodkas right from the 'frozen' Neva River with any Russian male or female at the party. They insisted, what can one do? At the spa we didn't really work out, just 'lingered' in the pool and didn't move too much, but decided to get a massage later on. We went back to our suite, for a casual-cozy breakfast with the hottest most aromatic strong coffee and a couple of nicely presented to the minute eggs-over-easy, home-made Russian potato-pancakes and nicely salted grilled smoked bacon. The orange juice was freshly squeezed and was competing with Florida's golden sun. We sucked on some strawberries and started to feel much better by then, good for another exiting day . . .
| | | |
| --- | --- | --- |
| We went for a stroll through the boutiques in the hotel and my thoughts were of how my future wife would have a blast here. During the $35 million in renovations, a portion was invested in little shops that are certainly open to the public. Many exclusive names are represented in these 'adorable' little stores, and besides world of fashion, crafts and the most exquisite jewelry along with the finest art objects are represented, too. One of Miss 'Aleksandria's' paintings had been purchased from this very art gallery by President Vladimir Putin. From 1764 to 1774 Catherine the Great bought 2500 paintings, now to be viewed the The State Hermitage Museum Exhibitions. We decided to capture the moment by taking a close-up of a Russian Faberge eggs. The elephant was able to hide the smaller egg inside his belly, while the large egg was big enough to hide the elephant. | | |
The original Faberge jewelry workshop was founded in St. Petersburg in 1842 but its real glory came when the son of the founder Carl Faberge took over. Faberge's technique as goldsmith made him famous worldwide. As Supplier to the Imperial Court of Russia, he is best known for his unique series of 50 jeweled Imperial Easter eggs dating from 1885-1916. Faberge's customers included most of the world's royalty and other wealthy clientele of his time. After the 1917 October Revolution, Peter Carl Faberge emigrated from Russia. He died in Lausanne, Switzerland in 1920.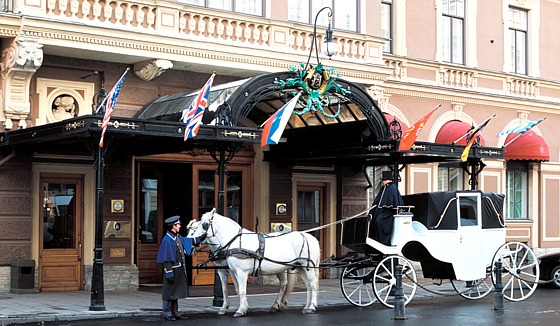 Please take a closer look
Magically a white horse-drawn carriage appeared at the main entrance. I really missed sharing this quixotic moment with my bride, Simone. Our uniformed guide was most knowledgeable and gave us a history ride from a different angel, real close over cobbled stones and: The State Hermitage Museum, the Winter Palace, the Menshikov Palace, the Peter & Paul Fortress, St. Isaac's Cathedral ~ Tzarskoye Selo. Ekaterina Palace, the information we received was precise, and too much to share, so we are including a link to these significant historically so important and valuable places.
American Dream Cuisine™
Restaurant: L'Europe
St. Petersburg - Russia

Society - World Level Perfection
6 Stars & 7 Stripes
Cuisine & Service

The Ultimate Award:
Seven Stars and Stripes™
It would be a night to remember! Not just for the excitement and high energy that a Tina Turner concert creates before curtain call; nor for the whispered rumors of Bill Clinton arriving for a book signing; nor for the fact that Mikhail Gorbachev actually accepted an invitation to dine with the GM of Grand Hotel Europe, Tomas Noll and his wife. Yet still, this would be a night to remember!
GM Thomas Noll and Executive Chef de Cuisine Dominique Ferchaud have pulled out all the stops. There would be nothing left to chance; attention to every detail would be impressed upon each one of their well-respected and capable staff. Our dining arrangements for this evening were to be held in the impeccable surroundings of the Restaurant L'Europe under the watchful eye of Maitre D' Dimitri and his proficient servers all dressed in formal black attire.

Our greeting at the L'Europe entrance was the respectful and personal handshake of immediate recognition, reflecting the precise, meticulous nature of our gracious restaurant master of ceremony. The enduring sounds of a quartet singing a classical selection and supported by violin and piano accompanied us to our special table decked out with fresh flowers. As a matter of fact, there were fresh flowers everywhere, all organized and arranged by the Grand Hotel's in-house florists. Dimitri, who is a member of the famed La Chaîne des Rôtisseurs sees to it that every guest at the restaurant receives the highest possible level of unobtrusive service available. It is also apparent that he must work closely with Master Chef de Cuisine Dominique Ferchaud in the presentation of his powerfully creative cuisine.
"Dimitri, who is a member of the famed La Chaîne des Rôtisseurs sees to it that every guest at
the restaurant receives the highest possible level of unobtrusive service available." ~ TB
| | | |
| --- | --- | --- |
| Immediately upon being seated a toast was proposed with several fluted glasses of precious Tattinger Comtes de Champagne Blanc de Blanc. This powerful yet dense multilayered well-balanced bubbly offered an abundance of white fruits, tangy green apple and a deliciously long finish. It was the perfect representation for this moment of gratitude and enjoyment. A white-gloved server named Anton approached pushing a large garadon filled with an abundance of assorted house-baked breads. We were asked to choose, but that was almost impossible with baguettes, rolls and other shapes made from pumpernickel, rye and other whole grains overflowing from the wagon. Butter was another dilemma but this time we tried all three types including dill and garlic, fiery red paprika and natural unsalted. | | |
Preparations complete, it was now time for Executive Chef Ferchaud to begin his performance with the first order of business introducing us to Kamchatka Crab & Vitelottes Potatoes, Boquet of Green Leaves, Basil Oil & Balsamic Vinegar. At first glance you wonder what the purple stuff is under the delicate crabmeat but upon tasting you realize that they are purple Peruvian potatoes, shredded and prepared simply with basil oil and balsamic vinegar. A finer combination of colors, shapes and taste may be hard to find as this proved to qualify as original art.
"A finer combination of colors, shapes and taste may be hard to find as this proved to qualify as original art." ~ TB
This was followed by Warm Boston Lobster with Artichoke confit and Citrus White Wine Butter sauce brought from the kitchen completely out of the shell and arranged in such a way that appeared three dimensional. It was a superb representation of a New England (Massachusetts, US) favorite, actually bursting with sweetness and not chewy at all. All along we were fortunate to have had the 1995 Sauvignon Blanc, Blue Grove Hill, South Africa as our recommended wine selection and it proved to compliment the shellfish in a way that brought out their fresh ocean flavors in a big way.
"It was a superb representation of a New England favorite, actually
bursting with sweetness and not chewy at all." ~ TB
Our specialty for the evening so far appeared to dwell on seafood, so in keeping with that theme Chef Ferchaud impressed us with his rendition of the ~ 'King of All Fish' ~ Grilled Filet of Turbot with Seared Fennel & Tomato Purée and Coriander Oil. Anton, our server, smiled as he poured another taste of the Sauvignon Blanc seemingly aware of its auspicious affect on this special fish.
| | | |
| --- | --- | --- |
| We relished the floral quality of the aroma and savored the golden citrus and honeydew melon found while swirling the wine over the palate. An intermezzo was next on the agenda and it was to be Lemon Sorbet with Beetroot & Vodka, an inexplicable combination forcing us to admire the blood-red effect of the beetroot on the rest of the sorbet. Vodka, the far from trivial ingredient in Russian culture is omnipresent in all shapes and forms and this intermezzo was yet another way to show its versatility. | | |
Our next course appeared to break ranks with the rest of the menu and came to us in the form of Roasted Rack of Lamb with Parmesan and Paprika Crust, Potato with Sun Dried Tomato & Olive with Port Wine Sauce. Rack of lamb must be carefully roasted in order not to dry out the meat; therefore it is imperative that the rack be 'encased' by some sort of crust to preserve moisture.
| | | |
| --- | --- | --- |
| | | Chef Ferchaud's use of his savory mixture proved effective in moisture control although a bit overwhelming to the taste buds. "A little less parmesan" I mentioned to Arno feeling a little guilty as I finished off the last tasty morsel. This time a very fine bottle of 1997 Capanelle Solare, Italy served as the appropriate wine paring for the rack of lamb. Ruby red in color, it conjured up visions of the beetroot sorbet although I must say, that is where the similarity ended. Capanelle Solare smoothly flowed over our palates with minimal effort imparting such subtle hints of dark red forest fruits reminding us of raspberries and blackberries. A slight tannin finish worked to lightly cleanse the palate in preparation for the next sip of this medium bodied treasure. |
Plates were dutifully cleared all the while overseen by the watchful eyes of Dimitri as he choreographed each magic moment. It is obvious that the feeling of cooperation amongst the restaurant and kitchen teams reflected a greater importance that the management of the Grand Hotel Europe under the guidance of GM Noll has placed on their overall goals of complete guest satisfaction.
| | | |
| --- | --- | --- |
| We were now ready for the final course of tea, coffee and petit fours to accompany the chef's creation of Chestnut "Mont Blanc", Pineapple Cappuccino with Rum. My secrete passion is desserts and at first glance I just wanted to say 'wow' but could only mange a smile. After tasting the chestnut crème my smile turned into a vocalization of pleasure through various ummm's and ahhh's as each bite was processed. | | |
Over coffee, we talked to Executive Chef Dominique who purposely came out of his domain to see how we liked his artistry. We discussed his organizational skills and how difficult it is to run an operation with a team of 35 chefs and 17 stewards. Chef Ferchaud's goal is to maintain the highest standards in terms of quality and service by leading, motivating and developing his staff's innate talents. His leadership skills had been honed throughout his career with positions in England, France, Anguilla, New York, Abu Dhabi and Lebanon some of which included Michelin Star establishments where he furthered his global expertise.
| | | |
| --- | --- | --- |
| Dominique Ferchaud & Thorsten Buehrmann | | His most recent accomplishment with the Valhrona Chocolate Training, in Tain L'hermitage, France with Mr. Mickael Loonis shows that his desire for self-improvement continues even after many years of experience. This acquired expertise has successfully led to a new profit center for the Grand Hotel Europe and much deserved notoriety. It was equally refreshing to find out that every high-energy personality has his down time to relax and forget about the business and Chef Ferchaud enjoys scuba diving and underwater digital photography. It's no wonder some of his culinary works of art reflect the tropical colors and natural free forms of the environment beneath the seas. |
Just when we thought that it couldn't get better then that, shielded from the winter temperatures in these cozy warm halls, we were asked to put on our coats and follow the Executive Assistant Manager i/c of Food & Beverage Christian Sack for a drink outside. Did he say outside? We were lead through the heavy main entrance door and stepped out on the light filled walk way to the 'Ice Bar'. People were lined up in warming clothes; some wore fur coats and furry hats and gloves. While this seemed embellished to us at first, we changed our mind after some time at the bar amongst the joyous crowd. The iced sidewalk bar has no doors, anyone can walk up and order a stiff Grand Exclusive Vodka, some served in a glass of molded ice...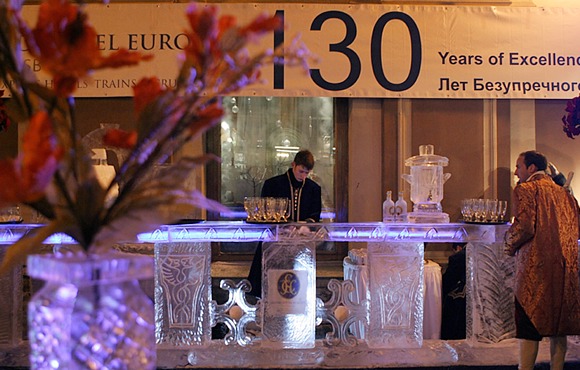 This obviously keeps the Grand Hotel Europe Vodka as cold as possible until we got to clink our ice cube glasses and 'Cheers' - 'Nastrovje' that in Russian is when they were poured down our throats. We didn't feel cold at all after the second shot ;) leaning on the bar counter of ice with the hotel logo embedded in the ice. I didn't think they would offer non-alcoholic drinks, and was amused that they didn't. Of course, the fun is much 'cooler' when you take one of the strong alcoholic drinks and we had a few. At night, the bar is a natural meeting place for all those passing by who feel the need for a little nightcap.
The traditional Sevens Stars and Stripes Award handout ceremony was covered by one of St. Petersburg's leading TV broadcast providers. Two Seven Stars and Stripes Awards were presented that night of which one was for the Grand Hotel Europe and the other for Executive Chef Dominique Ferchaud, both received Six Stars and Seven Stripes. Thomas Noll's short-term goal is to put the stamp 'Russia's Best' on the Grand Hotel Europe ~ and he is well on the way. An internal Orient Express in-house production team captured the well-deserved moments of celebration for the global chain as well. The Sevens Stars and Stripes Award recognition speech was well received with great applause.
"As I feel that I don't have enough space to describe the true feeling about our experience - I want to close by saying that the St. Petersburg Grande Hotel Europe is not just another hotel one stays at while one visits St. Petersburg, it is a life style. It is Russia. The Grand lady is a flagship of hospitality, greatness and splendor. She is the old world, the place where one expects 'Catharine the Great' and her court to celebrate her wedding." ~ TB
by Thorsten Buehrmann & Arno Goudschaal

Editor: Ingrid Lemme,

Editor-in-Chief: John Lomitola
© 2006 ~ Seven Stars and Stripes, Inc.