Abu Dhabi, United Arab Emirates

World Level Perfection
October - 2007
7 Stars & 7 Stripes
Overall - 'Hotel & Service'
The Ultimate Award:
Seven Stars and Stripes®
In a moment of semi-consciousness, flying high and securely on Etihad's New York to Abu Dhabi business class, I imagined seeing a tiny figure below, perched high on a sand dune in the middle of the desert. It was a diminutive figure waving wildly and shouting "De plane! De plane!" It was as if I was about to land on the mythical "Fantasy Island" to meet the suave and debonair white-suited Mr. Roarke, who would do the impossible to award me my secrete wishes thereby granting me fulfillment of my wildest dreams. As I was about to find out, experiencing the Emirates Palace was kind of like being on a land-locked 'Love Boat' in that there was virtually nothing that couldn't be done, and no wish or desire that would be left unfulfilled. Upon landing, my eyes wandered excitedly, searching for that certain someone who could match my dreamy vision, when out of the crowded arrivals building I caught a glimpse of a very gentle smiling face waving an elegant framed sign with my name on it. It wasn't 'Tattoo' from Fantasy Island but José Palomares, the man that was to be my butler for the next four days at the Emirates, and as it turned out my very favorite person at the Palace.
| | | |
| --- | --- | --- |
| José led me out of the building as he carried all my luggage. The Emirates Palace sent José to pick me up in a Mercedes Maybach limousine, something they often do for guests scheduled to check into their Palace suites. Driver Mohammed checked with me for my temperature comfort level as well as the type of music I would like to hear, to which I replied "something Arabic", and was obliged. Throughout the ride to the Palace, driver and butler frequently described points of interest and provided answers to FAQ's as seamlessly as seasoned tour guides. "Is the Persian Gulf nearby?" I asked innocently, realizing that I just flew over the short distance to UAE. "Oh, you mean the Corniche?" using the local name for the waterfront district just opposite the Emirates Palace. | | |
Just as easily they swung past the Palace for a quick tour of the Corniche to point out the newly built Arabian Heritage Center, founded for the purpose of preserving the bygone traditions of the locals for posterity. Finally our arrival at the Palace, entering just past the 'Royal Entrance' built entirely for the purpose of allowing dignitaries, powerful world leaders and of course the Royal Family of Abu Dhabi to arrive discreetly away from the eyes of the public. My entrance was no less spectacular as when we pulled up to the curb, several valets and doormen jostled for position to get to the Maybach door to greet me with a cacophony of voices all calling out "Welcome to the Emirates Palace" at the same time. Out of the free-for-all came the brightly smiling face and piercing eyes of Sandra Newman, the Chief Concierge, greeting me in her wonderfully smooth Australian accent. Sandra whisked me away through the front doors to check in and seemed all the while truly interested in my well-being and comfort level, a sincerity that exuded from the staff and appeared to be the common denominator throughout the next four days. As José obediently followed up with the luggage, Sandra turned me over to Samah, an Arabian beauty from Guest Relations with a firm, reassuring handshake. Samah led my to my Palace suite on the sixth floor noting that the top (eighth floor) was reserved for Royalty. Using a coin shaped magnetic key, Samah swung open my door and ushered me into the room. She asked me to take a seat at the desk while the rest of the entourage followed with my Rimowa luggage. She handed me back my passport and asked me to sign into the hotel while sitting there at the desk, a very unique way of checking-in to a hotel I must add. Unique? Maybe, but hassle-free, definitely!
A moment later I realize that I am alone at the desk gazing around the room in quiet awe of my surroundings. To my right are the living room couch, coffee table and a cushy chair with ottoman. Ceilings never seem to end although careful use of indirect lighting creates a bright, harmonious and pleasant atmosphere where needed. Close to the entrance of the suite is a small dining table carefully set for four persons; I say small because by comparison to the other dining table located between the adjoining Palace suite and mine, it is miniscule. We eventually utilize this very special room for a sumptuous room service breakfast on our final morning at the Emirates Palace. My eyes now wander into the well-appointed bedroom and I notice the incredibly high ceilings again. On the wall in both the living room and bedroom is a fanciful 61-inch plasma screen TV with 135-channel access to television and movies.
| | | |
| --- | --- | --- |
| Behind the curtains in both rooms is a private balcony overlooking the calm water beach of the Persian Gulf and off in the distance the Abu Dhabi city skyline with its world-renowned financial center. Everything around me looks so new and modern, although Emirates Palace is built in the style and pastel colors of the Arabian Peninsula. I check out the bathroom and I am impressed with the sumptuous personal amenities standing at attention on the double sink marble counter top. To the left when entering the bathroom is a frightfully large step-up Jacuzzi and next to that is a separate shower equipped with a 'rain-shower' nozzle built into the ceiling. | | |
I remember seeing a laptop set-up next to the desk and get ready to open it for use. The doorbell rings and before I can jump up, it cracks open I hear my butler José ask, "May I come in Mr. John?" "May I unpack your clothes, or would you like some time to sleep before your partner Mr. Bührmann arrives from Dubai?" I remember wondering how well informed he seemed since he knew about Thorsten's immanent arrival. I asked José to go ahead and unpack for me while I worked on my own laptop to stay in contact with our New York office. I noticed right away that all the rooms and suites have wireless Internet (WIFI) connectivity simply by logging on your Internet provider and agreeing to the terms. "You are scheduled to have lunch in Anar, the Persian restaurant at noon, would you like your shirts pressed and your shoes shined?" Of course, who could resist this type of service since even at home it doesn't happen like this.
| | | |
| --- | --- | --- |
| | | As José exited with my shirts and shoes, I lay down briefly to rest after leaving a wake-up call with him. Hey! I could get used to this way of life. Did I tell you that every floor at Emirates Palace comes with a butler? As I was about to find out, virtually no request is too difficult for the butler team to accomplish. Just about an hour later, José rings the doorbell and announces that it is time to get ready for our scheduled luncheon. Simultaneously, my partner Thorsten and his wife Simone arrive from an early morning meeting in Dubai and check into the super giant Palace Suite adjacent to my room. |
We spent the next 20 minutes exploring all the unique features of the 'cathedral' sized accommodations. We came to realize that Emirates Palace prides itself on anticipation of all possible guest requirements and then implement those necessities in the most luxurious fashion with attention to the minutest detail as a rule, not as an exception.
| | | |
| --- | --- | --- |
| Our schedule was tight now and we recognized that a tour of the property was in order before our lunch. Our butler José took us to meet Didier from Guest Services who made it his duty to escort us through our magnificent surroundings. Didier informed us that Emirates Palace was in the midst of setting up for the Middle East International Film Festival, the first annual event of this nature in the Middle East. Expectations were high that world-renowned celebrities would attend the event as the festival's goal is to "Establish Abu Dhabi as the essential destination for international filmmakers". | | |
Another exhibit known as "Festival of Thinkers" celebrating 100 years of Nobel Prizes was featured at Emirates at the same time as the film festival, and it included 16 Nobel Laureates in attendance. It was referred to as 'Cultures of Creativity' and as if taking a page out of the book of philosophy of the Emirates, this festival offered ". . . the courage to think on entirely new lines, daring to question established theories, innovative combinations of insights from the different fields - these are some of the characteristics of creativity...". All the while our tour guide Didier led us through some of the most magnificent surroundings I think I've ever seen in a hotel. But, as we were to find out, Emirates Palace is not just an ordinary hotel. It was built at great expense with the total satisfaction of the guest in mind, from the ground up.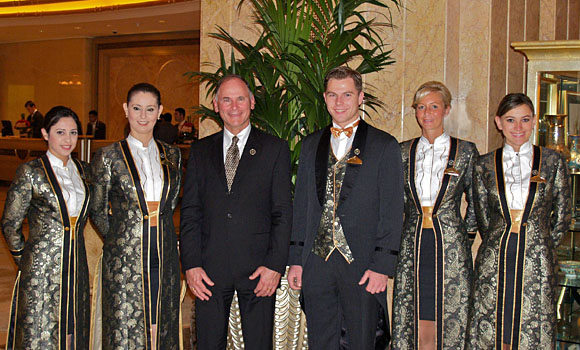 Welcome at the Emirates Palace
Didier took us now into the International Conference Center of Abu Dhabi located in the bowels of the Emirates Palace. The Palace Conference Center is the most luxurious and technologically advanced meeting facility in the region. It includes an incredible high-tech audiovisual auditorium that can accommodate 1100 guests and translation capabilities in 7 major languages. The auditorium can also be used as a theatre in which it has already featured shows like the Broadway hit musical 'Chicago', a story of life on the Vaudville stage and the hit opera 'Carmen' by internationally known director Georges Bizet.
We were now led to the Grand Ballroom, a venue that can be divisible into three sections for a total seating capacity of 2,400 guests. Imagine the wedding of your dreams catered to by the impeccable service and cuisine of Emirates Palace. Also, for the business traveler there are a range of over 40 meeting rooms with different setups and capacity along with a high-tech media and business center. All this is complimented by an outdoor function space of over 10,000 sq meters, which provides al fresco setting ideal for cocktail receptions and dinners. The whole tour left us breathless and hungry and we were reminded that we have only just begun. We decided to continue the Emirates Palace tour in the next few days while we focused on cuisine for the time being.
| | | |
| --- | --- | --- |
| | | We showed up on time to lunch at Anar, the latest restaurant to open at the Emirates. We dined our way in style through most of the afternoon, sampling traditional Persian cuisine from the major cities in Iran. It was like taking a culinary journey through the Middle East while being offered all the appropriate wine parings from Europe. We agreed that the whole experience was done well, leading us to believe that Anar will succeed, shining as brightly as its namesake "pomegranate". |
Our pleasant dining experience at Anar pushed us later now than we planned to linger and our thoughts focused on our pre-arranged therapies at the newly inaugurated Anantara Spa, inspired by Moroccan and Thai style body treatments. According to Noel Massoud, General Manager of Emirates Palace, "Anantara Spa draws its strength from the rich cultural traditions, historic heritage and natural beauty of its destination". We were about to find out from the inside out! Our butler José met us at Anar Restaurant to personally escort us to the Anantara Spa located in the West Wing of the Emirates Palace.
| | | |
| --- | --- | --- |
| We were led to the front lobby where our butler had arranged for a golf cart to take us the distance to the spa. Although this seemed a step down from the Maybach used to pick me up at the Abu Dhabi airport, I was reminded that we were just going a few hundred yards. Upon arrival at the Anantara, we were greeted in true yoga style with the utterance of 'Namaste', which is said while bringing together both palms of the hands before the heart in prayer position, and lightly bowing the head and shoulders. Right away I felt at ease and honored in the place in me where the whole Universe resides. | | |
We had a brief but important consultation related to the state of mind and body that I personally was in, after which I was led to one of the seven treatment rooms serenely decorated in Moroccan blue tile and pinnacled arches. While I was getting ready for my 'Body Blast' treatment + herbal compress massage, Thorsten and Simone were preparing for the 'Royal Hammam' signature treatment. The Hammam area includes two Jacuzzis; two steam rooms; heated marble; an ice cave, and two private changing rooms, as well as a relaxation room and private dining area. We were reminded of GM Noel Massoud's declaration that "Guests can look forward to an experience that combines the great therapeutic traditions of the world. The Anantara Spa brand offers culturally-adapted treatments."
| | | |
| --- | --- | --- |
| | | I was now dressed in my plush robe, ready to experience the unexpected; I stood there for a moment at the door and as I reached for the knob I was greeted quietly by 'Daeng', my massage therapist from Thailand. From that moment on the whole treatment was a blur, an ethereal experience, a sensation of slowly floating on clouds while aromas of sweet herbs and spices were gently pummeling my senses. |
Daeng's gift is her strong hands and professional technique, using her elbows and forearms as an extension of her power. The total experience gave me reason to live a long and harmonious life. I can honestly say that my whole wellbeing and attitude changed for the better after that body treatment. I was totally at peace with myself. In the meantime, my colleague Thorsten and his wife Simone were in the middle of the 'Royal Hammam' treatment, which is set up to treat up to four persons at once on a large heated slab of marble.
| | | |
| --- | --- | --- |
| Thorsten described to me that the Hammam originated in the Middle East as a ritual aesthetic, therapeutic and social function. The typical treatment starts with a deep exfoliation of the skin all over the body with a traditional silky rough kassa glove, followed by washing the whole body and hair with specially formulated skin and hair products. "It's as if I were thrust into A Thousand and One Nights as Sherazade, crossing the threshold into a new dimension, in a completely unique environment". | | |
It may be difficult for some type 'A' personalities to realize that you could gain the upper hand on stress by allowing yourself this marvelous two-hour treatment. The only requirement is that you switch off your mobile phone and let the transition between hot and cold do the rest, thanks to the gradual progression from the warmer area of the heated marble to the cooler area of the 'ice cave' that allow the body to get used to defending against the onslaught of germs. The finale includes a moisturizing massage with aromatic oils followed by sipping cold ginger tea. What more can be said? It is beyond a doubt, a must-do at the Anantara Spa!
Abu Dhabi, U.A.E

Extraordinary - Society
October - 2007
5 Stars & 6 Stripes
Cuisine & Service
The Ultimate Award:
Seven Stars and Stripes®
An authentic gastronomic tour through the provinces of Italy, while in the Middle East seemed like an unlikely scenario for us as we headed for the Emirates Palace flagship restaurant Mezzaluna. "An aperitif would be lovely outside under the stars" I overheard Simone whisper to her husband Thorsten. Right away we were greeted pleasantly by Assistant Restaurant Manager Tarek bin Hassen, beckoning us to the patio outside the restaurant overlooking the Persian Gulf. It was there that Tarek worked his magic opening a bottle of Prosecco VSOP for us as we gazed upward into the sparkling skies. Thorsten opted for the Joseph Perrier Cuvee Royale, an amber gold champagne that proved to be an exceptional vintage. This blend of 15 grand crus and three grape varieties offered a moment of intense pleasure when allowed to linger over the taste buds. This was to be the start of a great dining experience.
| | | |
| --- | --- | --- |
| We tore ourselves away from the penetrating vision in the heavens before us and took our places within the confines of the comfortable and well-designed restaurant. We immediately received an assortment of warm house-made breads, including crispy bread sticks, several types of baguettes, soft rolls and whole grain. Bona fide extra virgin Italian olive oils were offered along with shaved bits of Parmigiano-Reggiano cheese and thick and sweet aged Balsamico di Modena vinegar. We had previously had the pleasure of dining under the gifted creative artistry of Executive Sous Chef Luigi Antonio Piu and his talented team, overseen by Executive Chef Wolfgang Fischer. | | |
In person, Chef Luigi is friendly and animated, frequently making trips out of the kitchen to check on his guests and add the necessary ingredient of 'laughter' to the mix. This creates the typical homespun Italian atmosphere that causes one to forget that you are in Abu Dhabi and believe you are in Florence or Venice. Behind the scenes, Chef Luigi is a serious player with an abundance of creativity and knowledge. He spends much of his time trying to create something truly unique, by looking beyond the expected. By the looks of things, he has succeeded in his quest to push himself and his team to the edge of culinary achievement and beyond.
| | | |
| --- | --- | --- |
| | | While dining in Mezzaluna, we were always under the watchful eye of Assistant Manager Tarek as he made his way to our table opening wines and serving our courses. Although Pana and Pellegrino waters were the mainstay of this cultural feast, a very special local water called Al Ain or "the spring" in Arabic was served throughout our stay at Emirates Palace. It offered a crisp, clean local alternative from the deep aquifers of the Western Desert near Oman. |
Chef Luigi now sent us a 'Greetings from the Kitchen' of heirloom tomatoes and buffalo mozzarella, ricotta cheese with wafer thin prosciutto (set in an edible funnel shape), delicate smoked salmon and Foie Gras, in an arrangement he named Stuzzicatino Misto or 'One Bite Antipasto'. Appropriately named, each genuine taste had a built-in authentic flavor succinctly concentrated in bite-sized form.
| | | |
| --- | --- | --- |
| Shortly thereafter, Assistant Manager Tarek brought out Piccola Aragosta Calda or Lobster with champagne froth, Beluga caviar and black truffle. This outstanding sculpture held flavor as an expression of art in that it looked too attractive to eat but tasted just as good as it looked. We were served a Vernaccia di San Gimignano, 2005 Piccini, Italy that dutifully complimented the lobster with a rich, heady bouquet and clean taste that lingered long on the palate. It warmed and inspired us as we enjoyed Chef Luigi's creation. | | |
Soon came Tortelloni Ripieni con Ricotta e Spinaci or spinach and ricotta tortelloni with foie gras, porcini and quail egg. This was a magnificent food statuette layered like a Napoleon pastry with rich delicate goose liver, earthy porcini and a mini sunny side up quail egg with a generous slice of black truffle capping it on the top. This was followed by Vitello e Sella d'Agnello con due Risotti, a splendid combination of roasted veal and rack of lamb with lemon and apple infusion and saffron risotto.
| | | |
| --- | --- | --- |
| | | Actually the infusion of citrus had the effect of emphasizing the delicate flavor of the veal while cutting through some of the unmistakable essence of lamb. A fine Sicilian red wine, La Segreta 2003 performed well with its inky dark ruby color, plummy, pruney scents and spicy, aromatic overtones of new oak. Its ripe and juicy black-fruit flavor is shaped by plenty of fresh-fruit acidity for balance. |
Finally a Mezzaluna dessert sampling of Piccolo Dolce Misto, combining miniature portions of tiramisu, chocolate mud pie, panna cotta with 24 carat gold leaf and typical Italian cannoli. The whole assortment was balanced by the addition of a slice of fresh fig and a cluster of fresh red currents. Since pleasure loves company, Assistant Manager Tarek suggested double espressos and Formentini Grappa di Chardonnay for me and a large snifter of Gran Marnier Cuvee du Cent Cinquantenaire, 150-year-old Gran Marnier Cognac for Thorsten and Simone.
| | | |
| --- | --- | --- |
| This was truly a perfect ending as we realized that the passion that lives in Chef Luigi Piu comes to life in his creative kitchen. We left Mezzaluna releshing the lingering sensation of just having dined with a fresh fun spin on traditional cuisine. | | |
It was as if Chef Luigi was in the process of re-mastering the art of Italian cooking and presentation deep within the gastronomic center of Abu Dhabi. Our experience was one of gracious service and spirited charm leading us to believe that the only ingredient that doesn't go out of style here is hospitality and passionate brave new cooking.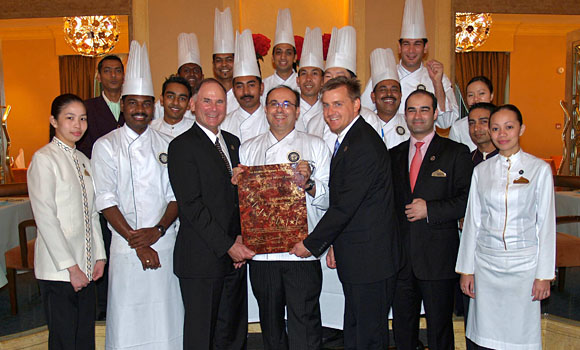 2007 Mezzaluna - Seven Stars and Stripes - Award-Hand-Out
In the morning I was about to have some good news and some bad news. The good news was that the schedule for me included an early Fitness Evaluation with Basil Bohsali, the Fitness Center Manager. The bad news was the results! Bottom line: I have more work to do to get myself into an ideal physical condition for my age. "How do I accomplish that" I asked my guru rhetorically expecting the worst, but there was a kind, sensitive delivery of the important things that I should pay attention to. While sipping fresh mango juice by the fitness center he said, "It's all about making a lifestyle change for the better" and he laid out the pros and cons of my InBody 720 Body Composition Analysis.
| | | |
| --- | --- | --- |
| | | Looks to me like I could use Basil's expertise and he capably suggested exercise and dietary changes that would make achieving my goals a whole lot easier. I could honestly recommend the Fitness Evaluation as a pre-requisite for anyone who is interested in maintaining the quality of life throughout the years. I kind of figured out an ulterior motive here at the Emirates Palace and that was to allow you to enjoy all the excess of their lavish food and drink and then you'll come down to the Anantara Spa and the Fitness Center for some pampering and conditioning. Great idea! |
Soon I met up with Thorsten and Simone to be escorted to the West Wing Gazebo for what is known at the Emirates as a 'Lifestyle Breakfast'. There was plenty of fresh clean air flowing through the gazebo as the chefs prepared the most unbelievably healthy breakfast you could possibly want. Chefs Mateo Ragonjan and Anton Supala teamed up with Manager Ahmed El Douh to lay-out an extravagant plenteous breakfast complete with some of the dietary winners that Basil had just recommended to me.
| | | |
| --- | --- | --- |
| There were three types of house made granola, Bircher Muesli, fresh yoghurt with berries, a selection of six cheeses and an assortment of house made bran muffins and jam. Just when you thought it was all over came the egg white fritatta with Asetra caviar, grilled turkey, hot smoked salmon followed by roasted vine ripe tomatoes. And this was only the beginning of our day! | | |
"Your limos are waiting" came the word from our butler José, who had another golf cart waiting to take us to the lobby entrance. We were greeted by not one, but two bright and shinny Rolls Royce limos. "Why two?" I asked half-heartedly while almost knowing the simple answer. "Each one only carries two passengers and there are four of us" came the response from A.J. or Alan Johnson, the Tournament Coordinator for the Abu Dhabi Golf Club, National Course.
As we took our places in the limos, A.J. mentioned that the club, which is managed by Troon Golf, prides itself on being a championship course that provides "An oasis of tranquility and beauty carved out of the desert", and we were about to take part in that experience. After a nail-biting ride at top speed to the golf club, we arrived in the care of Executive Claire Loep, who provided us with proper attire and refreshments. Claire explained that the clubhouse was built in the shape of a falcon with its wings outstretched as if caressing the entire impressive course with its many lakes and traps, thereby creating an atmosphere of relaxed elegance. It was definitely a unique setting considering that it takes all of two million gallons of water a day to keep it green. Claire pointed out that the course is only 10 minutes from the International Airport and 15 minutes from downtown, very convenient for this world-class facility.
In January 2006, the club hosted the PGA European Tour Abu Dhabi Golf Championship and has since become a vital symbol of great golfing in the Middle East. Now it was time to walk the course for ourselves and take a few well-placed shots. But before we dare, our hosts have arranged an hour golfing lesson with Director of Instruction Esmond Lee Clouthier from Canada in order that we might improve our swings. This being Abu Dhabi and quite hot on the course, Esmond provided us with two 'air conditioned' golf carts to take us to our appointed lesson on the driving range. What a great feeling, having cool air circulating behind your neck and shoulders while you drive over the hilly course.
| | | |
| --- | --- | --- |
| | | We behaved ourselves as we took our much-needed lessons from Professional Golfer Esmond and then proceeded to tackle the course on our own. What a great experience; to have played this magnificent course in the desert and come out refreshed and in tune as we made our way to the clubhouse for a final farewell. Our two Rolls Royce limos parked in front of the Abu Dhabi Golf club looked impressive as our drivers (Formula One trained, I presumed), waited for us while we said our good byes. It was time now to return to the Palace for our late afternoon spa treatments at Anantara. |
We're back at Anantara for a much anticipated treatment designed to demonstrate one of the unique 'Journeys' that have been the talk of the world spa community since the opening of this remarkable center. Anantara uses internationally acclaimed beauty brands including Elemis, Dead Sea and Charme d'Orient to complement the spa's own line of exclusive products. This time I was to receive the gentlemen's Elemis 'Urban Cleanse' facial and deep tissue massage, the prospect of which intrigued me. I was not aware that men could enjoy a facial as much as I did this one and combining it with cranial-sacral massage techniques only heightened this one-of-a-kind experience.
The whole session brought me to a state of total relaxation and a feeling of harmony, resonance and rapport with the fluidic nature of my body. The Thai therapist, understood that these cranial-sacral rhythms are at the core of the body's pulse; learning to palpate and balance them is like discovering the ebb and flow of the ocean. She is a true master of her art!
We made our way to the East Wing Pool area, which is punctuated with a Caribbean style swim-up bar and an elevated chessboard set on top of a tile covered 'island' jutting out into the water.
We were lured towards the deep blue water by the bartenders shaking and blending their way through all kinds of exotic tropical drinks. Before we could dive into the water to converge on the siren-like bartenders, my partner Thorsten challenged me to a quick chess game. Little did I know that this is practically a national sport in his native Germany and the winner would be able to push the other one into the pool. After a few minutes I began to prepare myself for getting wet. It wasn't long before I was immersed up to my neck in water although the only saving grace was that I had a cocktail in my hand. At that point I felt that it had been his loss not mine!
Abu Dhabi, U.A.E

Society - Extraordinary
October - 2007
6 Stars & 5 Stripes
Cuisine & Service
The Ultimate Award:
Seven Stars and Stripes®
Walking into Sayad Restaurant at the Emirates Palace is like entering an underwater world complete with coral reefs, sea fans, giant clam shells and schools of fish all without even getting wet. Although Sayad's cuisine is based on Pacific Rim techniques and flavors with subtle influences from Europe, it is a flavorful journey across many culinary frontiers. For several years now 'Pacific Rim' cookery has been the buzzword for a lot of seafood restaurants looking to garner a greater share of the market. Under the culinary leadership of newly appointed Chef de Cuisine Bryan Chan, Sayad has catapulted itself into the forefront realizing that great food doesn't depend on a trend even though it may ride that wave. He has created a modern expression of balance without playing it safe.
| | | |
| --- | --- | --- |
| Restaurant Manager Belinda greets us warmly with a firm handshake and as if long lost mariners at the end of an epic journey, we are shown to our table all the while gazing into every corner of the room, discovering peace and tranquility as we go. The subdued aqueous colors that abound convey the feeling of snorkeling through the restaurant while at the same time acts to power up our palate in quiet anticipation for dining on seafood. | | |
Rose scented cool cloth towels were presented as a way to freshen up before dining. Belinda began by serving us a Bellini, an aperitif that originated in another water world of Venice, Italy. Refreshing fresh white peach puree combined with Prosecco sparkling dry wine offered the right touch to share our special moment. Bread was brought out to the table along with a trio of spreads including sweet & spicy red pepper, delicate tuna and sweet cream butter. Four types of house made breads were made available including baguettes, soft rolls, brioche and large formations of Arabic flat bread.
| | | |
| --- | --- | --- |
| | | Chef Chan now turned to his international bag of tricks to break from tradition by sending out an Amuse Bouche of White Caviar over Sour Cream Stuffed Mini Potato. Instead of the usual mass of glittering charcoal-gray beads, ivory-colored caviar, the rarest and most expensive, decorated the dollop of sour cream. The flavor does not have the almost floral delicacy of most beluga but is more assertive and intriguingly smoky. |
We relished the momentary pleasure with gusto especially when we found out that it can cost upwards of $1,200 for four ounces, about 125 grams. Next up was a very mischievous Lobster Nacho with Boursin Cheese, Guacamole and Roasted Tomato Salsa, which by architecture alone was majestic and by taste, an international expression of flavor. Chef Chan is certainly on the path to maintaining his edge in this business and can rightly be credited with a good amount of inspired innovation.

Belinda approached now with a bottle of 2005 Robert Weil Riesling, Rheingau Germany to share with us the undisputed king of Rheingau heavyweights. This over the top impressive wine was incredibly rich and ripe and is highly sought after worldwide. It was delightful and elegant while working itself in a cohesive way as a pair for the opulent lobster nacho, which by the way was topped with my favorite tobiko (flying fish eggs). Our devoted and well-trained servers whisked away the remnants of that course and brought on a Peking Duck Essence with Calamari Ravioli and Chinese Wolfberries, a type of duck broth loaded with flavor and nutrition. It seems that the powerful wolfberries are believed to contribute to longevity by slowing the damage caused by free radicals. "What did you say?" asked Thorsten as he witnessed me slurping down every last drop. "Oh, nothing", I mused and continued gnawing on wolfberries and the delicious calamari ravioli. I felt like I could go to till at least 100 years old after that course! Oh well, in my dreams!
| | | |
| --- | --- | --- |
| To look beyond the expected you must be able to think like you are creating something truly unique. Chef Chan now sent out the salad course of Oriental Caesar Salad with Shrimp Canapes and Smoked Chili Jam, an idiosyncratic brainchild. Romaine lettuce in large chunks, lightly covered with the most delicious Caesar dressing and served with two skewered shrimps just bursting with natural juices. | | |
All too often shrimp can be overcooked very easily making them dry and chewy, but these it seems were processed in a very hot clay oven so that the natural juices remained inside until you bit into them. Together with a 2005 Sandalford Sauvignon Blanc/Semillion, Margaret River Australia, it came within inches of perfection. This wine offered a level of intensity and varietal definition only seen in great years. Citrus nuances in a medium bodied wine with beautiful balance, acidity and a zesty finish.
We took a pause in between courses with thinly sliced and delicate flavored Nashi Pear Sorbet to cleanse the palate before moving on to the main course. Monkfish Confit with Crispy Chicken Skin, Beef Chorizo, Capers, Root Vegetables and Tom Yum Emulsion was the Pièce de Résistance, the best feature of the evening. Chef Chan pulled out all the stops with his terrific cleverness and skill by 'thinking outside of the box". What the mysterious 'Tom Yum Emulsion" was I never found out. All I know is that it worked well in a support role for the lobster-like monkfish meat.
| | | |
| --- | --- | --- |
| | | A very traditional 100% Sauvignon Blanc Poully Fumé Pascal Jolivet, 2005 from the glacial soils of the Loire region of France, was produced as quickly as we said "What's next?" Its pale straw color and clean nose called to mind a very youthful but vibrant wine. It is fresh and direct with ripe fruit flavors and a clean biting finish. |
Finally our evening dining experience came to an end with the service of Pandan Leaf Crème Brulee and Caramel Custard Tofu Ice Cream. Is there any end to this madness? Chef Chan is continuing to raise the bar of excellence in his pursuit of perfection and creativity. Needless to say, a very special wine of extraordinary character was necessary at this point and proud Belinda brought us a breathtaking, marvelous Château d'Yquem Sur Saluces, 1998. It is a remarkably obvious, open and expressive wine showing plenty of character with an appreciable depth of botrytis. That is the ingredient that produces the great finesse and structure as well as allowing for eons of cellar time rather than mere years. We were honored and fortunate to have had an opportunity to taste this monumental wine.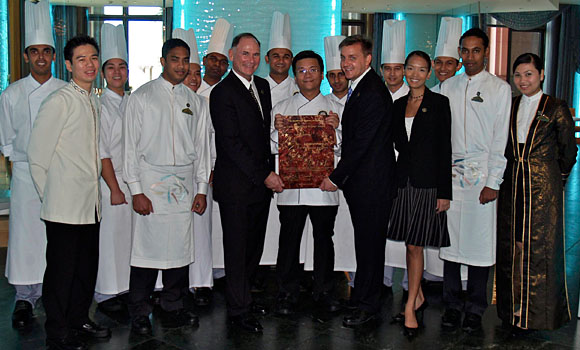 2007 Sayad - Seven Stars and Stripes - Award-Hand-Out
"Chef Chan is a skillful and brilliant virtuoso, who masterfully compiles his thoughts into measurable
endeavors for the pleasure of his grateful guests. Emirates Palace is thankful to have his expertise
at their disposal as he represents the same professional 7* dream of striving for perfection.." ~ JL
For our obligatory nightcap we all agreed to visit the Havana Bar. What a great place to come after a satisfying dining experience at one of the dynamic restaurants at Emirates Palace. There is a nice buzz in the air with lots of people socializing at the bar and in the lounge, chatting it up in a decidedly Cuban atmosphere. With a Hispanic duet singing rhythmically in the background, manager Sacha Toussaint invited us to take a cognac journey under his guidance and sample the best that France has to offer. World famous cognacs such as Camus, Hennessy, Niartell, Otard, Prince Hubert de Polignac, Courvoisier, and Renault-Bisquit are available at Havanna Club although we were totally taken back by the 'gold standard' in cognac, Rémy-Martin King Louis XIII. Each bottle is a blend of 1,200 Cognacs, ranging from 40 to 100 years old, creating its unique spirited charm and lively bite. It is beyond a doubt the gold standard in cognacs or as colleague Thorsten was overheard saying, "Liquid acupuncture"!
| | | |
| --- | --- | --- |
| Manager Sacha now introduced us to a full array of hand-rolled Cuban cigars, which of course are not available in the US. He informed us of the remarkable characteristics and smoothness of using all natural tobacco leaves and no fillers. Sacha presented us a 'humidor' filled with all sizes of Cuban cigars ranging from the small 4 inch 'Perla' to the large '9' Gran Corona and everything in between, offering to clip the end and light it up for us. Cognac and cigars I thought as I glanced around the Havanna, a modern expression of balance. | | |
That night after being figuratively 'tucked in' by my ever-present butler, I slept soundly as if I were camped in the desert with nothing but stars shining over my head. I had the feeling that I would like to experience a trip to the desert or at least a ride on a 'desert ship' also known as a camel. Once again, after being awoken by a call from the Front Desk announcing the weather and asking me for my breakfast requirements, I was to realize my dream. Butler José entered excitedly with the news that today we had breakfast planned at the Marina Roundabout, in which we would sample a typical Arabic hot & cold mezzeh (small tasting). The kicker was that we would all ride there perched on top of camels! A dream comes true.
A traditional Arabic Khayma or tent was set up at the end of the beautiful long jetty adjacent to the Emirates Palace marina. In the grassy area around the tent were situated an Arab musician playing an oud or lute and an Arab making coffee and tea over an open fire in the ancestral ways. Under the guidance of Executive Chef Wolfgang Fischer, the entire operation was set up for us so that we could experience this classic function. The expert in charge of the authentic Arabic cookery was Chef Faisal Abou Saada who worked along side Assistant Chefs Mateo Ragonjan and Anton Supala.
| | | |
| --- | --- | --- |
| | | Their dedication and adherence to authenticity was beyond reproach. Served ritually while sitting or lying on soft cushions placed around a low table were all sorts of dried fruits and nuts, Ramadan juices, warm Arabic bread, falafel (chickpea) omelets, fool madamas (fava beans), babaghanoush (eggplant) and hummus (chickpea - sesame dip). We were greeted in ritual Arabic fashion with the right hand over the heart and a slight bow of the head with the spoken words "Alsalam Alaikum" (Peace unto you). |
I found it fascinating to see all this play out in front of us as we approached riding on top of two camels. Once on top, the ride on a camel is no more distinct than riding the coin operated ones that you often see in front of grocery stores, except a lot higher off the ground. The real issue comes when mounting or getting off, as the camel has to fold its front legs when kneeling to let you reach terra firma. In any case, just hold on to the hair on his hump and you'll do just fine.
| | | |
| --- | --- | --- |
| The whole morning was a decidedly exceptional adventure in a sort of East meets West episode. It taught us the discipline that culinary traditions are collective, cumulative inventions and a heritage created by hundreds of generations of cooks, designed to elevate the dining experience. Our newfound respect and admiration go out to the entire staff for staging this event. | | |
One of my big personal ambitions when coming to Abu Dhabi was to discover the all encompassing rural landscape of the vast desert that played a major roll in the development of the character and traditions of the population. Our itinerary included a "Desert Safari" arranged simply and efficiently by the concierge desk at Emirates. Our guide Tobias von Reiche, personally led us by mechanical camel (4x4 SUV) approximately 40km to a location known for its high sand dunes and lovely Bedouin village, established by the first nomadic inhabitants of the desert.
| | | |
| --- | --- | --- |
| | | Our hearts were pumping now in anticipation as he straightaway put the 'pedal to the metal' and shot up the nearest dune at an incredible speed. We spent the next 30 minutes or so riding up and down the sand dunes all the while watching the spray of sand virtually cover the entire SUV with us in it. I must say that all the while I felt secure in the hands of this professional driver who obviously felt at home in his personal space and did his best not to petrify us too much. |
Finally, we stopped for lunch at this small Bedouin village, but before we could sit down in the tents, Tobias introduced us to the villager who would now take us over the dunes on quads (mini 4 wheel scooters). We easily learned the basics and zipped to and fro around the area for about an hour after which we sat down for a well-deserved lunch.
| | | |
| --- | --- | --- |
| The staff at Emirates Palace had packed a 'small' lunch of snacks for us, although I feel that their definition of 'small' is far beyond the norm. I think there was enough food for everyone and then some. After figuring that the excitement was now over, our guide Tobias suggested that we try another sport known locally as 'dune surfing' | | |
That is to say riding from the top of the 100' sand dunes to the bottom on a snowboard. Well, its been quite a few years since I retired my surfboard but Tobias reassured me that it's like riding a bike, you never forget it. To make matters a little more interesting, I suggested that I wear the traditional dishdash (white robe) and ghutra (head scarf) of the local peoples while attempting my 15 minutes of fame on the sand dunes.
| | | |
| --- | --- | --- |
| | | The results are forever captured by these images, which were taken by my tremendously amused partner, Thorsten Buehrmann. That moment made the entire outing a very unique experience, thanks to the passion and energy of the Emirates Palace staff. |
Evening was reserved for our team to experience a traditional Arabian dinner out on the beach under the most spectacular display of the universe that I had ever seen. Just like the nomadic Bedouin of old, we ate 'al fresco' while sitting on carpets, listening to the delightful sounds of the oud, the classical Arabic guitar. Several camels sat quietly nearby as if resting after a long trek through the desert to this oasis. Men dressed in the traditional garb spontaneously rose to dance to the sounds of the oud with swords drawn to tell the story of some famous battles of the past.
| | | |
| --- | --- | --- |
| Our host Ursula Musch, a sincere German woman dedicated to preserving the bygone ways of life in the desert, presented how to prepare traditional bread over an open fire while several people served dishes of lamb, goat and lobster. Everyone was relaxed and captivated by the music and dance while reclining to gaze skyward after eating. Two men appeared out of the darkness carrying what looked like tall puppets on their arms. | | |
As they entered the light of the open fire, it was clear then that they were falcons, larger than life with their heads covered in a leather hood. We were very impressed with these magnificent creatures and were allowed to hold them on our own arms provided we put on a heavy cloth cushion for the falcons to sit on without piercing you with their talons. Arrangements can be made to enjoy this unique experience simply by contacting the concierge at Emirates, and as we can attest they will go all out for you.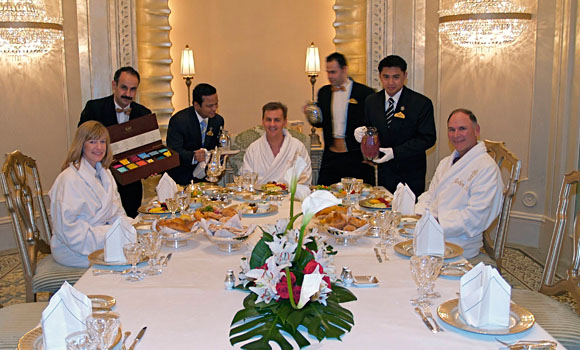 Breakfast
Morning came swiftly after our intense and focused evening episode with the ancestral ways of the desert. Our final day is to start with a room service breakfast to be served in our adjoining dining room, which is a fixture for all the Palace Suites. Needless to say, we were inundated with a wide array of breakfast items, which are available through room service simply by telling your butler. Our butler team even provided us with champagne and orange juice to take the edge off the morning thunder. Our selection was sumptuous just see for yourself as we never even got out of our robes to partake in this incredible feast! The whole butler team headed by Francis Catterjee couldn't do enough for us and even when we requested 'camel milk', somehow it appeared.
There was already a line of people waiting to get in for a half an hour before the opening and as we were led to our table we had to pass through the entire warren of tables adorned with every conceivable type of food. Joseph Perrier champagne flowed freely and we toasted to our successful adventure for the past four days at Emirates Palace. In the words of a famous quote "We Wander for Distraction, but we Travel for Fulfillment", I would have to say that our experience at Emirates Palace was one of total fulfillment and satisfaction. It is truly a bright star in the heavens of hospitality!
by John Lomitola, Simone & Thorsten Buehrmann

Editor: John Lomitola

Editor-in-Chief: Ingrid Lemme
© 2007 ~ Seven Stars and Stripes, Inc.