We were on the way to Malaysia to review the world's first organic spa and wellness resort, tucked away almost three thousand feet above sea level, in the highlands of Pahang, Malaysia (Please CLICK HERE to take a closer look), The Chateau Spa and Organic Wellness Resort. Booming since its independence from the British Empire, Malaysia is an astounding country climbing the world market with a GDP of over six percent for the last five decades. We were about to land at Kuala Lumpur International Airport looking forward to warm temperatures, having left northern Europe already draped in fall mood. Malaysia's weather benefits from a tropical climate with relatively high temperatures and humidity throughout the year, but as you ascend into the highlands, very pleasant temperatures and low humidity. Landing at Kuala Lumpur was like landing in a palm tree orchard, right and left from the runway was greenery with exotic trees as far as the eye could see, carrying the green theme right into the arrival halls. It was evident that the airport personnel and customs officials treated all arrivals with friendliness and respect and they guided us quickly to a private helicopter landing port while welcoming us.
The Chateau Spa and Organic Wellness Resort is easy to reach from Kuala Lumpur International Airport; it's about ten minutes by helicopter and circa an hour and a half by limo. Limo rides to and from The Chateau Spa and Organic Wellness Resort are included in all the spa packages. Seeing Kuala Lumpur's Petronas Towers from the perspective of the helicopter was fascinating. 'According to the CTBUH's official definition and ranking, they were the tallest buildings in the world from 1998 to 2004 until surpassed by Taipei 101.' – says Wikipedia.
| | | |
| --- | --- | --- |
| While Kuala Lumpur seems to be one of the 'must see' cities of Malaysia, Putrajaya is the actual seat of Malaysia's federal government. We were told that the 'Head of State' is the 'Yang di-Pertuan Agong', a monarch elected from the hereditary rulers of the nine Malaysian states, which changes every five years. The head of the government is the Prime Minister. Malaysia's parliament and legal system is comparable to Westminster's. As soon as The Chateau Spa and Organic Wellness Resort, which is inspired by the 18th century medieval Château du Haut-Kœnigsbourg castle, came into sight, we had to remind ourselves that we were actually in Asia. | | |
The original Château du Haut-Kœnigsbourg is located at Orschwiller, Alsace in the Vosges Mountains of France. It's hard to imagine that just nine years ago, there was nothing here except a lush and untouched tropical rainforest, growing freely on unspoiled lands. Tan Sri Dato' Seri Vincent Tan Chee Yioun, the Chairman of the Berjaya Corporation Berhad had visited Colmar, France and decided to replicate the medieval French village at home in Malaysia. Today 'Colmar Tropicale' is located within walking distance from The Chateau.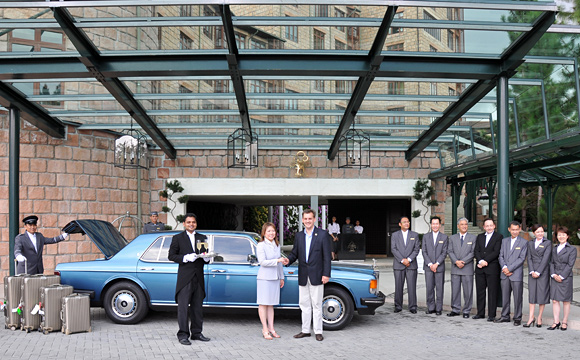 Arrival: The Chateau: Ms. Ming Teh Wah & Thorsten Buehrmann
We landed smoothly on a helicopter port that was located somewhere on the lushly manicured grounds surrounding The Chateau and the Colmar village. The skilled pilot had been in contact with the service director and expecting us was the driver of a new Rolls Royce limo. After we stepped out of the helicopter we inhaled deeply the fresh, warm mountain air and sensed the tropical greens. Within a couple of minutes we drove through the large stone gates and approached the main entrance of this towering Malaysian dream castle, surrounded by unusually large pine trees. We received a royal welcome with grand smiles by Ms. Teh Ming Wah and her well-rehearsed, international team.
| | | |
| --- | --- | --- |
| | | Entering The Chateau's formal arrival hall was like a breath of this amazing fresh mountain air, with the light and airy modern interiors ever complementing the bright and warm smiles of their charming front desk personnel. One's eyes were instantly drawn to the impressive, round Swarovski chandelier (Please CLICK HERE to take a closer look), which was matching the equally sparkling wall sconces. We were told that the 'Mantra Design firm' (Please CLICK HERE to take a closer look) was responsible for The Chateau's costume-designed furniture, decorations and most of their architectural elements. We are predicting that 'Mantra Design' will receive a well-deserved recognition from the decoration and architectural professionals of the world for their expert method of marrying French Château with modern contemporary design. |
The Berjaya Hills company has invested close to RM1.2 billion in this mountain resort which includes the development of the Colmar Tropicale Resort, The Chateau Spa and Organic Wellness Resort and its state-of-the-art organic spa La Santé, the Japanese and Botanical Gardens (Please CLICK HERE to take a closer look), the Japanese Tea House, the Tatami Spa, the Ume Tatami Suite the Organic Farm, Horse Trials, the award- winning 18 Hole Golf Course, The Flying Fox, the 4-faced Golden Buddha and the development of the entire surrounding area of circa 16,000 acres. Our check-in was pleasantly informal and done in our accommodations.
My suite featured a spacious layout, a large terrace with comfortable lounges, a raised outdoor Jacuzzi, outdoor massage tables and stunning views of these spectacular mountains and the rainforest. My elegant accommodation was dressed in relaxing colours and décor, build-in closets with ample space and large flat-screen cable/satellite TVs. The luxurious bathroom featured a deep bathtub and a separate shower room with tiled bench and excellent organic toiletries. The bedroom as well as the living room doors granted easy access to the terrace allowing natural, cool morning air to come in, as well as the cooling air of the precious monsoon rains in the afternoon, clearing the mid-day heat.
Our natural and organic travelers might like to hear that this reviewer needed no AC during my stay in mid October. Malaysia faces two monsoon seasons, with March and October forming transitions between the two monsoons, ideal to discover and explore as well as indulge in adventure and / or golf in the morning and then disappear within these amazing organic spa facilities in the afternoon.
We loved the turn down service at The Chateau, presenting healthy, organic little treats with charming bookmarks, which were remind us in numerous different ways that healthy organic food holds the cure to many of our common ailments. I always slept with my bedroom doors wide open, allowing me to listen to the whisper of the tall pines while my body was covered with these amazing organic sheets, a unique feeling.
Waking up at the Chateau was always breathtaking, with the sunlight trying to peak through this beautiful morning mist that was surrounding the mountains and valleys of these evergreen highlands. We were always looking forward to a delicious breakfast at the Belle Vue Restaurant (Please CLICK HERE to take a closer look), and the caring and attentive service directed by Mr. Subra. The organic eggs and pan roasted fingerling potatoes as well as the grilled purple tomatoes were out of this world. What else can one wish for? Several of the houseguests attended a Yoga class (Please CLICK HERE to take a closer look) at 8 am every morning with Mr. Kenneth Rego – Yoga Siromani Teacher of Yoga, International Sivananda Yoga Vendanta Centre Madhyama Yoga Siksha, Academy of Yoga, The Yoga Institute of Mumbai India, and afterwards had their breakfast at the Belle Vue Restaurant, which is located above the main lobby.
Tan Sri Dato' Seri Vincent Tan had placed this resort on unspoiled grounds, raised with organic material whenever possible and he intends to keep it that way. We swam in the saline resort pool (Please CLICK HERE to take a closer look) which is filled with water that comes from the resort's own wells and is 'sanitized' with nothing but organic salt from the ocean. What is important for today's traveller is the wireless accessibility of his or her destination; not everyone is into reading a book at the pool. However while I was relaxing at this wonderful salt pool and sipping on a delicious, organic fruit drink, I Googled 'salt pools' and found out that a 'natural salt' pool does not entirely eliminate but rather reduces the risk of hair discolouration and eye irritation, just as if one was swimming in the ocean.
The Chateau developed an effective marketing concept which grants the overseas guests an all-inclusive spa programme that includes transportation to and from the airport, while Kuala Lumpur residents can book a quick therapeutic get-away from their hectic city life. The Chateau guest may choose from a dozen different spa programmes inclusive of organic meals and consisting of tailor-made individualized therapies and programmes including Stress Relief, Body Sculpt, Wellness Getaway, Fit for Life, Beauty Essence, Body Pamper, Total Beauty, Couple Retreat, Body Cleansing as well as Pre Natal Therapy and Post Natal Remedy and For the Men programme.
Experiencing 'La Santé Spa' as an organic wellness spa, "granting its guests a complete organic wellness experience by denying methods that involve modern synthetics, instead utilizing cultural, biological, and mechanical practices that promote ecological balance, conserve biodiversity and foster recycling of our natural resources" was a great honor. We tested a one-week rejuvenation spa programme on a female senior advisory board member and were all amazed by the effects this well targeted, all inclusive, rejuvenating therapeutic spa programme had on her. Teh Ming Wah integrated the cutting edge technologies of LPG, a company that is the world leader in cellular stimulation, into this spa program.
| | | |
| --- | --- | --- |
| Ms. Glory Nombado, a gifted therapist, performed this LPG Endermolift facelift treatment which is one hundred percent natural and non-invasive. She worked first on one side of her face and was able to improve elasticity, spontaneous tension and a more youthful appearance through the activation of one's own collagen. The effects of LPG Endermolift facelift treatment erased most signs of aging instantly and gave her a glowing appearance. "Endermolift uses mechano-stimulation to stimulate the fibroblasts (cells responsible for collagen production). This 100% physiological and non-invasive mechanical approach to treating the face's signs of aging appears to be a promising new therapy based on biological mechanisms, " quoting Prof. Philippe Humbert on "The Effects of Endermolift on the Signs of Aging". | | |
The employees at La Santé spa, from the spa receptionists, to the therapists, to the spa director are all extraordinary. We were told that the therapists all have a year of training under their belt, a fact noticed during each single treatment. A highly aromatic, hot cup of organic herbal tea was served after every single treatment with the kindest gesture one hopes to receive. The spa director Ms. Alice Yap recommended to us the Seaweed Hot Stone Massage, which cannot be compared with a normal massage. As with every spa treatment my therapist first of all introduced herself and then explained in all detail the upcoming treatment.
She had soaked strips of organic seaweed in aromatic, organic essential oils and placed them over her entire back. Heated stones were then placed onto these strips of seaweed leaves. Soon the effect of the heat of these stones was soothing the muscles while releasing the healing powers of the ocean. "Seaweed naturally absorbs or metabolises their nutrients from the sea. As a result seaweed contains countless minerals, vitamins and beneficial ingredients in high concentrations. In fact no known plant has a comparable quantity of minerals and vitamins." – according to Voya, the exclusive line of spa products available at La Santé.
| | | |
| --- | --- | --- |
| | | Another treatment that we highly recommend for clients who are looking to reduce the appearance of cellulite, or fat deposits, is the 'Aroma Total Body'. This anti cellulite treatment, which utilizes lymphatic drainage "to eliminate fluid retention, promote detoxification and break down stubborn fat deposits", "worked wonders" as experienced by our test person during her 6 day Total Beauty Organic Wellness Package. This complete beauty & body enhancement program includes accommodation, complete with all organic meals (breakfast, lunch and dinner), a couple of (delightful) afternoon teas as well as a nutritional consultation, fitness and wellness sessions and these treatments: |
1 Swedish Massage & 1 Reviving Facial & 1 Aroma Lift - Non Surgical Face Lifting Facial & 1 Collagen Activator Facial & 1 Body Scrub - Bladderwrack Body Buff (Please CLICK HERE to take a closer look), 1 Body Wrap – Mermaid Purse Body Mask & 1 Relaxing Bath – Aroma Infusion & 1 Aroma Total Body - Lymphatic Drainage & Cell Rejuvenation & 1 Herbal Bath (Sauna) & 1 Aroma Bust - Bust Firming & 1 Spa Manicure & 1 Spa Pedicure & 1 Hair Wash & Style. Another product from the ocean is Voya, La Santé Spa's exclusive spa line, quoting "a revolutionary range of organic products certified by both the US Department of Agriculture (USDA) and the Soil Association. Made from hand-harvested seaweed from Ireland's unpolluted coastline that unleashes natural powerful resources for the benefit of maintaining & prolonging youthfulness and at the same time protecting the earth."
Meeting with Spa Director Ms. Alice Yap was not only delightful but educational as well. She even offers organic spa manicure & pedicure treatments and organic hair treatments etc. We decided not to list them all here all, but just a couple and let you, the reader, experience the incredible repertoire of organic spa & beauty treatments all for yourself at 'La Santé Spa' dressed in bath robes and slippers made from organic cotton and / or bio-degradable material. A few of the European style spa rituals that one should definitely experience at La Santé are their uniquely designed Herbal Bath Organic Herbal Infused Sauna Chamber, the Aquaveda Bed featuring the Soap Brush treatment, the Aroma Hydro Pool The Hydro Bath (Please CLICK HERE to take a closer look) and the Salt Grotto (Please CLICK HERE to take a closer look), studded with thousands of Swarovski crystals, the Grotto is delightful.
The Chateau Spa and Organic Wellness Resort have a doctor on staff, Dr. Sharifah, who not only teaches the concept of holistic health and wellness, having met her personally, the kind lady lives what she preaches. "We believe, 'We are what we eat'. Our motto is 'moderation' and not 'extreme'." Developing an organic spa resort of this calibre takes a team of extraordinary people, lead by an extraordinary professional like Teh Ming Wah. Ms. Ming developed this organic spa resort concept and found open ears with the owner Tan Sri Dato' Seri Vincent Tan, one of Malaysia wealthiest men.
| | | |
| --- | --- | --- |
| Tan Sri Dato' Seri Vincent Tan is a man with a vision who realized and capitalized on the increasing demand of the world market for a health-conscious lifestyle and healthier, preferably organic, foods through other venues as well. Ms. Ming hired, taught and trained her amazing team of professionals until they were able to give birth to the world's first fully organic spa and wellness resort. Ms. Ming, with a background in banking & investments, spas & wellness, as well as hotel management, has developed some of the most exclusive spas of the world and managed Asia's most exclusive ladies clubs, Phillip Wain. | | |
It is her passion for spas, wellness and beauty that has led her to create this new concept in the hospitality world. Seven Stars and Stripes Inc. in Cooperation with The Seven Stars and Stripes Academy™ proudly recognizes Ms. Ming as a Leader and Champion of the Global Spa and Hospitality Industry. Ms. Ming is credited with creating the World's first organic spa and wellness resort at The Chateau in Malaysia and with her vision, expertise, leadership and persistence, Ms. Ming has elevated the global organic spa experience to an entirely new level.
Ms. Ming undertook the task to approach the European Organic Committee (EOC) to obtain the organic certification for an organic resort. However, she was told that they could not certify The Chateau as an organic entity as they have not done the certification for this category previously. Ms. Ming found out after extensive research on her part, that there has never been a hotel or resort that was fully organic.
"Our research yielded many resorts claiming to be organic but upon further investigation, it was revealed that only one part of their operations was organic, usually their F & B outlets or only their spa.
There was no resort, which was organic in their entirety. Hence, we were able to use the tagline "The World's first Organic Spa and Wellness Resort" as it fell upon us to set our own criteria as to what constituted an organic spa and resort. Offering a complete organic wellness experience to our guests is our main mission. Therefore our F&B outlets offer organic food and drinks, our spa utilize organic products and amenities and our rooms are appointed with organic products and then some." Ms. Ming approached the Seven Stars and Stripes organization and after extensive research they developed The Seven Stars Organic World™ Award.
During the official opening night (PHOTO TOUR - CLICK HERE) of The Chateau Spa and Organic Wellness Resort, at Berjaya Hills, The Chateau won four Seven Stars and Stripes awards, and later in the evening, a personal award was presented to Ms. Ming. The evening had a Royal touch; it was graced by The Crown Prince of Pahang HRH Prince Abdullah Ibni Sultan Ahmad Shah, ministers of the country, members of the press and several TV stations (one from the USA), as well as one hundred and fifty specially invited guests from several different countries. Sir Walter Staib, a member of the Seven Stars and Stripes advisory board, an award-winning internationally renowned chef and host & producer of his three-time Emmy Award winning USA national TV show 'A Taste of History' on PBS TV, attended the event with his camera team as well. They also filmed a show at The Chateau and some segments in the nearby jungle. The seven course gala dinner was not entirely organic, as Ms. Ming announced before she wished everyone bon appétit. She explained that she didn't want to miss serving this distinguished group a delicacy like foie gras, which is non organic, and hence the "not 100 per cent organic" menu. Tan Sri Dato' Seri Vincent Tan Chee Yioun, the owner of The Chateau seemed very pleased with his company, the well deserved awards his Chateau received, the string orchestra and opera performance with Samantha Chew, Ms. Ming and her entire team. It was a beautiful night - Congratulations!
by Edmund Buehrmann & Thorsten Buehrmann

Editor: Ingrid Lemme

Editor-in-Chief: John Lomitola
© 2011 ~ Seven Stars and Stripes, Inc.