Society - World Level of Perfection
November - 2004
6 Stars and 7 Stripes
Overall - 'Hotel & Service'
The Ultimate Award:
Seven Stars and Stripes®
We arrived at the buzzing, historic train station 'hall' in Hamburg, Germany on a grey, rather lazy evening in November. At first glance the city was sprouting like many others, especially when we remember the ordeal of catching a taxi in Germany's second largest city. From the moment we drove through the infamous neon-lit Reeperbahn, our attentions were set on adrenaline. We both were trying hard to be flexible about what we had heard of Hamburg as the 'sin' city.
After a relatively short ride, we arrived in the heart of the city; located on the prime real estate of Inner Alster Lake, the Raffles Hotel Vier Jahreszeiten is welcoming guests from all over the world for over a century. It is a flagship for 'hanseatic' (northern Hamburg maritime style) tradition.
The warm welcoming light at the grand entrance of this palatial building signaled 'welcome home' and the polished brass shined; so did the reflection of the full moon on the duck-pond like, calm Alster Lake. By tradition no neon lights are allowed at this outmost, 'inner circle' very first address.
Hamburg, by any means, had to be very flexible during its ca.1200 year history. The northern seaport was almost completely destroyed during World War II. But it's said, Hamburgers rebuilt a stronger, larger and maybe even more beautiful city, with more precious parks, more impressive buildings, and more important cultural & art institutions. Hamburg supposedly is Europe's greenest city today with nearly half of it acreage zoned to fields, farms & parks and the city's official color is righteously 'green'.
Hamburg, lies on the Elbe river, 68 miles from the North Sea and the RVJ hotel is located within walking distance to all that matters. Not far is the congress center, fish market, the Reeperbahn, zoo, harbor, the arts, museums, theaters and the famous State Opera of Hamburg.
With world renowned shopping avenues like the Gaensemarkt ( the goose market) and the Jungfernstieg (the virgin walk) just around the block, this should become a difficult choice for Simone.

Thorsten Piosczyk & Gernot Freyler
We arrived at the classical antique front desk twenty minutes before 8 pm (we had dinner reservations at eight). Gernot Freyler, Guest Relation Manager welcomed us with an award-winning smile and a warm, solid handshake, 'to die' for. Check-in was quick, professional and courteous with just the right hint of a Hamburg accent that one should expect when one visits Germany's foremost maritime city. The authentically restored hotel lobby featured irreplaceable precious tapestries, fresh flowers bouquets in huge floor-vases and collector's oil paintings; Simone and I were excited. Vier Jahreszeiten VIP-Tour
| | | |
| --- | --- | --- |
| | | Due to our time restraints, we rushed through the impressive, stately, elegant wood paneled grand lobby. A lovely valet-lady stood besides the scent of freshly-cut flowers and accompanied us all the way through the stylish marble corridor, reaching our presidential accommodations within minutes. Later on we should find the time to gaze at some of the valuable masterpieces on canvas. Our accommodations were divine, classy, traditional 'hanseatic' style at its best. Our 'heavenly' four-poster bed inspired Simone so much that she remembered to order one for herself when she returned home. She was also raving about the marble flooring in the bath room… 'Good luck with that Simone, I thought'. |
We quickly grabbed our evening attire from our sturdy and fashionable Rimowa suitcases and got dressed. Still, it was hard to leave our wonderful suite so quickly, but we had dinner reservations for 2 at 8pm at Dog Cheng's, at one of the most promising restaurants on site.
Doc Cheng's
Hamburg, Germany

Extraordinary - Society
November - 2004
5 Stars & 6 Stripes
Overall - 'Cuisine & Service'
The Ultimate Award:
Seven Stars and Stripes®
From the moment we entered the dining room all our tiredness was gone. Doc Cheng's beauty is timeless, yet modern. The marble tables were flanked by upholstered corners; the profile follows the "understated elegance" theme that Ingo C. Peters seems to cherish.

A wonderfully interesting exotic aroma assaulted our senses as we passed by the open kitchen leading to Doc Cheng's dining area of the Raffles Hotel Vier Jahreszeiten. At work at their stations were Chef de Cuisine Niels Mester and his international crew, surrounded by heavy iron sauce pans, rice steamers, a wok station and a hand built Tandoori clay oven. You could see that the kitchen team was moving rapidly in sync, hydra-like, going about their tasks deftly in unison while grilling, stir-frying and moving things on long skewers in and out of the large Tandoori oven. "This must be a dream job" I thought as I breathed in the light, fresh, healthy and exciting new aromas emanating from this original Asian show kitchen and I watched as Chef Niels Mester carefully prepared dishes according to ancient recipes. A reassuring wink of the eye from the Master Chef himself left us with a feeling of total confidence as we were led to our table by Restaurant Manager Marcus Scharon. The spirit of Penang 1882 where Doc Cheng was born…………lives on!

Yes, Marcus told us, Doc Cheng was in fact a real character and not someone created on a Disney drawing table although his life couldn't have been scripted better by an all-star screenwriter's committee from the best production companies in Hollywood. The fact that Doc Cheng wound up in Hamburg is a story in itself that winds through the spicy worlds of Singapore, Bangkok, London and finally this city, ultimately through the world renowned hospitality of a certain 'Fräulein Nane' and her appreciation of Cheng's aphrodisiacal teas.

We are led past magnificent Oriental woodcarvings and far-east furnishings of rare hardwoods accentuated with table settings by Thomas Goode of London 'Eclipse Series', hand blown stemware from Singapore and flatware from Solingen, Germany. As Marcus neatly deposited us at our very private table we felt secure, comfortable and warm and my mind drifted as I began to speculate if I would be able to appreciate some of Doc Cheng's special teas anytime soon.

Our menus were being distributed as the naan bread arrived light, crisp and hot, fresh out of the Tandoori oven. Naan is formed from a yeasted dough made with yoghurt, delivering a slight smoky flavor derived from being slapped directly to the sides of the oven. The delightfully crispy naan almost drowned out our conversation as we happily munched and crunched with gusto. Our waiter appeared silently and announced that Chef Mester had prepared a sampling menu for us of some of his favorite menu items along with the accompanying wine selections and asked if that would meet with our approval. "I love not having to make decisions!" Simone whispered to me as a bottle of San Pellegrino sparkling water was being poured into the elegant stemware.
We were pleased to see that the importance of "understated elegance" was perpetuated with the choice of a favorite champagne of Restaurant Manager Scharon, the classical "R" de Ruinart Brut. The gracious offer of a refreshing pause for a couple of glasses of champagne before dining was eagerly accepted.

Our first impression of this powerfully refined wine was that of its ability to electrify the palate with its awesome presence.
Its remarkable intensity delivers a fruity nose brilliantly mimicking the subtleties of its chardonnay and pinot noir origins. We observed the brilliance of its goldenrod yellow color before savoring the excellent mousse and fine bubbles showing notes of pear and white peach.

We lingered a while to appreciate the lengthy but harmonious finish before we noticed our waiter returning to the table to retrieve our menus.
As soon as we handed back the menus, another waiter brought us some Lavosh bread, a thinly sliced whole grain variety accompanied by an appropriately cool cucumber yoghurt spread. Our senses were hard at work identifying all the obscure and subtle flavors that seemed to spring to life with every bite forcing us to daydream constantly of a far away place and time.

We kicked back a bit to relish the impressive Euro-Asian ambience that works well to envelope you in a sort of secrete fantasy of a 'gemütliches Bali Hai'! All this originality is backed up by the impeccable attention to detail by Chef Mester, which earned him a respectable 15 Gault Millau points for creativity. The staff was extremely attentive, well trained and organized while setting the mood with traditional Chinese outfits that would make even Chairman Mao proud. The only thing missing was Mao's 'Little Red Book' and a long 'coolie' hair braid of long ago for authenticity.
Our inscrutable server team moved silently to swiftly produce our next course: The Asian Sampler

Tempura of Black Tiger Prawns and Tuna
Thai Summer Roll of Prawns
California Roll
Maki of Tuna and Prawn
Nisha Prawn
We tried hard not to seem over eager to dive-in as each of these divinely presented items held us to appreciate them as works of art first. Visually, each of Chef Mester's creations took on a life of their own as if they had been fashioned by hand in an artisan's workshop. We could now understand why it had been written in some of Europe's top publications that "Doc's cuisine makes everyone happy!"

All this was thoughtfully paired with Chardonnay Novalis Central Valley, 2002 Chile - a concentrated wine reminiscent of the great Burgundian wines such as Puligny Montrachet.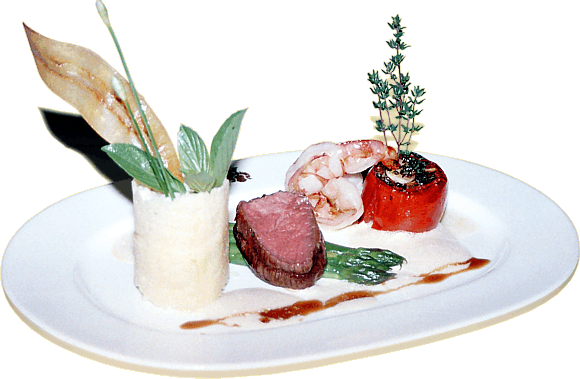 Next came Chef Mester's flawless rendition of Chicken Sate with Coriander and Chili. The chicken breasts remained tender and juicy while being basted with just the right amount of peanut sate coating dusted with chili for a genuine eye-opener.

For Simone it was Tandoori Fillet of Beef with Marinated King Prawn in Thai Basil Crustacean Foam with glazed green asparagus and melted Tomato and Lemongrass Risotto. Anything prepared in a Tandoori oven has the distinct characteristic of being gently cooked at a high temperature thereby allowing the aromas to unfold while at the same time preserving the natural juices. Biting into this filet of beef produced the sensation of concentrated flavor bursting onto the palate as if it were being applied with a spray gun. Our basic senses were at this time receiving an international education in culinary appreciation.

Our wine paring was Cabernet Sauvignon Alles Verloren, 2001 South Africa Wine Estate, Riebeeck West, Wine of Origin Swartland. This wine is produced in the only wine estate of the region 100 mi NE of Capetown, a traditionally dry area. It is a full bodied, wooded wine with dominant herb and pepper tones. It appears garnet red and is intensely luxurious with plenty of tannins making this a perfect paring for beef.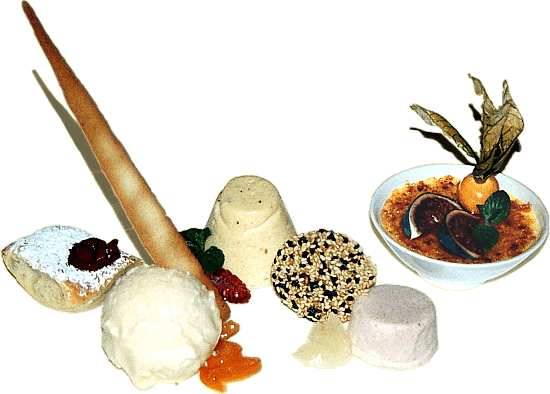 At last we were presented with our dessert selections of Composition of "five-spices" for me. This consisted of:
Clove-port parfait
Crème of black pepper and pineapple
Cinnamon crème brulée and figs
Fennel ice cream with kumquats
Coriander cake with pomegranate and raisins

And for Simone: The Three Lives of Mango which was a trio of sorbets and mousse with wan tan cookie.
The dessert wine of Grgich Hills Violetta, Napa Valley 1994 Late Harvest presented itself with a deep golden hue and a powerful aroma of sweet ripe fruit in a full bodied composition.

Restaurant Manager Scharon returned to the table to see how we were doing and brought with him two lovely little glasses filled with Bamboo Liqueur Chu Yeh Ching Chien, China for us to sip on as a digestive aid. We found the delicate clear liquid to be tantalizingly similar to a very good 'grappa' although it was hard for us to imagine what process it would take to harvest and distill stalks of green bamboo in the midst of a Panda reserve.

"All good things must come to an end, but all great things linger on in one's conscience for years to come" I remember thinking as we strolled out of Doc Cheng's. We will be talking about this exotic dalliance to anyone who will listen for Doc Cheng's is an experience not to be missed.
On the way back to our suite we passed the 'Wohnhalle' which correctly translated means 'living hall'. Well this one was indeed a gracious and grand hall, anything would be appropriate here: tea for two, a date or a couple of pages from the New York Times. How could we 'pass' this most elegant, warm hall overlooking the moonlit lake (boats dangling on the water, ready for the night) with a cozy fire burning in the man-seized fireplace? The 'Living Hall' was decorated with turn-of-the-century fine furniture, superbly upholstered, and again a load of beautiful fresh flower arrangements and plants.
| | | |
| --- | --- | --- |
| | | Sandor Albert, a most attentive waiter, served me an 'Underberg', that herbal stomach soother, served in a thin, tall shot glass. This cough medicine-like 'elixir' was created by the Underberg family and has been a family owned company for five generations. The first world exhibition that unveiled Underberg on the international stage was held in London in 1862. This makes Underberg one of the oldest German brands ever to be presented at a world exhibition. Simone had Bailey's Irish cream, not on the rocks, she was tired. |
A good angel had unpacked the Rimowas for us. Simone filled the sumptuous bathtub with warm water and added a splash of her 'Kneipp' bath oil; the water turned blue and so did I, looking at my bride. We slept like innocent children in the imposing, blissful four-poster bed, which should change the look of 'my' bedroom set at home, forever. These linens were unmistakably ironed and the silky smoothness of cool Egyptian cotton against our naked skin (600 thread count, Simone was not too tired to notice) made us fell like royalty.
We slept in; due to the fact there was not a sound either from the hotel our outside. I picked up the phone and ordered a tray of coffee while Simone slipped into the Italian frotte bathrobe with matching slippers, her blond hair falling down her back. She opened the drapes and the view of the glistening Alster lake caught now all of my attention. "A busy lake this is…" I thought; little sail boats with colorful numbers to identify each one were already doing their thing.

The ambience of the suite was truly addictive; the decorator seemed to have deliberately avoided boring uniformity (each suite is unique) and the 'hanseatic' northern style is just plain charming. Simone couldn't get over these 'adorable night stands' while I lit the log in the fire place. A warm 'welcome home to the old world' sentiment filled my heart.
Raffles Vier Jahreszeiten Hotel was the first hotel on the Inner Alster Lake about a century ago; it still is.
While Simone got ready for breakfast in 'her' bathroom, I checked my e-mails on my Acer; my New York office time is six hours behind us and they had been obviously pretty busy.
| | | |
| --- | --- | --- |
| | | But we both 'had' to grab a quick half-hour cardio workout on the roof top spa 'Raffles Amrita' (after Simone had forced me to check my weight on the bathroom scale. Get what I'm talking about, don't you?). This German 'hanseatic' breakfast buffet was a favorite of mine, since I am a sucker for freshly peeled Granat shrimp (these are the small succulent, delicious & nutritious small North Sea shrimp). Only a few but carefully chosen freshly, crisp baked breads and rolls ( …and Simone reminding me of the scale…) made my choice of the house bakery's selection easy; crisp, healthy whole wheat rolls! This was an excellent German breakfast with mouthwatering cold cuts and the most attentive, well trained personnel. I did miss the home fries and Canadian bacon though. The coffee was hot, fresh and flowing. |
We met with Judith Fuchs-Eckhoff, Director of Sales and Marketing at her suite decorated with huge fresh flower bouquet (the flower designs were most creative and Macy style) and a petite-four laden étagère'; "I wouldn't be able to concentrate with the constant temptation"; Simone mumbled. That is where we meet the German dream man, GM Ingo C. Peters, in his early 40's and handsome. He manages this winner hotel since '97.
Ingo C. Peters has been voted Hotelier of the Year by "The Big Restaurant and Hotel Guide 2004". Peters believes that the key to his success are his 250 employees. "The hardware of a hotel", he meant all the facilities "are important. You have to have the latest state-of-the-art technology, the character and design have to harmonize and everything has to be tip-top. The hardware, nevertheless, is interchangeable and replaceable. It is ultimately the employees, the so-called "software", who inspires the life and soul of a hotel." That's Peters' formula to success.

"Gosh, hope you never get the idea to replace the charming antique hard-wood mail-case wall at the front desk" Simone mumbles in English; Peters chuckled, probably herd her comments. Peters is fluent in English. Although a native of Braunschweig, he grew up in Hamburg. Upon completing his final examinations at the University of Heegen, he later studied at Cornell University in New York.

Ingo Peters & Thorsten Piosczyk - Suite 209
The philosophy of Peters is clear; his employees are highly trained and exceptional, like himself. His hotel career started in '82, with an apprenticeship at Four Seasons, learning the trade from the peak. In '93 he worked for Mandarin Oriental Hotel Group as GM of the Mandarin Oriental Phuket Yacht Club in Thailand and was later promoted to GM of the Mandarin Oriental Jakarta in Indonesia. He later gained more experience at the Westin Hotel in Boston and at the Berkley Hotel in London. After that he was employed by the Ritz Carlton in Philadelphia, than Ritz Carlton in Laguna Niguel, CA.
Many of the public areas of the Raffles Hotel Four Seasons are furnished with collections from the 16th and 17th century, plenty enough to fill a museum. Flemish gobelin tapestries, Renaissance dressers and Baroque closets and antique area rugs, just to mention some of the most exquisite pieces. The luxury and elegance was always present, perfectly understated, and definitely never overwhelming.

Hamburg's business people are meeting the world at the RVJH. Deals are negotiated and closed; money is made, this is a place to impress. Hamburg's blue blood and those who dream of a wedding of elaborate elegance tie the knot at this one-of-a-kind masterpiece of hospitality.
The residential hall, in its original beauty from the Grunderjahre ( the founding years) in the heart of the hotel, is for sure the focal point, elegant but cozy at the same time. Please make it a habit to attend an afternoon tea at the wood burning fireplace and listen to live piano music. The largest and most dramatic Flemish tapestry in the great hall is said to have survived the bombings of WWII in a barn, hidden in the 'then' near-by country.
Simone was most highly impressed with Maria Callas's suite, named after the world's leading late opera voice. Pictures, book, biographies and other memorabilia were decorating the diva's suite. 'Her' colors were soft and feminine, but the beiges and browns had also a calming effect on me.

The 50's and 60's represented a golden age for the soprano, Maria Callas. She had not only a great voice, but was also one of the most dramatic stage performers of her time. The black and white photos of the Callas were originals and of great value.
http://www.callas.it If these walls could 'sing' …
After the most informative tour trough the RVSH we were good for a little fresh air and a romantic walk at the inner Alster; with a sky as blue as Arizona's, this was an easy inspiration to follow. Simone and I were holding hands as we approached the near-by shopping district, at the same time I was holding on to my Amex. They say, it always starts with window shopping …
Near of the board walk we were invited to an Alster punch boat trip, where we got to discover Hamburg from its nicest side, right from the water. Simone thought that this reminded her very much of our boat trip on the canals of Amsterdam, Holland. Discovering these old stately buildings from another perspective was inspiring and step-by-step we got to understand why Hamburg is called the 'door to the world'.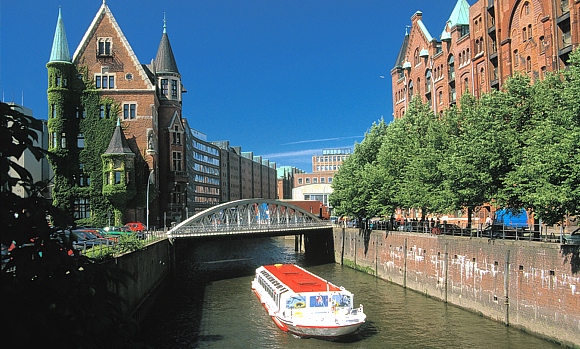 Hamburg is second in size and efficiency on the scale of largest container harbors of Europe and seventh world-wide. Due to its close proximity to the North Sea and its ability to accommodate the largest container ships, its ideal inland location as well as the excellent rail, water and highway connections, Hamburg is one of the most enticing harbors globally. Time is money.
On the Outer Alster, framed by distinctive Alster-front estates and palaces; water sport is a given. There are two mayor rowing clubs and if you want to belong, you are a member of one of them, at least. No customary (gas) engines are allowed in order to protect the water environment. One rows, sails, paddles or discovers the Alster on one of the tourist boats, as we did.

And one can only imagine what an acre of prime Alster water front estate might be worth … They don't make any more land.
Supposedly fishing on the Alster is a sport, and the fish not necessarily meant to be consumed, explained our Captains: "Stick with the punch!" he advised us. His knowledge was eternal and we got to understand, 'punch by punch', why Hamburg is called the " door to the world"…
The Alster tour on the water allowed us to discover spots that are hard to see by foot or car. The villas, palaces, historical storehouse quarter and old merchant houses can best be viewed from the boat. Captain Norbert Bossel was a never ending source of information. The Alster boat service is a historic institution equally famous as the Michel and the Hamburg harbor and a must do, as a German Poet Friedrich von Hagedorn (1708-1780) already describe in one of his poems.

The Germans had built for their Kaiser (emperor) Wilhelm II a precious rowing boat looking like Lohengrin's swan; he took a tour on the Alster October 29th 1888.
Talking about 'swans', the Hamburgers (pronounced like Mc. Donald's most sold) are very fond of their swan families. To avoid that any of the precious fellows get stuck in the ice, (winter temperatures at the North Sea can be brutal) they catch the swans as winter temperatures are dropping and keep them safe in the zoo until spring. That's nice.

After a wonderful and most entertaining afternoon with our boat captain Norbert on the Alster we were quite hungry and decided to go for a rather early dinner. Hamburg's masterpiece, both in restaurant ambiance and cuisine is the Hearlin, a restaurant that deserves serious attention.
Restaurant Haerlin
Hamburg, Germany

Society - World Level of Perfection
November - 2004
6 Stars & 7 Stripes
Overall - 'Cuisine & Service'
The Ultimate Award:
Seven Stars and Stripes®
From its simple beginnings as house number 14 in 1919, Haerlin Restaurant has established itself as the premier gastronomic institution in Hamburg. Friedrich Haerlin's vision was unbounded as he successfully sought to combine artistic design elements of his day with exceptional personal service and creative, enticing cuisine. This mission continues to be carried out under the guidance of Director Ingo C. Peters and through the beguiling, imaginative conceptions of Executive Chef de Cuisine Christoph Rueffer.
Restaurant Manager José Santos greeted us warmly and introduced us to Sommelier Hagen Hoppenstedt. It was a perfect moment to relax for a while before the beginning of our cuisine review of the Haerlin, the flag ship of all four restaurants in the Raffles Hotel Vier Jahreszeiten.

Sommelier Hopenstedt effortlessly suggested a glass of 1996 Dom Pérignon, Brut from over 40,000 choice selections in the wine cellar. The preference of this exceptional wine as a starter reflects the overall quality and exclusivity of the Haerlin as a world-class player in this most competitive business of gastronomy.
Dom Pérignon is only produced in exceptional vintages from Chardonnay and Pinot Noir varieties selected from the best Crus in the region of Champagne.
We watched as the fine, silky smooth golden yellow liquid was gracefully being poured into the sensually curved fluted stemware. As soon as I brought the glass up to my nose, the champagne appeared to offer hints of rich citrus zest woven with tropical fruits that stretched out to include a nutlike overtone.

As my palate beckoned, I carefully caressed the delicate crucible so that the rich golden liquid could reach its goal. The immediate sensation of good firm structure acquiesces to become creamy and luscious ending with a prolonged aftertaste of sun-dried fruit.
Restaurant Manager José Santos returned to escort us to our carefully selected table. It occurred to us that the restaurant was abuzz with the chitter-chatter of contented patrons enjoying the exceptional ambiance created by the combination of traditional design elements coordinated with experienced original cuisine. All tables are decorated with the famous Nymphenburg porcelain displaying the four allegories of the seasonal changes of the year, which acts as a reassuring protection of sorts since this style dates back to the restaurant's origins

As soon as we were seated amid the splendid sounding piano sonata, a selection of house made breads was placed on our table. These included olive-rosemary, herbed, walnut, sun-dried tomato and thyme, whole grain rye (our American Dream Favorite) and pumpkin seed stalks. A very fine, first cold pressed extra-virgin Sicilian olive oil displaying a hint of citrus was the coordinated accompaniment. I tried to prepare for the rest of the dinner by resisting the urge to nibble on all the varieties of earthy breads.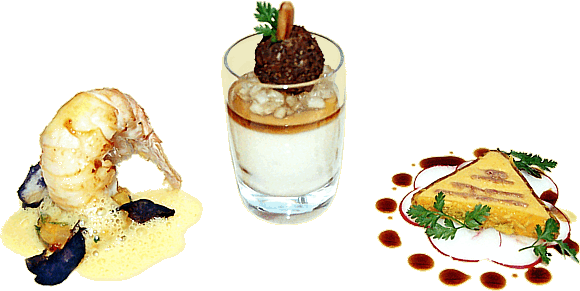 Simone alerted me to the approaching server bringing our Amuse Bouche of Potato Croquets dusted with Lemon Zest and Hand Caught Beechwood Smoked Irish Salmon presented with Cherry Tomatoes stuffed with Goat Cheese for me. Simone received Thinly Sliced Leg of Venison in Pumpkin Veluté along with Duck Liver Praline stuffed with Celery Mousse and Langostino paired with Pineapple-Paprika Chutney. I tried to think of a more unusual combination of things that seem to work extremely well together while providing that necessary curiosity of things to come.

A very nice glass of 1999 Chateau Saint-Amand Cru Bourgeois Sautern was the very appropriate selected wine paring that was personally matched by Sommelier Hoppenstedt to best highlight and accentuate the myriad of flavors forwarded by the Amuse Bouche. Sauterns are Semillon and Sauvignon Blanc grapes allowed to be affected by Botrytis cinerea (noble rot) thereby concentrating the wine's sweetness and alcohol.
Our first thoughts were decidedly perplexed as we tried to figure out what surprise Chef Rüffer had in store for us with this unusual offering. It seems that the Master Chef had somehow dug up an old recipie from the days of the Haerlin's origins. While true to tradition, Rüffer applied his exceptional imagination to temper the velvety smooth pate with the exotic sharpness of ginger laced stewed apples and the light dry tannins of walnut flavored brioche. This very imaginative timeless appetizer made us appreciate the lovely Flemish Tapestries hanging nearby co-existing to produce a very ancient ambience.
Assorted Soups in Mocca cups including: Chervil Cream Soup with Peas and Crayfish, Baked Essence of Venison in a Pastry Shell with Quail Egg and Rabbit Cappuccino with Cinnamon and Passionfruit.

The whole experience so far is almost beyond comprehension as our palates were being assaulted by an abundance of new and exciting flavor sensations. We barely had time to compare notes when the Sommelier arrived with his suggested wine pairing:
1990 Rheingau Charta, Riesling Spätlese Trocken, Staatsweingut Kloster Eberbach
This inspirational wine turned to be the best match for this wild assortment of ingenious cuisine medleys. This special wine is well balanced with enough acidity to keep it approachable while offering fresh, fruit flavors of pear and Jonagold Apple. There was a distinct perfume note glittering throughout kissed by smoke and honey.

Now it was time to pause and really try to enjoy the stimulating creativeness demonstrated so far by Master Chef Rüffer. This was a difficult task for Simone and me as we found it tricky to begin recalling our moments of delightful pleasure. Simone suggested we just sit for a moment while we savored the ambiance created by the well crafted wine.
Before long our server brought us Red Mullet with Skewered Seafood with Whittled Haricort Vert and Paprika Chorizo Sauce accompanied by a feathery light Potato Gnocchi.


The aroma of rosemary drifted up from the perfectly pan-seared Red Mullet and the seafood skewer had a fresh ocean smell indicating the possibility that the Haerlin may in fact do their own fishing daily.
This time it was Restaurant Manager José Santos that brought over his own personal favorite for the wine paring:
2001 Bourgogne Rouge, Pinot Noir La Buxynoise which was ruby red with nice pink hues, good fruit of cherry and dried berries in a light bodied structure. A touch of spiciness was detected throughout its velvety texture which provided the necessary zing to work with the robust main course.
Lemon Quark Soufflé Stewed Citrus with Caramel Ice cream

In keeping with the resounding flavor structures that have been demonstrated so far during our creative adventure in dinning, this sweet specialty presents a whole new experience in taste. Quark, a delicious German Farmer's Cheese is laced with tart lemon and served as a light Soufflé with the creamiest house-made ice cream I have ever experienced.
A wonderfully appropriate 2003 "Les Folastries" Gewürztraminer, Josmeyer, Alsace was served to compliment this novelty dessert. It has accents of sparkling yellow; bring it past the nose to discover the subtle but defined aromas of rose petals and honey; allow the palate to appreciate the mild acidity although you may discover the peppery, smoky charm for a complete seduction of your senses. Winemaker Josmeyer is recognized for his uncanny ability to pair his wines with just about any type of food. "When I'm in Japan, I serve Japanese food with my wines. I always have a wine to pair, no matter what type of food is served," says Meyer.
For Simone and me, we couldn't be more tempted to linger in this awesome restaurant a bit longer as it was an evening to remember and we didn't want it to end. Chef Christoph Rüffer has proven his creative ability time and time again through his distinctive coordination of his plate presentation, seductive aromas and distinguished flavors.

He continues to win accolades within the culinary elite by earning a Michelin star two years in a row and a very respectable 17 Gault Millau points for creativity. It was with great pleasure that we toasted this culinary master chef and his capable team for delighting people from all over the world with his special gifted touch.
"I am a dreamer of foods, fine foods. I shall not dine other then divine." ~ Thorsten Piosczyk
| | | |
| --- | --- | --- |
| | | With the perfect sounds of a live piano concerto lingering in my head I was still in the mood for celebrating the wonderful evening of exquisite cuisine. We took a right in the grand lobby following the sound of more easy tunes coming from a cozy bar. This place was so inviting that we had to at least stick our heads into the door. Liquors from all over the world were to be found on the oak shelves. Casually dressed people in a great mood insisted that we should join them for a real Hamburg beer, freshly drawn, how could I resist? But not even a night cap with this lively company could inspire Simone to stay away any longer from 'her' suite; and so we wished everyone a 'Gute Nacht' - a 'good night' that is… |
Back at the suite, our beds had been turned down by caring hands, we found fine chocolate pralines on the night stands; we both adored the little gesture of great hospitality. We gazed from our four poster bed over the lake and cuddled, as only people in love can do.
We had slept-in as if in heaven; we were in its world, besides reality, touching joy. Achieving great sleep can make or break a business deal and often a relationship. Great hotels are managed by great minds and they understand the importance of a good night's sleep.
I ordered a wonderful breakfast, delicious American breakfast, ham and bacon that is for me. Again the service was outstanding, ever advising, ever supporting and mind reading.
On the way to our 'Stadtrundfahrt', a city tour that is, we found another hidden treasure. The RVJ's own version of Starbucks, the Raffles Deli. Coffee specialties from around the world were served here for my quick mochaccino fix; with about four dozen sandwiches New York styles to choose from, strawberry cheese cake (Hampton's style), Danishes and then some…
Stadtrundfahrt: Our city tour leader Gabriele C. Becker Serrano from the Hamburg Tourist Agency, multi-lingual, of great charm and exceptionally knowledgeable along with an experienced driver (Frank Schmidt) were already expecting us with a 'one-in-a-kind' extra-large limo van. The limo van was outfitted with soft, light leather and a huge TV screen. We were visiting 'sin' city, who had time for TV? We were curious and acquired all the way.
| | | |
| --- | --- | --- |
| | | Facts: HH, Hansestadt Hamburg (maritime city of Hamburg) is about the size of New York City with about 1.7 million People living in Hamburg today and supposedly half of them are singles. Kaiser Karl the Great founded the City early in the 9th century. There are about 2400 bridges in Hamburg. The University of Hamburg teaches about 55,000 students annually. Same sex marriage is legalized since circa 4 years. Villas owned by Jil Sander, and the Herz family; just to name a couple. Red Dog Restaurant is a canine eatery where they serve your darling 'shatze' in a garden like setting. Hamburg is the home to a few of the most influential people in the financial sector. Davidswache in the Davidstrasse is Germany's most famous police station Michel, the landmark of Hamburg. You can climb the tower and inhale a awesome view over the port. At Landungsbrücken (jetties), visit the sailing vessel 'Rickmer Rickmers', which is a museum ship. |
American Dream Hot Tip: Check out the colorful fish market, Sunday mornings 5am till 9.30am (in the winter 7am) everything is sold there. Reeperbahn the famous street deserves an entire evening (or night) of your time. Krameramtswohnungen built in 1676, at the base of Michel, at the Krayenkamp. St. Pauli, the most well known town district of Hamburg.

Right at this very corner, located on the infamous Reeperbahn is a small 'souvenir' adult shop where one finds condoms in the shape of serving plates, kangaroos, the titanic, bears and many other 'fun' sin-city memorabilia. The Reeperbahn is one of the most 'straight' lined streets to find in Germany since Hamburg's early boat builder years. Large ships needed long ropes and to wind such it took not only several strong man, but also a long, straight street.
| | | |
| --- | --- | --- |
| Hamhurg's Rathaus (city hall) is one of the most impressive Parliament buildings in Germany. Over a 100 000 people are visiting this historic building annually. Created from sand stone and supported by 4000 oak posts in 1868 the Renaissance style Rathaus has 647 rooms where Hamburg's senate and city management resides. Twenty large Kaiser (emperor) statues are surrounding the phenomenal palace. Above the main entrance is the phrase hewn in stone: 'The freedom our ancestor fought for shall be protected by those who come after us' … or so. | | |
We visited the 15 feet high staggering fountain-of-youth located in the inner court yard, but drank from one of the historic stone fountains in the building that are feed with 20 century , lead-free pipe. The water was exquisite. The historic Ratskeller, the wine cellar, still stuffed with 17 and 18 century oak wine barrows made my day. I wanted to stay…

About Hamburg I'd like to quote Benjamin Disraeli 1804-1881 a British Statesman and Prime Minister "Like all great travelers, I have seen more than I remember and remember more than I have seen." Hamburg is a city of great history, charm and excitement. One shall not visit the city less then three nights.
by Simone Buehrmann & Thorsten Piosczyk

Editor-in-Chief: John Lomitola