Burj Al Arab, Dubai - UAE
Seven Stars Travel TV-Show™
Emirates Airlines First Class Suite Review
Seven Stars and Stripes > facebook®
NEXT: The St. Regis Saadiyat, Abu Dhabi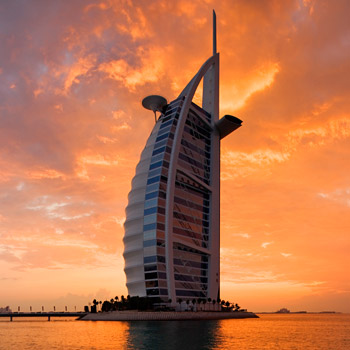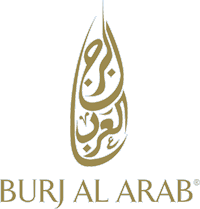 Dubai, UAE

7 Stars and 7 Stripes
Our arrival at Burj Al Arab was of true Seven Star style. Four lovely hostesses and a host welcomed us in the tradition of Jumeirah - with warm smiles, cold towels, Arabian coffee, sweet dates and chilled rosewater. Much has been written about the decorative style of Burj Al Arab, some overwhelmingly positive, some otherwise. One thing is for certain; entering Burj Al Arab for the first time and looking up the tallest atrium lobby in the world will definitely take your breath away. While the exterior of Burj Al Arab appears ultra-modern, its interior is an anthology of interesting and well-appointed copious styles, splendidly dressed in 24-carat gold leaf. On the way to the elevator that would usher us to our accommodations on the 19th floor, we passed fascinating water installations.... (CLICK HERE for more)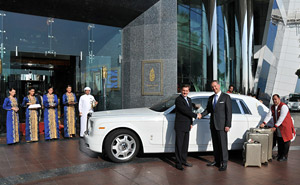 ... Upon entering, I stepped into the lower level of my duplex suite which featured a living room with a spacious lounge, a dining area for four, a bar counter and a guest powder room. A well designed spiral staircase then lead me to the upper floor featuring my bedroom with a king-sized bed, a dressing room, and a lavish bathroom with a shower and a Jacuzzi tub. The bath facilities were set in precious, colorful Arabian-influenced mosaic tiles with a display of Hermes bath amenities. The butler mentioned that one may take the full-size His & Her set home if so desired. Here in the privacy of my suite with classy-cozy furnishings and Arabian influenced decorations, I was finally able to relax. While the butler was unpacking my Rimowa luggage I took a long, hot shower, slipped into my bathrobe, ... (CLICK HERE for more)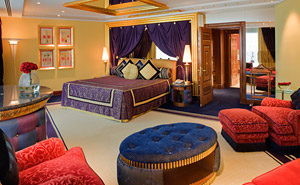 ... From our evenings seven-course menu we tasted the Amuse Bouche, a Lobster Bisque (to die for, this one is worth alone to dine here), Poached Tsarskaja Oysters, Lobsters from Maine with oxtail and lobster jus (I thoroughly enjoyed the interesting combination), Fish Pot au Feu in a Bouillabaisse Consommé and the Grilled Wild Sea Bass with Grilled Endive. The sommelier elevated each course to another dimension, cuisine and wine paired in perfect harmony. The cuisine and presentation at Al Mahara was incandescent and mouth-watering and its level of service luminous. Of course, we decided to take our nightcaps at the Skyview Bar, located adjacent to Al Muntaha restaurant where we ordered two freshly drawn beers. The breathtaking views from here at night make the perfect backdrop for a romantic evening. ... (CLICK HERE for more)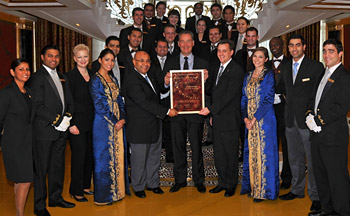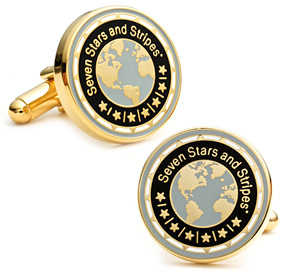 Seven Stars and Stripes Inc. now offers, for the first time, this extraordinary, custom designed 'His & Her Seven Stars Cufflink set. Limited Edition.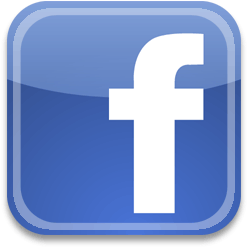 Please join us on 'facebook® (CLICK HERE), a brand new fan page where you get a chance the catch up or get the latest scoop on what might be of interest to todays distinguished global traveler.
Congratulations to all, from your Guests and from Seven Stars and Stripes:
For your visible commitment to excellence.
For your willingness to be recognized for your latest innovations.
For your devotion to your staff and company.
For your ability to receive.
For your decision to raise the bar.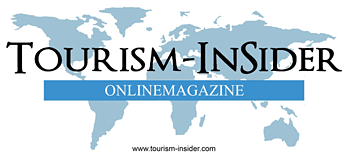 For our hospitality professionals: We partnered with 'Tourism-Insider, a valuable newsletter that reports about current affairs in the tourism industry. Joachim Fischer, the editor-in-chief, who joined our Seven Stars Advisory Board, is represented at all major trade affairs around the world (WTM, ITB, IMEX, AIME, IT&CMA, ATM, ATF, MITTM, EMITT, IT&CM etc.) and reports about the newest trends and events as well as political developments pertaining to the promotion and development of tourism.
| | | |
| --- | --- | --- |
| Dear Friends, | | |
For all who have the Burj Al Arab, "World's Most Luxurious Hotel" still on their bucket list, Dubai offers perfect weather conditions in March, with highest temperatures around 80 degrees! Our most recent travel agenda included a review of the 'Burj', Tower of the Arabs, definitely living up to its reputation. The level of service we experienced during our stay was what one would expect from a true Seven Star hotel or resort. Their pool belongs on the list of the most amazing aquatic structures of the world, with stunning views from the 18th floor soaring above the turquoise Arabian Gulf. Although no longer the world's tallest hotel, Burj Al Arab is featuring the world's tallest atrium, residing on its own manmade island and resembling the billowing sail of a dhow. We suggest you reserve at least a week to fully experience all that Dubai has to offer!
On our way back from Karkloof Safari Spa, South Africa's very first Seven Stars Award resort, where we filmed the Seven Stars Travel TV-Show™, we experienced Emirates Airlines First Class Private Suites, intending to use clips of the flight as intro for the show. Since Emirates Airlines is presently the only airline servicing Durban, South Africa via Dubai internationally, we had the ideal situation to review Emirates First Class Suites, which are available on all Emirates A380 and Airbus A340-500 and most Boeing 777 aircraft and participate in a private wine tasting above the clouds. Recently, our Seven Stars Travel TV-Show™ had been submitted for the international "Tourism Media Award" at the upcoming ITB in Berlin, the Worlds Leading Travel Trade Show, from March 6th to 8th, and we are looking forward to attending.
I remain yours truly
| | |
| --- | --- |
| | |
| | |
| | Thorsten Buehrmann |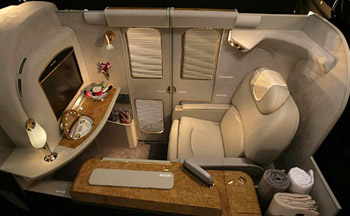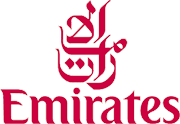 First Class Suite
777ER DUS <> DXB <> DUR

7 Stars and 6 Stripes
From the moment we stepped onboard, the gracious smiles of the crew feed into the casual lightless of the welcome. A stewardess guided us to our suites and asked if she could take our coats, then she offered to familiarize us with the suites, available on all Emirates A380 and Airbus A340-500 aircrafts and most Boeing 777s. She smiled, "A glass of Champagne?" We nodded and a 2003 Moët & Chandon Champagne Cuvée Dom Pérignon was perfectly pearled into our flutes. The vintage gave the still virgin air on board a light scent of floral freshness, or did it stem from the flowers on the walls of each one of these private suites? ... (CLICK HERE for more)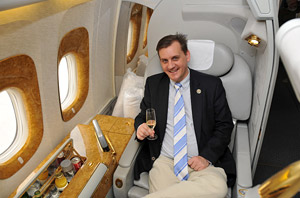 ... Each suite has an electric sliding door, a personal mini-bar, modifiable ambiance lighting to dim the glitter of the gold accents and a large touch screen entertainment center with an additional wireless control screen unit that allows adjusting seat and light functions as well. The center aisle suites have adjustable privacy dividers, granting couples the opportunity to dine together, or assuring individual privacy. The interiors of these elite retreats are impeccably well-designed, completely private and feature a nicely equipped vanity drawer with mirror and a separate wardrobe, as well as a drawer with a writing kit with embossed stationary, pen and a leather writing pad. We discovered ample storage space for all our personal belongings. ... (CLICK HERE for more)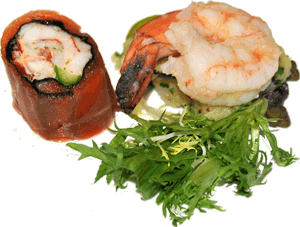 ... However, my favorite appetizer without a doubt was served on my Durban > Dubai flight. Simply dubbed Marinated Seafood, the Roulade of smoked salmon and dill cream cheese with Cape Malay dressing, plump fresh prawns marinated with Cape Malay herbs, offered with vibrant sweet chili sauce, accompanied by baby spinach leaves, Parisienne melon salad with chili and rocket and oven-roasted cocktail tomato was superb and must stay on the menu! Paired with a venerable Sancerre La Montagne Noir Domaine Sarry 2005, I neither wanted the flight or the meal to end. ... (CLICK HERE for more)
In Next Gazette:
* The St. Regis Saadiyat Island, Abu Dhabi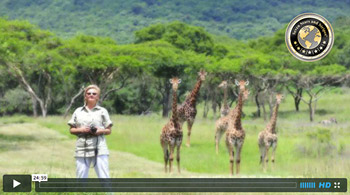 NEW: Seven Stars Travel TV-Show™
The Seven Stars and Stripes team films at request on location!
The team often travels with two of their distinguished advisory board members, four time Emmy-Award winning TV host and celebrity chef Walter Staib (A Taste of History) and Ms. Ingrid Lemme, host of the long standing American Dream Show, based in New York; she also guest hosts the Seven Stars Travel TV-Show™. 'A Taste of History is a TV cooking series that explores Americas culinary beginnings from the Birthplace of American Cuisine. This innovative series brings Americas history to life and makes it vibrant as Chef Walter Staib steps back in time and discovers the roots of American cuisine all over the world. Then Mr. Staib presents the Seven Stars and Stripes culinary awards personally to the Chef de Cuisine on location.
Please watch the entire Seven Stars Travel TV-Show™ 'Karkloof Safari Spa' below:
Including an interview with owner Fred Woerner and a special cooking segment with Celebrity Chef Walter Staib. ... (CLICK HERE for more)
In The Press:
* Seven Stars Travel TV-Show:
Karkloof Safari Spa
(CLICK HERE) / SEE BELOW >