Jumeirah Bilgha Beach Hotel, Baku - AZ
Talise Spa, Baku - AZ
Seven Stars and Stripes > facebook®
NEXT: Mystery Review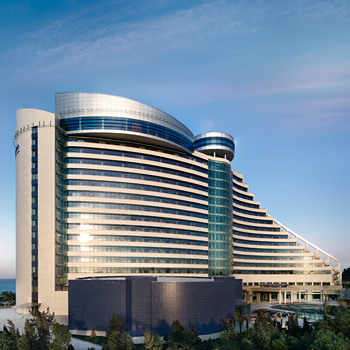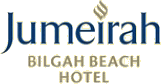 Baku, Azerbaijan

5 Stars and 6 Stripes
As we neared the area of Bilgah after a 15-minute drive, it became clear that this was one of the most prestigious, private residential addresses in Baku's suburbs. And when the hotel came into view the architectural style of the Jumeirah was obvious. The main entrance, as well as the road to the hotel, was flanked by giant white glowing balls of light which bathed the resort in a somewhat surreal but welcoming feeling. At the main entrance General Manager Mete Atakuman and members of his team welcomed us, attired in traditional Azerbaijan costume. The Jumeirah Bilgah Beach Hotel--Baku's most exclusive luxury beach resort (and corporate playground) with nearly a thousand feet of private beach on the Caspian Sea. ... (CLICK HERE for more)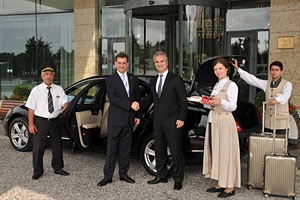 ... The enormous Presidential Suite (170 square meters), and the impressive Ambassador Suite as well, are located on the upper floors, and are reached by glass elevators displaying a full-length view of the atrium's striking chandelier. The Presidential suite--with its gold-leaf Louis Quatorze furnishings and its Steinway baby grand piano--and the Ambassador Suite--with its silver fabrics and accents throughout-- both offer stunning views of the Caspian. Here the designer used Neo-Classical design combined with Baroque art (and a couple of casually placed modern accents) to create the feeling of a gracious and timeless home away from home. Opulent bedrooms are dressed with luscious linens and luxurious marble, and bathrooms feature spa amenities by Clarins, a French skincare line. ... (CLICK HERE for more)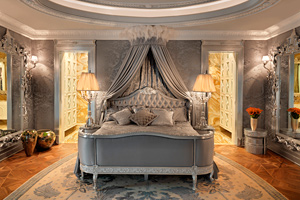 ... Whether one is planning a conference or a meeting, the fact that the Jumeirah Bilgah Beach Hotel is within easy to reach of the city of Baku is priceless. With its lovely gardens and terraces overlooking the Caspian Sea, the Jumeirah is a wonderful setting for weddings and family affairs. We congratulate General Manager Mete Atakuman, who opened this exclusive beach resort in the country of Azerbaijan and has managed the Jumeirah Bilgah Beach Hotel successfully since its inception in 2011. With his diplomas in Hospitality Management from the University of New South Wales, Sydney, Australia, and the Marmara University of Istanbul, Atakuman's credentials made him the Jumeirah's ideal and perfect choice. We highly recommend the Jumeirah Bilgah Beach Hotel, with its wonderful traditional Azeri kitchen and the surrounding incredible Caspian Sea, for an escape from the buzz of Baku, or from wherever you are. ... (CLICK HERE for more)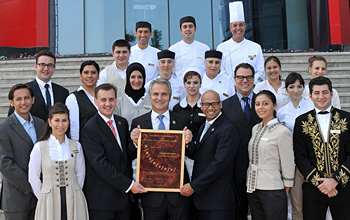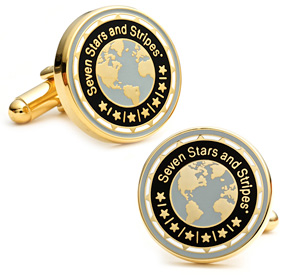 Seven Stars and Stripes Inc. now offers, for the first time, this extraordinary, custom designed 'His & Her Seven Stars Cufflink set. Limited Edition.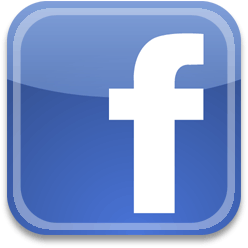 Please join us on 'facebook® (CLICK HERE), a brand new fan page where you get a chance the catch up or get the latest scoop on what might be of interest to todays distinguished global traveler.
In The Press:
* Seven Stars Award™ Introduction
(CLICK HERE) / WATCH BELOW >
| | | |
| --- | --- | --- |
| Dear Friends, | | |
We are delighted to report about a new exclusive beach resort on the Caspian Sea in Azerbaijan, located within fifteen minutes from the capitol city of Baku. The inner city of Baku, whose first written evidence of existence dates to the first century A.D., along with the Shirvanshah's Palace and Maiden Tower, are designated UNESCO World Heritage Sites. Baku boasts a wealth of history and urban nightlife, definitely making it the up-and-coming place to discover maybe already before the 2015 European Games. As the Caspian Sea is famous for its healing air, the Jumeirah Bilgah Beach Hotel is an ideal retreat for those seeking a relaxing escape, and like to discover the area and experience their inspiring authentic Azeri cuisine. In true Jumeirah style, the hotel's main lobby is a stunning atrium displaying a190-foot gold and silver-plated chandelier sparked by 72,000 LED lights. Besides its reputation for the finest in creative cuisine, the Jumeirah Bilgah Beach Hotel is perhaps best known for as corporate playground, the extent of its culinary options and the "Talise Spa".
Until next month from Hotel Altantik Kempinski in Hamburg, Germany and Dubai, U.A.E.
I remain yours truly
| | |
| --- | --- |
| | |
| | |
| | Thorsten Buehrmann |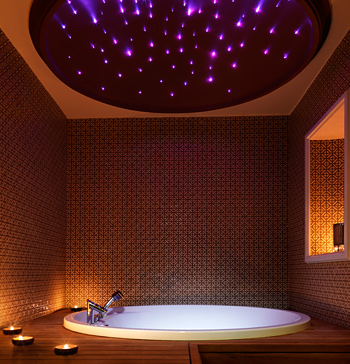 Baku, Azerbaijan

'Of Global Distinction'
All accommodations provide easy access to the "Talise Spa," which features a 20-meter lap pool, several treatment rooms and even special Spa Suites for the ultimate in privacy and comfort. Each Spa Suite has a relaxation area with thermal beds, treatment rooms, Finnish sauna, Turkish Hammam and either a steam room or a whirlpool. We experienced a flawless signature spa treatment by an expertly trained therapist. ... (CLICK HERE for more)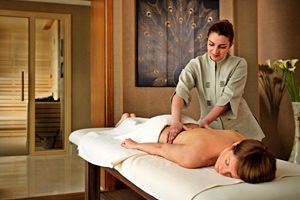 ... And we further relaxed in the outdoor swimming pools at the "waterpark," complete with sun decks and fountains. Jumeirah Bilgah Beach Hotels Waterpark is the largest in the area with speedy thrills and spills on its 11 incredible slides, including the black hole, the rafting slide, a tunnel free-fall, the kamikaze slide and a wave slide. Meanwhile, the little ones will have a great time at the children's pool, which also provides slides, childrens activities and dedicated play areas. ... (CLICK HERE for more)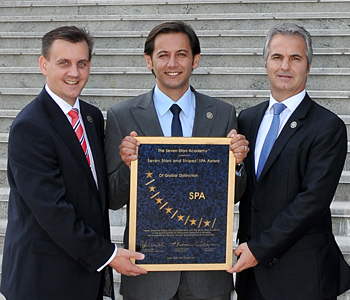 In Next Gazette:
* Mystery Review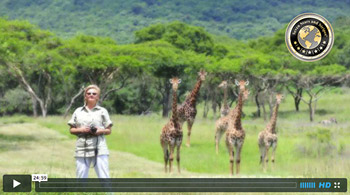 NEW: Seven Stars Travel TV-Show™
The Seven Stars and Stripes team films at request on location!
The team often travels with two of their distinguished advisory board members, four time Emmy-Award winning TV host and celebrity chef Walter Staib (A Taste of History) and Ms. Ingrid Lemme, host of the long standing American Dream Show, based in New York; she also guest hosts the Seven Stars Travel TV-Show™. 'A Taste of History is a TV cooking series that explores Americas culinary beginnings from the Birthplace of American Cuisine. This innovative series brings Americas history to life and makes it vibrant as Chef Walter Staib steps back in time and discovers the roots of American cuisine all over the world. Then Mr. Staib presents the Seven Stars and Stripes culinary awards personally to the Chef de Cuisine on location.
Please watch the entire Seven Stars Travel TV-Show™ 'Karkloof Safari Spa' below:
Including an interview with owner Fred Woerner and a special cooking segment with Celebrity Chef Walter Staib. ... (CLICK HERE for more)
Congratulations to all, from your Guests and from Seven Stars and Stripes:
For your visible commitment to excellence.
For your willingness to be recognized for your latest innovations.
For your devotion to your staff and company.
For your ability to receive.
For your decision to raise the bar.