Radisson Royal Hotel, Moscow
'Boulevard Magazine - Florence'
'Schlossle Hotel', FLIP Book
Seven Stars and Stripes > facebook®
NEXT: Kempinski Le Mirador, Lake Geneva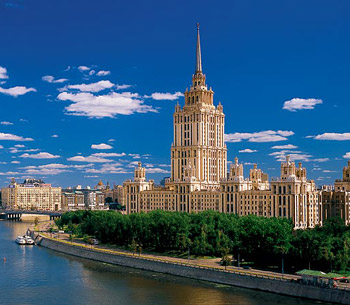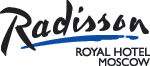 Moscow, Russia

6 Stars and 5 Stripes
The fact that the international Rezidor Hotel Group had introduced the Radisson Royal Hotel of Moscow as its new 'flagship' last spring was old news to us. During our frequent visits of Moscow over the past three years we were able to catch a little bit of the progress here and there of the forthcoming and all-embracing three hundred million dollar restoration of one of Stalin's monumental 'Seven Sisters' buildings, the former 'Hotel Ukraina'. As our driver approached the beautiful, meticulously restored, stunning main building of the former 'Hotel Ukraina' we were in awe of this ideal location. The close proximity of this historic hotel building to The Russian White House (The House of Government of the Russian Federation), The Ministry of Foreign Affairs and the ever ... (CLICK HERE for more)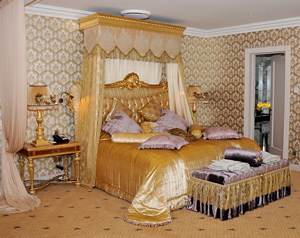 ... we were on the way to the private dock across the street from the hotel for a sightseeing & dining tour on the Moskva River. The White Yacht Restaurants have been exclusively designed and built for the hotel and run a two-hour tour from the hotel along the most picturesque sights of Moscow, for lunch and/or dinner. The yachts park right across the street on the Moskva River pier and the views from this perspective are priceless. We boarded quickly and were led to a pretty decorated table with comfortable chairs that would allow us to really enjoy the tour and to discover Moscow from a totally different point of view. ... (CLICK HERE for more)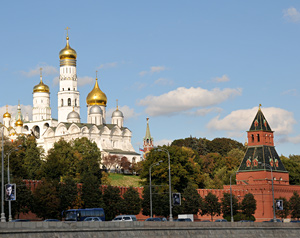 ... Seasoned Hotel Manager Wolfgang Nitschke and his team have completed yet another masterpiece, the Radisson Royal Hotel of Moscow! Mr. Nitschke, who oversees the management of this fascinating property, participated in many famous hotels in the world, including the Regent Melbourne, the Dorchester and The Landmark in London, the Beverly Wilshire Hotel in Beverly Hills, L.A., the Burj Al Arab in Dubai and many others. With five decades in hospitality management his experiences include re-branding, repositioning, refurbishment, and establishing operational standards with an emphasis on training and staff development, a fact that is clearly seen amongst this well-rehearsed team. Wolfgang Nitschke, who has worked in fifteen countries throughout the world, reached also a milestone in his career by marking his 50th year in the international hospitality business. ... (CLICK HERE for more)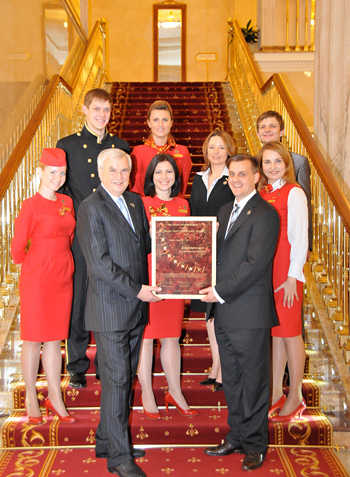 | | | |
| --- | --- | --- |
| Dear Friends, | | |
We just returned from Russia and are eager to share with you the new flagship hotel of the International Rezidor Group, the Radisson Royal Hotel Moscow. During our frequent visits of Moscow over the past three years we were able to catch a little bit of the forthcoming of the three hundred million dollar restoration of one of Stalin's monumental Seven Sisters buildings, the former Hotel Ukraina. Today she is exquisite through and through, with a location to die for, and Moscow's new grand dame is ready to welcome you with open arms. The Radisson Royal is the new hot spot for gourmets in Moscow, presenting several different restaurants with authentic Iranian, Italian and Japanese style foods. Mingle with Moscow's high society at the Tatler Club, where famous Russian Chef Arkady Novikov serves his innovative fusion cuisine. We discovered Moscow from a totally different point of view, during a relaxed lunch in the White Yacht Restaurant, exclusively designed and built for the hotel and docked right across the street on the Moskva River pier. The views of the Golden City from this perspective are priceless, especially in the winter, since the yachts are designed to break ice! Until next month from Le Mirador Kempinski on Lake Geneva in the Swiss Alps and another fabulous restaurant, Le Trianon.
I remain yours truly
| | |
| --- | --- |
| | |
| | |
| | Thorsten Buehrmann |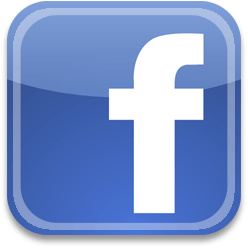 Please join us on 'facebook® (CLICK HERE), a brand new fan page where you get a chance the catch up or get the latest scoop on what might be of interest to todays distinguished global traveler.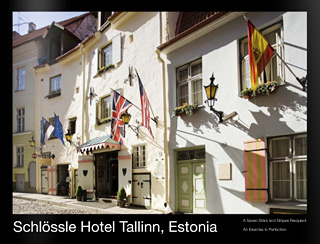 (CLICK HERE TO FLIP THE BOOK!)
Our exquisite hardcover coffee table books, custom designed for each resort, hotel, spa and restaurant, feature highlights and possible excursions of each establishment, along with the Seven Stars and Stripes review and award presentation. These impressive hard cover books, now available in three different styles, are luxuriously wrapped and make great holiday gifts and keepsakes, all the while showing the full potential of what guests may experience. Please 'CLICK and FLIP through the Seven Stars and Stripes review and award celebration at the Schloessle Hotel Tallinn, Estonia. Enjoy!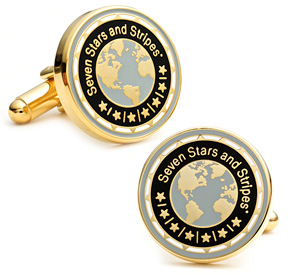 Seven Stars and Stripes Inc. now offers, for the first time, this extraordinary, custom designed 'His & Her Seven Stars Cufflink set. Limited Edition.
Congratulations to all, from your Guests and from Seven Stars and Stripes:
For your visible commitment to excellence.
For your willingness to be recognized for your latest innovations.
For your devotion to your staff and company.
For your ability to receive.
For your decision to raise the bar.
In Next Gazette:
* Kempinski Le Mirador, Lake Geneva
In The Press:
* Boulevard Magazine - Florence