Alchymist Grand Hotel & Spa, Prague - CZ
Aquarius Restaurant, Prague - CZ
Lufthansa Business Class
Terrazas de los Andes Malbec, Argentina
Seven Stars and Stripes > facebook®
NEXT: Viana Hotel and Spa, USA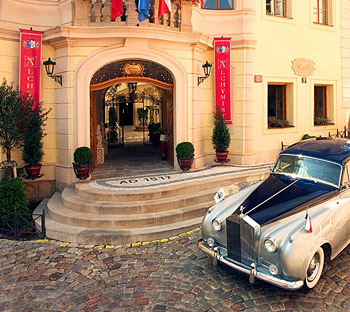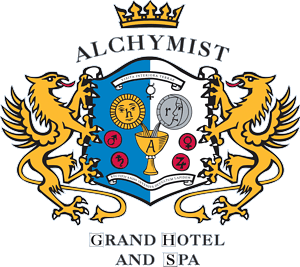 Prague, CZ

6 Stars and 6 Stripes
Our room of choice was a third floor suite with windows carved out of a mansard roof, which allows great lighting and spectacular vistas. The first thing you notice is the richly grained wood floor topped with a couple of high quality geometrically designed wool rugs. There is a comfortable living room settee with an ornate gilded coffee table adjacent to a replica of a 16th century gilded desk topped with a very sleek modern flat screen LCD TV. ... (CLICK HERE for more)
... it's essential that one leaves plenty of time to indulge in the Indonesian themed Ecsotica Spa with its qualified team of Balinese therapists waiting to treat you to any number of unique signature treatments. My preference was to try out the Alchymist massage combining the best of Hawaiian, Swedish and Balinese techniques, resulting in one of the most relaxing, therapeutic treatments I have ever had. ... (CLICK HERE for more)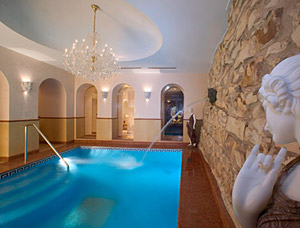 ... The Alchymist Grand Hotel and Spa is an eclectic, free-spirited, consummate establishment committed to the complete satisfaction of every guest on all occasions as laid forth by owner and operator Georgio Bonelli. 'Unforgettable experience" in our opinion! ... (CLICK HERE for more)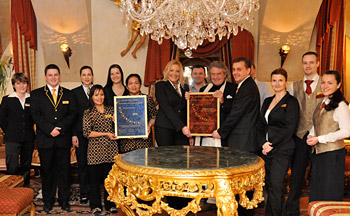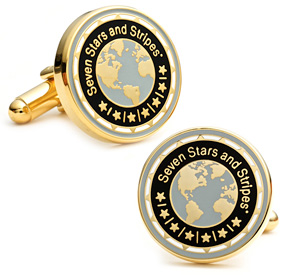 Seven Stars and Stripes Inc. now offers, for the first time, this extraordinary, custom designed 'His & Her Seven Stars Cufflink set. Limited Edition.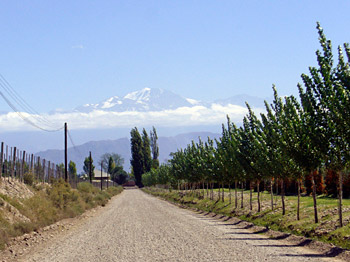 The road was long and straight, almost monotonous with the sound of gravel hitting the undercarriage of the car while it swayed gently back and forth as if it were an accelerating metronome. It was easy to get a sense of forward motion by looking at the enormous oaks whizzing by but oddly enough the immediate horizon remained unchanged. The view ahead, that of the Andes Mountain peaks near Lujan de Cujo Argentina, never seemed to move any closer although it was plain to see the brightly lit snowy peaks even in the faint starlight. The surrounding valley was bathed by an impressive iridescence and by opening your eyes widely, your peripheral vision could take in the unending rows of vineyards leading all the way up the slopes of the Andes, some as high up as almost 4,000 feet. With darkness upon us, we just wanted to get a glimpse of the vineyards of Terrazas de los Andes, owned by the house of Moët & Chandon in France, who were foresighted enough to purchase acreage in this fertile valley back in the 1950's. We had just arrived at the Mendoza airport for a visit to the famous wine region and our 'remis' driver (a sort of tour-guide taxi) knew the back roads well, giving us a sneak preview of what was in store for us in the morning. Even in star-lit darkness it was plain to see the remarkable geometric architecture of the rows of vineyards in repeating patterns almost ad infinitum.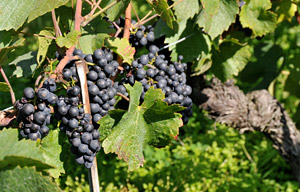 The focus of this vineyard is Malbec, a black grape varietal that was once popular in Bordeaux as one of the six grape varieties approved for making good red wines in that region of France. While needing more sun and heat than Cabernet Sauvignon or Merlot, it can be used by winemakers in blending like a chef would use a spice in a recipe. Malbec has found a home in Argentina as a stand-alone varietal and in particular Terrazas de los Andes Malbec is a fine wine displaying dark garnet color when poured into crystal stemware then held up in a well-lit place against a white surface. To appreciate the aroma or bouquet you must swirl it while holding the glass firmly, thereby exposing the wine to oxygen and releasing the scent. In my tasting, Terrazas Malbec produced a deep fragrance of savory desert sage-like characteristics together with a hint of tangy black pepper and a whiff of campfire smoke. After taking my first sip and holding it for a short while, I allowed a little air to enter my palate to mix with the wine and work to release its entire flavor. I found it to be full of jammy, black cherry fruit within a medium body and well balanced acidity. As I swallowed slowly, I allowed the aromas to rise through my nostrils giving the impression of tasting and breathing the wine at the same time. Terrazas Malbec's impact on the palate was young, fresh and lively with tempting energy, attractive depth and soft tannins culminating in a stimulating finish. It is well worth the effort to visit this fascinating vineyard if ever in Argentina, where altitude plays a key roll in the development of this fine wine.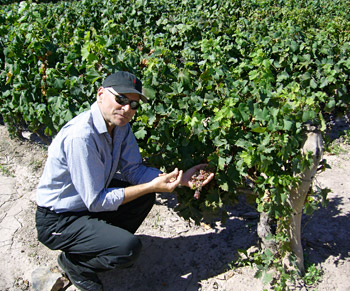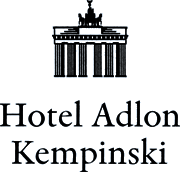 Congratulations to all, from your Guests and from Seven Stars and Stripes:
For your visible commitment to excellence.
For your willingness to be recognized for your latest innovations.
For your devotion to your staff and company.
For your ability to receive.
For your decision to raise the bar.
In Next Gazette:
* Viana Hotel and Spa, USA
In The Press:
* Arrival: Alchymist Grand Hotel & SPA
| | | |
| --- | --- | --- |
| Dear Friends, | | |
While most of us sit back and relax homebound in the unusually heavy snow-cover of this year, we invite you to take an imaginary journey with us and visit parts of the world that may get you up and out and relieve the most severe case of 'cabin fever'. In this issue we visit the Imperial City of Prague with its brightly lit Pražský hrad (Prague Castle), standing guard high above the city in regal splendor. Our focal point in Prague is the Alchymist Grand Hotel and Spa, an elegant boutique-style, Renaissance hotel situated in the heart of the Mala Strana (lesser town) just under the watchful eye of the King of Bohemia's castle. Within this fine establishment, come with us to celebrate the inspired cuisine of Chef Tomas Sysel of Aquarius Restaurant and his outstanding degustation menu. Next, learn what it is like to fly Lufthansa Business Class and experience gourmet dining with selective wine pairings at 36,000 feet. Finally, travel with us to the slopes of the Andes Mountains near Mendoza for a visit to the Terrazas de los Andes Estate Winery while we sample wine made with Malbec, the national grape of Argentina. We sincerely wish all of you a very Happy New Year, and may all your travel dreams be fulfilled! Until next month when we explore Viana Hotel and Spa, the first luxury, green, Feng Shui designed hotel on Long Island, New York and then fly to Prague once again, this time to stay in the Staré Mesto (Old Town) at the Kempinski Hybernska Prague, we say Bon Voyage.
I remain yours truly
| | |
| --- | --- |
| | |
| | |
| | Thorsten Buehrmann |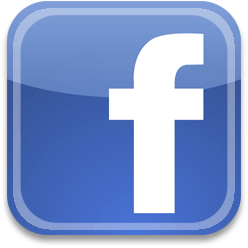 Please join us on 'facebook® (CLICK HERE), a brand new fan page where you get a chance the catch up or get the latest scoop on what might be of interest to todays distinguished global traveler.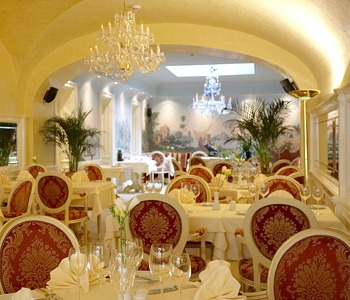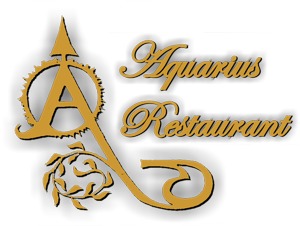 Prague, CZ

6 Stars and 6 Stripes
While competition in the rarefied world of gastronomy is unrelenting and sometimes discouraging, TomᚠSysel the Executive Chef at Aquarius, sets himself apart from the rest as if he were a Jazz master combining disparate notes into a harmonious melody. Chef Tomᚠseems to have the ability to take the simplest of ingredients and elevate them to somewhat of an art form, while realizing that his culinary ethos of 'pleasing while nourishing' is the foundation of all his work. ... (CLICK HERE for more)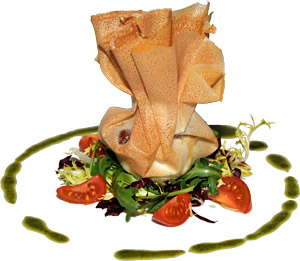 ... Enlightenment like this requires a quick mind as well as a support staff of like-minded thinkers, poised and self-assured with the same goals of guest satisfaction through service and cuisine. For our dining experience this time around, it seems as if they have opened their culinary 'black box' to show us that service remains a priority while Chef Tomᚒs cookery is more intense, exciting and motivated. ... (CLICK HERE for more)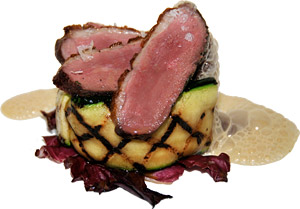 ... For an intermezzo, Chef Tomᚠsent us Light Mango Sorbet with a Drop of Vodka, just what the palate was waiting for so as to prepare us for the Breast of Duck Magret with Forest Mushrooms and sauce of duck Foie Gras. The Magret duck is a cross between a Pekin and Muscovy duck with a truly unique flavored breast meat and foie gras. It is considered the absolute best tasting duck by many gourmets and we agree; it was simply delightful. ... (CLICK HERE for more)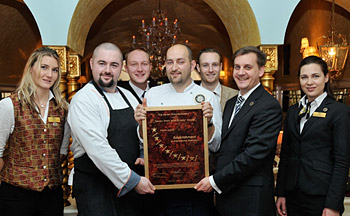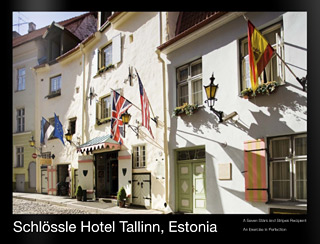 (CLICK HERE TO FLIP THE BOOK!)
Our exquisite hardcover coffee table books, custom designed for each resort, hotel, spa and restaurant, feature highlights and possible excursions of each establishment, along with the Seven Stars and Stripes review and award presentation. These impressive hard cover books, now available in three different styles, are luxuriously wrapped and make great holiday gifts and keepsakes, all the while showing the full potential of what guests may experience. Please 'CLICK and FLIP through the Seven Stars and Stripes review and award celebration at the Schloessle Hotel Tallinn, Estonia. Enjoy!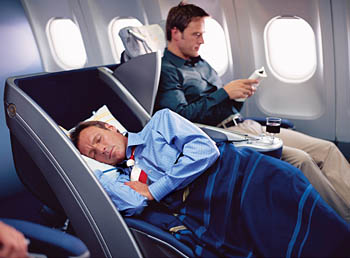 Business Class

5 Stars and 4 Stripes
A little something to eat before boarding was our mantra, so we entered the business class lounge to satisfy our appetite. The lounge traffic was light so we had plenty of room to spread out. In typical German fashion, the layout was well organized, clean and self-serving with plenty of cue cards strategically placed where questions might arise. Surprising were the finger sandwiches, which offered three choices: trout with cucumber and dill, turkey ham with Swiss cheese and grainy mustard/mayo on sundried tomato bread, and gruyere cheese with braised leeks on whole wheat bread. Disappointing was the limited ... (CLICK HERE for more)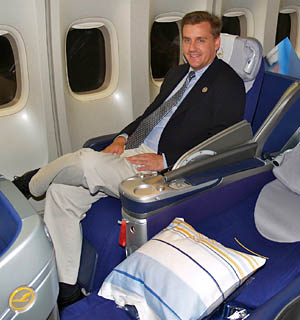 Finally after boarding we reached our designated seats in business class that is 10A-C just behind the partition by the forward lavatory. This location has its advantages, like increased legroom as well as some drawbacks, as you can imagine being next to the lavatory, all of which can be seen on seatguru.com. In-flight dining service was touted as created by 'Star Chefs' and in particular on this flight the menu is by Chef Jacques Sorci (a member of the renowned Maîtres Cuisiniers de France), of the restaurant "2 West" located in The Ritz-Carlton Battery Park, New York. Our appetizers consisted of Beet Cured Salmon, shaved Fennel, Yoghurt Dill Sauce for ... (CLICK HERE for more)