Cruise Ship: Azamara Journey
Waldorf Astoria, NY - USA
New Team Member: South-East Asia
Product: Apple Mac Book Pro
Seven Stars and Stripes > facebook®
NEXT: Mystery Review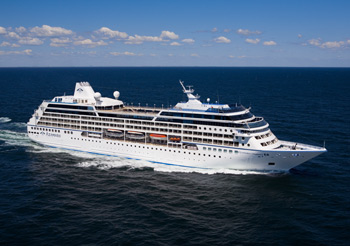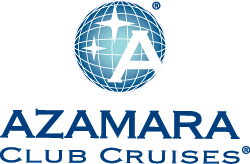 Azamara Journey

6 Stars and 7 Stripes
Azamara Club Cruises, with its two mid-sized luxury cruise liners, Azamara Quest and Azamara Journey, is the alternative for guests who prefer a more intimate boutique style hotel. They can "forgo the crowds and experience a voyage tailor-made for today's discerning traveler". Azamara Club Cruises attracts the well-off 45+ traveler who wants to explore the destinations and who is focusing more on well being and health. "Travelers on Azamara will easily find healthful food options that range from sushi to smoothies, as well as fitness options, such as personal training, and healing spa treatments." With many of the amenities of larger cruise liners, like the exquisite Astral Spa, offering acupuncture and a therapy pool with an expansive relaxation deck, both ships have two extraordinary specialty restaurants.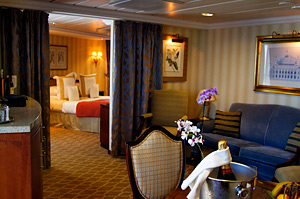 On Azamara Journey we found the 'Exclusive Experience' that includes butler service with all suites, we resided in suite 7119, especially attractive, and the staff pleasant and well trained. We were told that they receive formal training at an English butler school. In line with their slogan "You'll love where we take you", the cruise line is also increasingly featuring active shore options, such as cycling and kayaking, on its tour menus. The "Pillars of Excellence" program focuses on specific areas of the onboard and onshore cruise experience. "Potentially the most exciting of Azamara's pillars is its on-shore immersion, offering cruise travelers more in-depth port opportunities." Our itineraries included an excursion and overnight stay in St. Barth, which we truly enjoyed. The on-board cuisine was very good; mostly Mediterranean influenced international dishes and the service gracious. We adored the 'Best of the Best' dinner with Captain Jason Ikiadis, Hotel Director Scott Daniels and the entire upper management. This dinner has potential for a Seven Stars rating.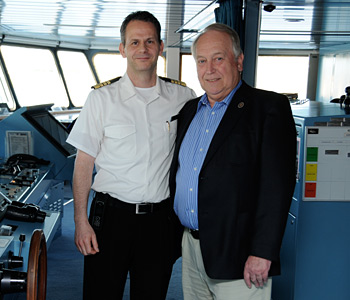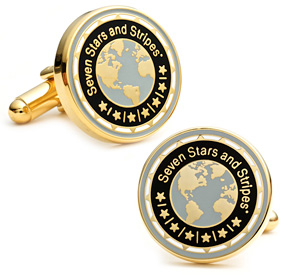 Seven Stars and Stripes Inc. now offers, for the first time, this extraordinary, custom designed 'His & Her Seven Stars Cufflink set. Limited Edition.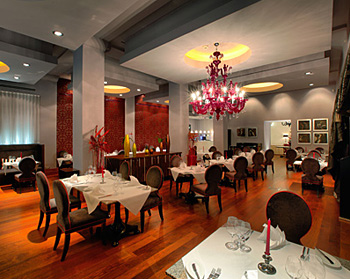 Le Grill Restaurant
Prague, CZ

5 Stars and 5 Stripes
After decades of emotion deadening domination simply by being behind the Iron Curtain, Prague has emerged on everyone's 'top ten' bucket list of new places to visit and Le Grill Restaurant is certainly worthy of inclusion on anyone's 'top ten' new culinary escapes. In the tradition of the Franciscan Monks (Hyberns) who grew potatoes in their own garden on this very street, Le Grill uses local sources for many of its fresh ingredients, which in turn become delicious components on Executive Chef Marek Fichtner's artfully conceived menu. What we know about Chef Marek is impressive, starting in Czech Republic when just out of Culinary School, gaining valuable experience on several large cruise ships including Celebrity Constellation and then on to Saudi Arabia and Switzerland before returning in triumph to his homeland and taking over as Executive Chef and F&B Director at Kempinski Hotel Hybernska. ... (CLICK HERE for more).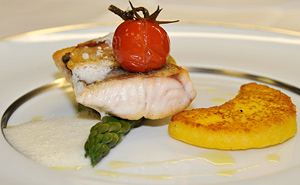 ... Our dining experience at Le Grill started with Creamy White Tomato Soup with Confit Tomberry Tomatoes, which we eagerly tasted while sipping a locally produced Czech Sauvignon Blanc, Pozdni sber 2008, Reisten. Our servers Hana, Julie and Ilja provided us with a relaxed, unhurried but professional service experience that was greatly appreciated as they effortlessly moved us from course to course. Chef Mareks tasting menu now brought us to Grilled Pike Perch in Lardo on Grilled Polenta and Green Asparagus, a delicious fish with light, firm but tender meat, yielding a delicate flavor. A delightful late-harvest Czech Riesling Ryzlink vlassky, Mikrosvin Mikulov 2009 brought a harmonious and pleasant acidity wrapped in a light green color. ... (CLICK HERE for more)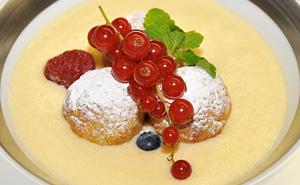 ... Finally, dessert of Marzipan Dumplings with Apples and Mascarpone Sabayon worked its magic with three delightful dumplings sitting in light, foaming rich custard topped with a sprig of red currants. We finished the evening with a snifter filled with Gold Slivovitz Private Reserve, a Damson plum spirit with soft aromatics reminiscent of raisins, and violets, as well as other dried fruits, a perfect bedtime beverage. Congratulations to Executive Chef Marek Fichtner, a bright star in the heart of Europe. ... (CLICK HERE for more)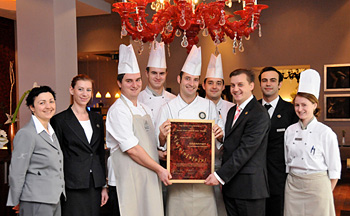 Congratulations to all, from your Guests and from Seven Stars and Stripes:
For your visible commitment to excellence.
For your willingness to be recognized for your latest innovations.
For your devotion to your staff and company.
For your ability to receive.
For your decision to raise the bar.
In The Press:
* Arrival: Kempinski Hotel Prague
| | | |
| --- | --- | --- |
| Dear Friends, | | |
No matter where in the world you are, be certain that 'spring' will inspire you to travel. After all, "during the vernal equinox the sun's rays are directly above the equator, making day and night (but not daylight and darkness) nearly equal on all parts of the world… ," according to Wikipedia. So let's do some serious shopping in the 'City that doesn't sleep' and then follow us on a cruise with the Azamara Journey of Azamara Club Cruises from Miami. For your shopping spree we suggest that you choose to reside at New York City's Waldorf Astoria, for a truly historic and unique experience if you haven't already done so! Then follow us to Miami on-board the Azamara Journey. If you have a couple of nights to spare, The Villa by Barton G. is a must! Placed in the former Versace Mansion this incredible hotel offers exceptional accommodations in the heart of Miami Beach's South Beach with full concierge service and then some. On board the Azamara Journey we found the distinctive 'Exclusive Experience' with butler service an attractive bonus and the staff pleasant and very professional.
I remain yours truly
| | |
| --- | --- |
| | |
| | |
| | Thorsten Buehrmann |
| | | |
| --- | --- | --- |
| | | Mr. Vilmor D. Morales Jr. |
Coordinator South-East Asia
Languages: English, Filipino & Spanish
Email: Vilmor@SevenStarsAndStripes.com
We are delighted and honored to announce that Mr. Vilmor Morales of Manila, Philippines is joining our global Seven Stars and Stripes Team. Mr. Morales, who earned a Master Degree in Business Administration, served as Executive Officer to the President. The Hospitality Pro lectures at the College of International Hospitality Management, Commerce and others.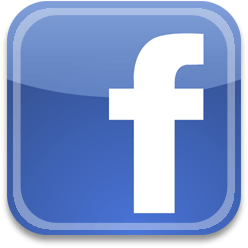 Please join us on 'facebook® (CLICK HERE), a brand new fan page where you get a chance the catch up or get the latest scoop on what might be of interest to todays distinguished global traveler.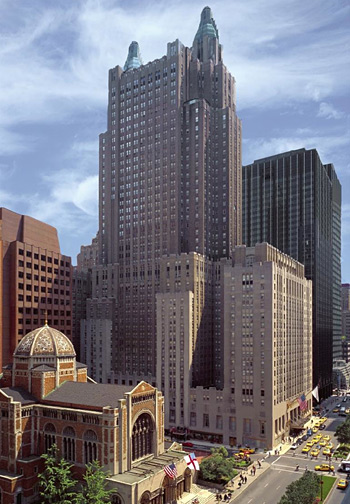 New York, USA

5 Stars and 5 Stripes
Refined travelers who visit New York City should experience the Waldorf Astoria, at least once in their lifetime! She is what she is, a grand lady with Rockefeller Center's famous skating rink just three blocks from her hallowed doors. I have watched 'her' in old black & white movies and thats exactly how it felt as we entered the brass polished grand entrance hall, which is centered around the most unique clock tower. The English manor styled hotel offers over fourteen hundred guest rooms and suites with the spa and salon and wedding facilities located right off the main lobby. ... (CLICK HERE for more)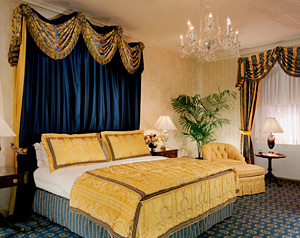 ... Houseguests and visitors may take a history tour of this iconic hotel for an additional fee that includes parking, the fitness center and Internet access as well. Our check-in was perfect, the pleasant young lady behind the desk was in training and one of the front desk managers guided her personally though the process. As we entered our accommodations, we were in awe of the high ceilings, reminiscent of the glorious days gone by and most certainly of the breathtaking view, The Empire State Building, framed with formal window treatments. My suite was comfortable, the bed delightful and the marble bathroom with a shower/tub combination well maintained. ... (CLICK HERE for more)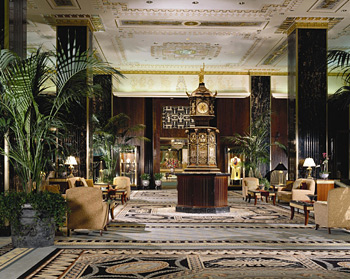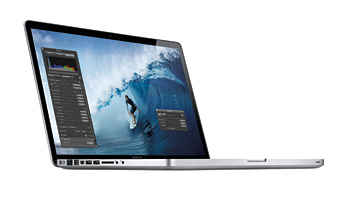 Seven Stars And Stripes is recommending the new 2011 Apple MacBook Pro. The 15" UniBody Model with the HighRes Antiglare Display and 2,3GHz CPU and 8GB RAM is simply outstanding.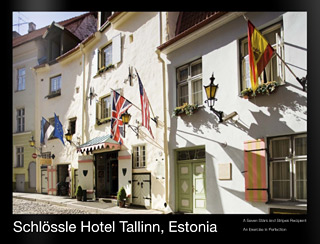 (CLICK HERE TO FLIP THE BOOK!)
Our exquisite hardcover coffee table books, custom designed for each resort, hotel, spa and restaurant, feature highlights and possible excursions of each establishment, along with the Seven Stars and Stripes review and award presentation. These impressive hard cover books, now available in three different styles, are luxuriously wrapped and make great holiday gifts and keepsakes, all the while showing the full potential of what guests may experience. Please 'CLICK and FLIP through the Seven Stars and Stripes review and award celebration at the Schloessle Hotel Tallinn, Estonia. Enjoy!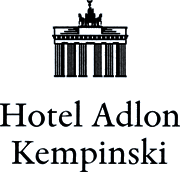 In Next Gazette:
* Mystery Review