Alchymist Grand Hotel & Spa, Prague - CZ
Aquarius Restaurant, Prague - CZ
Next: Hotel Atlantic, Hamburg - DE
Next: Hotel Le Palais, Prague - CZ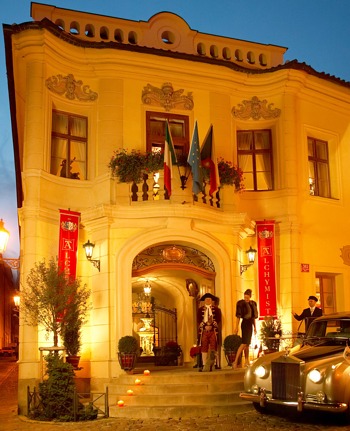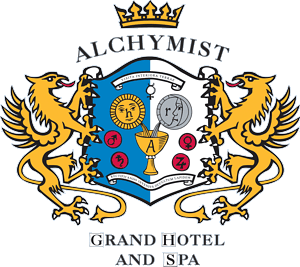 6 Stars and 6 Stripes
Our arrival at this magnificent monument, on a cobblestone driveway, was something to be seen. The Alchymist is the rebirth of a glorious Baroque landmark - 'Dum u Ježíška' - dating back to the 16th century and reflecting the graciousness and charisma of momentous Prague. Our check-in was a celebration in the Gothic hall. We felt as though we had entered a different time zone, a dream come true for the sophisticated and adventures theme traveler who appreciates the intimacy and personal touch of a smaller hotel. With 46 rooms, all held in plaster, gold, brocade, fine art and antiques, it makes for a perfectly restored house of history. Elegant Veronika Choteborska is the General Manager of this well maintained, squeaky-clean dream hotel, and totally in charge of our well being with her hands-on style.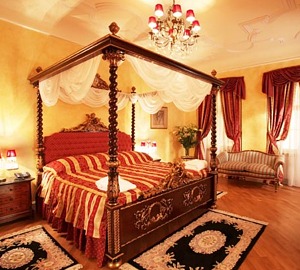 While I got settled in the romantic Alchymist suite, I thought that it was a shame that my wife was not able to accompany me this time, she would have loved this place of dreams with the spacious balcony overlooking the inner court yard, the precious wooden four poster bed and the wonderful linens that hone not only the body but also the soul. I slipped quickly into my oversized fluffy bathrobe and then I was on my way to the ground floor spa where I was scheduled for a relaxing facial. I walked in 'awe' like in child at Disney World, over an enchanted wooden bridge to my destination, while under me fish all colors and kinds went on their merry water way. ...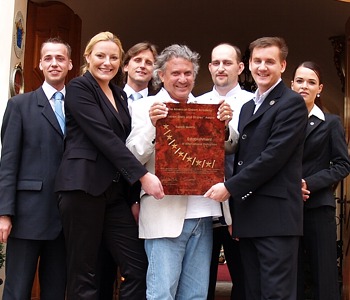 Congratulations to all, from your Guests and from Seven Stars and Stripes:
For your visible commitment to excellence.
For your willingness to be recognized for your latest innovations.
For your devotion to your staff and company.
For your ability to receive.
For your decision to raise the bar.
Seven Stars and Stripes Awards for: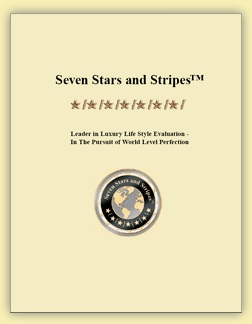 Our Seven Stars and Stripes™ book - 2003 to 2006 world-edition, is still available. Over 300 pages - featuring only the finest establishments and fascinating cuisine art images from around the world. All beautifully compiled in this full-color collector's edition. ISBN# 1-4259-4267-9
In Next Gazette:
* Hotel Le Palais, Prague - CZ
* Hotel Atlantic, Hamburg - DE
In The Press:
* Alchymist Grand Hotel & Spa:
| | | |
| --- | --- | --- |
| Dear Friends | | |
August is a colorful month, its flowers are the stunning gladiolas and the pretty poppy while the birthstone is the precious sapphire – besides, it is the great month for vacation and summer vacations are what ultimately create our childhood memories – oh so meaningful! We traveled to Europe and rediscovered the unique, historic city of Prague, where the mosaic of its red roofs resemble the color of the red 'poppy' and vivid green gardens seem woven into each other like an impressionistic painting. We started our visit at one of the Czech Republic's most fascinating hotels, the Alchymist Grand Hotel & Spa, located just steps from mythical Charles Bridge and a good place to make a great escape this winter. On a shorter notice, we are attending the Hampton Classic Horse Show on Long Island, NY in a couple of weeks. With 1,400 horses and exhibitions and over 40,000 spectators, this is one of the US's largest show jumping competitions. Congratulations are in order for The Oberoi Mumbai, India, an exciting hotel which is featured in the August edition of New York Gold Coast's Magazine Boulevard. Until next month from another award-winning place in eternal Prague, CZ - maritime Hamburg, Germany and the city which never sleeps, New York.
I am yours truly
| | |
| --- | --- |
| | |
| | |
| | Thorsten Buehrmann |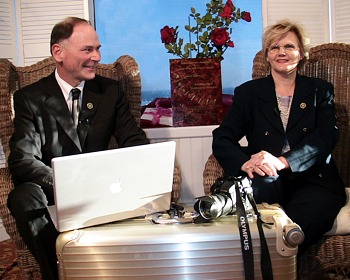 Watch the Seven Stars and Stripes
Award TV Show on
Hamptons Televisions WVVH World-Wide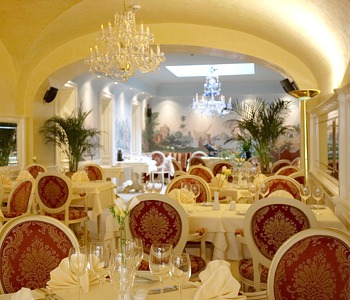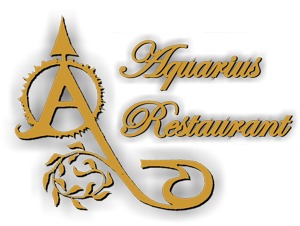 Prague, Czech Republic
Chef de Cuisine: TomᚠSysel

6 Stars and 5 Stripes
As a complimentary start offered for all Aquarius's guests, there was a cheese and wine degustacion in the anteroom just outside the restaurant featuring the finest assortment of local Czech products. This is where we were introduced to a spectacular array of fresh artisan cheeses and wines from the Czech provinces of Moravia and Bohemia, all of which can be paired with the incredible cuisine of Chef TomᚠSysel. "A good first impression" I said to Rolf as we entered the restaurant to our table, situated especially close to a section of the giant wall mural depicting a scene of Hannibal's elephants crossing the Alps. Noteworthy of mention is the marvelous Rona stemware, Broggi silverware and Lillian porcelain carefully arranged on each table as if artfully measured precisely in centimeters. "Of course all this would be meaningless without the same level of cuisine" I heard Rolf whisper to me as we perused the menu. It wasn't long before my colleague's utterance would be validated. Some of the highlights of Chef Tomáš's culinary imagination proved to us that he is definitely a real player in the world of gastronomic creativity....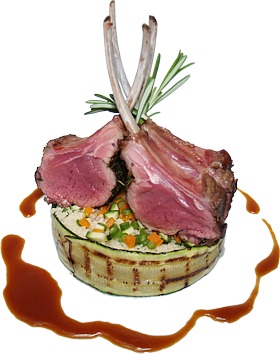 For our main course, we were thrilled by the Thyme Crusted Rack of Lamb with vegetable cous cous and rosemary jus, which offered jus the right amount of herbal coating to hold in the incredible juicy flavor during and after the cooking process. One of my all time favorite wines, Brunello di Montalcino Castello Banfi, DOCG 2001 from Tuscany was the match made in heaven with it's dark ruby red color and restrained earthiness so as not to compete with the lamb but to support it. Finally, we relished the richness and deep fruit flavor of the Alchymist Special Fruit Sabayon, artfully made with a supercharged dose of Czech sparkling wine. We suggested to the management that it might be a special thrill to see this dish being made tableside. ...