The Capital Hotel, London - U.K.
The Capital Restaurant, London - U.K.
NEXT: Giardino di Costanza, Sicily - Italy
NEXT: Dubbesi Restaurant, Sicily - Italy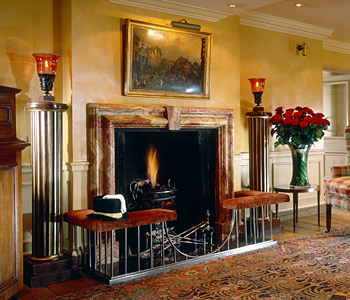 London, U.K.

5 Stars and 6 Stripes
This grand small hotel, as well as its destination restaurant 'The Capital', is accustomed to international celebrities, royalty, heads of state and has developed a solid reputation for its exclusive guest list. General Manager Henrick Muehle and his staff are 'old school' in that Mr. Muehle's unwavering attention to details consistently adds something out of the ordinary. All forty-nine individually designed accommodations are stately and have a unique character. The luxurious beds are furnished with hand-made mattresses and dressed with fine Egyptian cotton. ...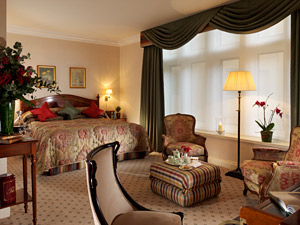 The marble baths facilities are compactly laid out and attention is paid to every detail. Astoundingly there was no outside noise to be heard from one of the most visited and fascinating cities of the world. I must admit that I couldn't wait to dine at The Capital's truly exceptional restaurant. It is said that Executive Chef Eric Chavot has a following that stretches across five continents and as I soon experienced on the effect on my own palate, his cuisine is definitely worth a trip. ...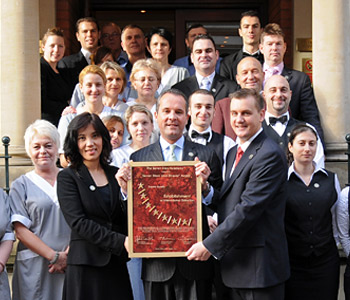 Seven Stars and Stripes Inc. now offers, for the first time, this extraordinary, custom designed 'His & Her Seven Stars Cufflink set. Limited Edition.
Congratulations to all, from your Guests and from Seven Stars and Stripes:
For your visible commitment to excellence.
For your willingness to be recognized for your latest innovations.
For your devotion to your staff and company.
For your ability to receive.
For your decision to raise the bar.
In Next Gazette:
* Kempinski Giardino di Costanza, Sicily
* Dubbesi Restaurant, Sicily - Italy
In The Press:
* Tabacon Grand Spa Thermal Resort,
La Fortuna - Costa Rica
| | | |
| --- | --- | --- |
| Dear Friends, | | |
Happy Holidays to All! Whatever and wherever you are celebrating, we wish you health and happiness and hope that you are able to spend lots of quality time with family and friends. Then onto New Year's Eve, a joyous occasion that witnesses the most elaborate, annual celebration across most countries of the world. It's the time when we ring out the old year and welcome the new with fireworks and New Year's resolutions. With 2009 approaching soon, it's time again to gear up for your ultimate New Year celebration. Recently we discovered one of the most charming and intimate, small luxury hotels and award winning restaurants, The Capital, right in the heart of London. London is celebrating New Year's Eve along the banks of the Thames since 2003. Following the chimes of Big Ben at midnight, a spectacular firework organized by the Mayor of London and pyrotechnic-star Christophe Berthonneau, will take your breath away. Remember it's one of the busiest nights of the year, with large crowds in the center of the city of the Queen. For our own celebration we are rejoicing this year as part of a 'Midnight's Sicilian Dream' at the Kempinski Giardino di Costanza, a fabulous setting for one of Shakespeare's most renowned Italian plays. Welcome 2009!
I remain yours truly
| | |
| --- | --- |
| | |
| | |
| | Thorsten Buehrmann |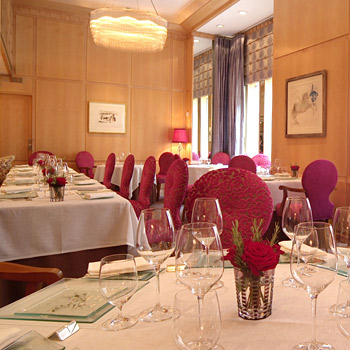 Restaurant
London, U.K.

6 Stars and 6 Stripes
Executive Chef Eric Chavot has become a household name in the rarified world of high-caliber gastronomy. His position as head chef of the Capital Restaurant in London has earned him the recognition usually given only to movie celebs, although by many he is seen as a culinary 'rock star' and accomplished expert in his field. Chef Eric's genius has catapulted him into the so-called 'seventh heaven' of globally exclusive chefs such as Ferran Adrià of El Bulli and Gordon Ramsay of BBC's Kitchen Nightmares! He has even had himself pictured as a participant of artist John Reardon's photograph of the Chef's Last Supper, with twelve other high profile masters of their trade, which hangs in the National Portrait Gallery. It was with all this colorful anticipation that we entered the Capital Restaurant and sat down for realistic personal appraisal. ...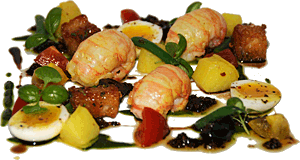 It became obvious to us now that the focus of the entire restaurant was on the incredible talent of Executive Chef Eric Chavot and his creative instincts. The first main course of Lobster with Taglioni Pasta and Sauce Vierge, was a masterful presentation of intense flavor created by the infusion of tomatoes and basil in olive oil and lemon juice in the form of a sensual sauce. The wine pairing turned out to be one of my favorites, Puligny-Montrachet Vieille Vignes, Burgundy France, 2006 displaying a gentle well-balanced classic nose and an elegant glossy vanilla finish. The second main course of Filet of Lamb with Cumin Jus and Spicy Couscous, which was presented in two segments; the lamb cooked to a perfect medium-rare doused with a modicum of cumin jus and the couscous, served separately in a mini cast iron pot and accentuated with an assortment of alluring spices reminiscent of cayenne and cardamom. A good medium-bodied Bordeaux would be the obvious choice ...