Inn At Great Neck, Long Island - USA
Giraffe Restaurant, Long Island - USA
Kempinski Budapest Corvinius
NEXT: TY Warner Suite at Four Seasons NY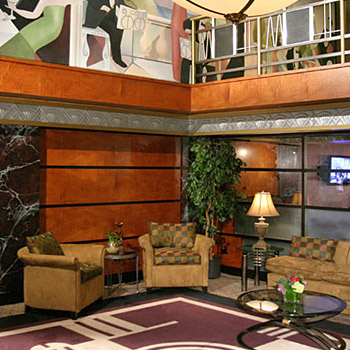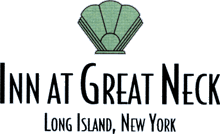 USA

5 Stars and 4 Stripes
A long stretched limo arrived, perfectly timed, at the terminal and a well-dressed, uniformed driver welcomed and chauffeured us eloquently through the intense traffic to our destination, The Inn at Great Neck – A Small Luxury Hotel on Long Island. This 'Inn' is ideally located within walking distance of fabulous shopping in the heart of Great Neck and close to precious Long Island estates that have long been homes of 'fame and fortune'. Our arrival was timed and check inn efficient and friendly. The inviting lobby, held in African Sapelli Mahogany paneling and decorated with chic period murals recalling scenes from The Great Gatsby, made a fine first impression. The ambience, which is explained as "Gold Coast - Classic Art Deco that brings one back to the 1920's, - the era of F. Scott Fitzgerald's The Great Gatsby and The Jazz Age" is ...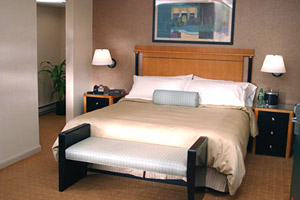 The helpful bellman guided me to the elevator and in no time we entered the spacious and a nicely decorated suite. With furnishing of great quality, the comfortable bed was dressed with fine linens, lavish duvet and plump pillows. The exquisite spacious marble bathroom was furnished with an oversized vanity, a nice Jacuzzi tub, plush cotton terry robes and towels and an interesting mirror setting. Later I experienced a masterly executed massage at the Butterly Garden Spa and got to unwind at their ' Rejuvenation Room' that turned out to be a dry salt rock sauna. After a sound, deep sleep I decided to ordered breakfast into my suite the next morning because I was expected to meet with associates later on for an elaborate brunch at the Inn. My breakfast was delivered within fifteen minutes and nicely done. ...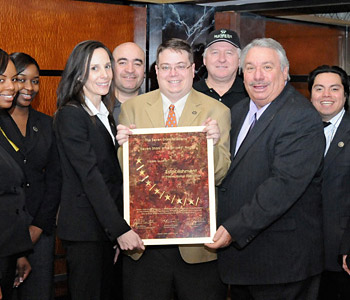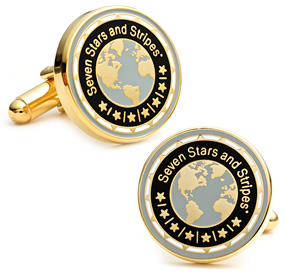 Seven Stars and Stripes Inc. now offers, for the first time, this extraordinary, custom designed 'His & Her Seven Stars Cufflink set. Limited Edition.
Congratulations to all, from your Guests and from Seven Stars and Stripes:
For your visible commitment to excellence.
For your willingness to be recognized for your latest innovations.
For your devotion to your staff and company.
For your ability to receive.
For your decision to raise the bar.
In The Press:
* Kempinski Budapest in Boulevard Magazine:
| | | |
| --- | --- | --- |
| Dear Friends, | | |
I flew recently to New York on business and decided to combine my trip with a detour to Long Island for an update of my wardrobe. Actually it was my wife who felt that I was in desperate need of a couple of new business suits, shoes - and she also reminded me that Valentine's was just a couple of weeks away. For Europeans especially, the exchange rate is enticing. We found a Small Luxury Hotel in Great Neck, Long Island's Gold Coast just a half hour from JFK. It not only made a fabulous base for historic discoveries but the 1920's Art Deco hospitality gem also happens to be located close to a luxury mall that allowed me to do some serious shopping. Great Neck is the estate community for many of NY City's mover and shakers who want to keep their families away from the crazy traffic of Manhattan. The Inn at Great Neck makes a fine central location for visitors from all over the world who want to spend time in NYC and also visit Long Island and the celebrated Hamptons. Until next month from the TY Warner suite at the Four Seasons in NY City!
I remain yours truly
| | |
| --- | --- |
| | |
| | |
| | Thorsten Buehrmann |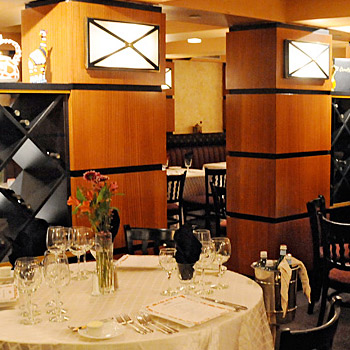 Restaurant
Long Island, N.Y. - USA

4 Stars and 4 Stripes
The Appetizer Course was very much in keeping with my passion for Far Eastern Cuisine. We were served pan seared freshly imported "Ahi Tuna" rare on the inside and seared on the outside. Each Tuna slice was displayed fan-like on our plates, forming a beautiful symmetrical pattern. The Ahi tuna slices sat atop gingered vegetables with soy sauce and a mound of lime green wasabi horseradish, which added some fire to our palates. A fine, mellow "Edna Valley Chardonnay" accompanied this course. Chef Bellan introduced a number of his signature dishes: Chilean Sea Bass, Filet Mignon, and Baby Lamb Chops as our Entrees. This wonderful trio of choices gave us the opportunity to create our own Seven Stars version of gourmet "Surf and Turf". The Chilean Sea Bass, one of my favorite seafood dishes, came to the table marinated in a delicious sauce of butter, lemon and white wine. ...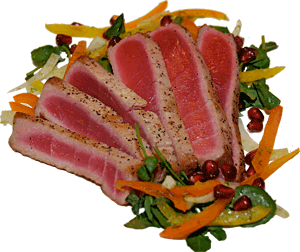 The Sea Bass was pan seared in olive oil and served over an "Aegean" treat of cous cous and tabouli. The Bass was firm and the white meat sweet to the taste. Having once been an avaricious lover of steaks and chops, in later years I much prefer the lighter, healthier and more diversified joys of seafood. The center cut Filet Mignon was served with roasted potatoes and garlic broccoli and the Baby Lamb chops Pan Seared with Olive Oil and paprika over a bed of rice pilaf and asparagus. A wonderfully rich full-bodied "Franciscan Cabernet Sauvignon" accompanied our meat dishes. For Dessert, Chef Bellan brought to our table an assortment of cookies, cakes and fruit infused bakery creations. As a special treat Chef Bellan's young daughter offered us samples of her homemade cookies and ruglach. Chef Bellan's pride was evident as we sampled his daughter's pastry confections. Dessert was followed up by coffee, tea, and a special sweet dessert wine: Renwood Ice Zinfandel....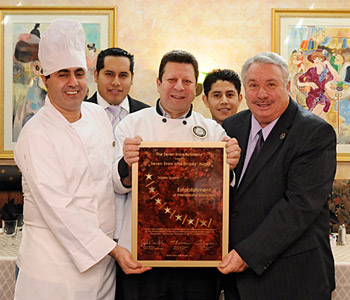 In Next Gazette:
* TY Warner Suite, NY - USA
* LIMANI Restaurant, NY - USA