Alchymist Grand Hotel & SPA - CZ
Aquarius Restaurant - Prague, CZ
Recent: Seven Stars And Stripes - BOOKs
NEXT: Oheka Castle, NY - USA
NEXT: LIMANI Restaurant, NY - USA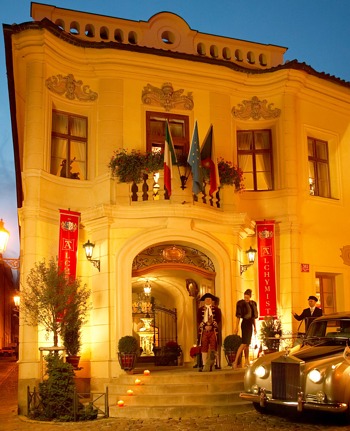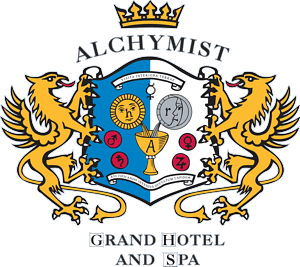 Prague, CZ

6 Stars and 6 Stripes
Prague's Alchymist Hotel and Spa is privately owned and proprietor Giorgio Bonelli is passionately on a mission of preserving history through his innovation and creativeness. Guests are treated as royalty in his luxurious surroundings and are welcomed as family and friends, clearly extending the spirit of the historic, fascinating city. Prestigiously located in the heart of Prague, the Alchymist Hotel and Spa is ideally placed for discovering all major tourist attractions, shopping, dining and, yes of course, entertainment and business centers. The spa is a sparkling wonder, attracting guests through luxurious comfort, cutting edge, hidden technology, world-class facilities and intuitive, traditional service. ...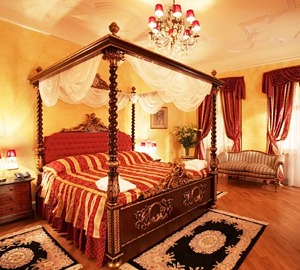 Our domicile, the famous Alchymist Suite is a unique, elegant one-bedroom suite with a luxurious, spacious living-room, a fairy-tale bed and a huge marble bathroom featuring a precious claw-bathtub, placed right in the middle of the bathroom. A private terrace allows a romantic view of the inner courtyard. The furnishings resemble a blend of 16th to 19th century, almost eccentric, and feature sumptuous decorations held in luscious Renaissance Red. Other suites, some in Royal Blue, include living rooms and intimate dining areas, some have balconies or terraces with private, little gardens. All accommodations feature high-speed Internet access and almost all the other gadgets, nicely hidden but expected by the modern luxury traveler. Some of the suites and halls feature ...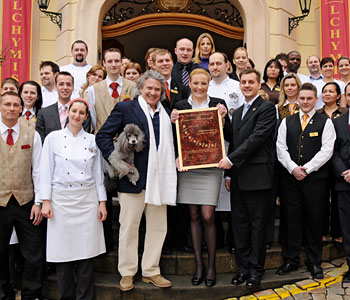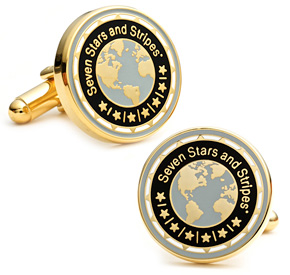 Seven Stars and Stripes Inc. now offers, for the first time, this extraordinary, custom designed 'His & Her Seven Stars Cufflink set. Limited Edition.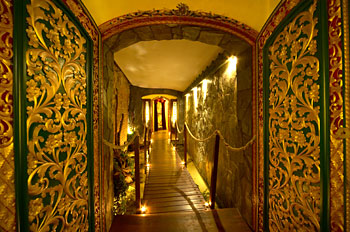 Prague, CZ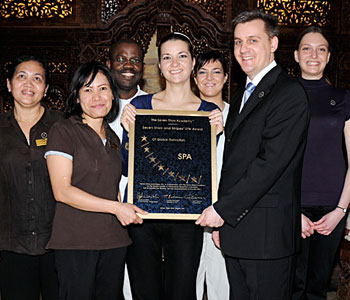 In Next Gazette:
* Oheka Castle, NY - USA
* LIMANI Restaurant, NY - USA
In The Press:
* Arrival: Alchymist Grand Hotel & SPA
| | | |
| --- | --- | --- |
| Dear Friends, | | |
Happy Spring! We have returned safely from the ITB-Berlin in March, a motivating and successful travel and media event that we have attended for the last four years. As promised, we are now finally able to share with you our experiences at the fairytale Alchymist Grand Hotel & Spa, ideally located in the heart of history-packed Prague and only a 5 minutes walk from the famous Charles Bridge. The Alchymist is a hidden oasis, with its Ecsotica Spa, dedicated to a person's wellbeing, rejuvenation and relaxation. It offers amazing couple's treatments and exotic bathing rituals. Style, romance and spa aside, we got to sample the inspiring cuisine of Executive Chef TomᚠSysel, whose eclectic interpretations of Mediterranean fare, pure and instinctive are designed to enliven your senses. Until next month from another fairytale castle, this time from the Gold Coast of New York, on Long Island – The Oheka Castle,
I remain yours truly
| | |
| --- | --- |
| | |
| | |
| | Thorsten Buehrmann |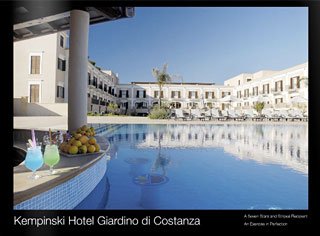 (CLICK HERE TO FLIP THE BOOK!)
Our exquisite hardcover coffee table books, which we create for each resort, hotel, spa and restaurant, feature the world-class highlights of each establishment along with our Seven Stars and Stripes review and award presentation. It is now also available online as a FLIP PAGES version. These impressive hard cover books, luxuriously wrapped, make great holiday gifts and keepsakes all the while showing the full potential of what the guest may experience. Please CLICK and Flip through the Seven Stars and Stripes review and award celebration at the Kempinski Hotel Giardino di Costanza on Sicily, Italy Enjoy!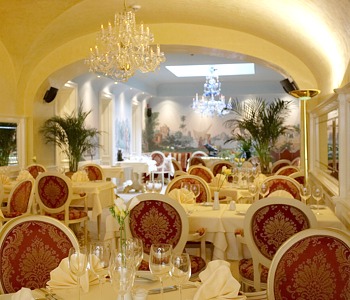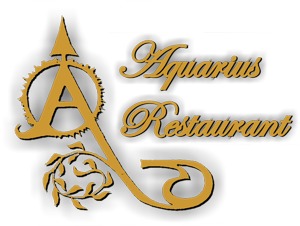 Prague, CZ

5 Stars and 5 Stripes
We have been welcomed back to Aquarius and its fairytale setting just 5 minutes from the Charles Bridge, to sample the cuisine of Executive Chef TomᚠSysel. Style and romance aside, we eagerly anticipated Chef Thomas's eclectic interpretations of Mediterranean fare, pure and instinctive yet designed to enliven your senses. To begin with an amuse bouche of bite sized Hors d'œuvres arrived at the table while we perused an incredible 19 selections on the water menu, which included several local waters from Czech Republic. It felt a little like ordering off an extensive wine list, but we were guided along the way to our selection of Ty Nant from the deep aquifers of Wales. House made focaccia, ciabatta, baguettes and black bread offered ample choices besides tasting warm and fresh. ...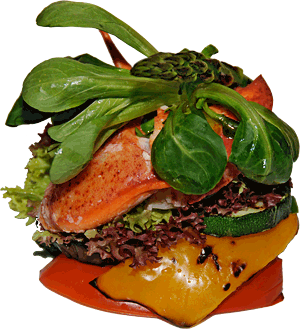 A Terrine of Duck Foie Gras with fresh figs was a delightful treat, which through caramelization sweetened the fruit sufficiently to underscore the appetizer. A bottle of Chateau Carmes de Rieussece Sauternes 2002, produced a blizzard of golden nectar over the palate further drawing attention to the foie gras. Next was a Tepid Lobster Salad with grilled vegetables, although artfully arranged proved moderately chewy. Hoping to rescue the moment, we resorted to a locally produced Grüner Veltliner, Mikrosvin Mikulov, Dolni Dunajovice, Late Harvest 2006, smoothing the rough edges. We moved to a very tasty John Dory with Fresh Spinach, Asparagus and Sauce of Mussels. The prized white firm meat of the John Dory sat amidst sprinkles of little red Salmon caviar, asparagus and the sautéed spinach that had a 'just picked' flavor. Sommelier Jakub suggested a Chardonnay Clos Mathilde, Domaine J. Prieur, 2005, contributing a restrained character of crisp citrus with a touch of minerality. ...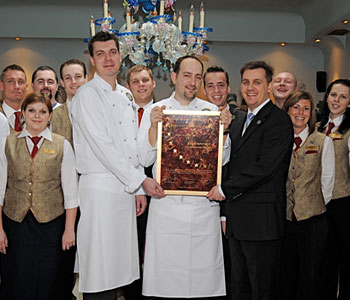 Congratulations to all, from your Guests and from Seven Stars and Stripes:
For your visible commitment to excellence.
For your willingness to be recognized for your latest innovations.
For your devotion to your staff and company.
For your ability to receive.
For your decision to raise the bar.