Schloessle Hotel, Tallinn - Estonia
Restaurant Stenhus, Tallinn - Estonia
LIMANI Restaurant, NY - USA
Recent: Seven Stars And Stripes - BOOKs
NEXT: 2009 Grand Hotel Europe, Russia
NEXT: L'Europe & Caviar Bar Restaurant
in St. Petersburg - Russia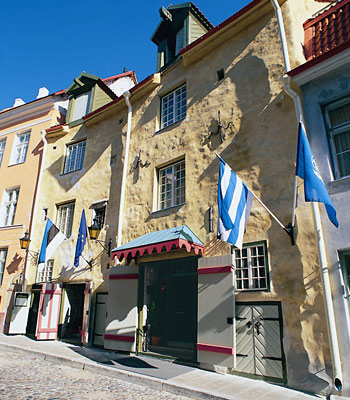 6 Stars and 5 Stripes
We arrived at The Old Town Tallinn's Schlössle Hotel and stepped out on precious cobblestone streets, setting the tone for our stay in a place already mentioned first in 1363 as a wealthy townhouse. We entered the dazzling medieval hall of this expertly restored small fairytale hotel. GM Kay Peter Bischoff and his staff welcomed us like long lost friends and we were invited to have a seat and offered a glass of champagne at the cozy but massive fireplace. Even in the middle of May, with mild and almost summery temperatures, this makes a warm and welcoming statement. ... (CLICK HERE FOR MORE)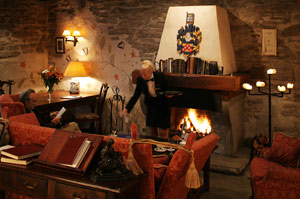 ... Then we got to experience for the first time in our lives a railroad 'handcar'. A handcar (also known as a pump trolley, pump car, jigger or Kalamazoo) is a railroad car powered by its passengers, and we were the passengers. Handcars are nowadays used by enthusiasts at vintage railroad events, but here in the middle of the woods on 'this island of Naissaar' it seemed to be part of a way of living. Our 'jigger' allowed us to discover an old, abandoned church in the woods and see the island from a perspective of a time long gone. It was a neat experience until … we had returned on the old train to the harbor. The rustic boat was gone! ... (CLICK HERE FOR MORE)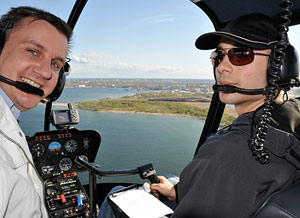 "Well what are we going to do now?" We looked at each other more or less speechless until Kay asked something like: "What the heck, why don't we take the helicopter?" You should have seen our faces, insecurity and finally surprise and relief written all over our faces. We boarded the chopper that had been hidden from our eyes on the beach and took of in minutes. From up here we circled our fire pit and the old church and then we discovered the many little hidden white sandy beaches of our 'island of Naissaar'. ... (CLICK HERE FOR MORE)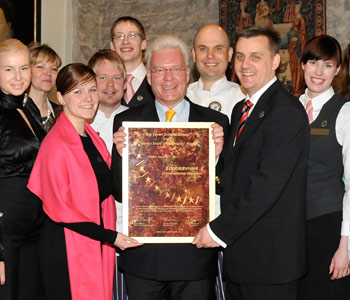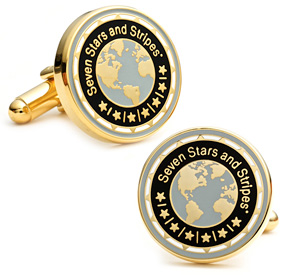 Seven Stars and Stripes Inc. now offers, for the first time, this extraordinary, custom designed 'His & Her Seven Stars Cufflink set. Limited Edition.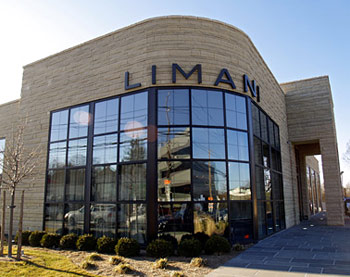 Roslyn, N.Y. - USA

5 Stars and 6 Stripes
Once inside this beautifully decorated venue, all eyes are quickly drawn to the bright white state-of-the-art open kitchen, glowing open hearth stove, and the adjacent counter top display of large fresh rainbow colored fish from the Mediterranean. The fresh catch of the day are neatly displayed on a glistening mound of shaved white ice. We were immediately greeted and welcomed by Albert Zafrani, Limani's Maitre d', who has years of experience meeting and greeting North Shore's elite. Reno Christou, the owner and managing partner of Limani, is young, charming and a veteran seafood restaurateur. Reno gave us a quick "cooks" tour of the restaurant and an overview of the Limani dining philosophy. The restaurant offers diners an "old school" European way of ordering and eating fine fish. All fish chosen by diners are sold by the pound and prepared in a natural, delicious, and non-pretentious manner. ... (CLICK HERE FOR MORE)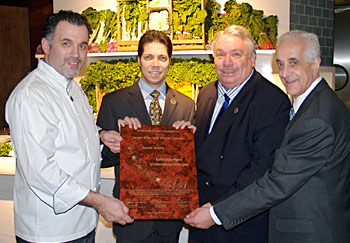 | | | |
| --- | --- | --- |
| Dear Friends, | | |
I don't know what your plans are for your June getaway, but if you haven't confirmed - here is your chance for an unforgettable history adventure - and a unique shopping spree, if you must. We suggest reserving one of the romantic suites at the historic Schloessle Hotel in Old Town Tallinn and booking the Seven Star adventure that we are sharing with you in this issue. You might not want to let your traveling colleagues or spouses know about your plans and treat it as a surprise. Old Town Tallinn, Estonia definitely belongs on your 7-Star-List, the Schloessle Hotel's suite 30 (where Prince Charles resided during his visit) and an amazing dinner at the Stenhus. Please note also on your 7-Star-List the LIMANI Restaurant in Roslyn, N.Y. on the Gold Coast of Long Island's North Shore. This new restaurant represents a crossroads of culture and cuisine and has already garnered some fabulous buzz and splendid reviews. Until next month from Russia.
I remain yours truly
| | |
| --- | --- |
| | |
| | |
| | Thorsten Buehrmann |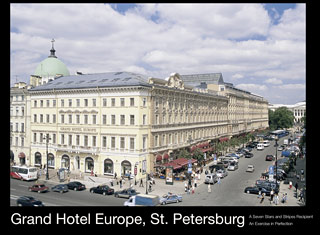 (CLICK HERE TO FLIP THE BOOK!)
Our exquisite hardcover coffee table books, which we create for each resort, hotel, spa and restaurant, feature the world-class highlights of each establishment along with our Seven Stars and Stripes review and award presentation. It is now also available online as a FLIP PAGES version. These impressive hard cover books, luxuriously wrapped, make great holiday gifts and keepsakes all the while showing the full potential of what the guest may experience. Please CLICK and Flip through the 2008 Seven Stars and Stripes review and award celebration at the Grand Hotel Europe, St. Petersburg in Russia, Enjoy!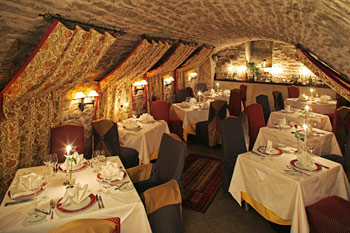 Restaurant Stenhus
Tallinn, Estonia

6 Stars and 5 Stripes
High quality tapestries adorned the walls of the catacomb-like warren of rooms in the restaurant, giving us the feeling of attending a royal banquet sponsored by the Hanseatic League. An inspired bread selection of parsley-parmesan, garlic roll, leek roll and a dense Estonian country-style black bread with dried fruits and smoked ham soon arrived. Attention had even been paid to the butter, which had crystals of salt sprinkled on top and came from Normandy's Isigny Ste Mere, AOC. Chef Sigur's Amuse Bouche of Gazpacho and Onion Pie, which did the job of exciting the senses enough to begin to notice a trend. An aperitif followed this consisting of Pommeau de Normandie, Christian Drouin, a blend of Calvados and apple juice matured in oak for at least 18 months (per French law). ... (CLICK HERE FOR MORE)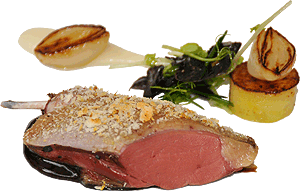 The tasting menu now provided for two main courses, the first of which was Wood Pigeon with Champignon Duxelles and Onion Fluid Gel, a striking rendition of roasted pigeon complimented by a robust dark demi-glace fortified with a finely chopped shallot scented mushroom hash just bursting with flavor. The recommended wine was Pinot Noir, Single Vineyard Leyda Valley, Cahuil Vineyard Chile and we relished the soft red fruit aromas while savoring the long finish and sharp tannins. The second main course was decidedly our overall favorite featuring an agate red Prime Cut of Lamb, Ratatouille and Mild Garlic Purée beautifully contrasting sharply with a glossy dark glaze covering the entire chop.... (CLICK HERE FOR MORE)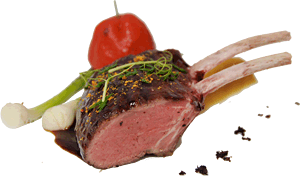 It was as if Chef Siigur set his menu to the principals of Feng Shui to encourage the flow of positive energy and deliver magic, mystery and order to the culinary world of his followers. Wine for this entrée was Chateau Dasvin, Bel-Air Cru Bourgeois Haut-Medoc AC, 1999 displaying refreshing red currents in a balanced refined structure with luscious tannins. One of my all-time favorites for dessert in the form of a lava-cake called Le Biscuit de Chocolat Coulant literally flowed like molten lava when I cut into it and a concentrated cherry compote added a deeply flavorful stone fruit dimension. We sipped a passionate Niepoort Colheita 1991 all the while savoring its complex sweet soothing character with likable citrus aromas. ... (CLICK HERE FOR MORE)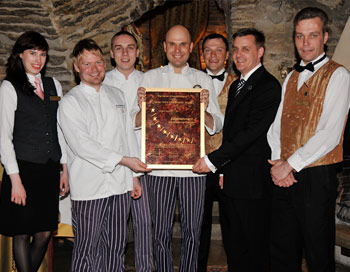 Congratulations to all, from your Guests and from Seven Stars and Stripes:
For your visible commitment to excellence.
For your willingness to be recognized for your latest innovations.
For your devotion to your staff and company.
For your ability to receive.
For your decision to raise the bar.
In Next Gazette:
* Grand Hotel Europe, St. Petersburg
* Caviar Bar Restaurant, Russia
* L'Europe Restaurant, Russia
In The Press:
* Arrival: Schloessle Hotel