La Sinfonia Restaurant, Milan - Italy
Palazzo Vecchietti Florence, Italy
CSA - Czech Airlines
NEW: Seven Stars And Stripes - BOOKs
NEXT: Premier Palace, Kiev - Ukraine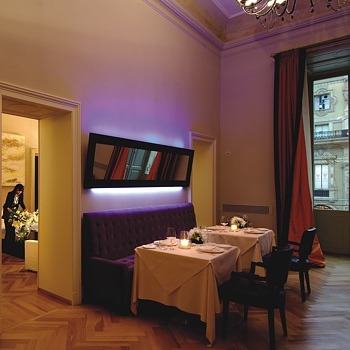 La Sinfonia Restaurant
Milan, Italy

6 Stars and 5 Stripes
In the fiercely competitive world of culinary arts, Executive Chef Giacomo Gaspari of La Sinfonia Restaurant in Milan's fabled Town House Galleria stands out as a master of his trade. His stage is a restaurant in Milan, a city famously known for some of the greatest musical venues in the world. As if conducting opera at La Scala, a stone's throw away, Chef Gaspari communicates artistic directions to his team during his culinary performance each night. And like conductors who can be revered as a god, Chef Gaspari is the star of his show. It doesn't take much to see for yourself how La Sinfonia Restaurant is set up as a jewel in the crown of the fine dining scene in Milan. Live music emanates from the glass enclosed 'galleria' just outside the windows of the restaurant. The view from window-side tables is reminiscent of 19th century glass and steel 'world expo' construction. ... (CLICK HERE for more)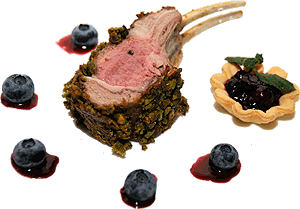 ... Lamb Filet in Bronte Pistachio Crust was cooked to the perfect temperature of rose-colored pink. The crust of Bronte pistachios provided a stronger, sharper taste than regular pistachios, due perhaps from being grown in the rich volcanic soil of Mt. Etna in Sicily. A ruby colored Tavel Rose Perrin & Fils, 2005 was suggested to accompany the lamb and our eyes couldnt help but dart back and forth between the interior of the lamb filet and the color of the wine. The rose was crisp and clean with hints of spice and raspberry aromas. Now came the Beef Filet with Artichokes and Mushrooms blending the earthy flavor of mushrooms and fresh picked flavor of artichokes. It was appropriate to pair this entrée with a bottle of Cabernet Sauvignon Riserva 2006, Kornell ... (CLICK HERE for more)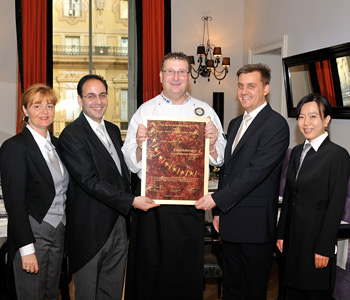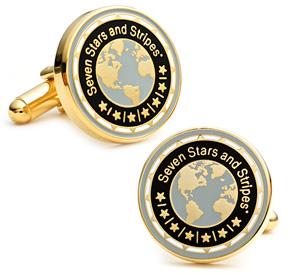 Seven Stars and Stripes Inc. now offers, for the first time, this extraordinary, custom designed 'His & Her Seven Stars Cufflink set. Limited Edition.
Czech Airlines

'No Rating'
Czech Airlines business class within Europe is unacceptable with all due respect to the fact that this airline was founded by the Czech government, and they deserve better. We are not reporting here about a one time faux pas, we flew eight times with full business class fare. We have experienced Lufthansa business class and Czech Airlines business class parallel, and we highly suggest booking with Lufthansa or another well-established alternative airline. The majority of the Czech Airlines employees that we experienced seemed oblivious to the concept of service. Check-in at ground level is the first impression for any upcoming flight and sets the tone for the overall experience. We unfortunately witnessed at this point already on several Czech Airlines flights, unfriendly, uncaring and incompetent staff. With Lufthansa we experienced the exact opposite; from the get-go the staff was charming, friendly and skilled.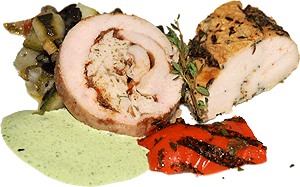 Lufthansa Business Class - "Discover Flavor"
One example: On board of one of the Czech Airlines business class flights we experienced the questionable interpersonal skills of the Purser. The attendant ruined my business suite by her own doing; she didnt know how to handle the situation, nor were there any standard forms or protocol for such incident, not even a sincere apology. At a similar incident with Lufthansa the attendant was not only well prepared and highly apologetic but came right away with the appropriate form to address this issue. For meals on Czech Airlines business class within Europe, chicken it is, judged by us to be unappetizing and boring at best. By comparison to Lufthansa, who recently implemented a new taste menu called Discover Flavor the obligatory chicken in Czech Airlines business class had no flavor to discover. On one of the CSA flights our luggage disappeared for 4 days and from the unaccommodating ground personal to the promised calls we never received, it was a frustrating experience that no one should have to endure. ... (CLICK HERE for more)
In Next Gazette:
* Premier Palace, Kiev - Ukraine
In The Press:
* Boulevard Magazine:
Alchymist Grand Hotel & SPA
| | | |
| --- | --- | --- |
| Dear Friends, | | |
Returning to my home last month from the Ukraine was definitely different from any of my business trips before and from here on. My wonderful wife had given birth to our son David three weeks early and I got to meet him for the first time when he was 3 days old. Last month we visited Italy and The Town House Palazzo Vecchietti of Florence, hidden amongst Chanel, Gucci and romantic outdoor cafes, this is one of the most beautiful, historic small hotels I may recall. The impressions we took home from Tuscany's countryside can only be described as unerasable and captivating. The colors of this cultivated land, created by its inhabitants, as it seems, are in perfect synergy with nature. I am looking forward to return to Tuscany sometime with my wife and son, and be certain that we will refrain from flying with CSA, Czech Airlines until their service has improved. Until next month from Premier Palace Hotel in Kiev, when we are inviting you to join us for a 100-year celebration since ground was first broken on the original hotel in the heart of the downtown, making it one of the city's architectural heritage sites.
I remain yours truly
| | |
| --- | --- |
| | |
| | |
| | Thorsten Buehrmann |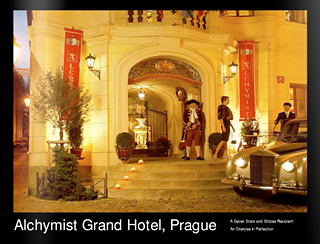 (CLICK HERE TO FLIP THE BOOK!)
Our exquisite hardcover coffee table books, custom designed for each resort, hotel, spa and restaurant, feature highlights and possible excursions of each establishment, along with the Seven Stars and Stripes review and award presentation. These impressive hard cover books, now available in three different styles, are luxuriously wrapped and make great holiday gifts and keepsakes, all the while showing the full potential of what guests may experience. Please 'CLICK and FLIP through the 2009 Seven Stars and Stripes review and award celebration at the Alchymist Grand Hotel & SPA in Prague, CZ. Enjoy!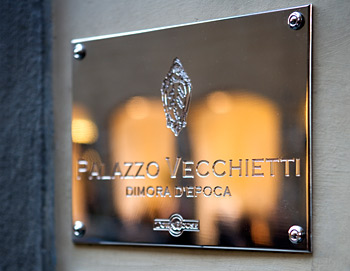 Palazzo Vecchietti
Florence, Italy

4 Stars and 5 Stripes
The conversion or revitalization of the historic building, which resulted in fourteen spacious accommodations, has certainly added to its original character, but this decorator had set the tone. My stunning suite 305 featured high ceilings, a living and bedroom enveloped in relaxing blues, a fully functioning and especially equipped mini kitchen and two equally luxurious bathrooms - besides a private terrace overlooking rooftops and outside courtyard. Our accommodations, Edmund resided in 306 (held in classy off-white and black), were impeccable and with some minor adjustments this privately owned Town House Palazzo Vecchietti itself has all the potential to reach 'World Level Perfection'. ... ... (CLICK HERE for more)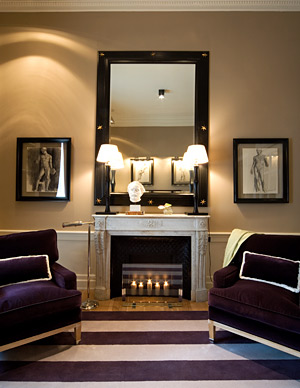 In regards to service, the house butler was very nice, when he was available, and his attention to detail was most of the time that of a trained professional. We believe that the proprietors have the vision to work out the shortcomings and that these should not be overrated since this team is still operating in its infancy. A glorious breakfast was served in the 'Living Room' where all guests sit at his or her preferred time around a large dining table, caringly set with exquisitely designed china by the Richard Ginori factory. ... (CLICK HERE for more)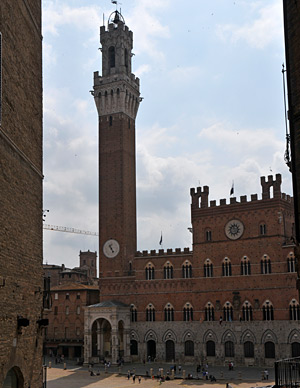 Siena, built over three hills and surrounded by medieval walls, is brimming with Gothic and Romanesque architecture. We visited the Piazza del Campo, famous for its shell-shape, and ever the focus of city life. Within this square sits the Fonte Gaia, a unique quadrangular fountain surrounded by historic figurines. We found out that the original, by Jacopo della Quercia, is now preserved at Santa Maria della Scala. We admired that the Torre del Mangia and the Palazzo Pubblico form that one perfect photo spot at Piazza del Campo. The tower built in 1848 and 102 meters high must grant breathtaking views over Siena and the surrounding countryside. ... (CLICK HERE for more)
Congratulations to all, from your Guests and from Seven Stars and Stripes:
For your visible commitment to excellence.
For your willingness to be recognized for your latest innovations.
For your devotion to your staff and company.
For your ability to receive.
For your decision to raise the bar.