Premier Palace, Kiev - Ukraine
Terracotta Restaurant, Kiev - Ukraine
NEW: Seven Stars And Stripes - BOOKs
NEXT: Kahala Resort, Hawaii - USA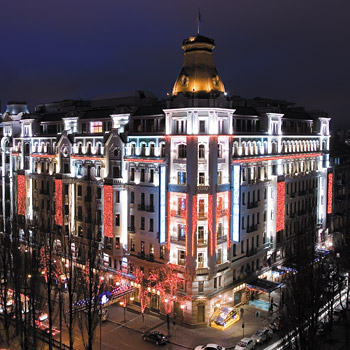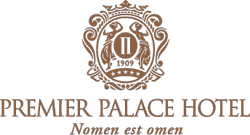 Kiev, Ukraine

6 Stars and 7 Stripes
When we arrived at the main entrance of the Premier Palace, the hotel's façade a blend of Art Nouveau and Art Deco, three traditional costumed people welcomed us dressed in the mesmerizing bold colors of the folklore of their land. The ladies were attractive with wreath of flowers in their hair, one holding a tray with a loaf of bread and the man a tray of wine. The Ukrainian culture is personified through more than 110 ethnic groups that are living today peacefully in this country and are representing the rich and diverse heritage of a land that has been formed and challenged since the 5th century. ... (CLICK HERE for more)
... One of the original two buildings that make today the Premier Palace Hotel belonged to Prince Dimitri Zhevakhov, a colonel in the Russian Cavalry, whose family roots went back to the legendary Kartlos. He was a hero from the Caucasus region, leader of the Georgian people and the great-grandson of the biblical Japheth, the third son of Noah. Our accommodations were on the 7th and 8th 'Executive Floor', granting us not only plenty of privacy, but also access to butler service and a splendid view over the distinctive golden domes of Kiev. ... (CLICK HERE for more)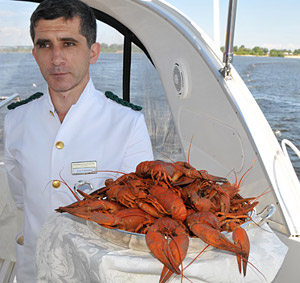 ... Butler Mr. Ivan took over the service for the day on the river. Having worked for a Princess for years on her yacht, he had seen many of the illustrious harbors of the world and proved once again not only his professionalism but also his background as yacht butler and team player. Mr. Ivan has an eye for seeing things that could be improved upon and goes ahead and does them, he never needs to be told, or if so only once. It was his attention to details that we all admired here on the river while he presented an expertly packed lunch, which included canapés, caviar, crawfish and other delicacies ... (CLICK HERE for more)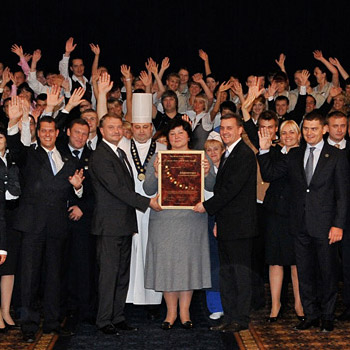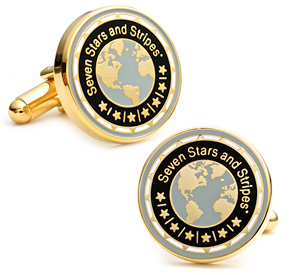 Seven Stars and Stripes Inc. now offers, for the first time, this extraordinary, custom designed 'His & Her Seven Stars Cufflink set. Limited Edition.
In Next Gazette:
* Kahala Resort, Hawaii - USA
In The Press:
* Arrival at the Premier Palace
| | | |
| --- | --- | --- |
| Dear Friends, | | |
Summer has come to a close and fall is upon us. I'd like to invite you on a remarkable journey to Kiev and its prestigious Premier Palace Hotel. One of the original two buildings that make the Premier Palace Hotel today, belonged to the great-grandson of the biblical Japheth, the third son of Noah. Kiev, founded in the 5th century, is renowned worldwide for its priceless historic landmarks. Passionate shoppers and spoiled gourmets will get their fair share of satisfaction as well. Let us entice you with a cascading show of culinary delights during an elegant Perrier-Jouët Sunday brunch and convey to you Executive Chef Igal Kovriga's famed degustations menu at the Terracotta restaurant, showcasing customs and cultures while defining them with his own unique style. As we look ahead, I hope that you will be enjoying a wonderful fall season in Kiev, - until next month from the Kahala Resort in Hawaii, USA.
I remain yours truly
| | |
| --- | --- |
| | |
| | |
| | Thorsten Buehrmann |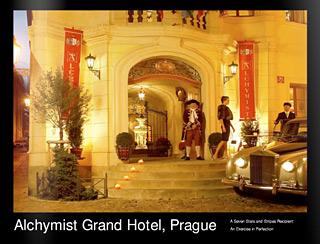 (CLICK HERE TO FLIP THE BOOK!)
Our exquisite hardcover coffee table books, custom designed for each resort, hotel, spa and restaurant, feature highlights and possible excursions of each establishment, along with the Seven Stars and Stripes review and award presentation. These impressive hard cover books, now available in three different styles, are luxuriously wrapped and make great holiday gifts and keepsakes, all the while showing the full potential of what guests may experience. Please 'CLICK and FLIP through the 2009 Seven Stars and Stripes review and award celebration at the Alchymist Grand Hotel & SPA in Prague, CZ. Enjoy!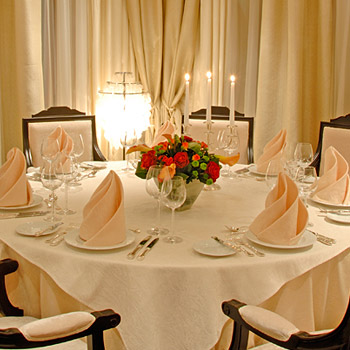 Terracotta Restaurant
Kiev, UKraine

6 Stars and 5 Stripes
Executive Chef Igal Kovriga has set out to maximize the deep-rooted tradition of the Ukraine of using any occasion, no matter how small, to bring together the regional variations of the Mediterranean with the traditional fare of the native Ukrainian culture, for the benefit of his clientele. The restaurant is new to Kiev, an elegant city dotted with imperial structures of bygone days. In choosing the venue, up on the eighth floor of the Premier Palace Hotel, the restaurant takes advantage of imposing views of this fabulous city and all its visual candy. Architecture aside, food is the main attraction here and Chef Igal and his talented team make this an unforgettable gastronomic experience. ... ... (CLICK HERE for more)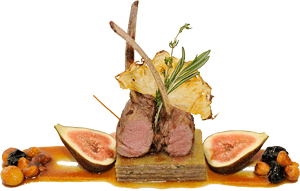 Chef Igal's impressive history of experience makes him a sort of Culinary Ambassador taking in influences from corners of the globe such as London, Paris, Istanbul, Eilat, and Tokyo including several Michelin Star rated restaurants. His presentation for us this evening was none-the-less especially inspired, starting with Terracotta Salad, a colorful display of dandelion greens, edible Nasturtiums, fresh figs and fresh buffalo mozzarella. The natural spiciness of the flowers and greens provided the necessary spark to ignite the sweet figs and buffalo mozzarella with enough fire to call for a dousing of wine. ... (CLICK HERE for more)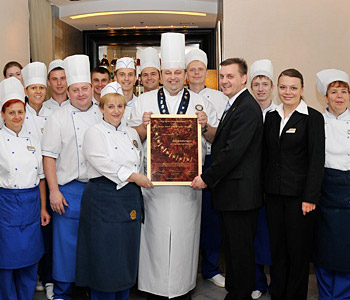 Congratulations to all, from your Guests and from Seven Stars and Stripes:
For your visible commitment to excellence.
For your willingness to be recognized for your latest innovations.
For your devotion to your staff and company.
For your ability to receive.
For your decision to raise the bar.