'Hotel Adlon', Berlin - Germany
'Five Flies', Amsterdam - Netherlands
'Tabacon', FLIP Book
Seven Stars and Stripes > facebook®
NEXT: Montauk Yacht Club, New York - USA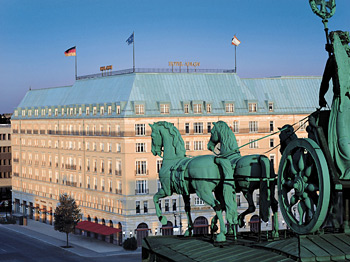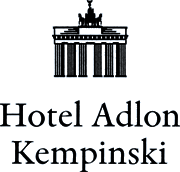 Berlin, Germany

5 Stars and 6 Stripes
... Miraculously the hotel survived the war without any major damage until May 2nd, 1945 when a fire broke out in the wine cellar, ignited by carousing soldiers, which left the main building in ruins. After the Berlin Wall fell (the reunification of East and West Germany) a German investment firm purchased the site and designed a new Hotel Adlon, said to be loosely inspired by the original. August 23rd, 1997 the President of the Federal Republic of Germany opened the new Hotel Adlon, for years the 1st house of this fascinating city. It has been expanded twice, known as the Adlon Palais and the Adlon Residenz. Today, the Hotel Adlon Kempinski Berlin is one of the better hotels to choose from, though it had some pronounced service and other issues that we addressed with Hotel Manger Marcus Lueck directly - some with regards to cleanliness and accounting. Our accommodations appeared slightly dated, did not live up to The Adlon's legendary history or its timeless design. The selection of newspapers, considering that we were visiting the world-city of Berlin, was limited. When we asked the front desk clerk for the New York Times, we were simply told it was not available. ... (CLICK HERE for more)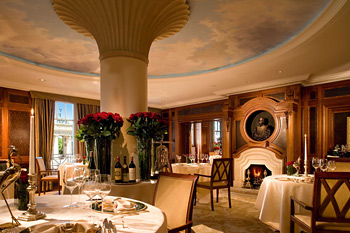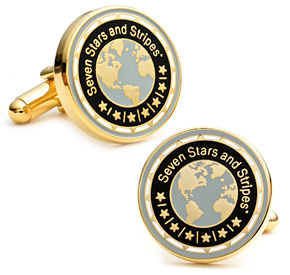 Seven Stars and Stripes Inc. now offers, for the first time, this extraordinary, custom designed 'His & Her Seven Stars Cufflink set. Limited Edition.
Congratulations to all, from your Guests and from Seven Stars and Stripes:
For your visible commitment to excellence.
For your willingness to be recognized for your latest innovations.
For your devotion to your staff and company.
For your ability to receive.
For your decision to raise the bar.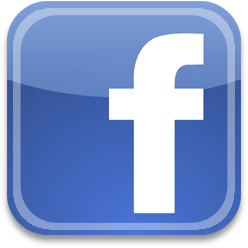 Please join us on 'facebook® (CLICK HERE), a brand new fan page where you get a chance the catch up or get the latest scoop on what might be of interest to todays distinguished global traveler.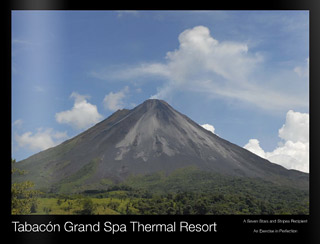 (CLICK HERE TO FLIP THE BOOK!)
Our exquisite hardcover coffee table books, custom designed for each resort, hotel, spa and restaurant, feature highlights and possible excursions of each establishment, along with the Seven Stars and Stripes review and award presentation. These impressive hard cover books, now available in three different styles, are luxuriously wrapped and make great holiday gifts and keepsakes, all the while showing the full potential of what guests may experience. Please 'CLICK and FLIP through the 2009 Seven Stars and Stripes review and award celebration at the Tabacon Grand Spa Thermal Resort - La Fortuna, Costa Rica. Enjoy!
| | | |
| --- | --- | --- |
| Dear Friends, | | |
Spring greetings from Europe and two of the most fascinating and interesting cities of the world, Amsterdam and Berlin. We found the Five Flies Restaurant in Amsterdam is indeed a worthwhile place to dine; in the heart of medieval Amsterdam it is not only a historical landmark but also celebrated for its cuisine. Behind its famous doors lies an ornate piece of the Dutch Golden Age spread over nine dining rooms located in five exemplary 17th century townhouses. We would like to thank Chef de Cuisine Jeroen Groot and his capable team for a delightful dining experience. We also experienced the exquisite cuisine by Chef Sebatian Voelz at the 'Lorenz Adlon' in Berlin; unfortunately the service did not live up to his stellar presentation. The landmark 'Hotel Adlon Kempinski Berlin' is one of the better hotels to choose from in that historic German city, with a location that is priceless. That's all until next month about the Montauk Yacht Club, in the Hamptons of Long Island, N.Y. - USA.
I remain yours truly
| | |
| --- | --- |
| | |
| | |
| | Thorsten Buehrmann |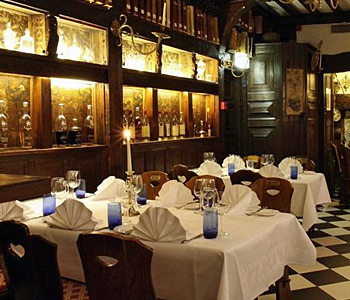 'Five Flies Restaurant'
Amsterdam, Netherlands

4 Stars and 5 Stripes
It is a fascinating place to eat, in the heart of medieval Amsterdam considering the affect the name has on the average tourist visiting this trendy, historical landmark. Behind those doors lies a rather ornate piece of the Dutch Golden Age spread over nine dining rooms located in five exemplary 17th century townhouses, each one a unique reflection of the amazing mind of founder Nicolaas Kroese. This uniqueness had not gone unnoticed over the years since its founding in 1939, and has attracted the likes of Elvis, Walt Disney, Versace and Bruce Springsteen among many other notable celebrities. But ambiance alone cannot sustain a top-notch restaurant for very long and there must be a driving force behind any creative cuisine regardless of external factors; the proof is always in the cuisine, which Chef de Cuisine Jeroen Groot has fine-tuned to reflect today's trends and nuances. ... (CLICK HERE for more)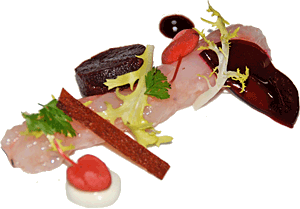 ... We were impressed overall with the enthusiastically intuitive way that Chef Groot assembles his dishes and with his clever use of seasoning and sauces. Some of the highlights of our tasting menu included the Amuse Bouche King Crab prepared with Grapefruit, light Cocktail Sauce and Avocado, which to me reflected utmost freshness and flavor. Our wine pairing of Drusian Proseco Rose Mari, made with 100% Pinot Nero grapes, was able to support perfectly with its fresh fruity bouquet of springtime berries. We were also delighted with an appetizer of Goat Cheese with Honey and Tomato Chutney suggesting gastronomic complexity while using everyday ingredients. A bottle of Hazendal Sauvignon Blanc, Stellenbosch, South Africa offered an ample amount of tropical fruits framed by a well-balanced acidity. We enjoyed Chef Groot's rendition of Baked Mackerel with Grilled Scallops, Lardo di Colonnata (a type of cured bacon tasting like butter), Baked Cauliflower, Hazelnut Butter, Almonds and Capers. This was an exciting combination of flavors and textures that brought a lively feel to my palate just begging for a medium bodied creamy Chardonnay. The answer came in the form of Chardonnay Sebastiani Sonoma, drawing on its rich heritage of California winemaking to produce this wine resplendent with hints of white stone fruit within a buttery texture. ... (CLICK HERE for more)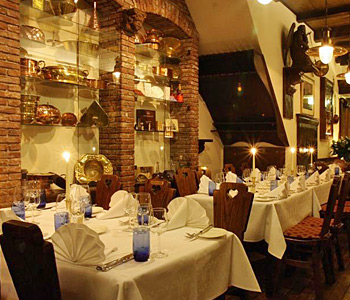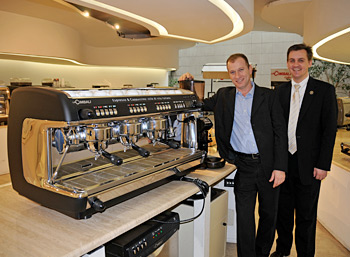 La Cimbali: Massimo Martellato & Thorsten Buehrmann
In Next Gazette:
* Montauk Yacht Club - USA
In The Press:
* Ukrainian Fashion Week:
Seven Stars And Stripes
(CLICK HERE) >