'Montauk Yacht Club', N.Y. - USA
'Sparkling Pointe Wines', N.Y. - USA
'Schlossle Hotel', FLIP Book
Seven Stars and Stripes > facebook®
NEXT: Garden City Hotel, New York - USA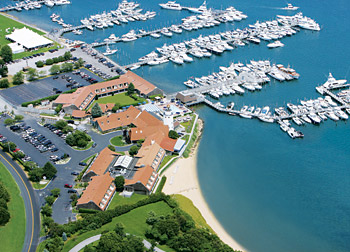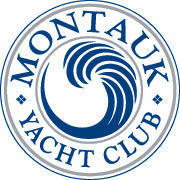 Montauk, N.Y. - USA

4 Stars and 5 Stripes
We drove to the Montauk Yacht Clubs entrance and were promptly greeted by a smartly attired bellman who took our luggage and valet parked our car. We entered the ornate metal double doors of the resort and were instantly impressed by the bright nautical look reflected in furnishings, wall decor and the aquariums filled with Koi. Our check in at the desk was quick and facilitated by nautically attired front desk staff, who greeted us and provided information about our room. We then met our bellman at our deluxe room on the second floor of the main building. Our guest room was filled with midday sunlight reflecting off the placid waters of Montauk Lake, and decorated in a nautically themed blue and white. Our king-sized bed was spacious, comfortable and smart looking with crisp white, high thread count sheets, blue bedspread and pillows. ... (CLICK HERE for more)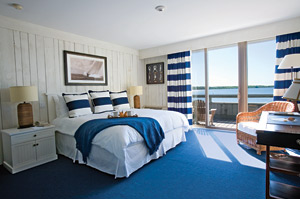 ... Later in the afternoon we returned to our rooms to relax, refresh and work off some of the calories on the gym's treadmill prior to our dinner. This was going to be our initial introduction to the cuisine of Robbin Haas and his mastery of blending local homegrown vegetables, meats and poultry. After sampling lobsters, oysters, diver scallops and salad we knew that the following evenings Tasting Menu prepared by Chef Haas, would be treat! We went to our rooms relaxed and filled with a sense of excitement in anticipation of the next day. After a light continental breakfast I met with Lloyd Van Horn, the General Manager of the Montauk Yacht Club, a charming, sophisticated and experienced gentleman who in one year has turned Montauk Yacht Club into a very highly regarded resort/marina and catering venue. ... (CLICK HERE for more)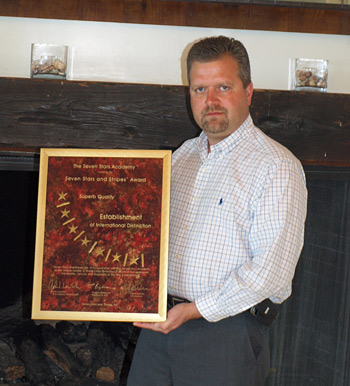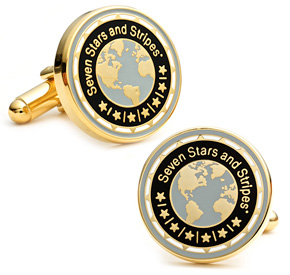 Seven Stars and Stripes Inc. now offers, for the first time, this extraordinary, custom designed 'His & Her Seven Stars Cufflink set. Limited Edition.
Congratulations to all, from your Guests and from Seven Stars and Stripes:
For your visible commitment to excellence.
For your willingness to be recognized for your latest innovations.
For your devotion to your staff and company.
For your ability to receive.
For your decision to raise the bar.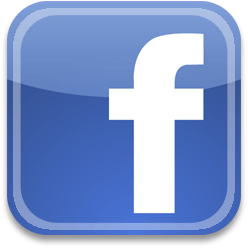 Please join us on 'facebook® (CLICK HERE), a brand new fan page where you get a chance the catch up or get the latest scoop on what might be of interest to todays distinguished global traveler.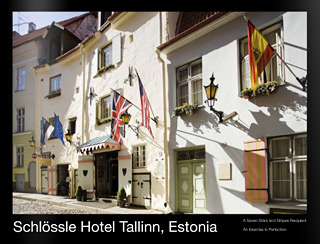 (CLICK HERE TO FLIP THE BOOK!)
Our exquisite hardcover coffee table books, custom designed for each resort, hotel, spa and restaurant, feature highlights and possible excursions of each establishment, along with the Seven Stars and Stripes review and award presentation. These impressive hard cover books, now available in three different styles, are luxuriously wrapped and make great holiday gifts and keepsakes, all the while showing the full potential of what guests may experience. Please 'CLICK and FLIP through the Seven Stars and Stripes review and award celebration at the Schloessle Hotel Tallinn, Estonia. Enjoy!
| | | |
| --- | --- | --- |
| Dear Friends, | | |
May we invite you to a relaxing summer vacation in the Hamptons of Long Island? The Hamptons are the summer playground of the rich and famous of New York's east coast. The stretch includes the affluent towns of Southampton, East Hampton and the hideaway of many celebrities, Montauk. Referred to as 'The End', Montauk is the eastern most tip of Long Island and known as one of the best surfing towns in the US. Its white, sandy beaches are breathtaking. But Montauk's charms go beyond its stunning beaches and bikini beauties; deep sea marinas such as the Montauk Yacht Club offer protected long-term parking for yachts and boats from all over the world, and a fun and chic resort scene as well. – Also during our visit of the Hamptons we wandered up to the North Fork and discovered the wines of 'Sparkling Pointe', a superb sparkler that we obviously can't call Champagne since it wasn't produced in the famous French wine-growing region of the same name, but remarkably passed the blind test. The Brut, a Gold Medal winner, is pure liquid acupuncture with its nose-tickling dry bubbles, elegant mature aroma and lingering silky smooth finish. – May we also entice you to flip through our latest book about the Schloessle Hotel Tallin of Estonia? Enjoy! Until next month
I remain yours truly
| | |
| --- | --- |
| | |
| | |
| | Thorsten Buehrmann |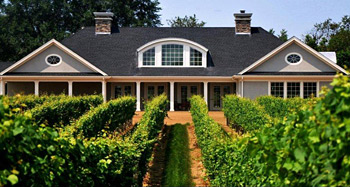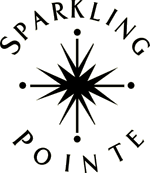 'Sparkling Pointe Wines'
Seduce Your Senses
It's a novel concept for the North Fork of Long Island, a precious gem of a winegrowing region made up of fertile soil left over from the last glacial period of about ten thousand years ago. The notion is to take the glorious alchemy of sparkling wines and make it your only product while sharing the fantasy with all who appreciate the quality and character of Champagne. Well, you really can't officially call it Champagne since it wasn't produced in the famous French wine-growing region of the same name. But, by using the same Methode Champenoise (double fermentation) techniques to produce the wines you may be able to emulate the majestic and breathtaking qualities of Champagne without calling it by that name.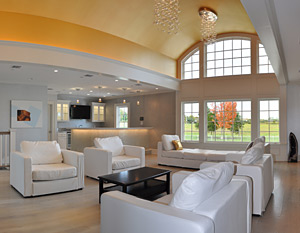 Of course there are variables to this theory and not surprisingly you must understand that the quality of the wine originates in the vineyard and it must by guided through production by a gifted winemaker who can bring out the ultimate expression of its character. Enter Gilles Martin, winemaker "exceptionnel" directly from the Champagne region of France, who with all his experience understands that to produce something truly unique, you must always look beyond the expected thereby creating poetry without even picking up a pen. Working at the Premium Wine Group, a custom winemaking facility in Mattituck, winemaker Gilles Martin has elevated the awareness for these exponentially refined wines by earning accolades and awards together with rave reviews right from the get-go.
| | | |
| --- | --- | --- |
| | | Recently in the San Francisco Chronicle Wine Competition, a Best of Class was awarded to the Brut Seduction, a Silver Medal to the Topaz Imperial, and Gold Medal to the Brut, three of Sparkling Pointe's flagship products. On a recent tasting at Gurney's Inn, I was fortunate to be able to sample each of the above-mentioned wines and them to be sophisticated, vivid and distinguished. The Brut Seduction presented a creaminess on the palate with a fine mousse followed by a hint of vanilla with the scent of fresh berries. While looking at the Topaz Imperial, |
I conjured up images of the semi-precious Brazilian Topaz gemstone of the same name with its unique bronze-like reflection in the light. I found it fresh and tingly in the nose with a pleasant whiff of seasonal wild berries and together with baked apples followed by a well-balanced acidity and dry finish. Finally the Gold Medal winner, the Brut – pure liquid acupuncture with its nose-tickling dry bubbles, elegant mature aroma of toasted bread, white stone fruit and pear trailed by a lingering silky smooth finish.   Remember the name! Sparkling Pointe is setting the course with its refined, cultured wines all the while promoting them by winning blind tasting awards nationwide and sponsoring events like the First Annual Montauk Music Festival's opening night, right here at the tip of Long Island, New York.

www.SparklingPointe.com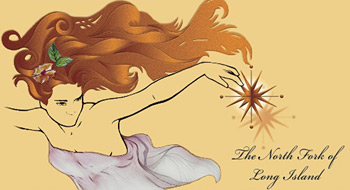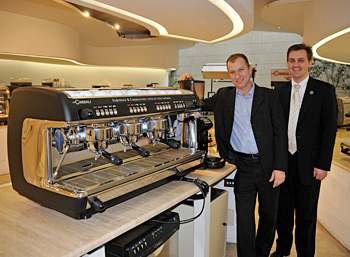 La Cimbali: Massimo Martellato & Thorsten Buehrmann
In Next Gazette:
* Garden City Hotel - USA
In The Press:
* Schloessle Hotel, Tallinn - Estonia: