'Garden City Hotel', N.Y. - USA
'Ho Ho Kus Inn & Tavern', N.J. - USA
'Boulevard Magazine - Premier Palace'
'Schlossle Hotel', FLIP Book
Seven Stars and Stripes > facebook®
NEXT: Vincents Restorans Riga, Latvia
NEXT: Restaurant Burgschenke, Germany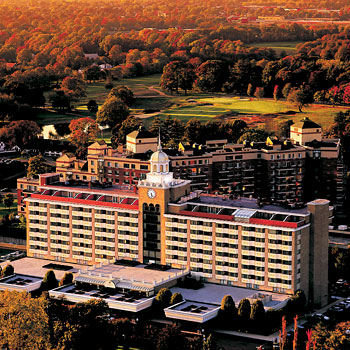 Long Island, N.Y. - USA

5 Stars and 6 Stripes
The Garden City Hotel opened in 1874 to rave reviews; and was rebuilt in 1901. In its 136-year history, the legendary property has always retained the cache and sophisticated elegance of a world-class hotel. Situated in the heart of Long Island's "Gold Coast," it continues to be a preferred destination for world travelers, local residents, businessmen, socialites and celebrities. The famed history of the Hotel, hotel began in 1869 when Alexander Tunney Stewart purchased 7,000 acres of land in Hempstead Plains, 20-minutes from Manhattan. Stewart founded the village of Garden City to offer affluent New York residents an alternative to hectic urban living, in a new and beautiful suburban setting. ... (CLICK HERE for more)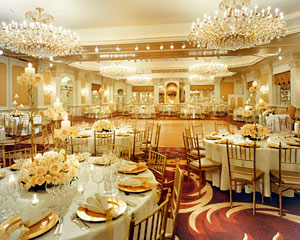 ... Upon our arrival at the Hotel, a smartly attired uniformed doorman greeted us at the front doors of the hotel and our car was quickly valet-parked. We walked through the richly decorated lobby with its exquisite white marble floors and winding staircases. Plush carpeting, and burnished wood finishes surrounded a brightly lit and beautiful front desk where we were quickly checked in. Shortly after check-in, I met briefly with Nasser Samman, the debonair, highly professional general manager of the Hotel, to discuss our program for the next two days. Nasser and his staff are key reasons for The Garden City Hotel's reputation for excellent service and elegance. As a result of its fine reputation, the hotel is the leading choice on Long Island for weddings, banquets, meetings, and special occasion parties. ... (CLICK HERE for more)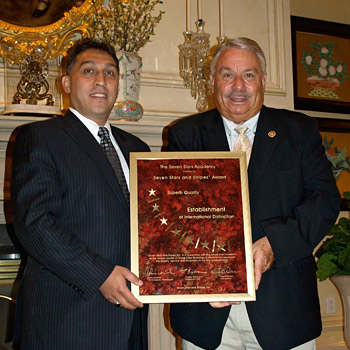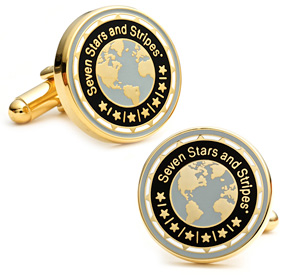 Seven Stars and Stripes Inc. now offers, for the first time, this extraordinary, custom designed 'His & Her Seven Stars Cufflink set. Limited Edition.
Congratulations to all, from your Guests and from Seven Stars and Stripes:
For your visible commitment to excellence.
For your willingness to be recognized for your latest innovations.
For your devotion to your staff and company.
For your ability to receive.
For your decision to raise the bar.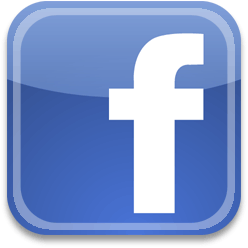 Please join us on 'facebook® (CLICK HERE), a brand new fan page where you get a chance the catch up or get the latest scoop on what might be of interest to todays distinguished global traveler.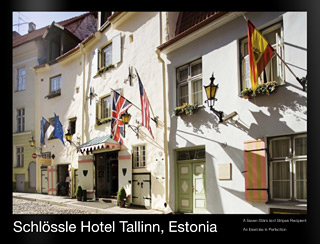 (CLICK HERE TO FLIP THE BOOK!)
Our exquisite hardcover coffee table books, custom designed for each resort, hotel, spa and restaurant, feature highlights and possible excursions of each establishment, along with the Seven Stars and Stripes review and award presentation. These impressive hard cover books, now available in three different styles, are luxuriously wrapped and make great holiday gifts and keepsakes, all the while showing the full potential of what guests may experience. Please 'CLICK and FLIP through the Seven Stars and Stripes review and award celebration at the Schloessle Hotel Tallinn, Estonia. Enjoy!
In Next Gazette:
* Vincents Restorans Riga, Latvia
* Restaurant Burgschenke, Germany
* Special: Locanda dell Isola - Como, Itlay
| | | |
| --- | --- | --- |
| Dear Friends, | | |
Wherever in the world you reside, we wish you a wonderful summer vacation with plenty of time with your family and friends. But if you are looking to discover that hidden, little paradise everyone is talking about, you might want to consider visiting the very east end of Long Island. Montauk is commonly referred to as the 'Un-Hampton' of the Hamptons, and features miles and miles of pristine, white, sandy beaches, top-notch deep-sea fishing and surfcasting in a remarkably historic setting. With a travel time of less then 3 hours from Manhattan, the Montauk Yacht Club attracts not only the rich and famous yacht owners from all over the world but also those people looking for a truly unique experience in an idyllic setting. Another find in Montauk, but directly on the ocean is America's only Thalasso Center at Gurney's Inn's famous Seawater Spa. If you are landing in NYC, our advice is to reside at the celebrated Garden City Hotel, just a half hour outside of Manhattan on the way to the Hamptons. While there you must dine at the new 'Rein' restaurant! Other insider tips are the historic Ho-Ho-Kus Inn & Restaurant named after the quaint township in New Jersey. Until next month from the distinguished Burgschenke Restaurant of Wilhelmshaven, Germany and Vincents Restaurant of Riga, Latvia, where both chefs presented us with a superb dining experience. Last but not least, please enjoy our interesting review of the Premier Palace of Kiev, Ukraine in the latest issue of New York Gold Coast's Boulevard Magazine.
I remain yours truly
| | |
| --- | --- |
| | |
| | |
| | Thorsten Buehrmann |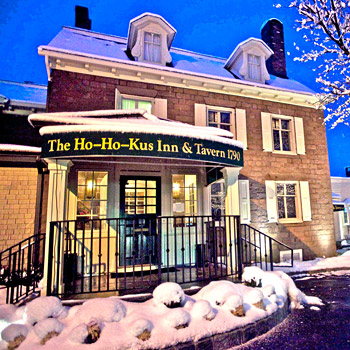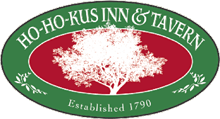 New Jersey - USA

4 Stars and 4 Stripes
The menu designed by Executive Chef Bryan Gregg, a graduate of the Pennsylvania Institute of Culinary Arts, and culinary world traveler, offers local organic produce and meats to suit today's healthy style dining. Gordon Hamm is a partner in a highly successful Garage Management business, but has always loved the idea of creating a gourmet restaurant of his own. On a recent Friday night in April, Rita and I dined at the newly renovated Ho-Ho-Kus Inn and Tavern, one of New Jersey's most talked about gourmet venues. In the past I had eaten at the old Ho-Ho-Kus Inn and found that although the food was high quality, the venue was rundown and in need of a thorough rejuvenation. I was quite impressed at how Gordon and Laurie had converted a centuries old building into an elegant, beautifully appointed dining venue. ... (CLICK HERE for more)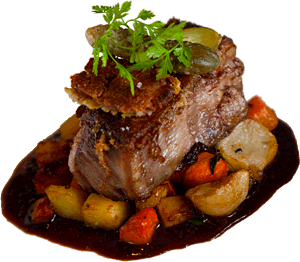 ... It was fitting that we started our dinner with an East Coast favorite of Maryland Crab Cakes with Watercress, Citrus Salad and Gribiche Sauce consisting of the finest pure super lump meat pan seared and served over fresh pungent watercress. This was combined with a salad of citrus in a Gribiche sauce, consisting of a mayonnaise style sauce made by emulsifying hard-boiled egg yolks and mustard with a high quality oil. The sauce is finished with chopped pickles, capers, parsley, chervil and tarragon. A specialty of the Ho Ho Kus Inn, Salad of Pear Tomatoes and Seasonal Vegetables with House Vinaigrette demonstrated an uncanny ability to pair beautifully with and compliment the crab cakes. ... (CLICK HERE for more)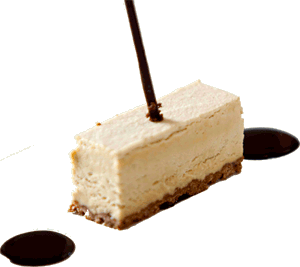 ... The second entrée of Arctic Char Confit, Horse Radish Foam and Chioggia Beets combined a unique salmon-like fish of the far North with Italian beets made up of concentric rings of red and white flesh for a spectacular visual appeal. The meat of the fish was tender as can be, since it was slow cooked in its own juices and rendered fat and spices. The wine of choice for both entrées were Kendall Jackson Chardonnay 2006 and Stella Pinot Grigio 2008. I was impressed with the way KJ Chard displayed its unique characteristics derived from the coastal vineyards owned by them, offering notes of citrus oil, abundant fruit and refreshing acidity. This wine consistently rates around 90 each year despite being reasonably priced. ... (CLICK HERE for more)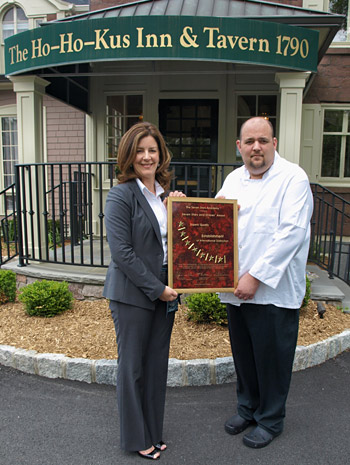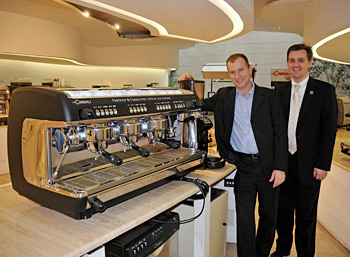 La Cimbali: Massimo Martellato & Thorsten Buehrmann
In The Press:
* Boulevard Magazine - Premier Palace