Emirates Palace, Abu Dhabi - UAE
Sayad Restaurant, Abu Dhabi - UAE
ANANTARA SPA, Abu Dhabi - UAE
New Team Member: Central Asia
Mezlai Restaurant, Abu Dhabi - UAE
SPECIAL: BBQ Al Qasr, Abu Dhabi - UAE
Seven Stars and Stripes > facebook®
NEXT: Cristallo Hotel SPA & Golf, Italy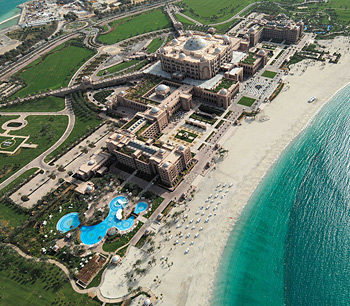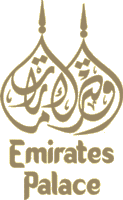 Abu Dhabi, UAE

7 Stars and 7 Stripes
... Much has changed since our last visit in 2007, new buildings and sky scrapers have gone up along the way or are in the works; what hasnt changed is that Abu Dhabi is still positioned as the wealthiest of the Emirates states and that the golden Emirates Palace with its night-lit water fountains takes your breath away long before you pass the security gate. Welcome to the Emirates Palace said Mr. Shayan with a profound sense of pride as soon as the Resort came into view. The Emirates Palace archway, which is covered with Italian marble, is said to be larger than the Arc de Triomphe.The fairytale Emirates Palace resort-hotel was designed by WATG (Wimberly Allison Tong & Goo) and build over three years on a peninsula that was just a dessert forty years ago. ... (CLICK HERE for more)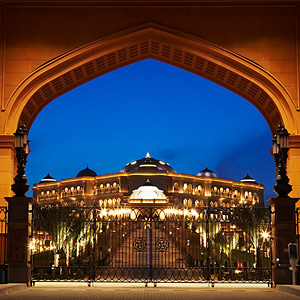 ... From gold drizzled cappuccinos, highly aromatic coffees, interesting teas, world-class torts, tarts, petite fours and desserts, Le Café deserves your undivided attention at least twice. Located conveniently on lobby level (4th floor) of the Palace, Le Café is the perfect setting to mingle or greet friends or just relax and listen to an angel harpist or the traditional tunes coaxed from original instruments of the land, as the musicians change frequently. One must try the Emirates Palace logoed signature gold-leaf drizzled cappuccino and their even more amazing CamelChino, made with fresh camel milk, it was delicious! Served with a couple of sweet treats it brings out the light hint of salty taste and is superb! ... (CLICK HERE for more)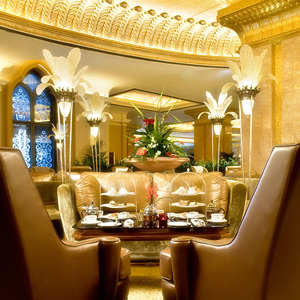 ... The ultimate Steven Stars and Stripes World Level Perfection Award comes with a major responsibly. It is not just some award that one hangs on the wall, it is a commitment to present each single guest continually with the worlds finest service and hardware all around. Our Seven Stars teams experienced during their stay nothing but the outmost care and excellence throughout every single department, surrounded by ultimate hardware. The best of the best. We witnessed the Emirates Palace through the years evolve from a well functioning, international crew into a world class team that deserves the highest accolade world wide! The Kempinski group receives The Seven Stars and Stripes award for their flagship hotel, The Emirates Palace! We must congratulate General Manager Hans W. Olbertz, Hotel Manager Kees M.R. Heuveling, Palace Operations Manager Dhansukh Ramji Mazgoankar and Executive Chef Wolfgang Fischer for ... (CLICK HERE for more)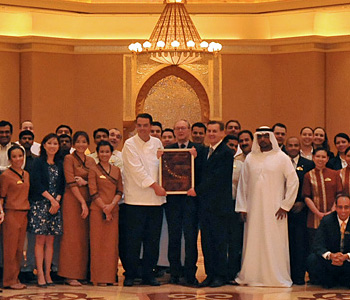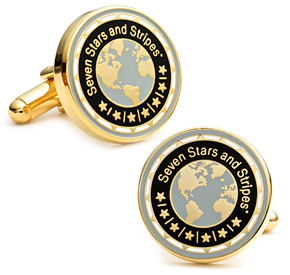 Seven Stars and Stripes Inc. now offers, for the first time, this extraordinary, custom designed 'His & Her Seven Stars Cufflink set. Limited Edition.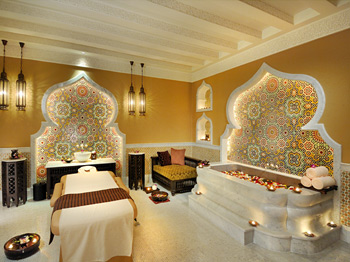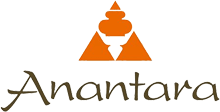 @ Emirates Palace, Abu Dubai - UAE

'Of Global Distinction'
... When the time came to experience the amenities of The Anantara Spa, we followed our butler outside the building and hopped on a golf card and within a few minutes we entered the inviting doors. Pleasant aromas of exotic herbs and flowers put us spa-taniously into a relaxing state of mind. Ms. Jittima Wongsiripaiboon, the charming Director of The Anantara Spa at the Emirates Palace resort, most graciously welcomed us to her Moroccan Thai inspired sanctuary. She invited us both to take a seat at her desk and after she inquired after our wellbeing, a distinctively spicy tea was served without a sweetener, quite exotic to our taste buds. ... (CLICK HERE for more).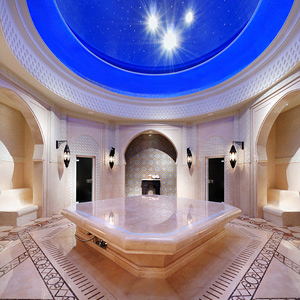 ... The spa features several treatment suites, complete with Vichy showers and the only Moroccan Hammam facility said to be offered in Abu Dhabi. Couples treatments are available complete within private couples amenities. One of the signature treatments at the resort spa is the The Royal Hammam, which originated in the Middle East and is a cleansing ritual, within what is considered, a social function. The Royal Hammam treatment starts, after enjoying the Hammam PRE Relaxation Room, with a deep exfoliation of the skin all over the body with a traditional silky rough kassa glove, followed by washing the whole body and hair with specially formulated skin and hair products. ... (CLICK HERE for more)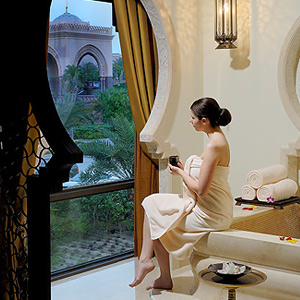 ... All the while the light sounds of a heavenly music was floating somewhere in the air, inviting me to drift. Then I followed Ms. Puthamas Jullaprom quietly to a massage bed, which had obviously been adjusted to her height. She applied a soft floral and spice scented oil to her hands and my body and used a combination of different pressure point techniques, all the while the massage oil was intensifying its aroma and demanding of me to loosen up and relax. Aromatherapy should not be confused with perfumed oils. The therapeutic properties of essential oils are said to be healing and play a valid role in the world of complementary medicine. When the body calls for ultimate calm and repose, this treatment, based on the principles of aromatherapy and Swedish massage, is the perfect remedy. - We comply. ... (CLICK HERE for more)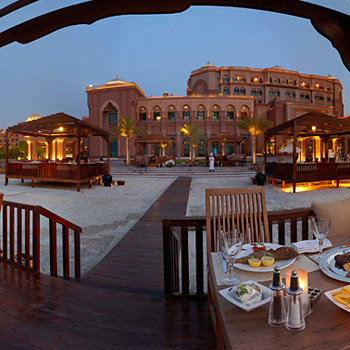 Abu Dhabi, UAE
'Special BBQ Feature'
... Leadership is not an issue under the guidance of Chef de Cuisine Basel Mounawar, a highly qualified and passionate master of cuisine, with an eye on becoming Executive Chef sometime in the future. Since he began with the pre-opening team for the Emirates Palace in 2004, Chef Basel has applied all of his international experience into making BBQ Al Qasr a jewel in the sands of Abu Dhabi. When dining at BBQ Al Qasr at night, be prepared for a light show of both natural and supernatural magnitude. Looking up one can see billions of stars through the pristine atmosphere of a cloudless sky while back on earth, the man-made lights of the neighboring marina to the east and the cornice to the west form a string of warm glowing embers ostensibly putting you in the center of an embrace. ... (CLICK HERE for more)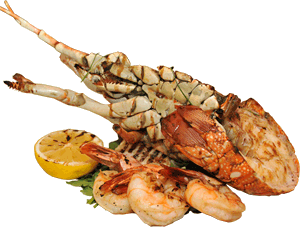 ... Our dinner began with a Baby Beetroot Salad of orange wedges, mixed lettuces, pistachio covered goat cheese and raspberry coulis dressing. Fresh, crisp and young lettuces garnished with segments of fresh oranges together with sweet, earthy slices of beets and topped with a disc shaped sphere of pistachio covered goat cheese. Good salad combo to drink a glass of light colored and floral Semillon Chardonnay Rawsons Retreat, Australia 2009 with hints of pineapple and kiwi. Next came the mixed seafood platter of Grilled Prawns, Lobster, Mussels, Scallops and Salmon, topped with caper berries and arranged in a way to reveal the true succulent properties of each item that seemed to glisten and shimmer when placed in front of us. ... (CLICK HERE for more)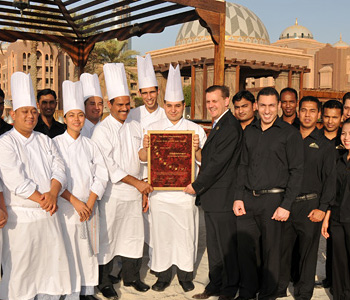 | | | |
| --- | --- | --- |
| Dear Friends, | | |
We are honored and delighted to announce that the Emirates Palace resort of Abu Dhabi earned the ultimate Steven Stars and Stripes World Level Perfection Award with all accolades, for the 2nd time in 4 years. We highly encourage you and your family who may be making travel plans for this winter, to visit the UAE and please take at least a week, or better two. Though Abu Dhabi is a year-round destination with a myriad of seasonal activities, the weather is milder in the winter and therefore ideal for exciting desert adventures and safaris that one should not miss. This resort offers one of the finest and most exclusive beaches in the world and please take the time to discover the resurgence of Emirati pride by visiting the fascinating cultural sites as well. Our Seven Stars teams experienced nothing but the utmost care and service excellence throughout every single department during our stay at the Emirates Palace, including the three dining venues and the spa all furnished with exquisite hardware. We hope you enjoy the extensive review of the world's only official Seven Stars awarded resort and please let us know what you think. - We are looking forward to report next month from Italy's Dolomites and the exclusive century old Cristallo Hotel Spa & Golf resort, with an unrestrained view of the stunning valley of Cortina d'Ampezzo.
I remain yours truly
| | |
| --- | --- |
| | |
| | |
| | Thorsten Buehrmann |
| | | |
| --- | --- | --- |
| | | Mr. Aidarbek Ibraimov |
Coordinator Central Asia
Languages: English, Russian, Turkish, Arabian
Email: Bek@SevenStarsAndStripes.com
We are delighted to welcome Mr. Aidarbek Ibraimov as coordinator for Central Asia to our global Seven Stars and Stripes team. The multilingual Business Development Hospitality pro, experienced in the optimization methods of business development and improving management efficiency and strategic planning, is presently learning Mandarin. Mr. Ibraimov has extensive experience in the Malaysian and Russian travel industry.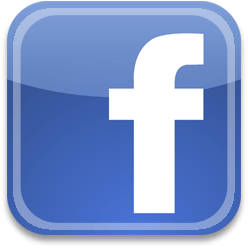 Please join us on 'facebook® (CLICK HERE), a brand new fan page where you get a chance the catch up or get the latest scoop on what might be of interest to todays distinguished global traveler.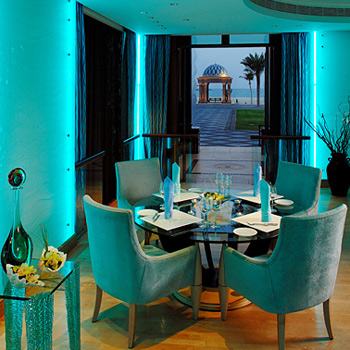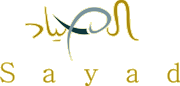 Abu Dhabi, UAE

6 Stars and 7 Stripes
... But structure without substance cannot survive in this world of highly competitive restaurant venues with customer pressures the likes of instant messaging and social media. Enter Shaun Anthony, newly appointed Chef de Cuisine for Sayad with 14 years of experience in the culinary field in ten countries, and 3-Michelin starred training at Gordon Ramsays Royal Hospital Road, London under his belt. Since his auspicious beginning at Sayad in July of 2010, Chef Anthony has focused on his strong foundation in European fine dining to utilize a keen interest in modern cooking techniques while being conscious of sustainable practices and environmental concerns of the modern world.... (CLICK HERE for more)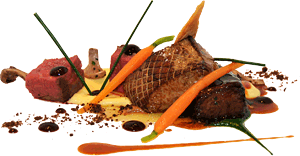 ... Some of the highlights of Chef Anthonys cuisine included a degustation menu of modern seafood (as stated on the menu). A Canapé of marinated white anchovy with crispy potato combo opened our senses with salt and acidity to wet the palate and prepare it for what was yet to come. An Amuse Bouche followed with Royal Beluga caviar delicately placed atop a cherry tomato with smoked tomato consommé poured at the table. Next was an appetizer of Goat Cheese, Almond, Orange and Strawberry, which presented itself as lightly coated with almond crumble and brûléed with a torch to form a crispy, toasty surface. A bottle of 2009 Laurenz V Singing Grüner Veltliner, Austria provided the much-needed fruit bouquet, as it was un-oaked with plenty of complexity and simply delightful with this menu. ... (CLICK HERE for more)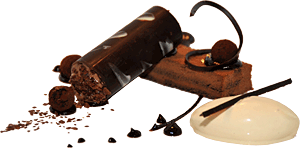 ... One of the highlights of the evening was Maine Scallop, Pineapple, Peking Duck and Aromas of 5 spices. This entrée turned out to be the most interesting in which a bowl of Jasmine tea with coriander, fennel, star anise, clove and cinnamon is placed in front of you after which boiling water is poured over the spices. Pan-seared scallop atop pineapple is placed carefully on top of the concoction with the idea that you not only taste the 5 spices but at the same time you are smelling the released aroma arousing more of the senses. ... (CLICK HERE for more)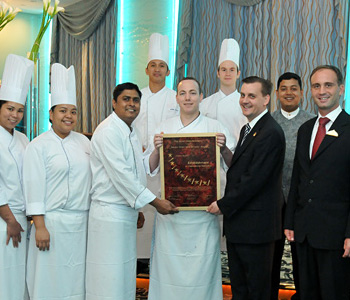 Congratulations to all, from your Guests and from Seven Stars and Stripes:
For your visible commitment to excellence.
For your willingness to be recognized for your latest innovations.
For your devotion to your staff and company.
For your ability to receive.
For your decision to raise the bar.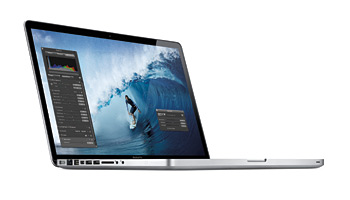 Seven Stars And Stripes is recommending the new 2011 Apple MacBook Pro. The 15" UniBody Model with the HighRes Antiglare Display and 2,3GHz CPU and 8GB RAM is simply outstanding.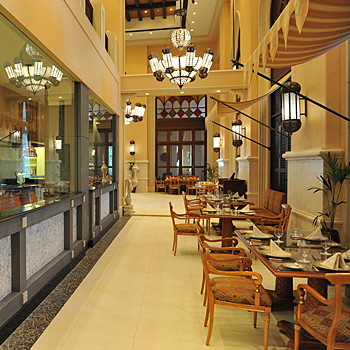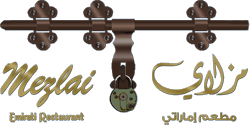 Abu Dhabi, UAE

6 Stars and 5 Stripes
... Its a customary offering of Abu Maan dates and fragrant spiced coffee that greets all who come to eat at Mezlai Restaurant at the Emirates Palace. It is evident that this being the first restaurant in the world featuring Emirati Heritage cuisine, all persons who enter are considered guests and welcomed in this traditional way. Standing while enjoying this welcome treat is not an option and you are encouraged to sit and relax in a comfortable nook of cushy Bedouin style sofas and pillows. Youll notice the walls adorned with Bedouin Kunjah knives with their peculiar angular shape as well as palm fiber baskets, mats and typical pyramid shaped covers that desert people used to protect food from flies. ... (CLICK HERE for more)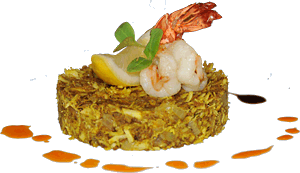 ... Upon being seated we are presented with a typical refreshing Emirati beverage of pineapple-passion fruit juice with pomegranate seeds along with some dipping sauces made of mashed eggplant, onions, garlic, lemon and tahini (sometimes called Baba ghanoush) and Hummus, a puree made with chickpeas, garlic, lemon and tahini. We relished this lite snack with artisanal breads, including Emirati Rgag bread wonderfully produced by Executive Pastry Chef / Master Baker Josef Teuschler who handles the baking for all the restaurants at the Emirates Palace. ... (CLICK HERE for more)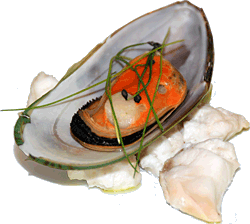 ... Emirati cuisine features seafood as a mainstay and being surrounded by the waters of the Arabian Gulf, it is easy to see why. Shark Velute with Garlic, Saffron and Cream didnt quite tell the whole story from the menu description until the dish was presented at the table. A rather large plump mussel garnished with delicate strands of garlic chives, arrived sitting atop tender white morsels of shark meat. The server then began to pour a silky smooth stream of velouté sauce, golden yellow and one of the four mother sauces of international cuisine. The velvety stream continued until the shark meat was covered and the mussel was left above the liquid as if it were an Emirati Shasha, a traditional fishing vessel floating atop a golden sea. ... (CLICK HERE for more)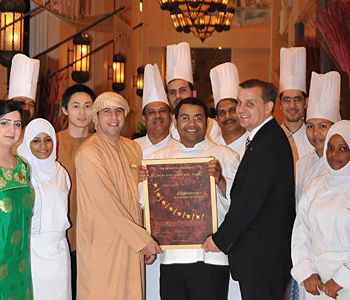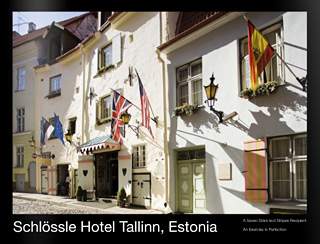 (CLICK HERE TO FLIP THE BOOK!)
Our exquisite hardcover coffee table books, custom designed for each resort, hotel, spa and restaurant, feature highlights and possible excursions of each establishment, along with the Seven Stars and Stripes review and award presentation. These impressive hard cover books, now available in three different styles, are luxuriously wrapped and make great holiday gifts and keepsakes, all the while showing the full potential of what guests may experience. Please 'CLICK and FLIP' through the Seven Stars and Stripes review and award celebration at the Schloessle Hotel Tallinn, Estonia. Enjoy!
In Next Gazette:
* Cristallo Hotel SPA & Golf, Italy
In The Press:
* Arrival: Emirates Palace, UAE