Abu Dhabi, United Arab Emirates

World Level Perfection
May - 2011
7 Stars & 7 Stripes
Overall - 'Hotel & Service'
The Ultimate Award:
Seven Stars and Stripes®
It was in the early evening hours of May 2nd, 2011 and we were about to reach the city of Abu Dhabi, capital of the United Arab Emirates. The views from the plane pictured a strikingly contrasting landscape, from sandy beaches to green oases, and from skyscrapers to rolling desert dunes and the coastline studded with almost two hundred islands displaying precious, white, sandy beaches. Abu Dhabi International Airport is the UAE's second largest airport and the first airport in the Middle East region to receive regulatory approval for enhanced low visibility operations.
As soon as we left the plane and entered the exit tunnel we felt the shift to Middle East climate. At the gate we recognized right away the distinctive logo of the Emirates Palace on a polished welcome board, held by Mr. Sanju Ayekpam, the Emirates Palace Airport Supervisor. Mr. Sanju, uniformed with an imperial looking open coat, welcomed us and indicted graciously to follow him to one of the luggage carousels. Within minutes we were able to point out our golden Rimowa luggage, which he quickly collected. Most certainly all international visitors have to pass through customs and he asked us once again to grant him just a moment as we watched him while he approached a dedicated customs desk with our passports. After all formalities were cleared we followed Mr. Sanju to the Emirates Palace Arrival Lounge where we were introduced to our butler, Mr. Shayan Kumar Ghosh, a nice gentleman, with an excellent attitude who would accommodate us during our stay.
| | | |
| --- | --- | --- |
| After we had been offered refreshments we followed Mr. Shayan to the main gate where the driver of one of the white Rolls Royce Phantom's house limos expected us. The open coach doors, releasing cool air, invited us to sink quickly into the deep red leather chairs. While Mr. Shayan inquired after our taste for music, and preferred temperature, he offered cool towels and refreshments. Our chauffer guided the Rolls Royce Phantom smoothly out of the airport. We found the rear seats of the Rolls Royce Phantom very comfortable since they were set back in a moderate recline position. | | |
"The rear seats are set back in the car, ensuring passengers' privacy without restricting their view of the world as it passes."
And that's what we did, since it is only a 30-minute ride to the Emirates Palace. Much has changed since our last visit in 2007, new buildings and sky scrapers have gone up along the way or are in the works; what hasn't changed is that Abu Dhabi is still positioned as the wealthiest of the Emirates states and that the golden Emirates Palace with it's night-lit water fountains (CLICK HERE) takes your breath away long before you pass the security gate. "Welcome to the Emirates Palace" said Mr. Shayan with a profound sense of pride as soon as the Resort came into view. The Emirates Palace archway, which is covered with Italian marble, is said to be larger than the Arc de Triomphe.
The fairytale Emirates Palace resort-hotel (CLICK HERE) was designed by WATG (Wimberly Allison Tong & Goo) and build over three years on a peninsula that was just a dessert forty years ago. This international project employed a work force of approximately twenty thousand people, representing fifty nations and sits on 1.3 km of private, white powder sandy beach.
"Finally our arrival at the Palace, entering just past the 'Royal Entrance' built entirely for the purpose of allowing dignitaries, powerful world leaders and of course the Royal Family of Abu Dhabi to arrive discreetly away from the eyes of the public. My entrance was no less spectacular as when we pulled up to the curb, several valets and doormen jostled for position to get to the Rolls Royce door to greet me with a cacophony of voices all calling out "Welcome to the Emirates Palace" at the same time."
To get to our accommodations on the 6th floor we had to take the elevator and pass through the Palace's reception hall with a gold leafed dome (CLICK HERE) adjoining; breathtaking is the appropriate term for a place where even the most sophisticated wedding dreams come true. The palatial suites are located on the sixth, seventh and eighth floor (with the 8th reserved for Royalty). Using a coin shaped magnetic key, Mr. Shayan swung open the door to our accommodations and again we noticed the incredibly high ceilings. With six hundred and eighty square meters these well-designed apartments grant even families who travel with children plenty of privacy. The suite was decorated (CLICK HERE to take a close look) in the pastel colors of the Arabian Peninsula.
I was impressed with our accommodations and the amazingly sumptuous bath facilities (CLICK HERE), the exquisite personal amenities and the Emirate's own perfume, standing at attention on the marble counter top. 'A Touch of Royalty' by Emirates Palace was designed for men and women and was presented in elegant leather-covered gift boxes; definitely the touch of a Seven Star hotel. Mr. Shayan reminded us that a barbecue was being cooked and served at the beach and that we had still plenty of time to join in. He guided us to the 4th floor, where we passed an angel playing on her harp and from there we hopped on the escalator to the beach. With evening temperatures still very pleasant, we were glad that we had followed the invitation.
With the emphasis on the cuisine of the Arabian Peninsula and offering eye candy apparitions of idyllic turquoise water views over the wide, white, sandy beach of the Emirates Palace (CLICK HERE), the restaurant is poised to become the next hot beach front dining venue. The 2011 FORMULA 1 GRAND PRIX, which is scheduled to be in Abu Dhabi this November, leads me to imagine kicking back at BBQ Al Qasr for a bite before going to the one of the practice rounds at the races. Recently BBQ Al Qasr was recognized for being the best restaurant overlooking the seacoast with the presentation of the customer driven Explorer Award, which is somewhat similar to a Zagat.
Leadership is not an issue under the guidance of Chef de Cuisine Basel Mounawar, a highly qualified and passionate master of cuisine, with an eye on becoming Executive Chef sometime in the future. Since he began with the pre-opening team for the Emirates Palace in 2004, Chef Basel has applied all of his international experience into making BBQ Al Qasr a jewel in the sands of Abu Dhabi. When dining at BBQ Al Qasr at night, be prepared for a light show of both natural and supernatural magnitude. Looking up one can see billions of stars through the pristine atmosphere (CLICK HERE) of a cloudless sky while back on earth, the man-made lights of the neighboring marina to the east and the cornice to the west form a string of warm glowing embers ostensibly putting you in the center of an embrace.
| | | |
| --- | --- | --- |
| Our personal dining experience was punctuated with the soft jazzy sounds of a live musician working his magic under the stars. Once seated, our servers brought over four types of bread including sunflower seed, cornbread, sun-dried tomato and onion bread with four dips of curry aioli, cream cheese scallion, sour cream with red chili and olive oil with roasted garlic. All the breads and the desserts, which you will see later, come courtesy of Executive Pastry Chef / Master Baker Mr. Josef Teuschler, who works with his team to supply all the restaurants at the Emirates Palace with his goodies. | | BBQ Al Qasr - Cuisine |
Our dinner began with a Baby Beetroot Salad of orange wedges, mixed lettuces, pistachio covered goat cheese and raspberry coulis dressing. Fresh, crisp and young lettuces garnished with segments of fresh oranges together with sweet, earthy slices of beets and topped with a disc shaped sphere of pistachio covered goat cheese. Good salad combo to drink a glass of light colored and floral Semillon Chardonnay Rawson's Retreat, Australia 2009 with hints of pineapple and kiwi. Next came the mixed seafood platter of Grilled Prawns, Lobster, Mussels, Scallops and Salmon, topped with caper berries and arranged in a way to reveal the true succulent properties of each item that seemed to glisten and shimmer when placed in front of us.
| | | |
| --- | --- | --- |
| BBQ Al Qasr - Cuisine | | Wagyu Beef Burger topped with lettuce, tomato, pickle and a surprise – a thin luscious slice of grilled foie gras, followed this! Never has a burger tasted so rich and flavorful and considering the quality of the Waygu and the perfect temperature to which it was cooked (between rare and medium rare, exactly how I ordered it), I ate slowly and with much pleasure. Along with the burger came a 9oz portion of Grilled Wagyu Tenderloin, with defined marbling and an inclination to producing a higher percentage of omega 3 and omega 6 fatty acids, which are known to be beneficial to one's health. |
A bottle of 2009 Woodbridge by Robert Mondavi, Cabernet Sauvignon was recommended for this course and we found it to be well balanced with soft traces of oak and uniform tannins. Conclusively, a decadent dish of Chocolate Opera resplendent with three-dimensional filigreed chocolate architecture atop the luscious chocolate mousse, together with a sumptuous piece of chocolate brittle came to the table with all eyes upon it. As we made short work of this final movement, we gazed out at the beach and the path leading back from it framed by open flamed gas lamps. It came to mind that dining in this tranquil setting, just steps from the sea, could be the best therapy for longevity!
Back at our Palace Suite, our butler had unpacked our suitcases, and turned down my accommodations for the night. "Our palace suite was the combination of three private apartments and was basically a smaller palace within the larger one. Each had its own spacious living areas and a master bedroom with one elegant dining room (serving up to ten), a main sitting room, each of which could be entered through one main entrance hall. The bedrooms were decorated in gentle tones of pale gold, silver leaf and rich marble…". At my bedside smiled a golden box of chocolates, which unfolded like a fan and released a top layer of delicate confection with four skillfully designed, luscious chocolate pralines on the bottom. A light scent of fresh exotic flowers lingered in the room, as well as in the bathroom where Mr. Shayan had drawn a bath that for some unknown reason had exactly the right temperature and could not be ignored.
| | | |
| --- | --- | --- |
| These deep red flowers were carefully placed all around the oversized, easy to enter Jacuzzi tub (CLICK HERE) and on the bathmat, and candles were lit right and left next to it, on raised marble pedestals, and were floating in wide glass bowls, as well. I am certain that my wife would have adored this romantic display. Edmund found in his suite a handsome tray - (CLICK HERE) of pralines and truffles and a glass of grappa. In an earlier conversation he had mentioned that grappa is his favorite digestive to his Butler Mr. Nishantha Pradeep Kumara. However, nothing could have disturbed my sleep in this royally stuffed, oversized bed, besides, no sound of any air conditioning could be heard. | | |
Breakfast at the Palace is served at the Le Vendôme, which is located on the lobby level (4th floor) with a narrow terrace (CLICK HERE) overlooking the exotic gardens, the white beach framed by the amazing turquoise waters and the adjoining marina, unless one orders room service. "Enliven the taste buds at Le Vendome Brasserie, which offers a commingling of exotic flavors with a renown International Buffet…" - is simply an understatement. This breakfast buffet was more like an elaborate resort brunch and the food was outstanding. There were several different stations to choose from, including Arabic, Indian, Asian, Western, as well as a tempting dessert buffet with both, Arabic and international mouthwatering bite seized creations.
All bakery goods are made daily in-house by Executive Pastry Chef / Master Baker Mr. Josef Teuschler and his team. The Europeans especially, who are known for favoring their fresh breads and rolls for breakfast, will adore his crisp specialties. Edmund could not stop raving about the creative fruit displays, kept at room temperature; they shared their exotic aroma freely and enticed him to reach for more. The hot Veal Shank Carving Station and the delicious Lamb Sausage exceeded my expectations. We found the service very skilled, highly attentive and pleasantly unobtrusive. With the playfully warm morning winds coming in from the Arabic Gulf we could have stayed forever, but a tent with camels drew our attention and we walked down to the beach.
| | | |
| --- | --- | --- |
| | | The quick walk to the beach ended at the Bedouin style open tents of a man who seemed to tend several camels. He welcomed us in his mother language and repeated the friendly welcome in English and invited us to step inside. We sat down on a small, traditional bench. Mr. Mohammed Alaoui, communication managers Emirates Palace who had joined us, watched carefully as the man spilled a handful of fresh coffee beans into a large iron spoon and started to roast them over hot coals. |
Within minutes the coffee beans (CLICK HERE) were roasted and he started to break them up rhythmically, meanwhile Mr. AlAoui made sure that we understood the process and tradition of the welcoming ceremony. A freshly brewed and aromatic coffee was completed and now we were invited to befriend the camels and hop on for a ride. Camel rides are a must and everyone likes to take advantage of the opportunity to snap a few unforgettable and unique vacation photos. Camel Tour: (CLICK HERE)

Fairytale wedding photos with the dramatic backdrop of the Emirates Palace rising from the Arabian Gulf are not hard to imagine and the majestic ballroom (CLICK HERE) is a place where the most elaborate wedding dreams may come true. Imagine having the most important day in your life created entirely after your wishes, but hassle free by Emirates Palace' wedding professionals?
"Your special day can be created with expertise that Emirates Palace has made legendary whether intimate or on a spectacular scale, every detail will be cherished to deliver your dream with a world-class venue and award-winning chefs. Indulge in a Honeymoon Palace Suite your Rolls Royce at your disposal, your butler at your request..."
This resort has one of the finest and most exclusive beaches in the world (CLICK HERE). The white, sandy beach access is limited to in-house guests and members of the "Ultimate Beach Living" club, which allows distinctive guests, close to their own home, access to this exclusive beach retreat as well. The Emirates Palace (CLICK HERE) is second to none in regards to recreational facilities and a myriad of venues are available whether one is looking for family fun activities or more privacy. - We made our way over to The West Wing pool, a precious, sparkling pool with waterfalls and fun slides, for the more adventurous guests. We really enjoyed the Lazy River surrounded by beautifully landscaped gardens. The West Wing pool (CLICK HERE) area feels ideal for families with children (CLICK HERE) and those young at heart.
| | | |
| --- | --- | --- |
| Then we made our way to The East Wing pool (CLICK HERE); a more tranquil setting with a Caribbean swim-up pool bar and an elevated chessboard island in the water. This Hotel offers an extensive repertoire of water sport activities and recreational programs and having a private bay front of about 2 miles practically right at ones doorsteps is priceless. The Emirates Palace offers anything from wind surfing, kayaking, snorkeling, scuba diving, boating, boards (supported by state of the art equipment) and even introductory sailing lessons. One may spend easily a week to fully discover the thrills of the turquoise sea. | | |
On another occasion, when we followed our butler through the main lobby, he drew our attention to a 'gold' vending machine. Mr. Shayan explained in fluent English that we were looking at a 'Gold to Go' machine where one may purchase gold at market value. Turns out that the Emirates Palace purchased the first 'Gold to Go' machine in the world and one must admit just by its look that it belongs there. The gold-plated ATM machine offers three hundred and twenty items made of pure gold, including souvenir bars and coins embossed with the Emirates Palace' logo.
FYI: The Gold To Go vending machine project was launched by Mr. Hans Olbertz, General Manager of Emirates Palace, and Mr. Thomas Geissler, Chief Executive of Ex Oriente Lux AG, the inventor of the Gold to Go machine.
Mr. Olbetz said: "We seized upon this idea and, as one of the most exclusive hotels in the world, we wanted the Emirates Palace to play a pioneering role and be the first hotel in the world to offer its guests this golden service."
- Within the last three years, in partnership with some of the world's most distinguished musical institutions, like the Philharmonics, the Abu Dhabi Classics have developed into a compelling brand in the world of the performing arts. The Abu Dhabi Music and Arts Foundation organizes frequently concerts at the Emirates Palace Auditorium (CLICK HERE) and invites music lovers from all over the world to embark on an exciting journey to adore the unsurpassed exquisite acoustics. World famous tenor Jose Carreras, the Russian Chamber Orchestra, the Cairo Opera Arabic Classical Orchestra and violinist Claudia Zobras were amongst those who performed at the annual Abu Dhabi Classical Music Festivals.
"The Abu Dhabi Classics has taken its place as one of the UAE's cultural centerpieces, establishing the Emirates firmly
on the artistic world map through an ambitious project comparable to those of the Louvre
or the Guggenheim – all in an atmosphere defined by mutual respect and open-mindedness."
In this splendidly designed theater audiences may revel in the finest listening pleasure, without a doubt, the ideal venue for performers and speakers. Equipped with the technical capabilities for translating speakers simultaneously into a dozen different languages, Alan Greenspan's people accepted a gracious invitation as well. But nothing will prepare you for the breathtaking setting of the Emirates Palace' open air amenities (CLICK HERE). Under the umbrella of the Abu Dhabi Classics Academy, the Abu Dhabi Classics are expanding their educational programs in discourse with schools, universities and other essential institutions.
These extraordinary theatrical facilities accommodate easily twenty thousand guests. Some critics say that they might have witnessed the most unique and deserving setting for 'Aida', one of the oldest love stories in the world, with a "fresh, contemporary treatment through fire and special effects". "Aida Monumental Opera on Fire" premiered here end of March 2007 as a colossal theatrical production, supported by a three hundred member crew, a dazzling show of fire and spectacular special effects, under the management of Noel Massoud. This resort offers the most magnificent and technologically advanced conference and meeting facilities (CLICK HERE), while entertaining ones entire family.
| | | |
| --- | --- | --- |
| From gold drizzled cappuccinos, highly aromatic coffees, interesting teas, world-class torts, tarts, petite fours and desserts, Le Café deserves your undivided attention at least twice. Located conveniently on lobby level (4th floor) of the Palace', Le Café is the perfect setting to mingle or greet friends or just relax and listen to an angel harpist or the traditional tunes coaxed from original instruments of the land, as the musicians change frequently. One must try the Emirates Palace logoed signature gold-leaf drizzled cappuccino and their even more amazing CamelChino™, made with fresh camel milk, it was delicious! Served with a couple of sweet treats it brings out the light hint of salty taste and is superb! | | |
Being a chocolate lover, I was quite surprised when I tasted for the first time in my life chocolate pralines made with camel milk. "Al Nassma is more than the first and finest camel milk chocolate. It symbolizes the discerned taste of the Arabian world and a unique quality product." We agree with Sheikh Mohammed bin Rashid Al Maktoum, the visionary who founded the Camelicious camel farm several years ago in Dubai where fresh camel's milk is produced daily. The camels are said to be fed dates, carrots and hay to sweeten their lightly salted milk. Accustomed to chocolate covered salt pretzels and salted nuts, this seems to be a perfect combination. Presented in appealing little boxes, with most properties of the camel milk actually healthier then cow's milk, I wouldn't be a bit surprised if Al Nassma (CLICK HERE) would soon be found in gourmet shops around the globe.
Abu Dhabi, U.A.E
Society - Extraordinary
May - 2011
6 Stars & 5 Stripes
Cuisine & Service
The Ultimate Award:
Seven Stars and Stripes®
It's a customary offering of Abu Maan dates and fragrant spiced coffee that greets all who come to eat at Mezlai Restaurant (CLICK HERE) at the Emirates Palace. It is evident that this being the first restaurant in the world featuring Emirati Heritage cuisine, all persons who enter are considered guests and welcomed in this traditional way. Standing while enjoying this welcome treat is not an option and you are encouraged to sit and relax in a comfortable nook of cushy Bedouin style sofas and pillows. You'll notice the walls (CLICK HERE) adorned with Bedouin Kunjah knives with their peculiar angular shape as well as palm fiber baskets, mats and typical pyramid shaped covers that desert people used to protect food from flies.
| | | |
| --- | --- | --- |
| Other objects such as a timeworn millstone and a fresco depicting desert life from the beginning are proudly on display, as it seems there is a resurgence of Emirati pride in their almost forgotten roots. After all, it is not easy to call to mind visions of dromedaries drinking at oases when looking at the Emirates Palace from the beachfront or the skyline of the cities of Abu Dhabi or Dubai. | | |
The tradition continues after a brief pause for the welcome refreshments (CLICK HERE) and as you walk into the restaurant past window treatments resembling desert tents you are seated on furniture with design elements that evoke a sense of Arabic geometric patterns and shapes. It is obvious that Kempinski management had spent a lot of time considering every last detail of Emirati pride of their history, which although unique is often overshadowed by their larger neighbor Saudi Arabia. - An open kitchen, spotless and modern is the focal point for all to see and a team of 12 chefs is under the leadership of Executive Chef Ali Salem Ebdowa, a man with extensive experience in the cuisine of the Arabian Peninsula and the Middle East.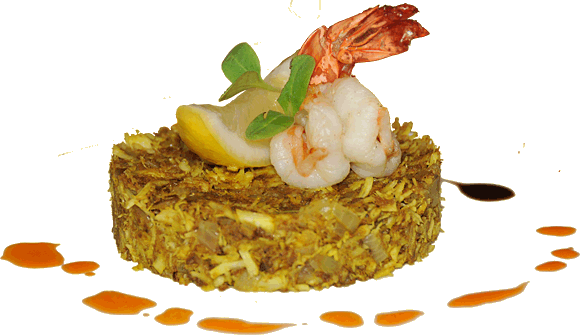 Mezlai Restaurant - Cuisine
Upon being seated we are presented with a typical refreshing Emirati beverage of pineapple-passion fruit juice with pomegranate seeds along with some dipping sauces made of mashed eggplant, onions, garlic, lemon and tahini (sometimes called Baba ghanoush) and Hummus, a puree made with chickpeas, garlic, lemon and tahini. We relished this lite snack with artisanal breads, including Emirati Rgag bread wonderfully produced by Executive Pastry Chef / Master Baker Josef Teuschler who handles the baking for all the restaurants at the Emirates Palace.
| | | |
| --- | --- | --- |
| | | Emirati cuisine features seafood as a mainstay and being surrounded by the waters of the Arabian Gulf, it is easy to see why. Shark Velute with Garlic, Saffron and Cream (CLICK HERE) didn't quite tell the whole story from the menu description until the dish was presented at the table. A rather large plump mussel garnished with delicate strands of garlic chives, arrived sitting atop tender white morsels of shark meat. |
The server then began to pour a silky smooth stream of velouté sauce, golden yellow and one of the four 'mother sauces' of international cuisine. The velvety stream continued until the shark meat was covered and the mussel was left above the liquid as if it were an Emirati Shasha, a traditional fishing vessel floating atop a golden sea (CLICK HERE). More local cuisine including Grilled Lobster with Calamari and Shrimp proved to be juicy and plump with delicious caramelized grille marks decorating all exposed meaty sections evenly.
| | | |
| --- | --- | --- |
| This was followed by the Bedouin specialty of Lamb Shoulder 'Medfoun' consisting of marinated and roasted milk-fed lamb, topped with a thick compote of chickpeas, garlic and tomatoes and seasoned with aromatic spices | | Mezlai Restaurant - Cuisine |
Next came two of my absolute favorite sweets for dessert; a crepe-style pancake of saffron, cinnamon and cream cheese honey orange sauce called Shebab, and Betidha, made as a sort of date, saffron and cinnamon cookie sandwich filled with fresh cream. With awesome treats like that it would make it a lot easier to live out in the desert for a while. We compliment Chef Ali for his adherence to the traditional cooking techniques and recipes of the historical peoples of the Emirates as modern times tend to overshadow the past before these special rituals can be saved.
- The Emirates Palace is without a doubt a destination resort for pleasure and business alike, but more and more families decide to spend their quality vacations here as well, after all the weather is always good and there is so much to do. The resort offers fun programs that are specifically designed to entertain children of all ages, including creative arts, like sculpting and face painting. There are playgrounds just for children and then playgrounds for adults. They offer badminton, beach soccer, basketball, and water sports, including water polo, kayaking, snorkeling, waterskiing, banana boat riding and more. The resort has its own water sports center, offering underwater games and even advanced scuba diving courses. In short, this is a luxurious beach resort for all seasons.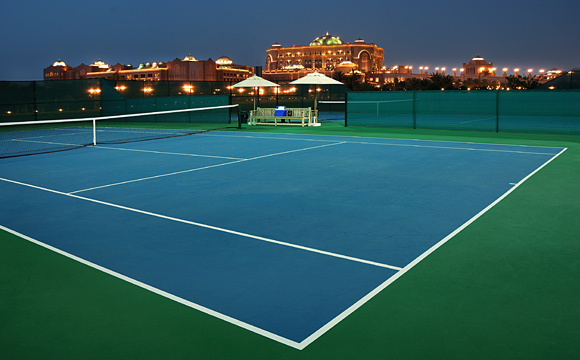 Emirates Palace - Tennis
Located in the 'West Parklands' the resort offers four floodlit tennis courts and a floodlit paddle court, all covered with a cushioned hard court surface. All courts are open from 7:00 am until 10:00 pm, but reservations are a must. The resort requires that appropriate tennis attire and non-marking shoes are essential here but have a limited supply of complimentary tennis shoes if one forgot his/her own. Padel, next to the tennis courts, is typically played as a doubles game on an enclosed court about half the size of a Tennis court, and is said to be great for players of all ages and skills.
"… as it is both quick and easy to pick up, and is less physically demanding than similar sports like Squash. Most players get the grasp of it within the first twenty minutes of playing and find it easy to achieve a level of proficiency so that they can enjoy it because the game is not as demanding by strength and serve as Tennis…". The resort has padel pro Christine Suard on staff during high season and gladly offers a one hour "Introduction to Padel" lesson to get one started.
- When the time came to experience the amenities of The Anantara Spa, we followed our butler outside the building and hopped on a golf card and within a few minutes we entered the inviting doors. Pleasant aromas of exotic herbs and flowers put us spa-taniously into a relaxing state of mind. Ms. Jittima Wongsiripaiboon, the charming Director of The Anantara Spa at the Emirates Palace resort, most graciously welcomed us to her Moroccan – Thai inspired sanctuary. She invited us both to take a seat at her desk and after she inquired after our wellbeing, a distinctively spicy tea was served without a sweetener, quite exotic to our taste buds.
The spa features several treatment suites, complete with Vichy showers and the only Moroccan Hammam facility said to be offered in Abu Dhabi. Couples treatments are available complete within private couples amenities. One of the signature treatments at the resort spa is the 'The Royal Hammam (CLICK HERE)', which originated in the Middle East and is a cleansing ritual, within what is considered, a social function. The Royal Hammam treatment starts, after enjoying the Hammam PRE Relaxation Room (CLICK HERE), with a deep exfoliation of the skin all over the body with a traditional silky rough kassa glove, followed by washing the whole body and hair with specially formulated skin and hair products.
"It's as if I were thrust into A Thousand and One Nights as Sherazade, crossing the threshold into
a new dimension, in a completely unique environment". - John Lomitola
I personally got to experience The Anantara Spa's 'Aromatic Massage' through the highly trained hands of Ms. Puthamas Jullaprom. The massage therapist uses special essential oils during the massage, that are extracted from plants and trees with the intention to affect ones mood positively and lessen ones tension and pain. My treatment started with a quick rinse rain shower and was followed by the 'Floral Foot Ritual'. I was asked to have a seat in a comfortable chair and my feet were bathed with exotic flower pedals and other incredibly mysteriously fragrant substances, which must stay undisclosed.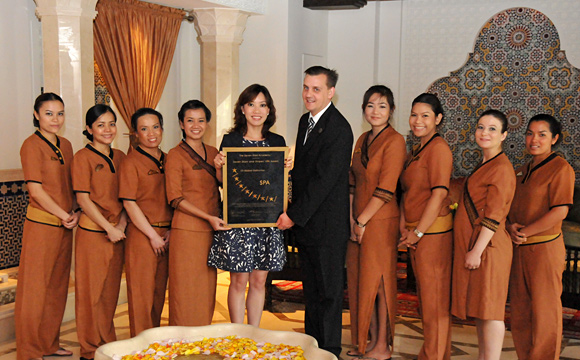 Emirates Palace - Anantara SPA - 2011 Award
All the while the light sounds of a heavenly music was floating somewhere in the air, inviting me to drift. Then I followed Ms. Puthamas Jullaprom quietly to a massage bed, which had obviously been adjusted to her height. She applied a soft floral and spice scented oil to her hands and my body and used a combination of different pressure point techniques, all the while the massage oil was intensifying its aroma and demanding of me to loosen up and relax. Aromatherapy should not be confused with perfumed oils. The therapeutic properties of essential oils are said to be healing and play a valid role in the world of complementary medicine. "When the body calls for ultimate calm and repose, this treatment, based on the principles of aromatherapy and Swedish massage, is the perfect remedy." - I comply.
Abu Dhabi, U.A.E

Society - World Level Perfection
May 2011
6 Stars & 7 Stripes
Cuisine & Service
The Ultimate Award:
Seven Stars and Stripes®
A serene environment of aquamarine blue surrounds you like a liquid mantle as you enter (CLICK HERE) the threshold to Sayad Restaurant (CLICK HERE) at the Emirates Palace, Abu Dhabi. You simply follow the line of dolphins featured prominently as a design element on the thick pile carpet until you pass intricate ultra-clean aquariums filled with living coral and shells. The mood is created by the carefully choreographed use of indirect lighting and underwater elements together providing the leitmotif of a sub-oceanic symphony.
| | | |
| --- | --- | --- |
| But structure without substance cannot survive in this world of highly competitive restaurant venues with customer pressures the likes of instant messaging and social media. Enter Shaun Anthony (CLICK HERE), newly appointed Chef de Cuisine for Sayad with 14 years of experience in the culinary field in ten countries, and 3-Michelin starred training at Gordon Ramsay's Royal Hospital Road, London under his belt. Since his auspicious beginning at Sayad in July of 2010, Chef Anthony has focused on his strong foundation in European fine dining to utilize a keen interest in modern cooking techniques while being conscious of sustainable practices and environmental concerns of the modern world. | | Sayad Restaurant - Aquarium |
After all, Sayad in Arabic loosely means 'fisherman', from which we must assume the restaurant can supply the freshest of seafood to your private table (CLICK HERE) from the nearby waters of the Persian Gulf. Fresh it is and with a modern twist, giving us a hint that Chef Anthony has influenced his kitchen team to expand their horizons and think out of the box. A well-run kitchen cannot function without a well-run front of the house to compliment great food with seamless gracious service in theory making the complete dining event a memorable one. In our experience regarding tableside service, we found that the restaurant team lead by Zsombor Mehesz , Sayad Restaurant's Manager, proved professionally systematic without being robotic and genuinely sensitive to the needs of the patron without being intrusive.
| | | |
| --- | --- | --- |
| | | Some of the highlights of Chef Anthony's cuisine included a degustation menu of 'modern seafood' (as stated on the menu). A Canapé of marinated white anchovy with crispy potato combo opened our senses with salt and acidity to wet the palate and prepare it for what was yet to come. An Amuse Bouche followed with Royal Beluga caviar delicately placed atop a cherry tomato with smoked tomato consommé poured at the table. Next was an appetizer of Goat Cheese, Almond, Orange and Strawberry, which presented itself as lightly coated with almond crumble and brûléed with a torch to form a crispy, toasty surface. A bottle of 2009 Laurenz V Singing Grüner Veltliner, Austria provided the much-needed fruit bouquet, as it was un-oaked with plenty of complexity and simply delightful with this menu. |
The degustation menu is quite extensive and provides a glimpse into the resourceful and arty mind of Chef Anthony and his team with items like Yellow fin Tuna Tartare sitting amidst layers of avocado, tomato concasse and coriander and Togarashi spice, consisting of seven ingredients. Or Norwegian Salmon (CLICK HERE) brine-cured with a mixture of parsley, dill and tarragon for 5 hrs and poached en sous vide in olive oil then served with green peas and crispy salmon skin.

Sayad Restaurant - Cuisine
Smoked Octopus Carpaccio with peach tamarind dressing and confit potatoes preceded another course of Pan seared Foie Gras with strawberry-rhubarb French toast in which the foie gras is pierced with a pipette filled with hot liquid foie gras and strawberry vanilla syrup. This was precisely the moment for a fragrant, aromatic and spicy Hugel Gewurztraminer 2008 from Alsace, France to compliment the aforementioned courses.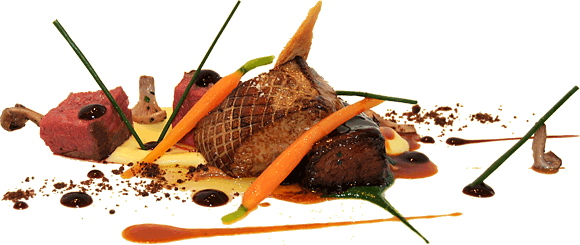 Sayad Restaurant - Cuisine
One of the highlights of the evening was Maine Scallop, Pineapple, Peking Duck and Aromas of 5 spices (CLICK HERE). This entrée turned out to be the most interesting in which a bowl of Jasmine tea with coriander, fennel, star anise, clove and cinnamon is placed in front of you after which boiling water is poured over the spices. Pan-seared scallop atop pineapple is placed carefully on top of the concoction with the idea that you not only taste the 5 spices but at the same time you are smelling the released aroma arousing more of the senses. Australian Barramundi with Peach, Fennel and Almond proved very succulent served with confit La Ratte Potatoes and almond crumble, a recurring theme on some other dishes. The peach combination came in two forms: marinated and as a mousse with a quenelle of buerre noisette ice cream set into the warmed peach mousse at the last moment.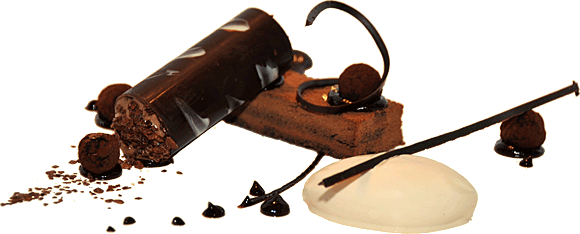 Sayad Restaurant - Cuisine
We marveled at Chef Anthony's focus as we moved thorough the courses and came upon the iconic Wagyu Beef Rump with Wild Mushrooms, Beef Cheek and Bordelaise Sauce. Tender and flavorful, the meat is well marbled and has been cooked en sous vide for 48 hours so that the end result is that it simply melts in your mouth. Earthy and distinctive pieds bleu mushrooms are enhanced with every swipe of the full-bodied bordelaise sauce. A South African 2006 Haute-Cabriere Pinot Noir from Franschhoek elegantly and slowly revealed its smoky characteristic while finishing with soft tannins with a bit of ripe fruit.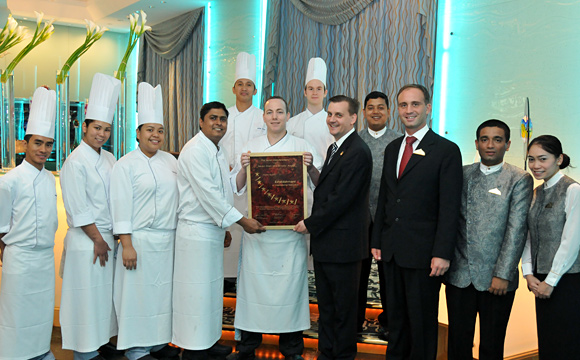 2011 Sayad - Seven Stars and Stripes - Award-Hand-Out
Dessert was nothing less that spectacular with Executive Pastry Chef / Master Baker Mr. Josef Teuschler's rendition of Chocolate Explosion, a triple play of dense layered chocolate, sprayed with chocolate and served with a chocolate cylinder filled with chocolate mousse and caramel ice cream. We finished with Disznoko Tokaji Aszu 4 Puttonyos 2004, made sweet from grapes that have developed 'noble rot' – Botrytis, but maintaining an underlying acidity with a touch of bruleed sugar. We will not forget the fine culinary work that Chef Anthony and his team have done to bring a new standard of dining to the Emirates Palace.
Topping a dinner at the Sayad is almost impossible, unless one goes for a walk along the beach or for a nightcap to The Havana Club, or even better, both. The Emirates Palace by night (CLICK HERE) from the beach perspective looks even more like in a fairytale. The light winds that come in from sea at night during the hot months, make the palm tree move just enough to fan cool air and entice one to stay. The Resort is working behind the scenes a little bit like Disney World in which the public area and beach clean up seems to happen when the guests are sound asleep, unheard and unseen. I am sure I would have stayed just a little longer, if my wife could have accompanied me; and so Edmund and I decided to go for a nightcap. The Havana Club (CLICK HERE) is located on the lobby level (4th Floor) boasting a selection of most of the world's finest cognacs, spirits and rare cigars. These were very well chosen selections with the discerning connoisseurs in mind.
After breakfast we decided to take finally a closer look at an interesting exhibition, within steps of the Le Vadome. Just by looking at the scaled models of this monumental project and having actually seen the building sites of Saadiyat Island, it is mind-boggling what is happening here. Considering that Saadiyat was a dessert just about four decades ago. 'The Cultural District' is intended to become the centerpiece of Saadiyat, and will feature the world's largest single concentration of premier cultural institutions after completion. "Unprecedented in scale and scope", these facilities will include:
Zayed National Museum
Louvre Abu Dhabi
Guggenheim Abu Dhabi
Performing Arts Centre

The Zayed National Museum is meant to become a place for all: "for UAE nationals, residents and visitors, for young and old, for lifelong visitors to the world's great cultural institutions, and for those making their first-ever museum visit". Named after 'Sheikh Zayed' who was renowned for the warmth that he extended to people from all walks of life, his spirit shall live on in the institution that carries his name.
Zayed National Museum will feature the story of the late Sheikh Zayed and explore the history and culture of the UAE. Permanent galleries will focus on five themes, including Environment, Heritage, Unity, Education and Humanitarianism, and will feature temporary exhibitions as well. The British Museum serves as a consulting partner to the Zayed National Museum's operating body. The Mission: To provide a forum for discussion, learning and inspiration for the entire Arab region. The Architect: Pritzker-prize winning Foster + Partners, under the direction of Lord Norman Foster.
| | | |
| --- | --- | --- |
| Zayed National Museum | | The Facilities: The 12,000 square meter (130,000 square foot) museum will feature galleries, an education center, theatre, shops, café and visitor services area. Opening: 2014. "Sheikh Zayed nourished tradition and cared for his nation and its future and it is entirely appropriate that a national museum be founded in his memory. His political achievements were immense; he was the ruler of Abu Dhabi from 1966 to 2004 and President of the UAE from 1971 to 2004, guiding the Emirates to unification and leading the social and cultural development of the country. He is widely regarded as the 'Father of the Nation'." |
The Guggenheim Abu Dhabi will display Modern and Contemporary Art, presenting key aspects of the Western historical canon, but will emphasize the cultural traditions and influences of Arabian, Islamic, and other Middle Eastern art in the context of the major developments of the 20th and 21st centuries. The Mission: To promote the understanding of art and visual culture, with an emphasis on education.
Guggenheim Abu Dhabi will complement and collaborate with local and regional arts and cultural institutions. The Architect: Pritzker-prize winning Frank Gehry. The Facilities: The 87,000 square meter (approx. 936,000 square foot) museum will include 13,000 square meters (140,000 square feet) for permanent collections, special exhibition galleries and galleries dedicated to Middle-Eastern art. The facility will also include an art education facility, archives, library and research center, and a state-of-the-art conservation laboratory. Opening: 2014.
| | | |
| --- | --- | --- |
| The Louvre Abu Dhabi (CLICK HERE) will be a fine arts museum with paintings, drawings, sculptures, manuscripts, archaeological findings, and decorative arts created and collected from all over the world. The Mission: To encourage discovery and exchange, and deliver an ambitious and innovative cultural and educational message. Architect: Pritzker-prize winning Jean Nouvel. The Facilities: The 24,000 square meter (260,000 square foot) museum will include 6,000 square meters (65,000 square feet) of galleries devoted to permanent display and 2,000 square meters (22,000 square feet) reserved for temporary exhibitions. Opening: 2013. | | |
The Performing Arts Centre (CLICK HERE) will serve as a multiple discipline venue, hosting performances of classical and contemporary music, opera and theatre. The center will also house an Academy for Performing Arts to foster local and regional talent. Architect: Pritzker-prize winning Zaha Hadid. Facilities: The 62 meter high (200 foot) building will feature five theatres, a music hall, opera house, drama theatre and flexible theatre with a combined seating capacity of 6,300. Opening: 2018 – 2020. Maritime Museum (Saadiyat Marina District). The Mission: The Maritime Museum (Saadiyat Marina District) will celebrate the maritime heritage of the Arabian Gulf and serve to inspire environmental stewardship of the marine environment.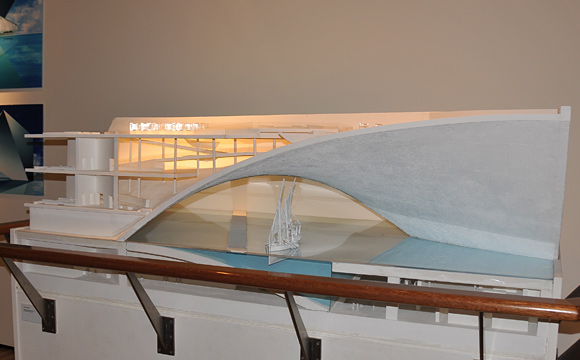 Saadiyat Exhibition: Maritime Museum
Architect: Pritzker-prize winning Tadao Ando. Facilities: The design features a reflective surface merging sea and land and a ship-like interior with floating decks. Opening: 2018-2020. Now open in Manarat Al Saadiyat, until 27 June 2011. Splendors of Mesopotamia marks a significant milestone in the journey towards the realization of Abu Dhabi´s cultural vision, being the first in a series of exhibitions preparing the way for the opening of Zayed National Museum in the Saadiyat Cultural District.
The exhibition affords a tantalizing glimpse of the likely contents of the Zayed National Museum, whose galleries will each illustrate a different value or principle highly prized by the late Sheikh Zayed bin Sultan Al Nahyan, to whom the museum is dedicated. The United Arab Emirates and especially Abu Dhabi has changed the way the world has seen affluent travel in the Middle East in the past.

One morning we had arrangements to visit the UAE's largest Monument the Sheikh Zayed Grand Mosque, (Photo Tour: CLICK HERE). The driver of a BMW limo (from the 7 series) drove us to a colossal entrance of the 8th largest mosque in the world, the Sheikh Zayed Grand Mosque. During the 15-minute ride he had enlightened us already with some of the historic facts of the world city of Abu Dhabi and the Sheikh Zayed Grand Mosque, raised from the hot sands of a formerly unforgiving dessert.
Entering this new religious landmark felt like a spiritual experience evoking a calm and intense feeling of peace that pervades through these precious strong marble halls, which were clearly build for eternity. Though the mosque is now open to all its respectful visitors, it is practically still under construction, but nothing short of stunning, for its monumental dimensions and breathtakingly beautiful design and architecture that could be best described as a fusion of Arab, Mughal and Moorish. The mosque was officially opened during Ramadan in 2007 to celebrate 'Eid Al Adha' the 'Festival of Sacrifice', an important religious holiday celebrated by Muslims world-wide. The mosque is said to be large enough to accommodate forty thousand people for worship and the main prayer hall may accommodate up to nine thousand. (Photo Tour: CLICK HERE)
There is another prayer hall, which accommodates fifteen hundred and is exclusive for women. Sheikh Zayed bin Sultan Al Nahyan is the founder, who was the first President of the United Arab Emirates and is also buried here. "…His philosophies, political or otherwise, are based on his strongly held faith in Islam. From this springs his desire to treat all people equally and to support those in need. Throughout history, few leaders can have experienced the amount of radical changes that Sheikh Zayed has witnessed. Fewer still could reflect on them in the knowledge that they chose and acted in accordance with their beliefs and for the betterment of humanity, regardless of personal cost, financial or otherwise. Sheikh Zayed has the love and admiration of his people and international recognition and respect, all of which he has earned many times over…" - From Sheikh Zayed's book, "Falconry – Our Arab Heritage". 1977.
The Sheikh Zayed Mosque made some world records:
• The carpet laid out on the vast expanse is the "World's Largest Carpet" made by Iran's Carpet Company and designed by Iranian artist Ali Khaliqi. This carpet measures 5,627 m2 (60,570 sq. ft.), and was made by around 1,200 weavers, 20 technicians, and 30 workers. The weight of this carpet is 47 tons – 35 tons of wool, and 12 tons of cotton. There are 2,268,000,000 knots within the carpet.
• This mosque also held the largest chandelier (CLICK HERE). There are seven imported chandeliers from Germany made from gold-plated copper and fitted with millions of Swarovski crystals
The largest chandelier has a 10 m (33 ft.) diameter and a 15 m (49 ft.) height. The chandelier was relegated to second place when the current record holder was unveiled in Doha Both of these records were previously held by the Sultan Qaboos Grand Mosque in Oman. - says Wiki.
'middle east online' reported early May 2011: "The Sheikh Zayed Grand Mosque in Abu Dhabi was visited by about 1,600,000 people during the past four months…"
The ultimate Steven Stars and Stripes World Level Perfection Award comes with a major responsibly. It is not just some award that one hangs on the wall, it is a commitment to present each single guest continually with the world's finest service and hardware all around. Our Seven Stars teams experienced during their stay nothing but the outmost care and excellence throughout every single department, surrounded by ultimate hardware. The best of the best. We witnessed the Emirates Palace through the years evolve from a well functioning, international crew into a world class team that deserves the highest accolade world wide! The Kempinski group receives The Seven Stars and Stripes award for their flagship hotel, The Emirates Palace! We must congratulate General Manager Hans W. Olbertz, Hotel Manager Kees M.R. Heuveling, Palace Operations Manager Dhansukh Ramji Mazgoankar and Executive Chef Wolfgang Fischer for bringing their international staff together and leading this international team to the ultimate Steven Stars and Stripes World Level Perfection Award!
by Edmund & Thorsten Buehrmann

Editor: John Lomitola

Editor-in-Chief: Ingrid Lemme
© 2011 ~ Seven Stars and Stripes, Inc.