Abu Dhabi, U.A.E

Extraordinary - Society
October - 2007
5 Stars & 6 Stripes
Cuisine & Service
The Ultimate Award:
Seven Stars and Stripes®
An authentic gastronomic tour through the provinces of Italy, while in the Middle East seemed like an unlikely scenario for us as we headed for the Emirates Palace flagship restaurant Mezzaluna. "An aperitif would be lovely outside under the stars" I overheard Simone whisper to her husband Thorsten. Right away we were greeted pleasantly by Assistant Restaurant Manager Tarek bin Hassen, beckoning us to the patio outside the restaurant overlooking the Persian Gulf. It was there that Tarek worked his magic opening a bottle of Prosecco VSOP for us as we gazed upward into the sparkling skies. Thorsten opted for the Joseph Perrier Cuvee Royale, an amber gold champagne that proved to be an exceptional vintage. This blend of 15 grand crus and three grape varieties offered a moment of intense pleasure when allowed to linger over the taste buds. This was to be the start of a great dining experience.
| | | |
| --- | --- | --- |
| We tore ourselves away from the penetrating vision in the heavens before us and took our places within the confines of the comfortable and well-designed restaurant. We immediately received an assortment of warm house-made breads, including crispy bread sticks, several types of baguettes, soft rolls and whole grain. Bona fide extra virgin Italian olive oils were offered along with shaved bits of Parmigiano-Reggiano cheese and thick and sweet aged Balsamico di Modena vinegar. We had previously had the pleasure of dining under the gifted creative artistry of Executive Sous Chef Luigi Antonio Piu and his talented team, overseen by Executive Chef Wolfgang Fischer. | | |
In person, Chef Luigi is friendly and animated, frequently making trips out of the kitchen to check on his guests and add the necessary ingredient of 'laughter' to the mix. This creates the typical homespun Italian atmosphere that causes one to forget that you are in Abu Dhabi and believe you are in Florence or Venice. Behind the scenes, Chef Luigi is a serious player with an abundance of creativity and knowledge. He spends much of his time trying to create something truly unique, by looking beyond the expected. By the looks of things, he has succeeded in his quest to push himself and his team to the edge of culinary achievement and beyond.
| | | |
| --- | --- | --- |
| | | While dining in Mezzaluna, we were always under the watchful eye of Assistant Manager Tarek as he made his way to our table opening wines and serving our courses. Although Pana and Pellegrino waters were the mainstay of this cultural feast, a very special local water called Al Ain or "the spring" in Arabic was served throughout our stay at Emirates Palace. It offered a crisp, clean local alternative from the deep aquifers of the Western Desert near Oman. |
Chef Luigi now sent us a 'Greetings from the Kitchen' of heirloom tomatoes and buffalo mozzarella, ricotta cheese with wafer thin prosciutto (set in an edible funnel shape), delicate smoked salmon and Foie Gras, in an arrangement he named Stuzzicatino Misto or 'One Bite Antipasto'. Appropriately named, each genuine taste had a built-in authentic flavor succinctly concentrated in bite-sized form.
| | | |
| --- | --- | --- |
| Shortly thereafter, Assistant Manager Tarek brought out Piccola Aragosta Calda or Lobster with champagne froth, Beluga caviar and black truffle. This outstanding sculpture held flavor as an expression of art in that it looked too attractive to eat but tasted just as good as it looked. We were served a Vernaccia di San Gimignano, 2005 Piccini, Italy that dutifully complimented the lobster with a rich, heady bouquet and clean taste that lingered long on the palate. It warmed and inspired us as we enjoyed Chef Luigi's creation. | | |
Soon came Tortelloni Ripieni con Ricotta e Spinaci or spinach and ricotta tortelloni with foie gras, porcini and quail egg. This was a magnificent food statuette layered like a Napoleon pastry with rich delicate goose liver, earthy porcini and a mini sunny side up quail egg with a generous slice of black truffle capping it on the top. This was followed by Vitello e Sella d'Agnello con due Risotti, a splendid combination of roasted veal and rack of lamb with lemon and apple infusion and saffron risotto.
| | | |
| --- | --- | --- |
| | | Actually the infusion of citrus had the effect of emphasizing the delicate flavor of the veal while cutting through some of the unmistakable essence of lamb. A fine Sicilian red wine, La Segreta 2003 performed well with its inky dark ruby color, plummy, pruney scents and spicy, aromatic overtones of new oak. Its ripe and juicy black-fruit flavor is shaped by plenty of fresh-fruit acidity for balance. |
Finally a Mezzaluna dessert sampling of Piccolo Dolce Misto, combining miniature portions of tiramisu, chocolate mud pie, panna cotta with 24 carat gold leaf and typical Italian cannoli. The whole assortment was balanced by the addition of a slice of fresh fig and a cluster of fresh red currents. Since pleasure loves company, Assistant Manager Tarek suggested double espressos and Formentini Grappa di Chardonnay for me and a large snifter of Gran Marnier Cuvee du Cent Cinquantenaire, 150-year-old Gran Marnier Cognac for Thorsten and Simone.
| | | |
| --- | --- | --- |
| This was truly a perfect ending as we realized that the passion that lives in Chef Luigi Piu comes to life in his creative kitchen. We left Mezzaluna releshing the lingering sensation of just having dined with a fresh fun spin on traditional cuisine. | | |
It was as if Chef Luigi was in the process of re-mastering the art of Italian cooking and presentation deep within the gastronomic center of Abu Dhabi. Our experience was one of gracious service and spirited charm leading us to believe that the only ingredient that doesn't go out of style here is hospitality and passionate brave new cooking.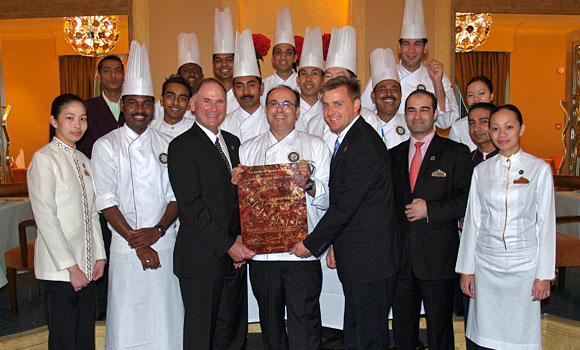 2007 Mezzaluna - Seven Stars and Stripes - Award-Hand-Out
by John Lomitola, Simone & Thorsten Buehrmann

Editor: John Lomitola

Editor-in-Chief: Ingrid Lemme
© 2007 ~ Seven Stars and Stripes, Inc.