Abu Dhabi, U.A.E

Society - Extraordinary
October - 2007
6 Stars & 5 Stripes
Cuisine & Service
The Ultimate Award:
Seven Stars and Stripes®
Walking into Sayad Restaurant at the Emirates Palace is like entering an underwater world complete with coral reefs, sea fans, giant clam shells and schools of fish all without even getting wet. Although Sayad's cuisine is based on Pacific Rim techniques and flavors with subtle influences from Europe, it is a flavorful journey across many culinary frontiers. For several years now 'Pacific Rim' cookery has been the buzzword for a lot of seafood restaurants looking to garner a greater share of the market. Under the culinary leadership of newly appointed Chef de Cuisine Bryan Chan, Sayad has catapulted itself into the forefront realizing that great food doesn't depend on a trend even though it may ride that wave. He has created a modern expression of balance without playing it safe.
| | | |
| --- | --- | --- |
| Restaurant Manager Belinda greets us warmly with a firm handshake and as if long lost mariners at the end of an epic journey, we are shown to our table all the while gazing into every corner of the room, discovering peace and tranquility as we go. The subdued aqueous colors that abound convey the feeling of snorkeling through the restaurant while at the same time acts to power up our palate in quiet anticipation for dining on seafood. | | |
Rose scented cool cloth towels were presented as a way to freshen up before dining. Belinda began by serving us a Bellini, an aperitif that originated in another water world of Venice, Italy. Refreshing fresh white peach puree combined with Prosecco sparkling dry wine offered the right touch to share our special moment. Bread was brought out to the table along with a trio of spreads including sweet & spicy red pepper, delicate tuna and sweet cream butter. Four types of house made breads were made available including baguettes, soft rolls, brioche and large formations of Arabic flat bread.
| | | |
| --- | --- | --- |
| | | Chef Chan now turned to his international bag of tricks to break from tradition by sending out an Amuse Bouche of White Caviar over Sour Cream Stuffed Mini Potato. Instead of the usual mass of glittering charcoal-gray beads, ivory-colored caviar, the rarest and most expensive, decorated the dollop of sour cream. The flavor does not have the almost floral delicacy of most beluga but is more assertive and intriguingly smoky. |
We relished the momentary pleasure with gusto especially when we found out that it can cost upwards of $1,200 for four ounces, about 125 grams. Next up was a very mischievous Lobster Nacho with Boursin Cheese, Guacamole and Roasted Tomato Salsa, which by architecture alone was majestic and by taste, an international expression of flavor. Chef Chan is certainly on the path to maintaining his edge in this business and can rightly be credited with a good amount of inspired innovation.

Belinda approached now with a bottle of 2005 Robert Weil Riesling, Rheingau Germany to share with us the undisputed king of Rheingau heavyweights. This over the top impressive wine was incredibly rich and ripe and is highly sought after worldwide. It was delightful and elegant while working itself in a cohesive way as a pair for the opulent lobster nacho, which by the way was topped with my favorite tobiko (flying fish eggs). Our devoted and well-trained servers whisked away the remnants of that course and brought on a Peking Duck Essence with Calamari Ravioli and Chinese Wolfberries, a type of duck broth loaded with flavor and nutrition. It seems that the powerful wolfberries are believed to contribute to longevity by slowing the damage caused by free radicals. "What did you say?" asked Thorsten as he witnessed me slurping down every last drop. "Oh, nothing", I mused and continued gnawing on wolfberries and the delicious calamari ravioli. I felt like I could go to till at least 100 years old after that course! Oh well, in my dreams!
| | | |
| --- | --- | --- |
| To look beyond the expected you must be able to think like you are creating something truly unique. Chef Chan now sent out the salad course of Oriental Caesar Salad with Shrimp Canapes and Smoked Chili Jam, an idiosyncratic brainchild. Romaine lettuce in large chunks, lightly covered with the most delicious Caesar dressing and served with two skewered shrimps just bursting with natural juices. | | |
All too often shrimp can be overcooked very easily making them dry and chewy, but these it seems were processed in a very hot clay oven so that the natural juices remained inside until you bit into them. Together with a 2005 Sandalford Sauvignon Blanc/Semillion, Margaret River Australia, it came within inches of perfection. This wine offered a level of intensity and varietal definition only seen in great years. Citrus nuances in a medium bodied wine with beautiful balance, acidity and a zesty finish.
We took a pause in between courses with thinly sliced and delicate flavored Nashi Pear Sorbet to cleanse the palate before moving on to the main course. Monkfish Confit with Crispy Chicken Skin, Beef Chorizo, Capers, Root Vegetables and Tom Yum Emulsion was the Pièce de Résistance, the best feature of the evening. Chef Chan pulled out all the stops with his terrific cleverness and skill by 'thinking outside of the box". What the mysterious 'Tom Yum Emulsion" was I never found out. All I know is that it worked well in a support role for the lobster-like monkfish meat.
| | | |
| --- | --- | --- |
| | | A very traditional 100% Sauvignon Blanc Poully Fumé Pascal Jolivet, 2005 from the glacial soils of the Loire region of France, was produced as quickly as we said "What's next?" Its pale straw color and clean nose called to mind a very youthful but vibrant wine. It is fresh and direct with ripe fruit flavors and a clean biting finish. |
Finally our evening dining experience came to an end with the service of Pandan Leaf Crème Brulee and Caramel Custard Tofu Ice Cream. Is there any end to this madness? Chef Chan is continuing to raise the bar of excellence in his pursuit of perfection and creativity. Needless to say, a very special wine of extraordinary character was necessary at this point and proud Belinda brought us a breathtaking, marvelous Château d'Yquem Sur Saluces, 1998. It is a remarkably obvious, open and expressive wine showing plenty of character with an appreciable depth of botrytis. That is the ingredient that produces the great finesse and structure as well as allowing for eons of cellar time rather than mere years. We were honored and fortunate to have had an opportunity to taste this monumental wine.
Chef Chan is a skillful and brilliant virtuoso, who masterfully compiles his thoughts into measurable endeavors for the pleasure of his grateful guests. Emirates Palace is thankful to have his expertise at their disposal as he represents the same professional 7* dream of striving for perfection.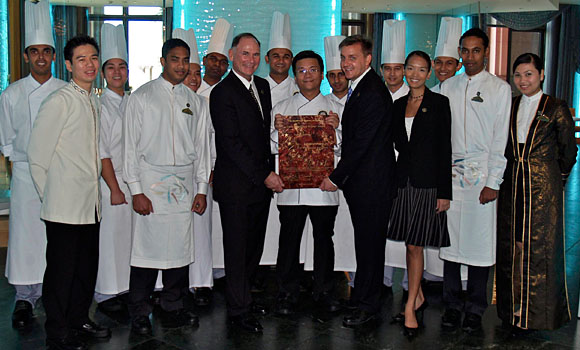 2007 Sayad - Seven Stars and Stripes - Award-Hand-Out
by John Lomitola, Simone & Thorsten Buehrmann

Editor: John Lomitola

Editor-in-Chief: Ingrid Lemme
© 2007 ~ Seven Stars and Stripes, Inc.