The Chateau, Malaysia
Seven Stars Organic World™ Award
La Santé SPA, Malaysia
Egypt Air - Business Class
NTV-7 - News - TV Malaysia
theSun - Newspaper, Malaysia
Adlon - Berlin, Germany
Vodafone - Unexpected Delays
Seven Stars and Stripes > facebook®
NEXT: L'assiette Restaurant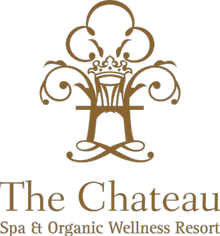 6 Stars and 6 Stripes
... The Chateau Spa and Organic Wellness Resort is easy to reach from Kuala Lumpur International Airport; it's about ten minutes by helicopter and circa an hour and a half by limo. Limo rides to and from The Chateau Spa and Organic Wellness Resort are included in all the spa packages. Seeing Kuala Lumpur's Petronas Towers from the perspective of the helicopter was fascinating. 'According to the CTBUH's official definition and ranking, they were the tallest buildings in the world from 1998 to 2004 until surpassed by Taipei 101.' – says Wikipedia. While Kuala Lumpur seems to be one of the 'must see' cities of Malaysia, Putrajaya is the actual seat of Malaysia's federal government. We were told that the 'Head of State' is the 'Yang di-Pertuan Agong', a monarch elected from the hereditary rulers of the nine Malaysian states, which changes every five years. ... (CLICK HERE for more)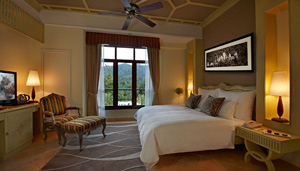 ... Tan Sri Dato' Seri Vincent Tan had placed this resort on unspoiled grounds, raised with organic material whenever possible and he intends to keep it that way. We swam in the saline resort pool which is filled with water that comes from the resort's own wells and is 'sanitized' with nothing but organic salt from the ocean. What is important for today's traveller is the wireless accessibility of his or her destination; not everyone is into reading a book at the pool. However while I was relaxing at this wonderful salt pool and sipping on a delicious, organic fruit drink, I Googled 'salt pools' and found out that a 'natural salt' pool does not entirely eliminate but rather reduces the risk of hair discolouration and eye irritation, just as if one was swimming in the ocean. ... (CLICK HERE for more)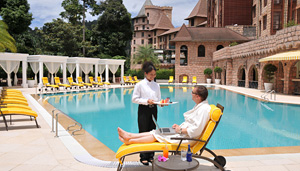 ... During the official opening night of The Chateau Spa and Organic Wellness Resort, at Berjaya Hills, The Chateau won four Seven Stars and Stripes awards, and later in the evening, a personal award was presented to Ms. Ming. The evening had a Royal touch; it was graced by The Crown Prince of Pahang HRH Prince Abdullah Ibni Sultan Ahmad Shah, ministers of the country, members of the press and several TV stations (one from the USA), as well as one hundred and fifty specially invited guests from several different countries. Sir Walter Staib, a member of the Seven Stars and Stripes advisory board, an award-winning internationally renowned chef and host & producer of his three-time Emmy Award winning USA national TV show 'A Taste of History' on PBS TV, attended the event with his camera team as well. They also filmed a show at The Chateau and some segments in the nearby jungle. The seven course gala dinner was not entirely organic, as Ms. Ming announced before she wished everyone bon appétit. She ... (CLICK HERE for more)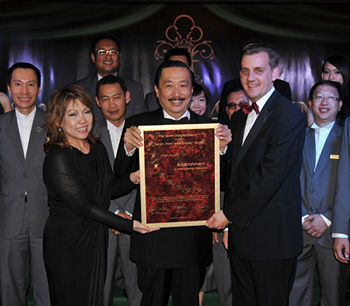 Congratulations to all, from your Guests and from Seven Stars and Stripes:
For your visible commitment to excellence.
For your willingness to be recognized for your latest innovations.
For your devotion to your staff and company.
For your ability to receive.
For your decision to raise the bar.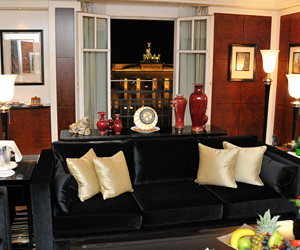 Allow me to share our view from the Presidential Suite at the Adlon Hotel Berlin and please take a close look at one of the delicious creations of Adlon's talented pastry chefs. Visit The Adlon Berlin online: (CLICK HERE)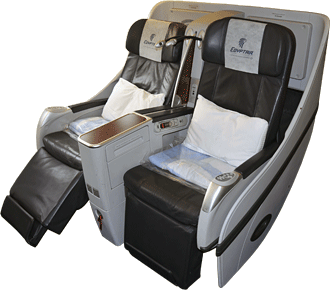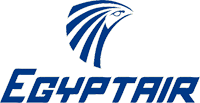 No Rating
... Little did we know that we would be trapped at Cairo International for over twenty hours with little or no food during that time. What we experienced during this twenty-two hour ordeal, with more and more passengers arriving and crammed into Cairo International's departure halls, was beyond anything I ever experienced before. Apparently there was a strike by Air Traffic Controllers, which in turn caused serious altercations between passengers and employees. At no time for almost twelve hours were we given any explanations by any official representative of EgyptAir, clarifying what was going on, nor did we receive any food during the night after the already limited buffet lines (CLICK HERE) were cleaned out by more and more passengers arriving. ... (CLICK HERE for more)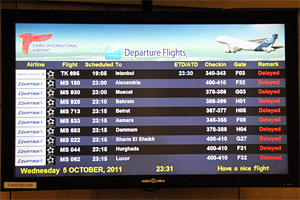 ... The EgyptAir crew on board flight MS960 apologized profusely and looked almost as exhausted as we were at this point. The first question we asked was: "Do you have a toothbrush and toothpaste and a shaver for us?" Unfortunately the answer was "No, in general we don't offer these items." We found out that the EgyptAir crew had not been given any accommodations either but that they had been able to crash somewhere and got at least some sleep. Though we were tired and really exhausted, we were so hungry that we both ate the entire meal. After our ordeal EgyptAir's new 160-degree angle seats felt heavenly, which was almost like a joke since the last thing I remember was the surreal, star-studded blue cabin ceiling before I fell into a deep six-hour sleep. ... (CLICK HERE for more)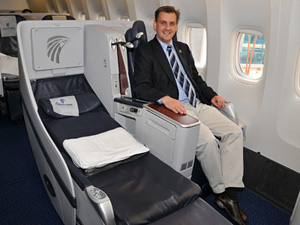 ... We were both very much looking forward to a good night's sleep under the blue star studded sky and boarded in time. One may imagine our disappointment when we entered the aircraft and found outdated seats with little legroom and very limited recliner capability to sleep, and no power supply to work. Those types of seats might be ok for shorter daytime flights and some airlines might offer them in their 'premium economy' category, but for long haul overnight business flights, we cannot recommend them. The crew explained that due to an unexpected last minute technical problem the original scheduled Boeing 777-300ER had to be replaced, but made us hope ... (CLICK HERE for more)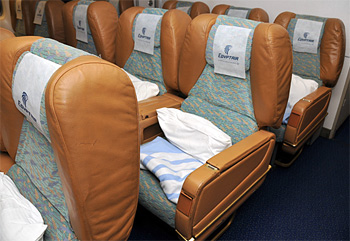 In The Press / Television:
* Walter Staib: The Chateau - Malaysia
> CLICK HERE to see the VIDEO
| | | |
| --- | --- | --- |
| Dear Friends, | | |
Trusting that your holidays where peaceful and kind we wanted to wish you and your loved ones a happy, healthy and prosperous New Year 2012 with an invitation to discover the world's first fully organic spa resort in Malaysia, a dreamlike, surreal setting, high above the tropical forests of Berjaya Hills. The Chateau Spa and Organic Wellness Resort offers its overseas guests an all-inclusive spa program that includes transportation to and from Kuala Lumpur International airport. The Berjaya Hills Company has invested close to $375 million in this organic mountain resort, which includes The Chateau Spa and Organic Wellness Resort, the state-of-the-art organic wellness spa La Santé and the development of the entire surrounding area of roughly 16,000 acres. Owner Sri Dato' Seri Vincent Tan placed this fairytale castle on unspoiled grounds, constructed with organic material whenever possible and serves organic food produced on his own sustainable fully organic farms. The cuisine served at L'assiette, being the showpiece of the culinary part of his dream had to be put together carefully so as to conform in part to the organic concept of the resort and spa, while being competitive in the realm of world-class cuisine, a must to discover! We highly recommend Cathay Pacific or Singapore Air for the long haul flight to Malaysia, after our calamitous experience with EgyptAir.
I remain yours truly
| | |
| --- | --- |
| | |
| | |
| | Thorsten Buehrmann |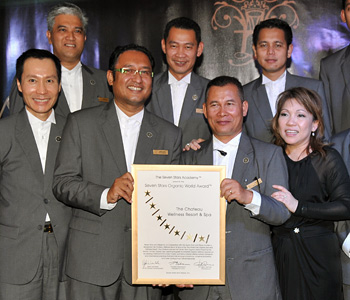 "The World's first Organic Spa and Wellness Resort" as it fell upon us to set our own criteria as to what constituted an organic spa and resort. Offering a complete organic wellness experience to our guests is our main mission. Therefore our F&B outlets offer organic food and drinks, our spa utilize organic products and amenities and our rooms are appointed with organic products and then some." Ms. Ming approached the Seven Stars and Stripes organization and after extensive research they developed The Seven Stars Organic World™ Award.
(CLICK HERE for Policy)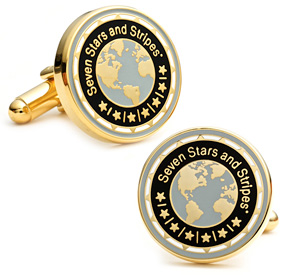 Seven Stars and Stripes Inc. now offers, for the first time, this extraordinary, custom designed 'His & Her Seven Stars Cufflink set. Limited Edition.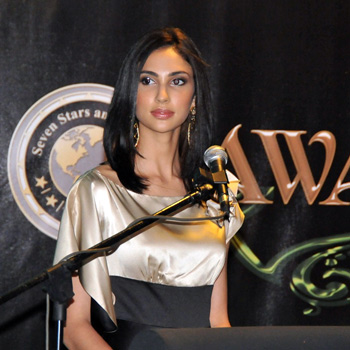 Ms. Malaysia announced the Special Recognition Award for Ms. Teh Ming Wah.
Tan Sri Dato' Seri Vincent Tan is a man with a vision who realized and capitalized on the increasing demand of the world market for a health-conscious lifestyle and healthier, preferably organic, foods through other venues as well. Ms. Ming hired, taught and trained her amazing team of professionals until they were able to give birth to the world's first fully organic spa and wellness resort. Ms. Ming, with a background in banking & investments, spas & wellness, as well as hotel management, has developed some of the most exclusive spas of the world and managed Asia's most exclusive ladies clubs, Phillip Wain.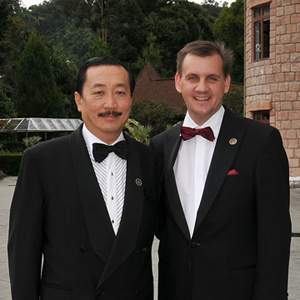 Seven Stars and Stripes Inc. in Cooperation with The Seven Stars and Stripes Academy™ proudly recognizes Ms. Ming as a Leader and Champion of the Global Spa and Hospitality Industry. Ms. Ming is credited with creating the World's first organic spa and wellness resort at The Chateau in Malaysia and with her vision, expertise, leadership and persistence, Ms. Ming has elevated the global organic spa experience to an entirely new level. ... (CLICK HERE for more)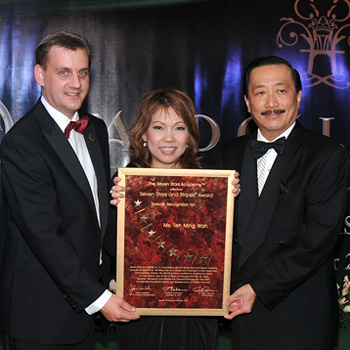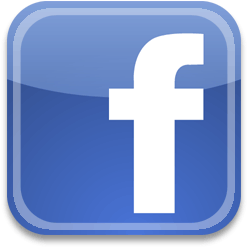 Please join us on 'facebook® (CLICK HERE), a brand new fan page where you get a chance the catch up or get the latest scoop on what might be of interest to todays distinguished global traveler.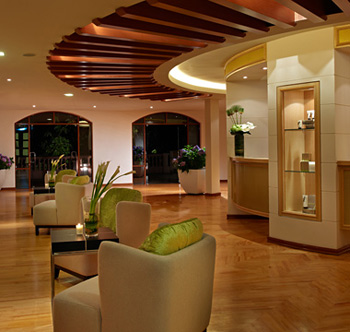 'Of Global Distinction'
... Experiencing 'La Santé Spa' as an organic wellness spa, "granting its guests a complete organic wellness experience by denying methods that involve modern synthetics, instead utilizing cultural, biological, and mechanical practices that promote ecological balance, conserve biodiversity and foster recycling of our natural resources" was a great honor. We tested a one-week rejuvenation spa programme on a female senior advisory board member and were all amazed by the effects this well targeted, all inclusive, rejuvenating therapeutic spa programme had on her. Teh Ming Wah integrated the cutting edge technologies of LPG, a company that is the world leader in cellular stimulation, into this spa program. ... (CLICK HERE for more)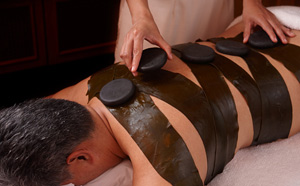 ... The employees at La Santé spa, from the spa receptionists, to the therapists, to the spa director are all extraordinary. We were told that the therapists all have a year of training under their belt, a fact noticed during each single treatment. A highly aromatic, hot cup of organic herbal tea was served after every single treatment with the kindest gesture one hopes to receive. The spa director Ms. Alice Yap recommended to us the Seaweed Hot Stone Massage, which cannot be compared with a normal massage. As with every spa treatment my therapist first of all introduced herself and then explained in all detail the upcoming treatment. ... (CLICK HERE for more)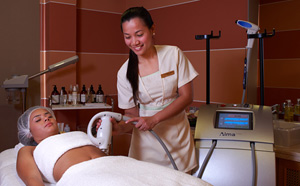 ... Meeting with Spa Director Ms. Alice Yap was not only delightful but educational as well. She even offers organic spa manicure & pedicure treatments and organic hair treatments etc. We decided not to list them all here all, but just a couple and let you, the reader, experience the incredible repertoire of organic spa & beauty treatments all for yourself at 'La Santé Spa' dressed in bath robes and slippers made from organic cotton and / or bio-degradable material. A few of the European style spa rituals that one should definitely experience at La Santé are their uniquely designed Herbal Bath Organic Herbal Infused Sauna Chamber, the Aquaveda Bed featuring the Soap Brush treatment, the Aroma Hydro Pool The Hydro Bath and the Salt Grotto, studded with thousands of Swarovski crystals, the Grotto is delightful. ... (CLICK HERE for more)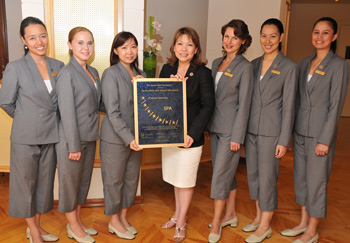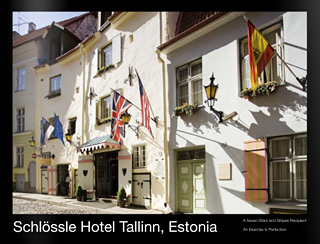 (CLICK HERE TO FLIP THE BOOK!)
Our exquisite hardcover coffee table books, custom designed for each resort, hotel, spa and restaurant, feature highlights and possible excursions of each establishment, along with the Seven Stars and Stripes review and award presentation. These impressive hard cover books, now available in three different styles, are luxuriously wrapped and make great holiday gifts and keepsakes, all the while showing the full potential of what guests may experience. Please 'CLICK and FLIP' through the Seven Stars and Stripes review and award celebration at the Schloessle Hotel Tallinn, Estonia. Enjoy!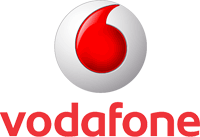 Seven Stars And Stripes is currently changing providers in Germany. Due to unexpected delays with Vodafone our German office line is not available. Please feel free to contact our US Office: +1 631 238 5023 during normal buiness hours.
In Next Gazette:
* Swiss Business Class & L'assiette Restaurant