The Oberoi, Mumbai - India
Exec. VP Barry Kay
Vetro Restaurant, Mumbai - India
Emirates Airlines, Business Class
Kairali, Kerala - India
Next: Prague, CZ: "LE PALAIS" & "Alchymist"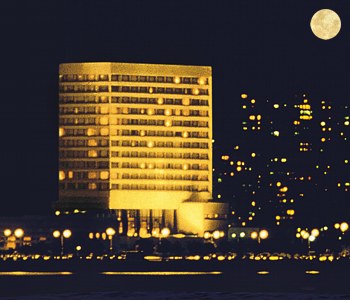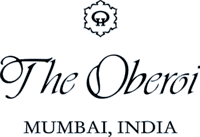 6 Stars and 6 Stripes
The heart of Mumbai beats fast, allowing the skyline on the banks of the Arabian Sea to be compared with the most famous cities in the world. The modern appearance of The Oberoi seems to blend seamlessly into the Indian culture, we felt, as we were guided into the arrival hall. VIPs as Bill Gates, Richard Gere, Michael Jackson, Rupert Murdoch, and the 'Heads of State' of China, Greece, Iceland, Indonesia, Russia and the United States (just to mention a few) have resided and held meetings at this truly exceptional hotel on Marine Drive. The Oberoi has a personal butler dedicated for each floor. Our luxurious superbly designed suite was immaculate by any means, with a smashing 270-degree view of Marine Drive and the Queen's Necklace.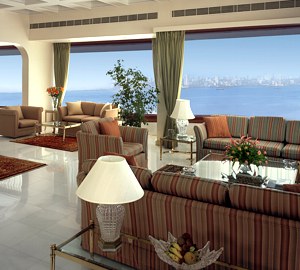 The management of The Oberoi Mumbai focuses on consistency and attention to detail and as a result some of the best restaurants are found in this one-of-a-kind destination hotel and spa. Executive Vice President Rattan Keswani believes in global marketing and keeps his brand recognized in the most affluent key markets around the world. Keswani is a strong believer of bringing the international traveler to India and providing them with an unforgettable experience of modern day India, its heritage and culture. GM Mohit Nirula lives at the hotel and he is father of two lovely daughters. Mr. Nirula, an alumnus of the Oberoi Centre for Learning and Development, has been with the company since 1988 and worked in various positions. He handled the pre-opening work of the Oberoi's hotels in Agra, Mashobara, Mauritius and Egypt. Nirula is hands-on, charming and leads with great ease.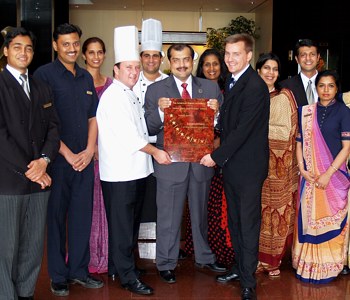 Congratulations to all, from your Guests and from Seven Stars and Stripes:
For your visible commitment to excellence.
For your willingness to be recognized for your latest innovations.
For your devotion to your staff and company.
For your ability to receive.
For your decision to raise the bar.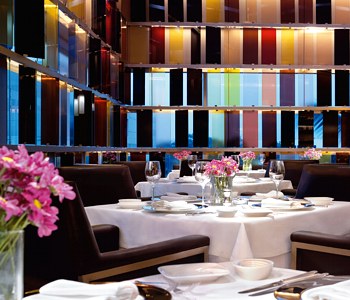 Vetro Restaurant
Mumbai, India
Chef de Cuisine: Emanuele Lattanzi

6 Stars and 6 Stripes
The Oberoi's flagship restaurant Vetro, has become the toast of the town as an oasis of classical Italian cuisine in a fiery sea of South Asian culture. The 56-seat restaurant is led by Executive Chef Emanuele Lattanzi of Rome, a passionate man, eyes burning with fresh ideas always ready to take on the norm and go against the grain. This clash of cultures results in a special culinary synthesis enabled by the unification of global ideas, influences and reactions. After all, who would have thought you could find 12 year old Balsamico de Modena in the heart of Mumbai. The most prominent feature of the restaurant is the Enoteca, which resembles a wine 'library' encased in a transparent glass box for the purpose of allowing patrons to sample selected wines and cheeses before entering the restaurant to dine.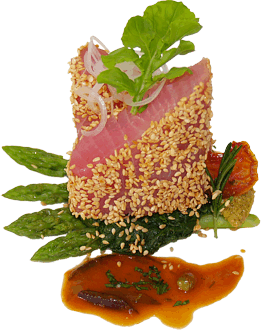 Restauarant Manager Rahul Korgaokar invited us into this visual magnet hoping to showcase some of his favorite selections out of the 1,200 bottles in the collection. From within the confines of the Enoteca, I focused on the wines of Friuli, Piedmonte, Toscana and Veneto, all the while noticing curious glances from other guests wondering perhaps what the next move would be of these 'aquarium specimens'. Dining in a contemporary Italian restaurant in the heart of Mumbai is quite the experience, especially in the competent hands of Chef Emanuele and his multinational team of specialists. Menus meant nothing to us as we challenged the Chef to dig in and share some of his more memorable culinary creations with us. Our server Pradeep became the conduit between the kitchen and us as he brought out a continuous stream of Chef Emanuele's cuisine concepts reflecting his deep understanding of taste and design.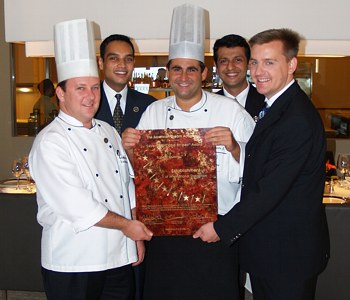 Seven Stars and Stripes Awards for: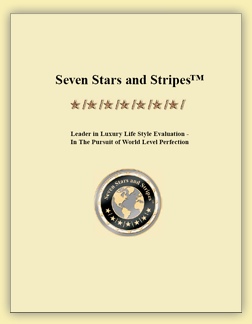 Our Seven Stars and Stripes™ book - 2003 to 2006 world-edition, is still available. Over 300 pages - featuring only the finest establishments and fascinating cuisine art images from around the world. All beautifully compiled in this full-color collector's edition. ISBN# 1-4259-4267-9
In Next Gazette:
* Hotel Le Palais, Prague - CZ
* Alchymist Grand Hotel and Spa, Prague - CZ
In The Press:
* Boulevard Magazine:
| | | |
| --- | --- | --- |
| Dear Friends | | |
Happy July and it is indeed a happy month, since it is the most common birth month along with October. For some parts of the world July a month of celebration of independence! By now, Americans (July 4th) and Argentines (July 9th) have celebrated their Independence holidays; Colombia is next on July 20 and Peru on July 28. July's flower is the water lily or larkspur and the birthstone is the ruby. But July was not always called July, it was (re)-named after Julius Caesar, who was born this month; previously, it was called Quintilis in Latin, since it was the fifth month in the ancient Roman calendar. In June, we visited Mumbai, India, one of the most exciting and amazing cities in the world. We flew relaxed with Emirates Airlines, reviewed the Oberoi Mumbai and tasted the luscious cuisine of Executive Chef Emanuele Lattanzi at the exclusive Vetro Restaurant. We highly suggest putting Mumbai on your long-term travel list and pencil in the Kairali Ayurvedic Health Resort for spring 2008, which will be a perfect retreat for the discerning traveler, after the completion of the announced renovation project. With great pleasure I would like to introduce our new Executive VP Barry Kay, based on the US's gold coast - Long Island, New York. Kay is a consummate entrepreneur, investor, developer and celebrated journalist. Until next month...
I am yours truly
| | |
| --- | --- |
| | |
| | |
| | Thorsten Buehrmann |
Watch the Seven Stars and Stripes
Award TV Show on
Hamptons Televisions WVVH World-Wide

| | | |
| --- | --- | --- |
| Barry Kay, | | |
the newly designated Executive Vice President of Seven Stars and Stripes, Inc. is a global consummate entrepreneur, investor, developer and journalist. For the past 25 years, Kay has been the CEO and creator of five unique and diverse businesses involved in consumer & hospitality products and services that are globally recognized today. Kay began his writing career in college and rekindled his passion for journalism in recent years by accepting co-editorship for Boulevard Magazine one of the fastest growing and most popular Life Style Magazines on the Gold Coast of Long Island. Kay's very own luxurious lifestyle is reflected in his eloquent reviews and interviews with internationally renowned VIPs. Barry Kay and his wife Rita are proud parents of two successful executives Brian and Bradley, and grandparents to five grandchildren. Both Kays are very civic minded and involved in working for the betterment of their communities and fellow man. Rita Kay has spent the past 28 years fundraising pro-bono, for Children's Medical Fund of NY the major fund raising arm for Schneider Children's Hospital of the North Shore/LIJ Health System. She has received many honors for her outstanding commitment to children's and women's causes as well as having her philanthropic achievements read into the Congressional Record by Congresswoman Carolyn McCarthy. Two years ago, she was chosen to be the Executive Director of Children's Medical Fund. Barry was and is a world traveler and this love of different cultures, exceptional cuisine and fine wines, led him to his affiliation with Seven Stars and Stripes. This global entrepreneur is extremely well connected and specializes in the field of US - international luxury trade and travel market development.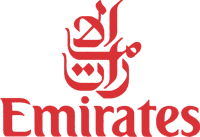 Business Class

5 Stars and 6 Stripes
Once we were on board Emirates airline, we felt special and definitely cared for. Emirates seems to recruit its experienced flight crews and well-trained, personable attendants from all around the world; flight announcements were given in several languages - English included. We both choose a glass (with engraved Emirates logo) of Perrier Jouët Grand Brut N/V champagne and toasted each other "to a good flight" and take off was indeed as smooth as one could wish for. The on-board cuisine was good. The food was appealingly plated on pretty china; the tray accented with a fresh red rose and polished silverware. We started with a Seafood Medley ...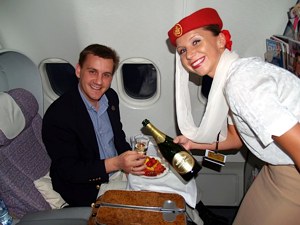 We adored the fact that each passenger had their own individual in-flight entertainment (IFE) system, featuring over six hundred channels, including a huge selection of movies, music and games for any taste and in most languages. Two amazing channels are definitely worth finding, one of which featured a camera looking directly down, and the other featured a straightforward view as seen by the pilots in the cockpit. I found that quite fascinating. Emirates provided us also with noise reducing headphones. Our individual TV screens were about 10" diagonal and of real good quality. Captain Clive Ian Bradnick landed smoothly in Dubai and here the business lounge was now a sheer delight, this was the real 'BLUE Carpet' treatment. ...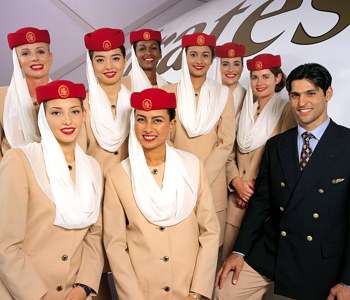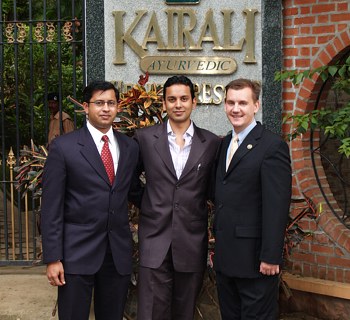 After a recent consulting assignment in South India, we found a haven of tranquility in the name of The Kairali Ayurvedic Health Resort, located in the small town of Palakkad, Kerala. The resort health-spa market is perhaps amongst the fastest-growing and most competitive markets in the world. The global, discriminating spa destination traveler is expecting to find health, luxury, hospitality and culture. Here, hidden amongst an amazing, colorful, tropical landscape and organic fields, which supply the kitchens of this fifty-acre resort, is a spa that promises to become a true temple of hospitality. Director K.R. Abhilash believes that he will have all his goals accomplished by the first quarter of 2008. The Kairali group is already found in various locations in India and abroad. For Kairali, the journey towards greater excellence in the service of health and luxury has just begun and we shall keep you informed with the developments of this peaceful paradise. In a consulting meeting with Managing Director Mr. K. V. Ramesh, we discussed the possibilities of surrounding the fourteen-acre inner heart of the complex with a flowing pool-river thereby giving the management plenty of mental stimuli in weighing all the possibilities for future development.
The Kairali Ayurvedic Health Resort demonstrated one of their signature treatments while we were there. A specially designed metal container called the DHARA was filled with medicated oil and placed over my forehead. Then, the therapist swung the pendulum-style tool back and forth while the oil stream slowly but continuously flowed across my forehead. This treatment is meant to promote rejuvenation and revitalization of the body and mind and definitely releases stress. After our through and pleasant visit to this resort, it is obvious that this full-service hotel has an abundance of potential.