VAU Restaurant, Berlin - Germany
Annona Restaurant, New York - USA
SWISS A340 FIRST Class
Ammende Villa, Pärnu - Estonia
Ammende Restaurant, Pärnu - Estonia
NEXT: Grand Hotel Europe + L'Europe &
Caviar Bar, St. Petersburg - Russia
NEXT: The Ritz Carlton Moscow
+ Jeroboam Restaurant - Russia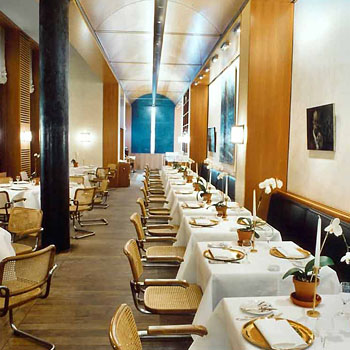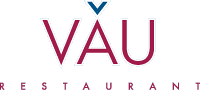 Berlin, Germany

6 Stars and 5 Stripes
With its location on the Gendarmenmarkt, noted in guidebooks as "one of Europe's loveliest squares", VAU has consistently attracted the cuisine aficionado to its hallowed grounds for Internationally recognized food and affectionate hospitality. The impetus behind the simple philosophy of fresh, seasonal products - where possible from the Berlin area coupled with the feeling of "eating with friends" is the brainchild of Executive Chef and owner Kolja Kleeberg. One of our first impressions, as we entered the restaurant on this cold March evening in Berlin, was of Restaurant Manager Petra Kleeberg smiling sweetly as she greeted us and then led us past a perfect row of tables. Upon each was placed a precious living Phalaenopsis Orchid, elegantly bending from the weight of its radiant white flowers. ...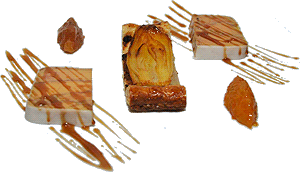 It was time to press on with the dinner arrangements and soon we were escorted to our table in the Salon Rahel, offering large windows onto the stylish Jägerstraße. Our server and sommelier for the evening, Claudia Albrecht, sought to put us at ease with her charming recantation of the nights specials, thereby conjuring up delicious visions of Chef Kolja's world-renowned creations. We were introduced to his repertoire with the first course of Roasted Lobster with Black Salsify, Blood Orange and Almond paired with a classic Austrian wine from Südsteirmark, Sauvignon Blanc, Erwin Sabathi 2007. This was a standout in terms of creative flavor profiling coupling the 'artichoke-like" suggestion of the salsify with the sweet and mellow notes of the blood orange. ...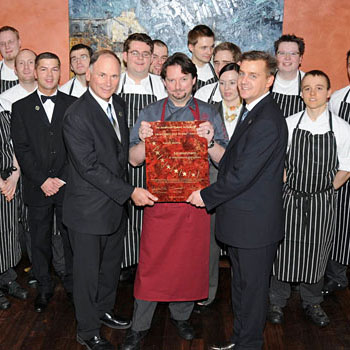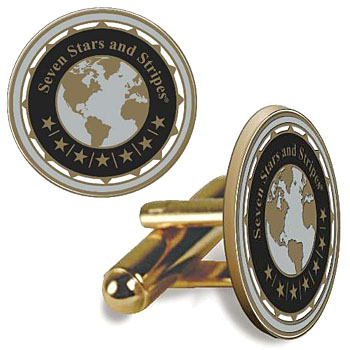 Seven Stars and Stripes Inc. now offers, for the first time, this extraordinary, custom designed 'His & Her' Seven Stars Cufflink set. Limited Edition.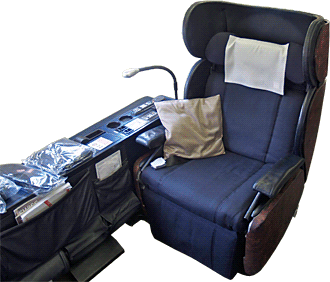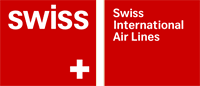 A340 FIRST Class

5 Stars and 5 Stripes
It was now time to board the plane, but first class passengers get personally escorted through security and to the gate by a host. Upon entering the cabin, a 'Maitre de Cabin' named Urs, ushered us into the front of the Airbus 330 offering Jaquart Cuvee Allegra Champagne, orange juice, bottled water or mimosas. It seemed more like a social gathering than a aircraft boarding as everyone in First class were standing around with a cocktail happily chatting in preparation of departure. ewspapers in several languages were offered and I sank into the comfortable large leather seat sipping champagne and reading the latest business news. 'Maitre de Cabin' Urs, now returned to personally greet each and every First Class passenger all the while making us feel comfortable knowing that any reasonable request would not go unnoticed. ...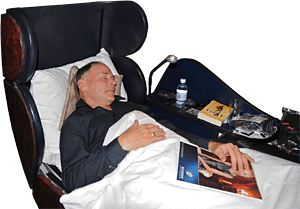 Swiss A340 John Lomitola First Class
I was offered a 20yr old Port to go with my dessert of Chocolate Cake and Strawberries, but I decided to test them with a request for Fernet-Branca, a bitter Italian herbal digestive liquor to see if they could comply. To my surprise a few minutes later, a small glass of the dark brown aromatic spirit appeared on my table. My compliments to the hospitality of the Swiss! I tried to focus now on the Swiss in-flight entertainment system and became a little fatigued trying to figure out the slightly antiquated system. I am told that a serious cabin up-grade is in the works before the end of the year, which will add a more up-to-date multimedia center along with an improvement in privacy for the individual sleeper. I slept like an Olympic athlete going for the gold. My bed was made in a few minutes while I washed-up in ...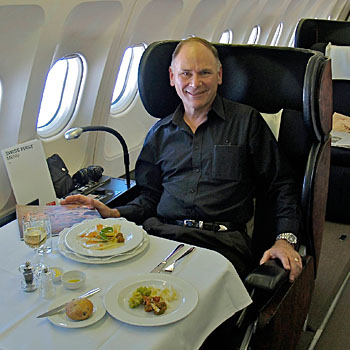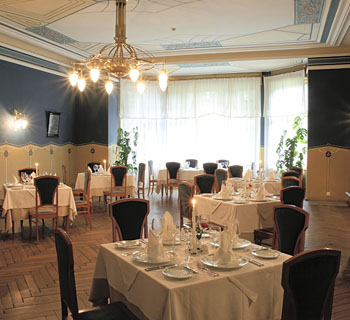 Restaurant
Pärnu - Estonia

5 Stars and 5 Stripes
The ambiance was captivating and at the same time serene, white starched linens reflecting the romantic flickering candlelight, highlighting the interesting land décor and the elegant china. The Ammende features three dining rooms in the right wing; the Red Dining Hall is the most intimate in size after conversion from an old kitchen, at one point in time. A priceless tiled oven complimented the dark walls, and the precious blue velvet covered antic chairs. Napkins were quickly folded into our laps; and the breadbasket was offered instantly by our waiter for the evening, Mikk Lankots. We started with Roasted Lamb Liver Noisettes, drizzled with a daring Blackcurrant Sauce, paired with an interesting ruby berry, vanilla nosed Chianti Classico Brolio 2005 Toscana, Barone Riscasoli - offered by Monika Raudkivi, our sommelier. ...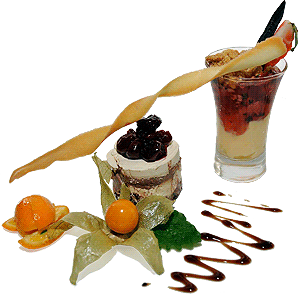 The roasted lamb liver salad was very good and created with an eggplant-truffle puree and balsamic sauce. Next, Seafood Ravioli with Arugula-Parsley sauce stuffed with fresh eel, caught at local Lake Vorsjarve and presented with a Barbera d'Alba, Superiore 2005 Piemonte, Rivietto. The intermezzo was served in the form of a refreshing, light Cantaloupe Soup. Our main course, A Steamed Pike Perch with Pumpkin Risotto, was a sensuously delicious fine food, again, well paired with a classic Blanc Faiveley Mercurey Clos Rochette 2002. We were told that the Pike Perch was caught by Chef de Cuisine Margus Sarev's friend Indrek Pekko, from the waters of 'Pärnu'. We will be eternally grateful for Indrek's good luck and the chef's talents. Paired with a Chateau Belingard 2005 Monbazillac, France - a powerful wine for a great dish, clear with a nice fruity bite. ...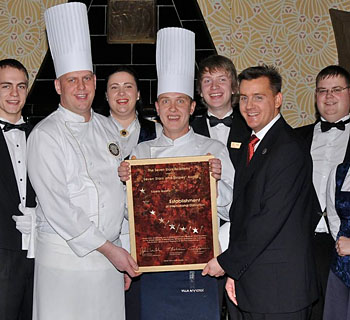 | | | |
| --- | --- | --- |
| Dear Friends, | | |
We wish you a happy and inspiring spring, reminding us that Mother's Day is celebrated in many countries in the month of May. It is the ideal time to invite mom on a trip and let her choose from our long list of 'Seven Stars' resort and hotel award recipients. Our Seven Stars and Stripes teams have traveled around the world and reviewed these fine establishments, making sure that they conform to the high standards that make them world-class. They are now displaying the Seven Stars and Stripes award not only with great pride, but with the assurance that they are certified to receive your mothers' utmost attention. Travel 1st class with us and your family around the world, and experience the real 7*Star Red Carpet treatment. Trust is essential when you take mom out for dinner. This month we discovered the delightfully chic 'Annona' Restaurant in the Hamptons of NY, hidden above the latest Ferraris and Porches on display in the exotic showroom, below. Or the always worthwhile 'VAU' Restaurant - another reason to visit Berlin. Experience the ever exciting culinary showcase menus of Chef Kolja Kleeburg. Or, fly with us 'Swiss First' to Europe. You may want to discover Estonia and reside at the historic Art Nouveau style Ammende Villa. Until next month with 'Greetings from Russia',
I am yours truly
| | |
| --- | --- |
| | |
| | |
| | Thorsten Buehrmann |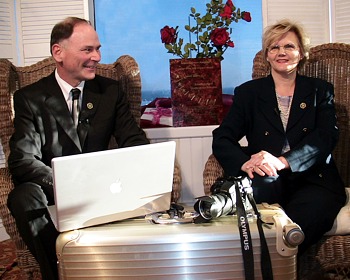 Watch the Seven Stars and Stripes
Award TV Show on
Hamptons Televisions WVVH World-Wide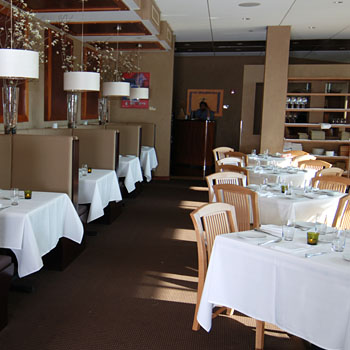 New York, USA

5 Stars and 5 Stripes
Those who choose to eat within the confines of the restaurant are afforded a spectacular view of the sky, and the garden through the restaurant's floor to ceiling glass windows. The tables, chairs, banquets and bar area were chosen with great care and expense in this very luxe venue. The spectacular bar area is set under a glass rotunda, and is 40 feet long and S shaped topped with blue Venetian glass. Seated around the bar area are plush leather couches and chairs where patrons may sit and view the gorgeous Lamborghinis, Bentleys and Aston Martins below while indulging on Annona's unique fusion of cuisine and coupés. ...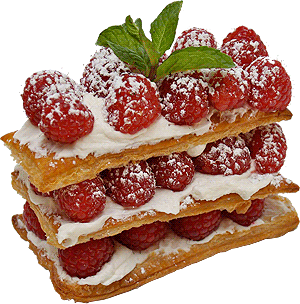 No dining experience would be complete without a sampling of some delicious homemade deserts. We sated our appetites with Crepes topped with an orange glaze and whipped cream, Caramelized Apple tart with vanilla gelato, and a Chocolate Hazelnut (cake-coco fiore di latte) and chocolate coulis. But the highlight of the finishing touch came in the form of Raspberry Napoleon; a total visual and stylized assault on the senses with stunning colors and textures in a well-structured three layered crispy, flaky mille-feuille. ...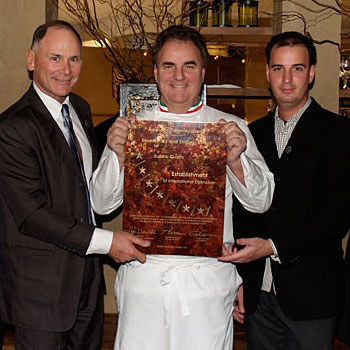 Seven Stars and Stripes Awards for: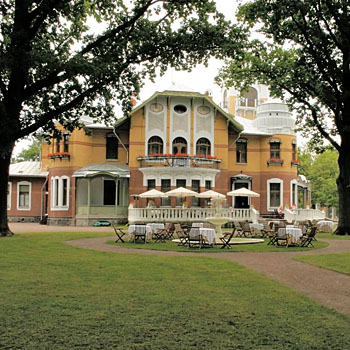 Pärnu - Estonia

5 Stars and 4 Stripes
We flew in from Hamburg, Germany, landed at Riga Int. Airport (RIX) and arrived three hours later in the charming coastal resort town of Pärnu, ideally located in close proximity to sandy shallow bay beaches. One hundred and seventy years ago, heated seawater baths were here and open to the public. The healing properties of Parnu's seawater was discovered and scientifically proven at that time. Historic, charming Parnu is the most popular spa resort destination of Estonia. As we look around Parnu, an area rich in folklore and fairy tales, we were transported back in time to the days of explorers and bay men. There are still charming cobblestone streets, and natural spas and restaurants at every turn. Each street revealed neat little shops just waiting to be discovered. We had come to discover Estonia's hidden gem, and most fascinating hotel…Ammende Villa. ...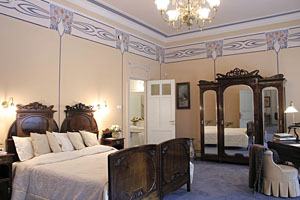 The splendid Ammende Villa, lovingly restored, is one of the most precious historic landmarks of Parnu, sparkling from afar, in well maintained park like garden, walking distance to an amazing beach. The hotel was built in 1904 by wealthy merchant Hermann Ammende for his daughters wedding reception. The architecture features are stunning with striking wooden staircases, hand painted ceilings, and large spacious sitting rooms that help create a traditional atmosphere. Our check in was quick and within minutes we were escorted to our splendid accommodations. Ammende Villa has a wonderful oversized living room where one may read a book, meet other guests, or have tea or a cocktail. We adored the Red Salon with it old parquet floors, the Blue room (dining room) with its unique green tiled stove and sparkling chandeliers and the exquisite blue hand-painted art nouveau ceilings with their historic significance and splendor. ...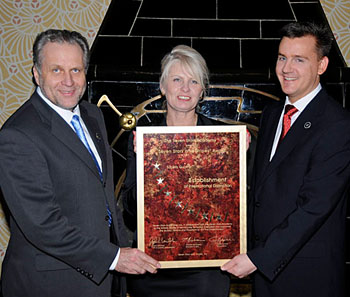 Congratulations to all, from your Guests and from Seven Stars and Stripes:
For your visible commitment to excellence.
For your willingness to be recognized for your latest innovations.
For your devotion to your staff and company.
For your ability to receive.
For your decision to raise the bar.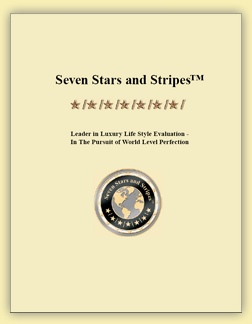 Our Seven Stars and Stripes™ book - 2003 to 2006 world-edition, is still available. Over 300 pages - featuring only the finest establishments and fascinating cuisine art images from around the world. All beautifully compiled in this full-color collector's edition. ISBN# 1-4259-4267-9
In Next Gazette:
* Grand Hotel Europe, St. Peterburg - Russia
* Caviar Bar & L'Europe, St. Petersburg
* The Ritz Carlton Moscow - Russia
* Jeroboam Restaurant, Moscow - Russia
In The Press:
* Gala Dinner at Ammende Villa with VIPs