Falling Rock, PA - USA
Aqueous Restaurant, PA - USA
South Gate Restaurant, NY - USA
Woodlands Spa, PA - USA
NEXT: Heinz Winkler - Germany
NEXT: British Airways - NEW Business Class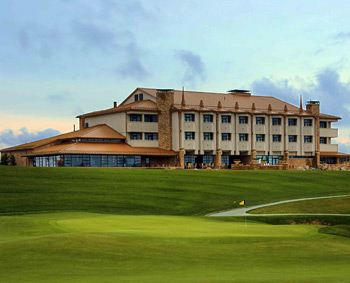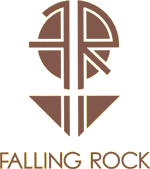 Farmington, PA - USA

5 Stars and 4 Stripes
This is a luxurious, intimate hotel within a successful family resort. Loftus Engineers designed Falling Rock in the Frank Lloyd Wright style in seven weeks and it was constructed thereafter within nine months. Loftus Inc. was the proud recipient of the IIDA award for this Frank Lloyd Wright inspiration. This International Illumination Design Award recognizes extraordinary lighting designs and indeed the premises stays 'delightful', after dark. Our arrival at Falling Rock was a perfect show, well rehearsed, impressive and perfectly executed. Check-in was done here the old fashioned way, but our personal butler service set in from the moment the bell staff opened our car doors. Impressive water features in the arrival hall set the tone on relax, offsetting the master's favoritism of stylish sharp angles with earthy hues meant to emphasize the setting of Mr. Wright's Fallingwaters house and the waterfall over which it was built....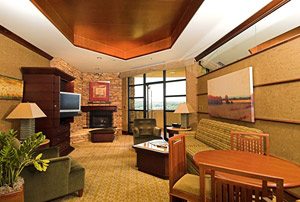 My corner suite I would consider as stylish rustic and the views glorious displaying the Mystic Rock golf course, designed by Peter Dye. Our Lady Butler Ms. Neely Conn was delightful, trained by one of the Old World butlers from one of the good butler schools of Great Britain. I knew that I would be cared for superbly, but please realize that twenty-four hour butler service easily becomes a habit. The furnishings of my elegant, well-appointed domicile were accented in polished classy mahogany and my accommodations spacious and carefully designed. The bath facilities appear chic and the large earthy tub was surrounded by candles and ready to be drawn. My bed was plush, dressed with Egyptian cotton and Chenille duvet covers and hard to resist. My 'around the clock' unobtrusive butler service included the unpacking of my suitcase, steaming my slightly deformed slacks and Jacket, serving afternoon and evening snacks and then some. I took advantage of the pillow menu ...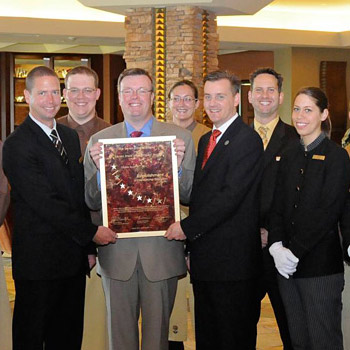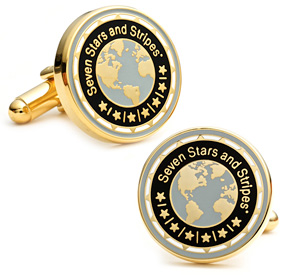 Seven Stars and Stripes Inc. now offers, for the first time, this extraordinary, custom designed 'His & Her Seven Stars Cufflink set. Limited Edition.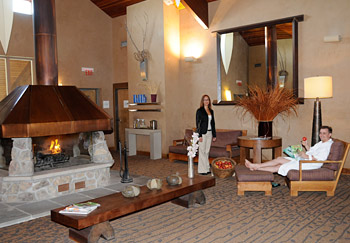 Woodlands Spa
Farmington, PA - USA

'Of Global Distinction'
So do we and we were here to rediscover one of America's most recognized spas. As we enter the spa facilities we hear and see the relaxing sounds of running or cascading water, there is the feeling of serenity, and we are surrounded by the aromas of herbs and clean, contemporary lines as originally designed by Clodagh. ...
"A space cannot be truly beautiful unless it functions in harmony with who we are... it's about pleasure: discovering what pleases us and creating an environment that will celebrate those qualities and sustain us." ~ Clodagh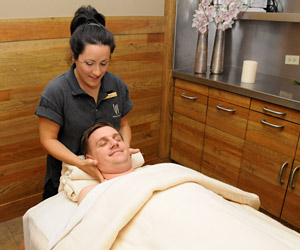 We had read that The Woodlands Spa is a cell phone free environment, and we were delighted that guests seem to follow these directions. To my surprise we were started off with a classic full body massage using long, smooth strokes that resulted in an immediate release of tension. This was followed by a quick Woodlands Body Polish consisting of essential oils of pine that was mixed with grains of salt to exfoliate the body and leave the skin vibrant and very smooth. Then we took a spa break for lunch at the Elements' Café. On the menu was a variety of salads, fruit smoothies and wraps. After a light, delicious and healthy lunch we went into a session of Acutonics® which is a 'vibrational massage'. ...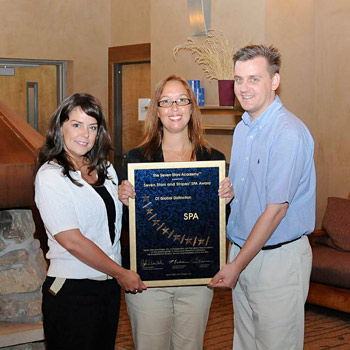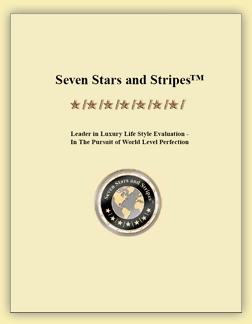 Our Seven Stars and Stripes™ book - 2003 to 2006 world-edition, is still available. Over 300 pages - featuring only the finest establishments and fascinating cuisine art images from around the world. All beautifully compiled in this full-color collector's edition. ISBN# 1-4259-4267-9
Congratulations to all, from your Guests and from Seven Stars and Stripes:
For your visible commitment to excellence.
For your willingness to be recognized for your latest innovations.
For your devotion to your staff and company.
For your ability to receive.
For your decision to raise the bar.
In Next Gazette:
* Heinz Winkler - Germany
In The Press:
* Falling Rock - Arrival
| | | |
| --- | --- | --- |
| Dear Friends, | | |
Fall is wonder time to travel, especially when you like to experience the change of season in color. What better time then to visit the highlands of Pennsylvania, USA - a wonderful place to watch fall unfold. And there nestled in the picturesque and unspoiled Laurel Highland Mountains of western Pennsylvania, in what used to be fishing and hunting preserve, resides Nemacolin Woodlands Resort and Spa. This was our second visit at this marvelous resort and this time we were there to review Nemacolin's latest edition, the Falling Rock boutique hotel. We experienced the twenty-four hour private butler service, rediscovered its critically acclaimed Nemacolin Spa and tasted the cuisine of Aqueous Restaurant at ?Falling Rock. The restaurant is in a classic setting reflecting the organic style of world-famous architect Frank Lloyd Wright, presented as the quintessential all-American steak house. As you might be flying in from Europe to go fall shopping in New York City we highly suggest dinner at the Southgate Restaurant, located at the Jumeirah Essex House on 59th Street and Central Park South. Executive Chef Kerry Heffernan attracts New Yorkers and visitors alike with his eclectic, modern-American cuisine, now seasonally inspired for fall, a must!
I remain yours truly
| | |
| --- | --- |
| | |
| | |
| | Thorsten Buehrmann |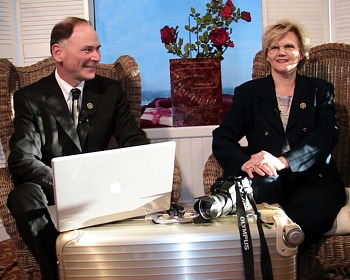 Watch the Seven Stars and Stripes
Award TV Show on
Hamptons Televisions WVVH World-Wide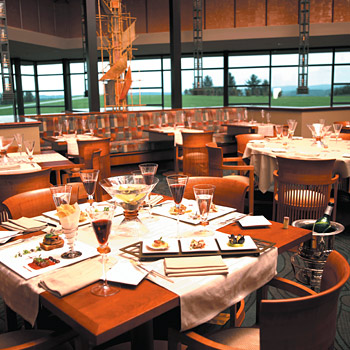 Aqueous Restaurant
Farmington, PA - USA

4 Stars and 5 Stripes
Our evening dining experience began with a warm greeting from Food & Beverage Manager Kory Young, who led us to our table. I ventured a guess that the sensation of walking on a well-manicured green was part of the overall aura created by the designers of this restaurant. It was the feeling of casual elegance wrapped in a unique design, where even the glassware and flower vases conformed to this warm and relaxed atmosphere. We were fully prepared to be captivated by the creative prowess of Executive Chef Jeremy Critchfield and his team of culinary experts. Chris Mikolowsky the sommelier shared his vision of his favorite wine pairings to be served with each course starting with a bottle of 1999 Krug Brut Grand Cuvee Champagne, ...
Breads were brought to the table and we relished the assortment, which included potato rosemary loaf, walnut onion rolls and Pennsylvania Blue Cheese stuffed corn muffins. After a muffin-shaped Amuse Bouche of Tellagio Onion Popover with Cherry Apple Butter, a brioche-like presentation using a mild flavored tangy cheese from Italy, we relished the lingering aftertaste. Soon after, a second course of Oysters on the Half Shell and Oysters Rockefeller appeared together with a bottle of Perrier Jouët, Cuvee Belle Epoque, 1999. Our feeling was that this was a superb reinterpretation of a bygone standard on menus of the 50's and 60's. Next up was a trio of appetizers for the third course consisting of Tuna Tatare with Frozen Avocado, Pickled Cucumber and ...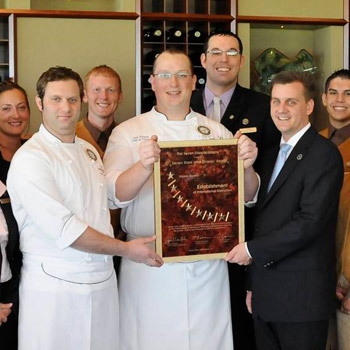 Seven Stars and Stripes Awards for: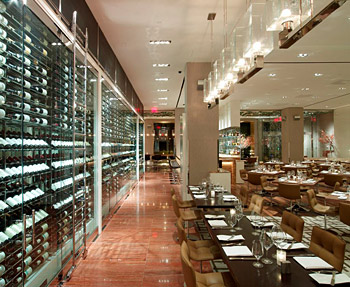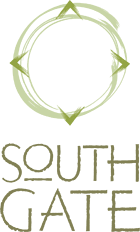 New York City, NY - USA

5 Stars and 4 Stripes
Executive Chef Kerry Heffernan has been pursuing high quality, fresh, locally produced ingredients to be fused with top-level cooking techniques and presentations as if he were on a religiously motivated crusade. Chef Heffernan brought with him a loyal following after previously heading the kitchen at Eleven Madison Park in lower Manhattan. Through it all he has even developed a way to woo more disciples into the fold by introducing The Stroller's Brunch, a Sunday morning gastronomic adventure designed to attract those weekend walkers in Central Park. It is certainly a tough act to follow, especially in the footsteps of the previous Restaurateur Alain Ducasse who vacated the Essex House with his namesake restaurant just ...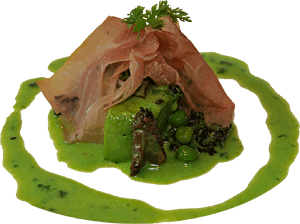 Next up was Flan of English Peas, Morels, Prosciutto and Chervil Emulsion, a decidedly early spring innovation focusing on the sweetness of the peas, earthiness of the morels and subtle dark red color and velvety, complex flavor of the cured prosciutto. For an interesting wine pairing, the sommelier picked a bottle of Urano Malbec Rose, Eral Bravo, Mendoza Argentina 2007. Coming from a beef heavy country, it is refreshing to see the rose version of this varietal with elegant aromas and good structure. Our entrée was served next with Sautéed Red Snapper, Green Celery Fondue, White Anchovy and Lovage as my choice since I was intrigued with Chef Heffernan's use of the herb 'lovage', a celery-like herb that adds an important ...