Kempinski Hotel Giardino di Costanza, Italy
Dubbesi Restaurant, Sicily - Italy
NAKHLA SPA-Award, Sicily - Italy
NEXT: The Inn at Great Neck, NY - USA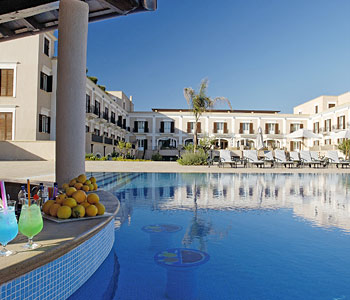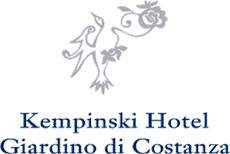 Sicily, Italy

6 Stars and 5 Stripes
Opened just four years ago, this luxury hotel with over ninety rooms is a small Mediterranean castle, for lack of better words. Check-in at the marble floored and columned lobby was pleasantly casual. We received the kind of eye contact that welcomes long gone friends. Quickly I confirmed our stay with my signature while my wife complimented the fresh scent of the exotic flower arrangements. Within minutes we arrived in our spacious accommodations, classy and comfortable, a grand bed, earthy tiled floors, precious throw rugs and a balcony with pretty views over casually manicured sprawling gardens, azure colored pools, Moorish fountains and meandering waterfalls. Another dominating feature of this 25-acre fairytale estate-resort is the full-service NAKHLAH health and beauty Spa ...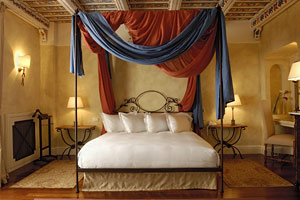 We took quick showers in the luxuriously designed bath facilities of our suite with spa amenities by Molton Brown. Who would have known, that when Molton Brown opened its doors first as a hair salon on South Molton Street in London's Mayfair, that some thirty-five years later their products would delight the guests of the Kempinski Hotel Giardino di Costanza in Sicily and then some? We tried the mouthwatering delicacies of Pastry Chef Gianni Ciotta, which we took as a sweet promise for the upcoming 'Back Stage Culinary Journey and Kitchen Party'. This unique culinary event showcased the talent of Executive Chef Salvatore Barbara and his team through cooking ...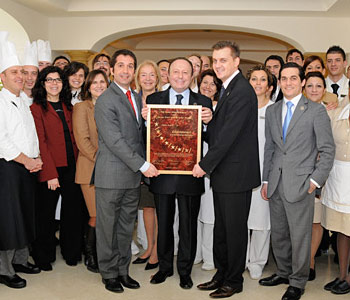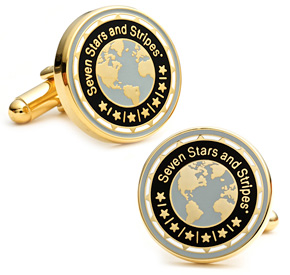 Seven Stars and Stripes Inc. now offers, for the first time, this extraordinary, custom designed 'His & Her Seven Stars Cufflink set. Limited Edition.
Congratulations to all, from your Guests and from Seven Stars and Stripes:
For your visible commitment to excellence.
For your willingness to be recognized for your latest innovations.
For your devotion to your staff and company.
For your ability to receive.
For your decision to raise the bar.
In Next Gazette:
* The Inn at Great Neck, NY - USA
* Restaurant The Giraffe Room, NY - USA
In The Press:
* NAKHLA SPA-Award, Sicily - Italy
| | | |
| --- | --- | --- |
| Dear Friends, | | |
It is almost unbelievable to think that we just welcomed 2009 at the Kempinski Hotel Giardino di Costanza in Sicily with a superb gala dinner and 'Shakespeare in Love'! When it comes to Shakespeare in Love, the world understands just how important those amazing scenes are and we must applaud the team and the management of this spa resort, who carried out a New Year's week extraordinaire. The week was not only about celebrating the creativity, the spirit, and especially the magic of the famous play; it was also about the Kempinski team that created an entire week of perfection and dedication for their guests. And since Valentine's Day is less then a month away, why not invite that special person in your life for a rendezvous together with a couple's massage at the NAKHLAH Spa amidst olive groves and vineyards? - Or why not consider traveling with the whole family? The Kempinski Hotel Giardino di Costanza welcomes guests of all ages and offers lots of fun for kids while their parents relax and enjoy world-class cuisine. And since the first important aspect for travelers before spa-ing, shopping and history is dining, let us assure you that the cuisine of Sicily is uniquely different from any other Italian region. Executive Chef Salvatore Barbara's creations from this treasure trove of inspiration assure a wonderful dining experience at the Dubbesi Restaurant. Until next month from 'The Inn at Great Neck', located on Long Island's affluent 'Gold Coast'. This New York boutique hotel invited us to exceed our expectations by taking us back to the 1920's era of luxury, elegance and style. Until then -
I remain yours truly
| | |
| --- | --- |
| | |
| | |
| | Thorsten Buehrmann |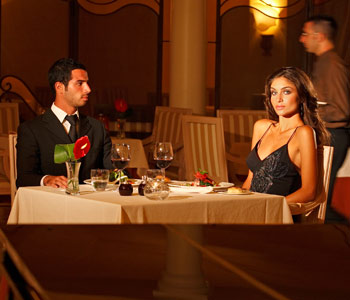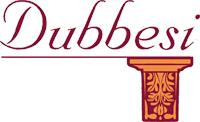 Restaurant
Sicily, Italy

5 Stars and 5 Stripes
To dine at Dubbesi is to experience a fascinating mix of culinary influences dating back to Greek, Moorish and Roman occupations of Sicily. Executive Chef Salvatore Barbara's deft handling of this treasure trove of inspiration has made for a lovely dining experience at Dubessi amidst the vibrant spectacle of an inner garden of olive trees and attractive water features. What could be better than dining al fresco during summer months, on a sun terrace surrounded by Arabian gardens with fountains, gazebos and a magnificent display of Mediterranean flora. One of the first things you notice upon entering the restaurant is the fabulous wine cellar stocked to the brim with world-renowned vintages and appellations. The goal is to create an informal tasting room for diners to enjoy and sample the possibilities for their dinner. ...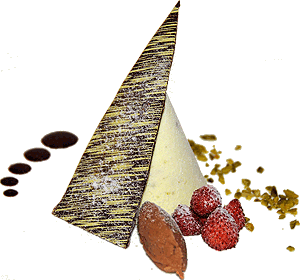 For dessert, a Pistachio Mousse with Forest Strawberries and Chestnuts appeared as a three-dimensional sculpture accented by a triangular piece of chocolate and a side of flavorful earthy chestnut puree. It seems that Pastry Chef Gianni Ciotta has been encouraged to express his artistic ability when creating his desserts. We were impressed with the way Chef Gianni was able to resourcefully combine his basic ingredients to become a work of art. A dynamic dessert wine Donnafugata Ben Rye, made with indigenous sun-dried Zibibbo grapes from the volcanic island of Pantelleria, brought with it a dried fruit component laced with apricot and honey. In this our second experience with Dubbesi, we are able to confirm that the consistency and creativity of the cuisine and service are on the rise. Congratulations to Chef Salvatore Barbara and his team for his excellence! ...