Swissotel Moscow, Russia
KAI Restaurant, Moscow - Russia
Oheka Castle, New York - USA
Oheka Castle Restaurant, New York - USA
NEW: Seven Stars And Stripes - BOOKs
NEXT: Palazzo Vecchietti Florence, Italy
NEXT: CSA - Czech Airlines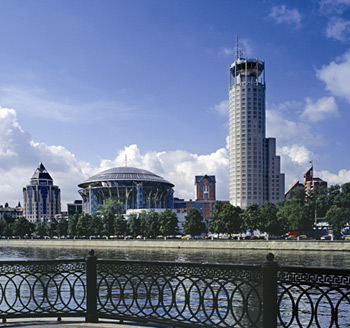 Moscow, Russia

6 Stars and 6 Stripes
My stylish accommodations - were well appointed with spectacular views over the precious city and one of the famous 'Seven Sister' compounds. The suite was dressed with fine, modern fabrics and furniture, - supported by the latest in in-room technology. The wooden cabinets feature inbuilt ventilation systems that conveniently eliminate odors from ones clothing. Quickly I was instructed how to use the all-in-one 'master button', that basically allows the guest to 'run' the functions of the entire room from the remote control in the palm of the hand. The welcome plate was a creative 'stack' of blinnies, smoked salmon and caviars, meant to resemble the 34 stories of the 'tower'. Delicious! I took advantage of the trained hands of the 'unpacking and packing lady butler', and highly recommend this opional service; especially for the packing part, if shopping is on your agenda.... (CLICK HERE for more)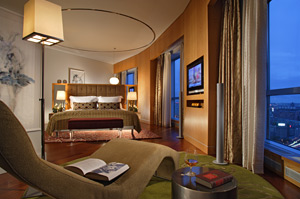 ... We spend a couple of leisure hours as the first guests ever on the rooftop - of the Swissotel Krasnye Holmy and experienced here genuine Swiss hospitality. In unity this top-notch team, orchestrated by Executive Chef Jean Michael Hardouin-Atlan and Food & Beverage Director Michel Colonna, presented one of the most flawlessly executed inaugurate events one want to attend. From the fabulous international cuisines to the finest desserts, this team came intuitively through on even the smallest details. Not that the blankets that were offered for chilly moments, were small, by any means, neither were the pretty centerpieces or opulent food displays. The fine bone china and sparkling stemware competed with the colors of the sky in the polished domes of the serving dishes, well-crafted and aesthetically pleasing the breathtaking aura lend itself to a buffet station.... (CLICK HERE for more)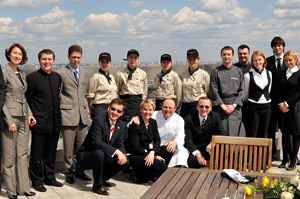 ... General Manager Jan Chovanec and his team have to be commended for both, their dedication and organizational work. Personalized guest and group experience comes first. We congratulate Jan Chovanec and the entire team for their outstanding example of Swiss hospitality performance in a foreign country. Mr. Chovanec's style seems to work flawless through the empowerment of his professional team. Theirs effort is of great benefit to Moscow as center for business. ... (CLICK HERE for more)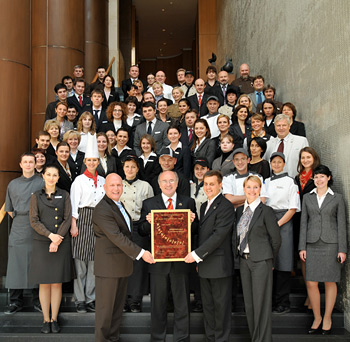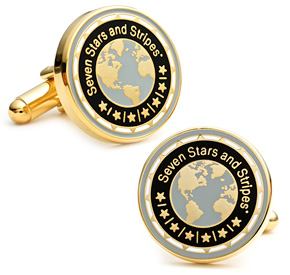 Seven Stars and Stripes Inc. now offers, for the first time, this extraordinary, custom designed 'His & Her Seven Stars Cufflink set. Limited Edition.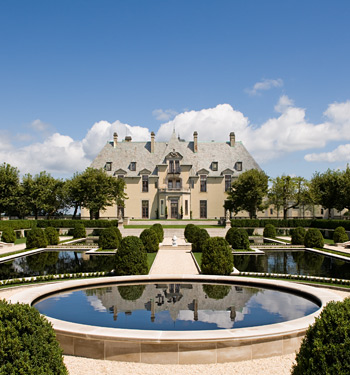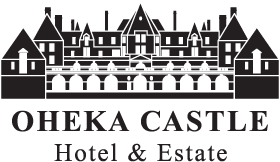 New York, USA

6 Stars and 6 Stripes
The staff took our golden Rimowa luggage through enormous wooden doors while the concierge greeted us graciously in the dramatic and spacious entrance hall adjacent to a magnificent curved staircase. After walking up the staircase to the first floor, we were in awe of the old world grandeur that OHEKA conveyed. The ornate marble and granite floors, the elegant brass and crystal chandeliers, the fine art and beautiful floral arrangements, as well as the wooden furniture, oriental rugs and tapestries conveyed a feeling of authenticity. OHEKA is a multi-functional facility that offers a venue for events, weddings, movie productions and corporate retreats all within the framework of a luxury hotel. Nancy Murton, a charming member of the Melius family and driving force behind Oheka's marketing and publicity, greeted us ... (CLICK HERE for more)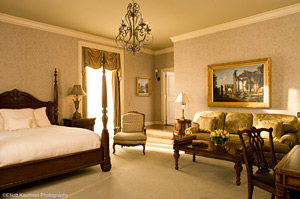 ... After our tour of the castle, its grounds, and its spectacular kitchen facility, we took an elevator up to the second floor and went back to our rooms to freshen up. Our room was painted a subtle and warm golden yellow, earth tone and superbly decorated with fine art, wall coverings and an antique rug. Our Queen size bed was covered with a luxurious white tapestry bed spread with Egyptian cotton linens and pillowcases with a high thread count. A large flat screen TV, and marble bathroom with glass enclosed shower and a bathroom filled with fine upscale L'Occitane toiletries, hair blower, and special shaving mirror, all added to the room's beauty and charm. ... (CLICK HERE for more)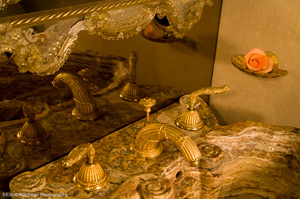 ... Our room's large windows opened to a spectacular view of the gardens, pools, and fountains, as well as the peaceful waters of the Long Island Sound. OHEKA offers its guests use of the public rooms, library, pool table, fitness center, as well tours of the castle and access to the spectacular grounds. An additional benefit to staying at OHEKA is its location, minutes away from major dining and high end shopping in Woodbury, Syosset, and Manhasset. We visited the Cold Spring Golf Club, one of Long Island's elite golf clubs, at around 1PM that day. It is on the original 18-hole golf course built by Otto Kahn and is literally walking distance from the hotel. Oheka and Cold Spring Country Club have just recently ... (CLICK HERE for more)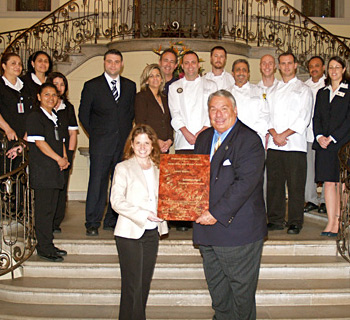 In Next Gazette:
* Palazzo Vecchietti Florence, Italy
* CSA - Czech Airlines
In The Press:
* Oheka Castle Arrival:
| | | |
| --- | --- | --- |
| Dear Friends, | | |
We are delighted with the quality of your response to our reviews and that you trust our suggestions. We've met and made many new friends to complement our existing ones, either in person or in cyberspace. We appreciate your confidence in selecting Seven Stars and Stripes awarded establishments and airlines for your sophisticated, worry-free travels. We invite you to come with us to Moscow and reside at the Swissôtel Krasnye Holmy luxury tower, one of a kind and the first high-riser ever allowed to be built in this history city. Let us entice you to break free from mediocrity at the Kai restaurant, visit Terrace 19 and be invited to a cocktail at the City Space Bar. We assure you that your expectations will be exceeded at this place where traditional Swiss hospitality meets modern Russia. - Discover with us an 18th century expertly restored, luxurious castle on Long Island's famous Gold Coast (45 min from NYC), The OHEKA Castle Hotel and Estate. Besides a private round of golf, we invite you to challenge the talents of Executive Chef Christopher Cappello and Executive Pastry Chef Daniel Andreotti. - Until next month with another interesting review from the gorgeous Palazzo Vecchietti of Florence, Italy. - Unfortunately we had a couple of 'total disaster' flight experiences with CSA, Czech Airlines and we will report on that to. Until then,
I remain yours truly
| | |
| --- | --- |
| | |
| | |
| | Thorsten Buehrmann |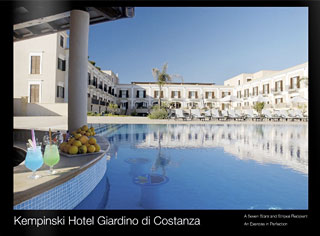 (CLICK HERE TO FLIP THE BOOK!)
Our exquisite hardcover coffee table books, custom designed for each resort, hotel, spa and restaurant, feature highlights and possible excursions of each establishment, along with the Seven Stars and Stripes review and award presentation. These impressive hard cover books, now available in three different styles, are luxuriously wrapped and make great holiday gifts and keepsakes, all the while showing the full potential of what guests may experience. Please 'CLICK and FLIP through the 2009 Seven Stars and Stripes review and award celebration at the Kempinski Hotel Giardino di Costanza on Sicily, Italy. Enjoy!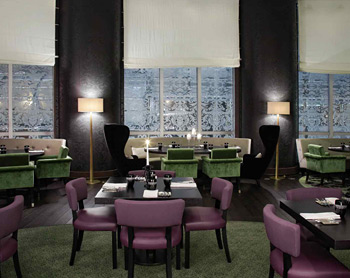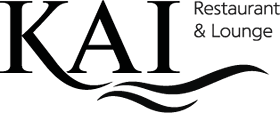 Moscow, Russia

6 Stars and 6 Stripes
It seemed a perfect setting for Chef Hardouin to use as his culinary canvas. From his experience gathered in such diverse work venues as Macau, Mauritius and the Middle East, Chef Hardouin had amassed a thick notebook of recipes from which to draw on, taking a little from this and from that and adding his own impression of balance. For our dinner, Chef Hardouin prepared a 'tasting menu' that included selections reflecting the blend of international influences that had a profound affect on his culinary life ... ... (CLICK HERE for more)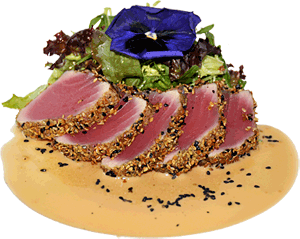 Director of Food and Beverage Michel Colonna and Restaurant Manager Irena Khodzhava were on hand to supervise this exciting event as we started with Red Tuna Tataki with Roasted Sesame and Tea Crust. Tataki is a method where the finest belly meat is marinated in vinegar, seasoned with ginger paste, coated with both white and black sesame seeds and then briefly pan seared allowing for the tuna to remain raw in the middle, for the optimum flavor profile. ... (CLICK HERE for more)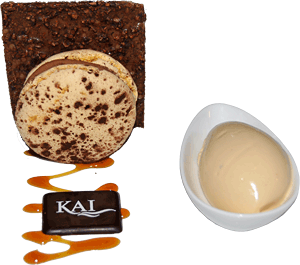 Our final course, prepared by the capable hands of Executive Pastry Chef Frederic Ondrien featured East Meets West and Caramelized Szechuan Pepper. This carried on the fusion theme with the exciting prospect of using Szechuan pepper, which would ordinarily be reserved for savory entrées, and caramelizing it while combining it with a sweet ice cream producing the feeling of eating fire and ice. ... (CLICK HERE for more)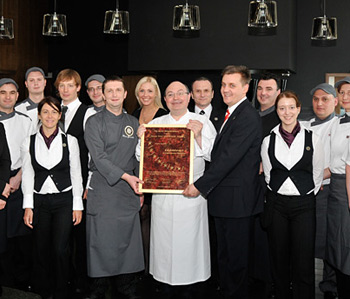 Congratulations to all, from your Guests and from Seven Stars and Stripes:
For your visible commitment to excellence.
For your willingness to be recognized for your latest innovations.
For your devotion to your staff and company.
For your ability to receive.
For your decision to raise the bar.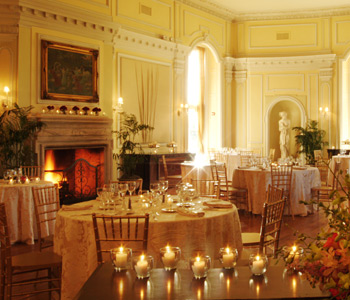 Restaurant
New York - USA

5 Stars and 6 Stripes
Our table was set with fine Kensington linen, Lenox china, Waterford Crystal and fine silverware. We were attended to by a finely attired server, and various attendants who refilled our glasses, changed our napkins and cared for our needs. A silver platter filled with fresh exotic breads and rolls accompanied by a 3 compartment platter of hummus, relish, and olive oil was presented for our enjoyment. Our server presented us with dense patties consisting of tender morsels of lump crabmeat with just a enough breadcrumbs to bind it ... (CLICK HERE for more)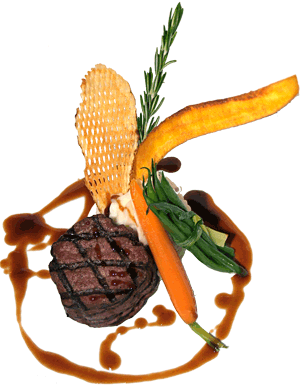 We moved on now to the meat courses of which I was impressed with the way Chef Christopher deftly prepared the sweet mild flavor of Oven Roasted American Lamb Chops with Caramelized Garlic Mashed Potatoes, Tied Haricot Verts and Baby Carrots and Mint Demi-Glace. Chef Christopher calculated that by choosing lamb from the US, he would by using a lean, tender and flavorful product which would be 10,000 miles fresher than lamb from New Zealand or Australia. Our second meat course was presented as Grilled ... (CLICK HERE for more)