Charlie Palmers Aureole - NY, USA
IBERIA Business Class Plus
Seven Stars and Stripes > 'facebook®'
Boulevard Magazine: Oberoi Mauritius
NEXT: Paradisus Playa Conchal
+ NYC Restaurant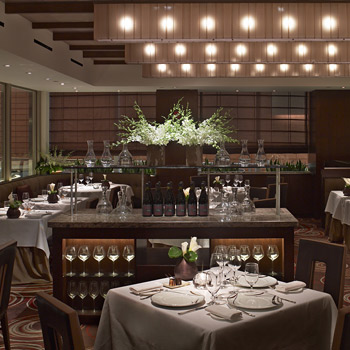 New York - USA

5 Stars and 5 Stripes
Walking through the main dining room, serious gourmands seeking an amazing culinary experience are brought into a visually stunning, inner sanctum. The intimate square room is surrounded by glass walls and a large highly visual wine storage room. It is here that Executive Chef Christopher Lee, of cable's "Top Chef " fame, brings his full culinary artistry into fruition. The inner fine dining room also provides fabulous "people watching opportunities as well as gourmet food. Aureole offers both a special competitively priced, three course "prix fixe menu" as well as a full "a la carte selection". That evening we were presented with a parallel tasting menu. ... (CLICK HERE for more)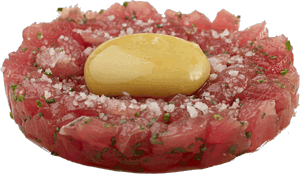 ... Our entrees consisted of Atlantic Grey Sole, with oven-dried tomato, Meyer lemon, fennel, black olive aioli. The counterpart selection was a plate of Veal Tenderloin and Sweetbreads, charred onion, Georgia peaches, pickled ramps, lovage veal jus. Our wine selection was an incisive Riesling, Domaine Weinback, Cuvee Theo, Alsace France 2007 presenting sharp acid with wisps of mint and lime. When we were sure that we could eat no more, a spectacular third course was presented: Cranberry Beans with Duck Breast, Duck Sausage and Summer Savory, paprika oil and Lima Beans with dry aged beef, cipollini onion tart, cabbage, and NBSP Sauce Bordelaise. ... (CLICK HERE for more)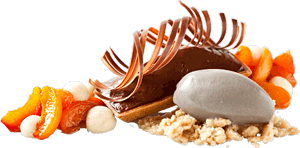 ... Aureole is an iconic restaurant with a long history of serving elegant, creative haute cuisine. Chef Christopher Lee has continued this tradition in a beautiful and exciting new setting on Broadway. Our dining experience was enhanced by the exquisite presentation of each dish on fine white dishes and elegant crystal stemware. In truth, our tasting menu was one of the best I have ever experienced. The wait staff and Maitre D at Aureole, were charming, knowledgeable, and very helpful in recommending dishes and discussing the wines. Charlie Palmer continues to set ... (CLICK HERE for more)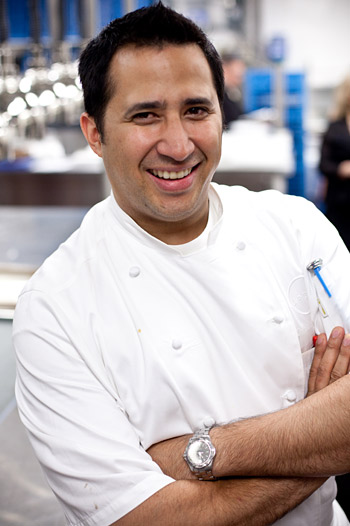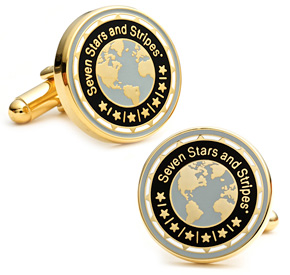 Seven Stars and Stripes Inc. now offers, for the first time, this extraordinary, custom designed 'His & Her Seven Stars Cufflink set. Limited Edition.
Congratulations to all, from your Guests and from Seven Stars and Stripes:
For your visible commitment to excellence.
For your willingness to be recognized for your latest innovations.
For your devotion to your staff and company.
For your ability to receive.
For your decision to raise the bar.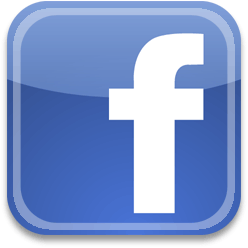 Please join us on 'facebook®' (CLICK HERE), a brand new fan page where you get a chance the catch up or get the latest scoop on what might be of interest to today's distinguished global traveler.
In Next Gazette:
* Paradisus Playa Conchal Resort
| | | |
| --- | --- | --- |
| Dear Friends, | | |
It gives me the greatest pleasure to have been receiving special requests from all over the world, relating to new places to visit and review. As the Seven Stars and Stripes Award has become a household name amongst the affluent global travelers, we are always looking for new locations that grant luxurious comfort, especially in a carbon footprint conscious environment. This month we are featuring Charlie Palmer's Aureole Restaurant in New York City, fascinating on many levels, as it has been created to serve two distinctly different types of sophisticated diners in the heart of the city that doesn't sleep. And allow me to introduce the Iberia Airlines Business Class PLUS flatbed service, which I experienced on my way to Costa Rica from Europe. The culinary adventure above the clouds proved to be excellent. And a new book has just been released about the Tabacon Grand Spa Thermal Resort, which includes photos of the latest Seven Stars and Stripes Green World and Spa Award celebration with Costa Rica's Environmental Minister. Please join us on 'facebook®' (CLICK HERE), a brand new fan page where you get a chance the catch up or get the latest scoop on what might be of interest to today's distinguished global traveler. We applaud Thomas Noll, one of our distinguished advisory board members on the successful Grand Hotel Europe Charity Foundation fundraiser, in which art pieces, some provided by Russian President Dmitry Medvedev and other notables, were auctioned off to the benefit of Russian children and youths for an opportunity to develop and grow, to have decent living conditions and to have a chance to succeed in life.
I remain yours truly
| | |
| --- | --- |
| | |
| | |
| | Thorsten Buehrmann |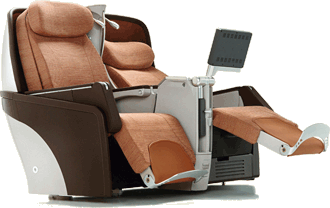 5 Stars and 6 Stripes
With an hour left to my next flight I made sure to experience as much as possible of the ground facilities. These spacious modern halls were delightful and I almost regretted that I didn't have more time. From semi private resting lounges and meeting space to delicious cuisine served on delicate bone china and excellent shower facilities, Madrid's VIP lounge is worth a long layover. I boarded in no time. The crew of flight IB 6313 welcomed us warm and graciously on board; coats and spare luggage was stored quickly. I can say that over the next 10 hours I got to experience and appreciate the 'PLUS' added to Iberia's Business class. It definitely belongs there. ... (CLICK HERE for more)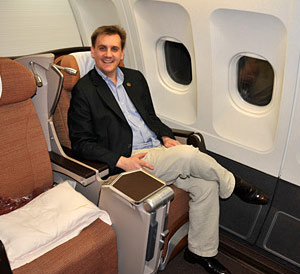 ... About the on-board cuisine, Iberia's innovative Spanish style menu is said to carry the signature of Chef Sergi Arola; his cuisine made my flight! After the menus and wine lists were presented and appropriate time allowed the diner to read about their choices in English and Spanish, a cuisine cart was pulled that showcased the food choices. 'Early diners' were given a chance for faster service to catch more sleep on the 'red eye'. Trained hands with serving tools were safely reaching into the warm breadbasket and the main courses were served either appropriately hot or chilled. (The bread tongs were entirely missing on my return flight.) Mini bottles of organic extra virgin olive oil for dipping and other condiments were part of the table setting of elegant china and solid silverware. ... (CLICK HERE for more)

... But back to the creator of Iberia's board cuisine Sergi Arola; he is considered one of the Spain's highly regarded chefs. It is written that his first love was music, but that cooking had become his calling. I don't know about his music, but his on-board menu was a well-orchestrated potpourri. Arola was trained in Ferrán Adrià's kitchen in Barcelona where he worked alongside 'one of the most creative chefs of the world' for 8 years. Gourmet magazine referred to Ferrán Adrià as 'the Salvador Dali of the kitchen'. Trust me, a flatbed is essential to accommodate today's global business traveler on a long distance flight but it is the little bite-seized things, which make all the difference. ... (CLICK HERE for more)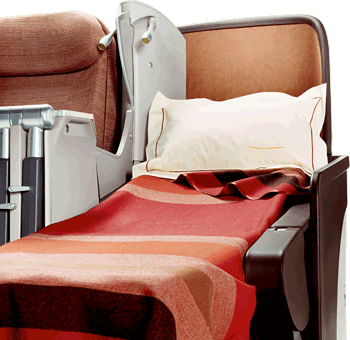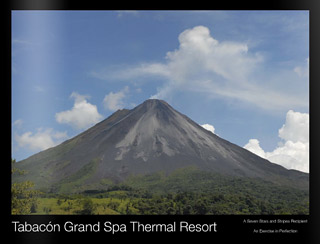 (CLICK HERE TO FLIP THE BOOK!)
Our exquisite hardcover coffee table books, custom designed for each resort, hotel, spa and restaurant, feature highlights and possible excursions of each establishment, along with the Seven Stars and Stripes review and award presentation. These impressive hard cover books, now available in three different styles, are luxuriously wrapped and make great holiday gifts and keepsakes, all the while showing the full potential of what guests may experience. Please 'CLICK and FLIP through the 2009 Seven Stars and Stripes review and award celebration at the Tabacon Grand Spa Thermal Resort - La Fortuna, Costa Rica. Enjoy!
In The Press:
* Boulevard Magazine:
The Oberoi Mauritius (CLICK HERE) >