World Level Perfection - Society
May - 2009
7 Stars & 6 Stripes
Overall - 'Hotel & Service'
The Ultimate Award:
Seven Stars and Stripes®
Having arrived in St. Petersburg, Russia via plane and by train we swear by our unique way of 'crossing the Narva by foot'. We had traveled by town car from Tallinn, Estonia to the border of Northwest Russia, with the Grand Hotel Europe in St. Petersburg as our next destination and crossed the Narva River, which connects Estonia with Russia over an old stone bridge. Medieval fortresses on both sides of the riverbanks are guarding us as we rolled our golden Rimowas over the bridge to Russia. As we opened the door to the immigration house a few friendly lady guards welcomed us. The inquiry after our passports seemed to be just a required, short formality. Russia is open for business and welcomes tourists from all over with open arms.
At the old gate, a Grand Hotel Europe courtesy van was expecting us and we were greeted once again with smiles. "Welcome to Russia" we toasted, after we had taken our seats, with a glass of nicely chilled Dom Pérignon 2000 (CLICK HERE for a closer look) instead of the traditional Russian vodka. A picnic basket full of delicacies with popping-fresh, chilled Russian caviar, fresh fruit and other international and traditional delicacies turned our two hour ride into a leisurely late lunch and time flew by. If you can choose between hopping cities by plane or train or hop borders by foot the way we experienced it, you've got to book this unusual road trip.
Our arrival at the Grand Hotel Europe (CLICK HERE for a closer look) was as spectacular as our first impression of this hotel's stunning architecture. The massive, expertly restored façade (CLICK HERE for a closer look) alone is a visual treat! It is hard to imagine that this landmark hotel was an orphanage in 1917 during the Bolshevik Revolution and then a hospital during the siege of Leningrad from 1941-1944; - today protected and under preservation as historical monument it has a one of a kind location.
| | | |
| --- | --- | --- |
| Founded in 1703, the city is the cultural center of Russia and ranks high on the list of the most beautiful cities in the world. The Grand Hotel Europe is located in the heart of it all, within easy walking distance of many major attractions such as the Arts Square, dominated by a monument to Russia's national poet, Alexander Pushkin. The square is at the center of a 19th century architectural ensemble including the Russian Museum, which boasts the largest collection of Russian art in the world. The Grand Hotel Europe features an abundance of high-priced private art collections in its own ensemble. This hotel is surrounded by some of the world's greatest cultural icons, including the palatial Russian Museum and the alluring Mariinsky Theatre (CLICK HERE for a closer look). We had the good fortune and pleasure of spending a magical afternoon at the GHE's private lounge, witnessing in sheer delight the caprice eloquence of dancing expressions that fascinated the Romanovs and St. Petersburg's 'High Society' already then as it does today. | | Grand Hotel Europe - View |
"301 sumptuously appointed Rooms and Suites - complete with all the 21st century conveniences - convey an elegance unseen since the days of the Tsars, when Dostoevsky and Strauss were frequent visitors." it says in the hotel brochure, and we entirely agree, these 'home away from home' accommodations were designed for people who appreciate the ultimate in style and comfort. The private butler service has been greatly perfected and while the lady butler unpacked my luggage carefully I explored a laptop placed on the secretary ready to log on - and also GHE's embossed signature collection.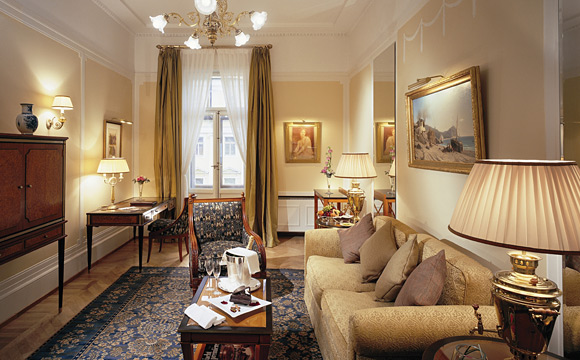 Grand Hotel Europe - Suite
The lady butler had hung my personalized bathrobe (personalized for frequent visitors) and wardrobe up in the spacious closet and placed my belongings in the appropriate drawers. The bedroom plasma TV was discretely hidden in the wall at the end of the bed that was dressed with a comforter set of my preference. It is unfortunately common that in economically challenging times hotel managements often sacrifice service for budget restraints. This is not the case at the Grand Hotel Europe, rather the opposite. General Manager Thomas Noll is in the process of renovating a fleet of suites from top to bottom.
Grand Hotel Europe

"I am back in the U.S.S.R.! You don't know how lucky you are, boy! I am back in the U.S.S.R.!"
~ (Lennon / McCartney)
Sir Paul McCartney was guest of the Grand Hotel Europe '04. Other guests include: Tchaikovsky, Dostoyevsky, and former US President Bill Clinton when he was in office, just to mention a few.
Who would have thought that during the time of our visit we would be invited to a private Russian wine tasting that would run over eight hours? Vodka tasting, yes, we had visited the Vodka History Museum and already got acquainted with centuries of Russian vodka history. There is an exhibition where one can see the first Russian distillation unit, by means of which burning wine was produced in the 15thcentury. But back to our Russian wine tasting, this one was the most elite wine tasting experience we ever attended (CLICK HERE to see the certificate), unsurpassed so far, it went on for eight hours tasting eight flights and since it was by private invitation we may report only that it included a magnum bottle of Margaux from 1900, Chateau d'Yquem 1869 and a Heidsieck Monopole form 1907 (CLICK HERE for a closer look).
Some of these particular bottles were salvaged from a ship that was sank by a German U-boat during World War One and laid 80 meter below sea level for decades. The wines that were presented that night were collector's wines, some eccentric, but most were a connoisseur's delight. Since it was a wine tasting, we feel inclined to play the sommelier's advocate. The sommelier gave an outstanding performance, while the food (presented by an external chef) did not always rise to / or complement these top wines.
| | | |
| --- | --- | --- |
| The Grand Hotel Europe offers five restaurants, two cafés and an amazing bar. Delicious, authentic Russian, French, Italian as well as Asian style dining is available. We especially recommend the 'Sunday Brunch' with live Jazz, a culinary journey that should not be missed. The over the top spread offers extraordinary food, taste sensations of the region's cooking and invites you to an unparalleled culinary journey through Russia and the world. As St. Petersburg's High Society seemed to be delighted, so will you. We are happy to announce that we invite the GHE's new Executive Chef Alexey Kostichkin to join the list of distinctive Seven Star Cuisine™ chefs and applaud the L'Europe's Restaurant team for a fine Seven Star Dining Experience - may we invite you… | | Grand Hotel Europe - L'Europe Restaurant |
The official Seven Stars and Stripes Award presentation and celebration at the Grand Hotel Europe St. Petersburg was partially sponsored by BMW. Russia's High Society recognizes Mr. Christian Kremer, President of BMW Group Russia, not only for his good looks and excellent taste, but also his business skills and fabulous connections. The all-new BMW 7 Series (CLICK HERE for a closer look) stood still at the official Seven Star Award™ presentation, by the main entrance of the GHE and in the presence of a deserving team. Ms. Irina Khlopova and her staff created once again a truly memorable award event, allowing the national and local press and guests to witness the presentation of the world's highest hospitality accolade.
"Visionary Thomas Noll and his team have set a standard in St. Petersburg.
It is unfortunately common that in economically challenging times
hotel managements often sacrifice service for budget restraints.
This is not the case at the Grand Hotel Europe, rather the opposite." ~ TB
by Thorsten & Edmund Buehrmann

Editor: Ingrid Lemme

Editor-in-Chief: John Lomitola
© 2009 ~ Seven Stars and Stripes, Inc.