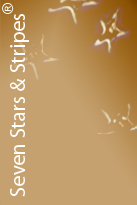 Caviar Bar & Restaurant
St. Petersburg - Russia

Society - World Level Perfection
March - 2007
6 Stars & 7 Stripes
Overall - 'Cuisine & Service'
The Ultimate Award:
Seven Stars and Stripes®

The prominent display that greeted us at the entrance of the newly renovated Caviar Bar in the Grand Hotel Europe was of course caviar. There was several sky blue tins arranged over shaved ice with all the necessary paraphernalia that makes caviar tasting a Russian ritual. Directly next to the caviar was another display competing for recognition. Icy cold bottles of Russian vodka lay waiting for some unsuspecting soul to belly up, take the challenge, and swig the fiery liquid with each spoonful of caviar.
"A hint of caviar is like a small but perfect diamond; it is a declaration,
a suggestion, a promise of more to come." ~ Old Russian Proverb

| | | |
| --- | --- | --- |
| A feeling of intimacy and warmth immediately hits you as you enter the restaurant, all done in fine 'Russian style' on an upscale level. A three-piece musical ensemble of a vocalist supported by violin and bass played softly while we were escorted to our table. The Raynaud dinnerware in black and gold lay discreetly at each place setting elegantly framed by the Robbe & Berking silverware. An open gas fireplace not only added heat at a comfortable level but also mood inducing light, dancing joyfully around our table with every flicker. Above our heads and fastened to the wall, a Faberge look-a-like lamp in the shape of the iconic Russian egg. | | |

"The Raynaud dinnerware in black and gold lay discreetly at each place
setting elegantly framed by the Robbe & Berking silverware." ~ TB
As I glanced around the room, soaking up the environment, I noticed Dmitry Zakharchenko, the Maitre d' in quiet conversation with some of the guests while opening a very chilled bottle of Ruinart Champagne. He finished and strode our way with the very same bottle and two delicate fluted glasses. This was to be our aperitif and welcome drink as well and Dmitry dutifully explained to us that Chardonnay, the dominant grape variety used in all Ruinart cuvees, was the very essence of the Ruinart taste. Dmitry now recommended that we let Executive Chef Yoann Bernard conjure up a tasting menu for us and we agreed.
The formidable Caspian Treasure of assorted beluga, sevruga and osetra caviar served with blinis and all the condiments necessary to make a child out of the Czar came first. It had all the makings of a pirate's secrete stash offering surprises with each mini spoonful. If I had to choose one seafood dish that stood out it would have to be the Czar style Kamchatka Crab topped with beluga caviar and champagne sauce. Succulent pieces of sweet crab legs contrasting delicately with the buttery, salty fresh taste of the grey pearls of caviar proved to be the right combination of flavors and textures. Surely, the most unusual entrée served at our tasting was the Siberian Bear Stew served with vegetable composition and sweet garlic mashed potatoes. I was amazed that I could have eaten bear although I must say that it had a flavor reminiscent of venison and texture of beef. After tasting the Siberian Bear Stew I slowed right down and decided to reserve some room for the dessert. Russian Blinis stuffed with Berries, champagne sabayon and vanilla ice cream was the ticket. I couldn't resist at all even though throughout the review I ate like it was my last meal and ordered a strong Russian tea with a snifter of Martell Cordon Bleu cognac. It was exceptionally smooth and round with a mellowness and complexity no doubt due to high proportion of Borderies grapes. I closed my eyes and focused on the velvety liquid as it worked to facilitate my strong desire for restful sleep.
2007 Award-Hand-Out: Caviar Bar & Restaurant, St. Petersburg - Russia
by Thorsten Buehrmann & Arno Goudschaal

Editor: John Lomitola

Editor-in-Chief: Ingrid Lemme
© 2007 ~ Seven Stars and Stripes, Inc.