Society - World Level Perfection
July - 2006
6 Stars & 7 Stripes
Hotel & Service

The Ultimate Award:
Seven Stars and Stripes®
There was a noticeable buzz throughout the airport after we landed in St Petersburg, Russia in the middle of July. The apparent excitement seemed to be that St Petersburg, one of the most fascinating cities of the world, is emerging as the new tourism capital of Eastern Europe and is seemingly on its way to overtaking the rest of the continent. Our driver from the Grand Hotel Europe welcomed us at the gate, took the luggage and guided us with care to the BMW town car that was parked at the very main entrance. St, Petersburg is known as the Venice of the North, Europe's 4th largest city and it easily attracts several million visitors annually from all over the world. One of St. Petersburg's main attraction sites, the 'Peterhof' was recently the meeting site for the G8 Summer Summit, 2006 and the Grand Hotel Europe was proud to host some of the delegations at their Grand Hotel.
| | | |
| --- | --- | --- |
| The Grand Hotel Europe is an illustrious 19th century landmark, dating back to pre-revolutionary times, most conveniently located in the center of living history. The eternal city of the Czars was tinted by a glorious blue summer sky with temperatures souring in the 80's. We barely recognized the city from our last visit in the winter. Don't get me wrong, St. Petersburg us a must experience during its winter wonderland season as when it is in the midst of the phenomenon what is called 'White Nights'. Although 'White Nights' are not just unique to St Petersburg, it is not felt as intense anywhere as it is here. Indeed, the air was almost electric. | | |
Poets have for centuries tried to express in words all the excitement. No other city we ever visited was able to match the 'feeling' on the streets, the banks of the rivers and canals of St. Petersburg - romantic, vibrant, friendly with people in love holding hands throughout the (almost daylight) night. Indeed, the air was almost electric.
"But it's not just the aesthetic makeover; it's the service mentality that goes with it." ~ TB
| | | |
| --- | --- | --- |
| | | Our arrival at the Grand Hotel Europe was of grand style. Originally built in 1824 as a grand mansion and opened in 1991 in its present form after a multi million-dollar renovation, the GHE is truly the Princess of St Petersburg. Check-inn was smooth, all our records were complete, and we felt embraced as good friends; ultimate service begins with a name. |
As we followed a member of the bell staff (the lady displayed a quite eloquent demeanor) we noticed that many of the hallways were carefully re-designed in fashionable pinks thereby adding an exciting larger appearing environment just like that. We were happily engaging the senses already even before the doors opened to our accommodations.
| | | |
| --- | --- | --- |
| The newly decorated suite reminded me on a sanctuary; here the designers altered the colors to a softer yellow, setting the mood on more 'relax'! But it's not just the aesthetic makeover; it's the service mentality that goes with it. A basket of fresh exotic fruits with a load of dark luscious 'Bing' cherries was nicely placed on the table. | | |
While we were unpacking our RIMOWA®s: A few minutes later a careful knocking at the door announced the arrival of a tray with a crystal bowl on it filled with at least a quarter pound of iced Russian caviar and mini blinis, fresh sour-crème and all the trimmings including a bottle of deep-iced Premium vodka - definitely a nice touch. I tasted the exceptional caviar immediately and as a tribute to Russian tradition, I poured an icy cold shot of "The Jewel of Russia" premium vodka to salute our gracious hosts at the GHE. Looking up from the caviar I noticed that the plasma TV was appropriately hidden at the end of a luxurious bed, released from its trunk by just the touch of a button. It is hard to imagine but the Grand Hotel Europe was an orphanage in 1917 during the Bolshevik Revolution and a hospital during the siege of Leningrad from 1941-1944. My goodness, it has come a long way since then!!
| | | |
| --- | --- | --- |
| | | Today the building is a national and cultural gem of a landmark and under preservation as a historical monument. Grand Hotel Europe's GM Thomas Noll is reaching for the ultimate star. Suites of extravagant spaciousness, added elegant touches and furnishings, he strives for word level perfection. The little chocolate favors I found every night by my bedside were equally of world level perfection. Delicious old-fashioned homemade gourmet pralines made for perfect little gifts in perfect little boxes. |
And after an international breakfast feast of unheard dimensions the next morning we paid a visit to 'Dominique's', a chocolate factory on the Mezzanine level. The Mezzanine is an airy 'Paris-in Spring'- style atrium café house serving a light fare, delicate cakes & pastries and an inspired selection of international coffees and teas.
| | | |
| --- | --- | --- |
| Soothing music by a live harpist (a beautiful lady looking like an angel) purveyed a tranquil feeling. The sinful chocolates products are handmade from scratch the old fashioned way using only the finest ingredients - some were filled with fruits and some with vodka-flavored creams. We searched for the chocolate creator who is world renowned for his food-art and one of the most important figures as well as a cornerstone of the new French cuisine: Dominique Ferchaud. | | |
Unlike large chocolate factories, Ferchaud makes his delicacies fresh daily and believe me, one can taste that. Proudly he points out the colorful variety of confections from carefully selected strawberries and cherries, hand-dipped in luscious white, milk and dark chocolates to fudges, brittles and clusters. The packaging is also what is so important as these little golden chocolate boxes are works of art and alone are worth it as collector's items. His workshop also features an impressive array of chocolates and fudges for sugar-restricted diets. We sampled excessively!
American Dream Cuisine™
Restaurant: Caviar Bar & Restaurant
St. Petersburg - Russia

Society - World Level Perfection
June - 2006
6 Stars & 7 Stripes
Cuisine & Service

The Ultimate Award:
Seven Stars and Stripes®
It was the crystal clear voice of an aria supported by a classical ensemble that drew me towards the entrance to the restaurant. My recollection of last year was impressive with visions of friendly and intimate service pleasantly interwoven with time honored traditional ceremonies from the elite establishments of days gone by. This is the heart of Mother Russia! This is Russian society in the midst of passionate delight! This is the Caviar Bar Restaurant of the Grand Hotel Europe at the height of grace and elegance! This is an establishment that is cleverly full of life!
I came to discover that in this fine eatery, guests are not only welcomed but also honored and revered.
| | | |
| --- | --- | --- |
| It is no secret that 27 year-old Executive Chef Yoann Bernard was recently recruited by the indomitable Dominique Ferchaud to head up the Grand Hotel Europe's two fine restaurants. Ferchaud had the distinction of being the first chef in Russia to become a member of the "Maitres Cuisiniers de France", and continues to oversee culinary operations for GHE. Chef Bernard's gastronomical career began early in his life in Brittany and continued gathering steam until his most recent stint at the Michelin-starred Lido in Marbella, Spain. All along his culinary career was acutely influenced by the diverse cooking styles and traditions of the world while he concentrated on taking the very best from every chef thus gradually creating his own unique style. | | |
It was Maitre d'hotel Anton Andreev who suggested that it would be very good fortune to be seated next to the legendary 'Gargoyle' fountain, which has been billowing positive liquid vibrations for 130 years or so. We agreed so long as we were also in close proximity to the fabulous overflowing vodka display for more immediate gratification. After all, 70 kinds of Russian vodka including several distinctive infused styles were paired next to three varieties of black caviar. What could be luckier than that! It was now time for Chef Bernard to work his magic on us as we began to savor some of the beluga, sevruga and osetia caviars paired with an especially smooth, deep chilled bottle of Tsarskay Gold Vodka.
| | | |
| --- | --- | --- |
| | | After the 'Caspian Treasure' of assorted caviar, our dining experience continued with Grilled Gambas Marinated in Ginger and served with Roasted Pineapple and Rosemary, Coconut and Cardamom Emulsion. Only a bottle of super-chilled Louis Roederer Brut Premier NV could hold up to the potent cogent flavors in the exotic emulsion surrounding the delicately grilled gambas. This youthful, fresh but well-structured wine offers its fine bubbles full of the flavors of red berries and elegant notes of toasted almonds. |
Working from his clean well-structured kitchen, Chef Bernard together with his highly trained international team sent out the next course of Seared Brittany Sea Bass with Composition of Vegetables and Beetroot Puree. As a tribute to his French roots and an appropriate match for the typically French provincial sea bass preparation, a bottle of Puilly-Fuisse L'Ancien Prieure Regnard, 2001 was uncorked for the table. The stony mineral flavors, clean acidity and perfumey personality of this classic Burgundy white worked to add depth and character to the sea bass and vegetable concept.
Our appetites abated, we began to crave something sweet to finish the event and decided to introduce a jolt of heavenly French roasted espresso and cappuccino. As we sipped the rich steamy golden brown liquid, our server brought us Warm Blinis served with Fresh Red Berry Coulis over Vanilla ice cream. A couple of deep golden glasses of Cordier Sautern, 2003 were provided as a complement to this fine dessert and rightly so as its sufficient amount of residual sugar elegantly supported the buckwheat blinis.
All along we had the content feeling of being in the secure hands of a master chef and his competent team. The consensus is that Executive Chef Yoann Bernard under the capable tutelage of his mentor Dominique Ferchaud, will succeed at his new outpost at the Grand Hotel Europe, St. Petersburg the new cuisine capital of Eastern Europe.

Thorsten Buehrmann & Yoann Bernard
That evening after an unforgettable, taste altering dinner experience at the Caviar Bar, we proceeded to our suite for the night. I felt like I had died and gone to heaven. Beds are dressed with sheets and mattresses of superb quality, the kind we are used to from home. The bathrooms feature charming black & white marble with classic golden mirrors and matching gold accent faucets and showerheads. Americans will appreciate the European closets and I found it freeing to adjust the in-room climate control to my own level of comfort. WIFI was easy to access, no hassle, no scratch cards as all it took was a code (nicely presented in a letter from the business center) and the push of a button on my keyboard and I had access to my office in New York. An electronic in-room safe allowed for storage of valuable items, but we didn't find it necessary to use. I woke up the next morning ready for a great summer day in the city of the Romanoffs.
| | | |
| --- | --- | --- |
| | | Breakfast finds a perennial welcome at the Grand Hotel Europe, thanks to Ferchaud's creative influence. As a result the city's Grande Dame serves a more seamless fusion of delicious global morning flavors. The allure with caviar runs strong, rewriting the 'dos and don'ts' of modern caviar presentation. True to the July harvest season the champagne was served with fresh cherries instead of strawberries. Believe it or not, I had a herring fillet in curry cream sauce, a real treat. I spent quite some time at the 'cold table' testing from the expansive array of temptingly presented salads, a selection of local and international freshly cooked and smoked fish, hearty cold cuts, fruits and wonderful breads & rolls. I was quite impressed with a smaller table that was dedicated to delicious international jams and marmalades, nicely presented and easily accessible. Superlative ingredients - besides the ever-present creations of caviar, Ferchaud emphasizes his delights from a global point of view. |
The GHE reinvented itself once again in the light of globalization and ever emerging new breakfast trends. The fact that the place was packed had no negative impact on the level or service.
No visit to St. Petersburg would be complete without a day-trip to Peterhof Palace. We freshened up quickly in the privacy of our accommodations and met half an hour later with our tour guide at the bustling main lobby for a day trip that is a must when one visits the city of the czars. Peterhof is a one-of-a-kind fairytale kingdom, which includes world renowned palaces, fountains and parks. It is a superior landmark of 18 -19th century Russian Empire culture.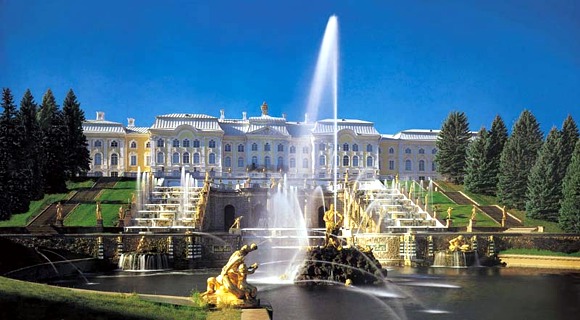 © by The Peterhof State Museum-Reserve
The magic estate is situated circa 20 miles west of St. Petersburg, on the Baltic coast and it took us less then an hour get there from the hotel's main entrance. That included a 15 minutes ride in a BWW town car to the docking place of a hydrofoil speed boat. Peterhof is often referred to as the 'Russian Versailles' and then the 'Capital of Russian Fountains' - referring to over 170 fascinating water features of various shapes and forms. The 'Grand Cascade', which runs downhill from the palace towards the sea is one of the largest waterworks-of-art ensembles in the world and beyond comprehension.
| | | |
| --- | --- | --- |
| It became quickly apparant to us that these water arts are the quintessence of this breathtaking place and can only be compared with Versailles. Interestingly enough, the water displays and fountains are fed by natural powers of century-old underground structures and working pressure systems that perform just perfectly to this day. One hears surprised happy little screams on of off from visitors caught by the sudden little water spirits. It felt as if the fountains almost possess a life on their own, ever teasing, entertaining and engaging entire groups of people. | | |
Exquisite Royal formal gardens display romantic pavilions that invite anyone to stay and admire the ornate statues of preciously preserved ancient gods and mystical creatures. The picturesque fairytale palaces feature remarkable collections of art in various forms. The splendor is indescribable. Visitors can take guided tours of these splendid halls or simply spend the day strolling through the ever-changing gardens. To our surprise we met a couple of magnificent looking people in perfect 16th century period costumes. As it turned out, after all, we were more than slightly underdressed. The Grand palace is an amazingly ornate structure built originally to rival the Palace of Versailles by Russian Emperor Peter the Great and in 1917 it became public property. Peterhof was recently chosen as the meeting site for the G8 Summer Summit, 2006.
Back at the hotel after an exciting day of impressions that will last for a lifetime there was little left to top this day, or so I thought. Back in my suite I took a relaxing bath, called my wife and got dressed for dinner at the L'Europe and as I should soon find out, it is one of the most stirring restaurants of the world. We had dinner reservations for 8 pm.
American Dream Cuisine™
Restaurant: L'Europe
St. Petersburg - Russia

Society - World Level Perfection
June - 2006
6 Stars & 7 Stripes
Cuisine & Service

The Ultimate Award:
Seven Stars and Stripes®
It's amazing to think that Restaurant L'Europe has evolved in so many positive ways since the last time our team of culinary experts paid a visit in 2005. We returned recently to find that this elegant restaurant, which is established in a category all its own, has taken on the brilliant talents of the youthful French chef Yoann Bernard under the mentoring of his good friend and colleague Dominique Ferchaud. L'Europe has emerged in the focal point of culinary sophistication with its inspired Russian and Continental fare calling to mind the glorious and heady days of pre-revolutionary Russia. Recipes are carefully developed to reflect the bygone days when royalty reigned supreme, combined with a thorough sprinkling of modern French cooking techniques and plate presentations.
| | | |
| --- | --- | --- |
| The fabulous Art Nouveau interior is ever present and adds to the tremendous ambiance with hand crafted stained-glass windows and carefully chosen antique furnishings. Comfort is complete as the physical layout of cathedral ceilings surrounded by pleasing earth tones of lavender, cream and gold works well to soften the tone and make it conducive for unrivalled fine dining. | | |
Chef Bernard's performance during our visit was impeccable as he focused on some of his personal favorites that he brought with him from his birthplace in Brittany. First up was Cucumber and Baby Shrimp floured with Tarragon and served with Cold Borsch Mousse, which proved to be an interesting blend of French and Russian cultural finesse. A well-chilled bottle of Louis Roederer Brut, NV added character to the appetizer with its extremely fine bubbles and long but subtle white fruit finish. A quick glance up while sipping the straw gold liquid drew my eyes to the cool vaulted interior framing the stained glass ceiling hanging over us as if suspended from the sky. Our server Pavel working with headwaiter Vitaly quietly cleared for the next course of Duck Liver "Nugat" served with Orange Tuile and Pear and Green Apple. It was beyond a doubt the most refined rich flavor and creamy smooth texture fittingly positioned next to a 'tuile' or thin, crisp cookie made from crushed almonds and orange zest. A deep energetic amber colored 2003 Sauternes A.O.C. provided the warmth needed to pair with creamy delicate opulent 'nugat' of duck liver.
Brittany Turbot served with Lemon-Tomato Confit, Green Asparagus and shaved Chorizo in Basil Emulsion was the next choice emanating from Chef Bernard's well-organized efficient kitchen. Food and Beverage Director Daniel Burkhard hovered over our table bringing with him a very fine bottle of 2003 Chablis Premier Cru Les Vaillons, Domaine Pinson as his professional suggestion to match with this course. A light fruit nose of lemon oil and spicy oak proved to be easygoing with a creamy texture resembling woven silk cloth. There was a sudden bustle of activity as the servers prepared the table for an intermezzo of Passionfruit Granite with a shot of Grenadine syrup, a delightfully refreshing, pleasing concoction designed to 'shock' the palate thereby getting it ready for the main event. Chef Yoann pulled out all the stops by resorting to the traditional 'Bretton' method of preparation for the delicate Veal Filet served with Baby Carrots, Braised Lettuce, Mushroom 'Cigarette' and Balsamic Jus, reaching all the way back to his roots in France for this recipe. Another fine pairing was presented for this entrée in the form of a 2002 Crozes-Hermitage La Rollande, Charles Brotte from the Rhône valley. This simple but elegant wine is made entirely of syrah grapes thereby imparting a delicate nose of flowering violets with a spicy pepper finish. As we finished our entrées and prepared ourselves for the sweet pleasures of dessert and cordials, we mused at the possibility that Chef Yoann Bernard has in fact stepped up to meet the challenge of continued success and prosperity at his outpost in St. Petersburg. We couldn't think of a finer venue for him to prove his mettle and establish himself among the great chefs of Europe.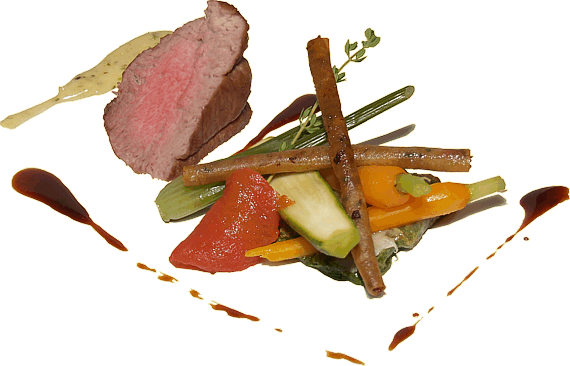 "L'Europe has emerged in the focal point of culinary sophistication with its inspired Russian and
Continental fare calling to mind the glorious and heady days of pre-revolutionary Russia" ~ TB
Lime Crème Brulee served with Fresh Pinapple Salsa and Coconut Sorbet/Emulsion came to be presented to us along with two short glasses of Taylor's 20 yr. old Tawny Port and double espresso. It is becoming progressively more accepted that Grand Hotel Europe has moved into position as one of the greatest locations in the world for gourmet chocolate creations. It is the brainchild of Executive Chef Dominique Ferchaud using his incredible creativity to begin offering GHE's own line of flawlessly exquisite house made chocolate handiwork. It seems that along with his secrete blend of several premium cocoas and flavorings, he has designed an irresistible delicacy strong enough to woo the most discerning chocolate lover into his embrace.
As if we all didn't want the night to end after this 'celebration meal' we all decided to stop for a nightcap at the Lobby Bar. Cognac was the final selection to accompany the addictive chocolates while afterward a late night star-gaze over the city of St Petersburg could produce just the right bedtime medicine for a restful sleep.
| | | |
| --- | --- | --- |
| Turns out that the new hotel manager comes from a family of hoteliers and coffee & chocolate pioneers from Italy. His grand parents founded 'La Casa del Caffe'; the world is so small. Alessandro Cabella is a people person, no wonder - he was practically born in the hospitality industry. Daniel Burckhard, the highly professional and knowledgeable F&B manger, with a great eye for the smallest detail turns out to be from Switzerland and that's how we got to taste a Swiss vodka called Xellent® - supposedly 'The Spirit of Switzerland'. For as long as anyone can remember the Russians and Poles are arguing about who was first to distill vodka noting that 'voda' is a Russian word for water. One thing is certain; it wasn't the Swiss. It was great evening. | | |
Back at my suite I was so tired that I didn't indulge in the carefully placed 'good night chocolates' on my nightstand. Unfortunately I had a message on my answer machine to call my office in New York. But since the New Yorkers are about 7 hours behind St. Petersburg, I couldn't think of any good excuse not to call them back ;)~ oh well. Finally I fell into amazing luxurious sheets and went to heaven.
I woke up the next morning from a sleep as deep the as the Baltic Sea, and found my bedroom already perfectly conditioned, complying to the summer heat outside. The sky was of a deep blue and there were no clouds, reminding me a bit on Florida in March. I slipped into my fluffy bathrobe noticed that as a nice touch, frequently returning guests find these personalized in their accommodations upon arrival.
"Ladies and Gentlemen - may I have your attention please? …." ~ TB
My team had scheduled the Steven Stars and Stripes Award® presentation for the morning of our departure. The local press was patiently expecting our appearance at the Grande Staircase; already present was the upper management surrounded by some members of the staff. The new hotel manager Alessandro Cabella, who had joined this winning team a few months earlier, accompanied Thomas Noll the GM. Noll is known for choosing only the most capable people for his teams. Alessandro Cabella graduated from the famous hotel school in Glion, Italy and is hands-on like Noll as well as multi lingual and capable of multi tasking. Alessandro has worked with the finest institutions such as Shangri-La Hotels & Resorts, was also VP for F&B at Le Meridien Hotels & Resorts while overseeing 136 of their hotels. Raising the bar is their mission. But it was my turn and the cameras were clicking. Seven Stars and Stripes® awarded the Grand Hotel Europe in St. Petersburg Russia with Six Stars and Seven Stripes for 2006. The positive change off the staff allowed us this year to grant 7 stripes for ultimate customer service. Noll's focus on retraining his front-of-the-house people has paid off. We are looking most positively forward to 2007 and beyond.
"Noll and Cabella are a dynamic team, both a perfect fit as patrons of a new emerging talent in the industry.
The staff clearly feels privileged to be associated with them." ~ TB
by Thorsten Buehrmann & Arno Goudschaal

Editor: Ingrid Lemme,

Editor-in-Chief: John Lomitola
© 2006 ~ Seven Stars and Stripes, Inc.