Paradisus Playa Conchal, Costa Rica
'The Table Restaurant', NY - USA
'Tabacon', FLIP Book
Seven Stars and Stripes > facebook®
NEXT: Hotel Hessischer Hof - Germany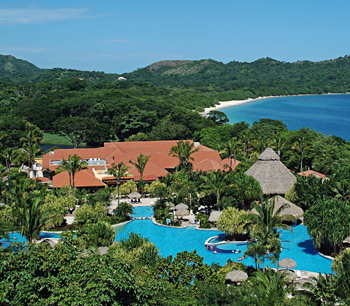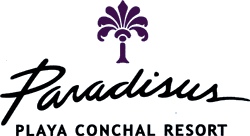 'Royal Service'
Sta. Cruz Guanacaste - Costa Rica

4 Stars and 5 Stripes
The well maintained large vacation complex offers over four hundred suites and villas of which approximately one hundred allow butler service. Our accommodations were located in one of the higher buildings with garden views and turned out to be very pleasant held in sand beige colors and furnished with unforgiving, classy, chic dark wood. The floors were of squeaky clean, cool stone tiles that continued out unto the balcony and granted every one of the look-a-like suites plenty of privacy. Other accommodations allow guests views over the freeform pool area or the jungle and some have ocean views. Described as a "... wonderland between the lush forests and pristine beaches of Costa Rica's magnificent North Pacific Rivera..." this tropical, sprawling paradise has a lot to give. The Paradisus Playa Conchal resort offers "an abundance of location-inspired tropical activities including an array of sports, life-enriching classes, ... (CLICK HERE for more)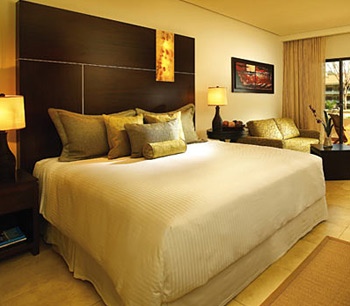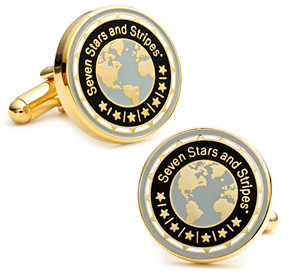 Seven Stars and Stripes Inc. now offers, for the first time, this extraordinary, custom designed 'His & Her Seven Stars Cufflink set. Limited Edition.
Congratulations to all, from your Guests and from Seven Stars and Stripes:
For your visible commitment to excellence.
For your willingness to be recognized for your latest innovations.
For your devotion to your staff and company.
For your ability to receive.
For your decision to raise the bar.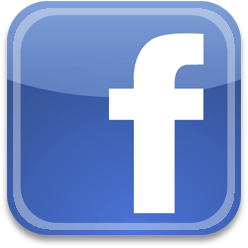 Please join us on 'facebook® (CLICK HERE), a brand new fan page where you get a chance the catch up or get the latest scoop on what might be of interest to todays distinguished global traveler.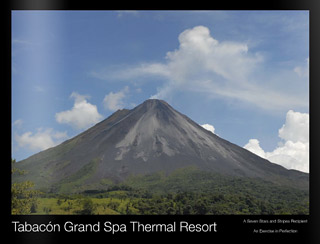 (CLICK HERE TO FLIP THE BOOK!)
Our exquisite hardcover coffee table books, custom designed for each resort, hotel, spa and restaurant, feature highlights and possible excursions of each establishment, along with the Seven Stars and Stripes review and award presentation. These impressive hard cover books, now available in three different styles, are luxuriously wrapped and make great holiday gifts and keepsakes, all the while showing the full potential of what guests may experience. Please 'CLICK and FLIP through the 2009 Seven Stars and Stripes review and award celebration at the Tabacon Grand Spa Thermal Resort - La Fortuna, Costa Rica. Enjoy!
In Next Gazette:
* Hotel Hessischer Hof - Germany
In The Press:
* Tico Times, Central America:
Seven Stars Green World Award™
(CLICK HERE) >
| | | |
| --- | --- | --- |
| Dear Friends, | | |
With March knocking at your door and spring just around the corner, you might be ready and itching for an escape. How about a Vitamin D booster to satisfy those itches? March and April is the perfect time to visit Costa Rica. We had spent a few days at the incomparable Tabacón Grand Spa Thermal Resort at the foothills of the Arenal Volcano last fall and while there we had discovered another of Costa Rica's famous jungle resorts, the Paradisus Playa Conchal. Described as a "... wonderland between the lush forests and pristine beaches of Costa Rica's magnificent North Pacific Rivera..." this tropical, sprawling paradise has a lot to give. If you are visiting the Hamptons this spring or summer, let us inspire you to discover also the North Shore of Long Island. The region is not only renown for its famous Long Island wines and rustic farms and as a result, is drawing many from all parts of the Hamptons. Here we discovered an exceptional restaurant: 'The Table Restaurant' at The North Fork Table and Inn, formerly the Coeur des Vignes. The Inn is managed and run by two culinary stars from Manhattan, Chef Gerard Hayden (Aureole, Amuse) and his wife Claudia Fleming (Gramercy Tavern) the Inn's pastry chef. The food, service and ambiance at The Table are on par with the very best Manhattan and Long Island has to offer. Hailing next month from Frankfurt, Germany and the Hotel Hessischer Hof, the city's only luxury hotel that is still privately held by a family foundation of the barons and princesses von Hessen.
I remain yours truly
| | |
| --- | --- |
| | |
| | |
| | Thorsten Buehrmann |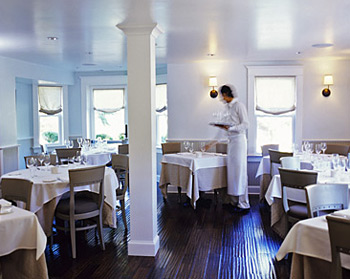 'The Table'
Southhold, NY, USA

5 Stars and 5 Stripes
Our meal got off to a great start with a basket filled with an assortment of crisp local breads and butter. Our waitress/server was charming, knowledgeable and extremely helpful in describing each course. Rita and I waited with great anticipaiton as our server brought the first course to the table. What we saw was a beautifully arranged shimmering pink filet of Organic Scottish Salmon & Yukon Gold Potato Cake with Truffled Tartar Sauce and Herb Salad. The added presence of golden straw colored Yukon Gold Potatoes provided an appealing contrast to the eye and promoted a gradual appetite arrousal simply by visual admiration of the dish. The Salmon was delicate and flaky with a noticeable fresh ocean aroma and a sublime flavor. ... (CLICK HERE for more)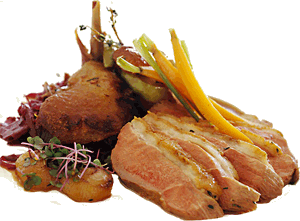 ... The wine presented for this course proved to be a dry, fruit driven Riesling, Kung Fu Girl, Charles Smith, 2008 Columbia Valley, WA, with low alcohol and brisk acidity thereby providing the necessary compliment to the salmon. A second appetizer of Sautéed Peconic Bay Scallops with Meyer Lemon Vinaigrette and Micro Greens arrived shortly thereafter. We marveled at the bright crimson color of shredded pieces of radish adorning the entire dish creatively mixed together with wedges of orange and mixed micro greens. The wine paring was an especially crisp Alsatian style Pinot Blanc, Lieb Cellars, 2007 Mattituck, NY, with honeyed floral notes, and a big creamy palate. ... (CLICK HERE for more)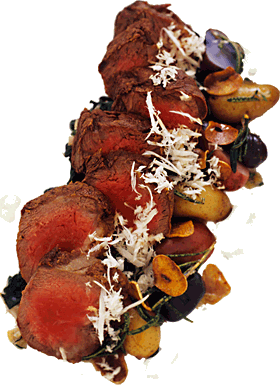 ... We were acutely aware after the first two courses that we were headed in the right direction in terms of a polished, creative and flavorful experience. Next up, Long Island Duck Breast with Chanterelle Mushrooms and Roasted Butternut Squash-Orange Puree appeared from the kitchen resembling a three-dimensional work or art. Crispy skin atop tender duck breast sliced thinly to reveal perfectly broiled juicy meat instigated an immediate reach for a taste. The portion was that of half a duck including the leg together with a few cippolini onions, whole baby carrots and the almost magical sautéed chanterelles. ... (CLICK HERE for more)