Grand Spa Thermal Resort
La Fortuna - Costa Rica

Society - Extraordanary
November - 2009
6 Stars & 5 Stripes
Overall - 'Resort & Service'
The Ultimate Award:
Seven Stars and Stripes®
Not so long ago travelling into the jungle was a thing for professionals and adventurers who were comfortable with a tent or a simple hut. Times have changed dramatically; luxurious jungle lodging is today offered all around the world to the discerning adventure traveler. Though the volcanologists, zoologists and eco-tourist will most likely assure you that high thread-count sheets or jungle facials are not what they came for, but might have influenced their destination decision.
| | | |
| --- | --- | --- |
| The Tabacón Grand Spa Thermal Resort of Costa Rica belongs on the top of that list. There are several airlines that provide nonstop service from the US to Costa Rica, but there is only one from Europe that flies nonstop to San Jose, Iberia Airlines, and their Business Class Plus service (CLICK HERE for a DETAILED IBERIA REVIEW) proved to be excellent. We embarked in Madrid, Spain and experienced great service and delicious on-board cuisine, with a few fabulous Spanish wines and several hours of flat bed sleep. This Iberia team kept us comfortable during the entire ten-hour flight. | | |
Arrival at Juan Santamaria International Airport, San Jose on a relatively quiet Sunday was no more than a quick and flawless formality and in no time Tabacón's VIP Service Shuttle team welcomed us graciously and offered us cool towels, refreshments and canapés. On the way to our destination these casually meandering, but sometimes steep roads kept us on alert until we arrived safely, marveling at the exotic luscious panorama of this famous eco-sensitive resort. Welcome (PHOTO TOUR - CLICK HERE) and check-in was once again celebrated in traditional Tabacón style, with grand smiles, cool towels and a chilled exotic welcome drink. My accommodations were luxuriously designed with floor to ceiling panorama windows that allowed me to feel, hear, breath and encounter the jungle without ever jeopardizing my level of comfort.
My corner suite (PHOTO TOUR - CLICK HERE) displayed the look that combines traditional detailing with the clean lines of contemporary style and art, allowing the romantic baldachin boudoir-styled bed to be the centerpiece without letting it takeover the room. Cool, clean natural stone floors corresponded with elegant furniture of solid mahogany. Suite 508 displayed also opulent bath facilities, decorated with interesting sculptures, the flowers of the land and designer soaps and toiletries by Molton Brown. Besides, one can see the fascinating living jungle in the shower as well as from the oversized bathtub. The landscape atmosphere is nature embracing and is felt practically everywhere in the suite, including the bar and desk.
| | | |
| --- | --- | --- |
| | | The designer enhanced the beauty of the suite at night through decorative back lighting of the nicely stocked round marble bar table. Lighting had also been placed in the front of the bathtub, bringing forth the beauty of the veins of the natural stone through creative positioning. But nothing compares with the view of the volcano when you open your eyes in the morning; this is truly unique. I had ordered my wakeup call with impromptu room service and it was perfectly timed and executed. Soon I was sipping on a hot freshly brewed cup of coffee that was grown and roasted locally and this cup would keep me going for a day… |
One of the most unusual natural mineral water spas of the world was beckoning me that day and I couldn't wait to get there. Natural hot mineral water, heated deep within the earth, high in minerals and legendary for its healing powers are feeding chemical free waterfalls and natural lagoons on-site. Tabacón's hot springs are 97% rain-based and 3% magma-based. The 3 Mineral Spring Waters of Tabacon were examined by the leading German water research company Fresenius and the evaluation as Heilwasser / Healing water in 2008 which refers to the highest quality standard under German Law. People visit Tabacón from all over the world and are comparing the Grand Spa minerals springs with the thermal water spas of Baden-Baden, Vichy and Evian. Europeans especially, are aware of the health benefits of mineral water spas and visit them frequently for their healing attributes, and cherish Tabacón's location.
Tabacón Grand Spa - (PHOTO TOUR - CLICK HERE) also specializes in hydrotherapy and volcanic mud therapies, as well as massages and skin-care. After relaxing in the hot springs I was scheduled for a couple of signatures therapies and treatments in the midst of Tabacón Grand Spa's lively surroundings. Tabacón's signature massage started with a light stretching to loosen my jetlagged muscles, then moved slowly towards a softer version of a deep tissue and ended with me being battered with an organic, detoxifying and exfoliating mud, full of curative minerals from the Arenal Volcano.
| | | |
| --- | --- | --- |
| It was an amazing experience so far but it became even more interesting as I got up from the massage table and was asked to step into a warm natural mineral pool to soak off the mud. The intimate estuary was part of a natural hot spring that allowed the flow of water to gently wash the mud away. I don't think that I felt more relaxed and cared for as in that moment. I closed my eyes and listened to the sounds of the tropical rain forest, the chatter of monkeys, the songs of the birds and the serendipitous splashing, running waters of the pools and springs. | | |
Paradise found - (PHOTO TOUR - CLICK HERE). There are about a dozen outdoor treatment rooms, all with their own jet pools and plenty of privacy granted through evergreen walls, each one secluded at the end of a meandering pathway. After a refreshing glass of tropical fruit juice in the Grand Spa pool, I was on the way to my outdoor Gentlemen's facial 'Para Caballero', a 75-minute men's facial with exfoliation, massage and a professional peel off mask. This treatment was designed to deep cleanse, soothe, increase circulation, penetrate the pores and it left my face radiant looking and toned.
| | | |
| --- | --- | --- |
| | | It was a truly exquisite experience; the esthetician was a master of her trade and the result instantaneous. A well executed facial will put anyone into a relaxed and rejuvenated state, but at the Grand Spa, surrounded by the sounds and sights of the rain forest, the effect penetrates more than ones skin, it touches ones soul. Later that afternoon it was time for 'Temazcal' - (PHOTO TOUR - CLICK HERE), a steam bath ritual that was used for spiritual and physical cleansing in Mesoamerican cultures. A temazcal is a type of sweat lodge that originated with pre-Hispanic Indigenous peoples in Mesoamerica. |
In ancient times it was used as part of a curative ceremony and thought to purify the body after physical exertion, such as after a battle or a ceremonial ball game. It was also used for healing the sick, improving health, and for women to give birth. It continues to be used today in Indigenous cultures of Mexico and Central America that were part of the ancient Mesoamerican region for spiritual and health reasons. The Grand Spa, always seeking innovation in its treatments, has opened the HUEY TEMAZCAL AAHUATLAN, an exclusive therapy based on these ancient Mesoamerican rituals.
This therapy was the first of its kind in Costa Rica and is the only one worldwide known to be found in the energy field of an active volcanic environment. This worthwhile, possibly life changing experience takes place in a womb-like structure, where energy from the center of the earth and from all four winds is summoned and flows in circular motion, in direct relation to the natural elements which make up this magical place: Earth, Water, Fire and Air. The Grand Spa as I experienced it that day, fully emigrated in its environment as a part of its natural surroundings, is a Green project with little carbon footprint that GM Uwe Wagner takes very serious.
A visit at the Tabacón Grand Spa should also include a few adventure excursions. On our last visit we made unforgettable memories by soaring through treetops like Tarzan and took a tour on a raft down the river where we got to see all kinds of exotic rainforest birds, howler monkeys and huge crocodiles. Soaring over the jungle on famed zip-lines was one of the most exhilarating experiences for me with platforms connected by thick cables stretching across this active jungle. Sky Tram & Trek Tour (PHOTO TOUR - CLICK HERE)
| | | |
| --- | --- | --- |
| We were strapped into harnesses, clipped onto the cables and sent flying from one platform to the next while our adrenalin was brought to boil. Another excursion that you should not miss is a tour with an inflatable raft down the river, which gets you in very close proximity to an unusual assortment of wildlife. You don't have to be a pro to ride the tame rivers; we had a knowledgeable guide who presented us with plenty of opportunity to try the skill. We also got ample opportunity for wildlife viewing, sometimes closer then we wanted to. We wouldn't have missed it for the world. We had been promised that an excursion on the silent air raft would grant us the opportunity to experience the jungle at its best and with a little luck we might even be able to see crocodiles, toucans, iguanas and other animals and we sure did. It became obvious that our guides were experienced naturalists; they gave us a brief introduction into the natural history of this beautiful part of their country, besides pointing out and explaining the vast array of life surrounding the deep-olive green river. Costa Rica - Boat Trip (PHOTO TOUR - CLICK HERE) | | |
Another trip you should not miss and one that you would probably never expect to experience in the jungles of Costa Rica is a tiny Swiss Vilage - (PHOTO TOUR - CLICK HERE) just a half hour ride from the Tabacón resort, a place where a Swiss enthusiast could get crazy. It was as if we had entered a time and space tunnel! The buildings and the little church on the hill all featured the Swiss Chalet A-frame building style. The houses had all red-shingled roofs and then some…
Tabacón's star is Uwe Wagner, a man who has put his heart and soul into this project thereby placing Costa Rica's Arsenal region on the global map. The German born Managing Director began a major renovation project to upgrade and change the old resort's identity shortly after he took over as general manager, five years ago. Wagner and his dedicated team transformed the resort and its' former Iskandria Spa into the Tabacón Grand Spa Thermal Resort, which has become one of the most accredited Green Thermal Spas worldwide. Uwe Wagner's philosophy is that environmental awareness and motivation starts at home. "If you wish to see change happen, YOU have to be the change…".
Shortly after his arrival at Tabacón he appointed a Coop. Director of Environmental & Social Responsibility who is now addressing and coordinating all aspects of the resort, including educating the staff of the responsibility and impact of such a unique property with a virtually zero carbon footprint. "We are positive, meaning we have no carbon footprint, we produce more reduction then pollution", he said referring to one of his new programs, 'Tabacón 's Plant a Tree' project - (PHOTO TOUR - CLICK HERE). For a $3 USD donation guests are encouraged to plant a new tree. A member of the Seven Stars and Stripes team was recently part of the first Tabacón 's tree planting ceremony that counted an impressive 1000 saplings.
Another successful socially responsible program that Uwe Wagner started a few years ago is the 'Tabacón Unique Social Responsibility Program', which helps children in need. The resort suggests a $3 USD donation to the guest for each night, which is matched by the resort. Wagner has since inception been able to support the children and schools with hundreds of thousands of dollars. We had the pleasure of meeting Mr. Jorge Rodriguez, Costa Rica's Environmental Minister (PHOTO TOUR - CLICK HERE) who accepted the Seven Stars Green World Award as the first of its kind for Tabacón and Costa Rica. At the recent International Climate Change Summit, Costa Rican Environmental Minister Jorge Rodriguez asked developed nations to reduce emissions by 45 percent by 2020. Rodriguez said that Costa Rica's proposal includes increased protection of forests and a goal of reducing emissions by 95 percent from their 1990 levels by 2050.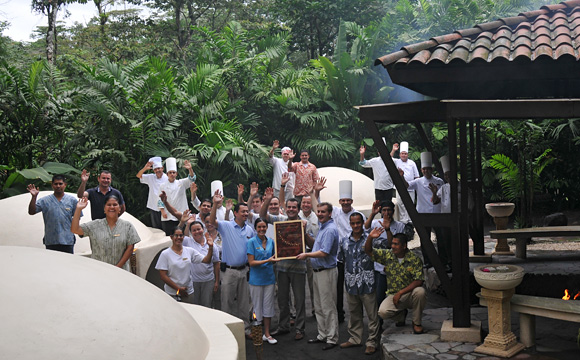 2009 Tabacón Grand Spa Thermal Resort- Seven Stars and Stripers® - Award-Hand-Out
The green team implemented its own resort-wide recycling program recently; buying 'green' products and merchandise in bulk and preferring locally grown green produce in general. The green team has implemented energy saving appliances and furthermore made a commitment to reduce their use of energy over the next few years. We noticed that the lush landscape has become more sprawling and found out that the gardeners have been instructed to allow the plants to grow to a certain degree naturally into the paths, so when you walk around them, you know that you are sharing their space in the rainforest.
by Edmund Buehrmann & Thorsten Buehrmann

Editor: Ingrid Lemme

Editor-in-Chief: John Lomitola
© 2009 ~ Seven Stars and Stripes, Inc.