'Hessischer Hof', Frankfurt - Germany
'La Cimbali', Milan - Italy
'The Table Restaurant', NY - USA
'Tabacon', FLIP Book
Seven Stars and Stripes > facebook®
NEXT: Hotel Adlon, Berlin - Germany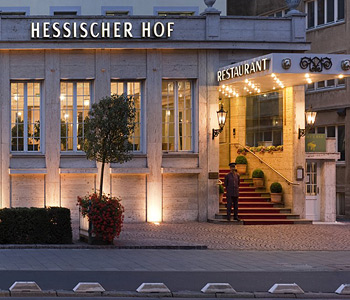 Hessischer Hof
Frankfut, Germany

5 Stars and 4 Stripes
Check-in was quick and professional and the accommodations, at first glance, were inviting. The interior designer combined clean loft style functionality with semi-traditional decoration techniques. The bathroom was spacious, in perfect condition and well equipped, though there was a problem with the drainage in the shower. Guests of the Hotel Hessischer Hof have access to the Mainhattan Sports Club right next to the hotel, which also includes the full schedule of fitness classes. The level of well-rehearsed and genuinely caring service is what made this Hotel Hessischer Hof a good choice. Though the turndown service left something to be desired,, ... (CLICK HERE for more)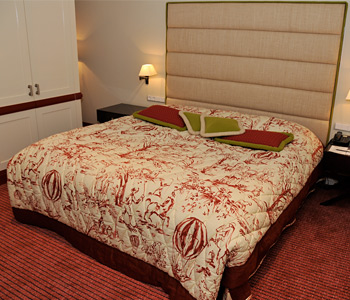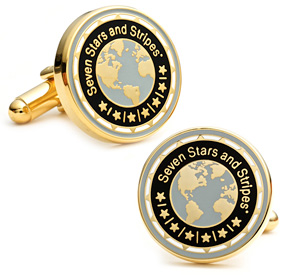 Seven Stars and Stripes Inc. now offers, for the first time, this extraordinary, custom designed 'His & Her Seven Stars Cufflink set. Limited Edition.
Congratulations to all, from your Guests and from Seven Stars and Stripes:
For your visible commitment to excellence.
For your willingness to be recognized for your latest innovations.
For your devotion to your staff and company.
For your ability to receive.
For your decision to raise the bar.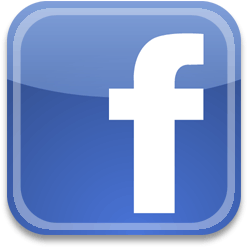 Please join us on 'facebook® (CLICK HERE), a brand new fan page where you get a chance the catch up or get the latest scoop on what might be of interest to todays distinguished global traveler.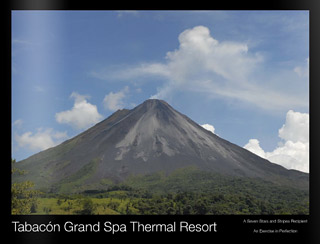 (CLICK HERE TO FLIP THE BOOK!)
Our exquisite hardcover coffee table books, custom designed for each resort, hotel, spa and restaurant, feature highlights and possible excursions of each establishment, along with the Seven Stars and Stripes review and award presentation. These impressive hard cover books, now available in three different styles, are luxuriously wrapped and make great holiday gifts and keepsakes, all the while showing the full potential of what guests may experience. Please 'CLICK and FLIP through the 2009 Seven Stars and Stripes review and award celebration at the Tabacon Grand Spa Thermal Resort - La Fortuna, Costa Rica. Enjoy!
In Next Gazette:
* Hotel ADLON - Germany
In The Press:
* Tico Times, Central America:
Seven Stars Green World Award
(CLICK HERE) >
| | | |
| --- | --- | --- |
| Dear Friends, | | |
Spring is by far the most fascinating season of all, no wonder; it's a great time to fall in love, travel, or both. After a few days attending the ITB (the annual global travel expo and conference) and breathing the famous Berlin air, I spent a couple of days on business in Frankfurt, Germany and continued to Italy and Switzerland. I had been torn between staying at the Steigenberger Frankfurter Hof and the Hotel Hessischer Hof, both which came highly recommended, but decided to try the latter due to the fact that this hotel is still owned by the 'Family Foundation of the Barons and Princesses von Hessen'. The level of well-rehearsed and genuinely caring service is what made the Hotel Hessischer Hof a good choice. Visiting the metropolis 'Frankfurt am Main' in Southern Germany was a treat; Goethe's city is fascinating. From Frankfurt we continued to Milano with a quick stop in Zurich at the Widder Hotel. Here we had a couple of drinks at the Widder Bar, which we can highly recommend. In Milan we took a private tour of the globally renowned Cimbali espresso and cappuccino manufacturing facility. It was an interesting week.
I remain yours truly
| | |
| --- | --- |
| | |
| | |
| | Thorsten Buehrmann |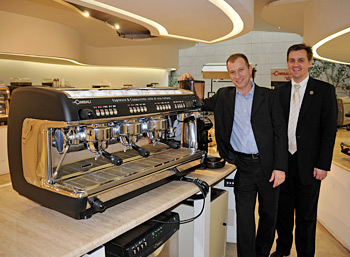 La Cimbali: Massimo Martellato & Thorsten Buehrmann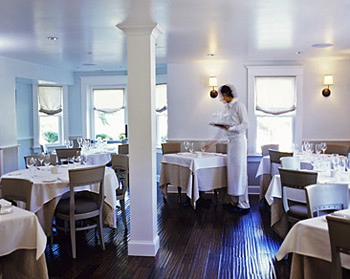 'The Table'
Southhold, NY, USA

5 Stars and 5 Stripes
Our meal got off to a great start with a basket filled with an assortment of crisp local breads and butter. Our waitress/server was charming, knowledgeable and extremely helpful in describing each course. Rita and I waited with great anticipaiton as our server brought the first course to the table. What we saw was a beautifully arranged shimmering pink filet of Organic Scottish Salmon & Yukon Gold Potato Cake with Truffled Tartar Sauce and Herb Salad. The added presence of golden straw colored Yukon Gold Potatoes provided an appealing contrast to the eye and promoted a gradual appetite arrousal simply by visual admiration of the dish. The Salmon was delicate and flaky with a noticeable fresh ocean aroma and a sublime flavor. ... (CLICK HERE for more)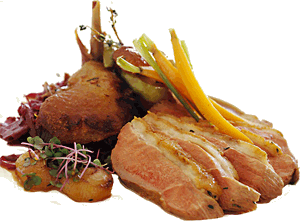 ... The wine presented for this course proved to be a dry, fruit driven Riesling, Kung Fu Girl, Charles Smith, 2008 Columbia Valley, WA, with low alcohol and brisk acidity thereby providing the necessary compliment to the salmon. A second appetizer of Sautéed Peconic Bay Scallops with Meyer Lemon Vinaigrette and Micro Greens arrived shortly thereafter. We marveled at the bright crimson color of shredded pieces of radish adorning the entire dish creatively mixed together with wedges of orange and mixed micro greens. The wine paring was an especially crisp Alsatian style Pinot Blanc, Lieb Cellars, 2007 Mattituck, NY, with honeyed floral notes, and a big creamy palate.We were acutely aware after the first two courses that we were headed in the right direction in terms of a polished, creative and flavorful experience. Next up, Long Island Duck Breast with Chanterelle Mushrooms and Roasted Butternut Squash-Orange Puree appeared from the kitchen resembling a three-dimensional work or art. Crispy skin atop tender duck breast sliced thinly to reveal perfectly broiled juicy meat instigated an immediate reach for a taste. The portion was that of half a duck including the leg together with a few cippolini onions, whole baby carrots and the almost magical sautéed chanterelles. ... (CLICK HERE for more)