Restaurant Rickshaw, Prague - CZ
Le Siecle Restaurant, Vienna - Austria
Castello di Borghese Pinot Noir
Seven Stars and Stripes - The Book
In Next Gazette: Le Mirador, Geneva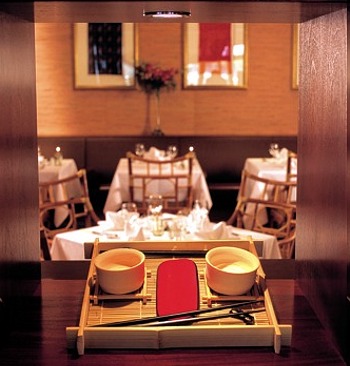 Prague - CZ
Chef de Cuisine: Suchao Huangwatana

5 Stars and 6 Stripes
It is located in the excellent Corinthia Towers Hotel and General Manager Christian Grage, seeing a chance to go against the grain with a completely unique concept, decided to present 'Eclectic Asian' cuisine in a city better known for its knedlo, zelo, vepro (roast pork served with sauerkraut and dumplings). It seems obvious that this dining model for the signature restaurant of the exquisite Corinthia Hotels works very well at the Rickshaw Restaurant.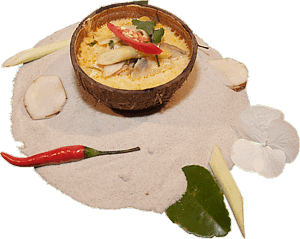 For starters, we were treated to series of tasty appetizers arranged in separate ceramic bowls including Lab Mu (very hot pork salad with red chili), Shrimp Cake (with tamarind and coconut curry), Yam Pla Tuna (fried with mango, chili and peanuts) and Kai Ho Bai Tei (chicken with soy, sesame seeds in pandan leaf). A bottle of local Czech wine Chardonnay U Venuse Pozdni sber, Reisten, Moravia was produced to go with the appetizers and its light, crisp Chablis-like body worked well with all of them.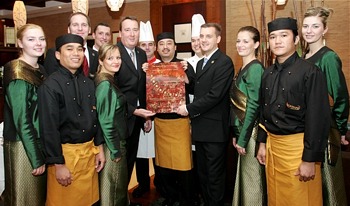 Congratulations to all, from your Guests and from Seven Stars and Stripes:
For your visible commitment to excellence.
For your willingness to be recognized for your latest innovations.
For your devotion to your staff and company.
For your ability to receive.
For your decision to raise the bar.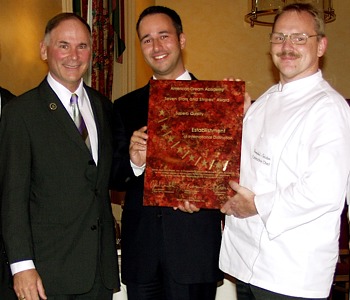 Vienna - Austria
Chef de Cuisine: Christian Krumpholz

5 Stars and 6 Stripes
Upon entering you are immediately greeted with a cordial "Grüss Gott" and "Guten Abend". The well-trained staff gives you an instant feeling of being welcomed into someone's home complete with Strauss music, Viennese glamour and easy charm. I was scheduled to meet with the hotel's Operations Manager for a quick tour of the premises before dining and so Mr. Hani El Sharkawi was summoned while I was directed to the comfortable lobby. A front desk clerk smiled and addressed me by name to offer a beverage. I was impressed with the courtesy and comfortable feeling of unrushed ambiance that I observed of the staff.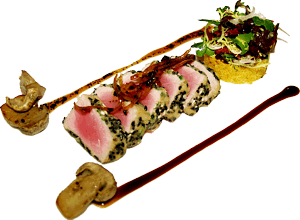 A selection of seven assorted fresh baked breads was placed on the table next to a dish of flower-petal and herbed butter. I was excited to find an original Viennese "Salzstangel", a long crisp salted roll that brought me back to my childhood visiting my Grandparents in Vienna. My server Nicole returned to ask how it was going and clear the 'Bauscher China' and silver-plated utensils for the next course. A well-arranged rendition of Sesame and Coriander Encrusted Tuna Carpaccio with Lime Bell Pepper Couscous and Wild Mushrooms offered a fanciful presentation and exotic flavors with the tuna most likely taken from the most sought after belly of the fish.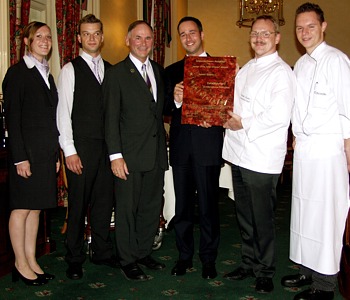 In Next Gazette:
* Le Mirador, Geneva - Switzerland
* Le Trianon, Geneva - Switzerland
Luxury Product Recognition:
* Maybach - Transportation for the Elite
* Rimowa - Luggage for the World Traveler
* Pictured at Emirates Palace - U.A.E.
| | | |
| --- | --- | --- |
| Dear Friends, | | |
A Happy, Happy Holiday Season to All!
Looking back at five thousand years of human history, our holidays have evolved in many different layers of tradition, celebration and folklore. But there is one thing that most holidays have in common and that is that we get to spend quality time with our families and we get to unwrap gifts;) Some might decide to take the whole family on a trip or a cruise to discover a new part of the world and broaden their horizons while at the same time having a lot of fun with their loved ones. My wife is crazy about things like: little tiny gift boxes, snow for the holidays and a romantic sleigh ride in a pre-heated horse-drawn carriage. The eternal cities of Vienna, Prague, Moscow, St. Petersburg or Geneva are just ideal for these picture perfect winter-wonderland precious moments. If you are spending quality time this winter in that part of the world, you must taste the delightful cuisines of two exquisite chefs that we are featuring in this issue.
Wherever in the world you are dining, please look out to accompany your special meal with a bottle of Pinot Noir by Castello di Borghese, Italian nobility producing superb wines since 800 years, now with vineyards on the North Fork of Long Island, New York. I personally love to escape the cold and spend the holidays in warmer regions on wide, sandy beaches with golden sunsets and a little gift box waiting for the prefect moment to escape the pocket of my fluffy bathrobe. Until next month from the eternally fabulous location of Lake Geneva, Switzerland -
I am yours truly.

Thorsten Buehrmann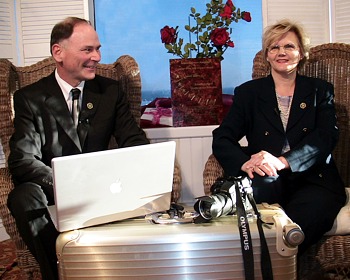 Watch the Seven Stars and Stripes
Award TV Show on
Hamptons Televisions WVVH World-Wide

Featured here on the set of the Seven Stars and Stripes Award TV Show are co-hosts Ingrid Lemme and John Lomitola, VP of Seven Stars and Stripes, Inc. WVVH Hamptons TV is a commercial cable and broadcast TV station airing NOW also in New Jersey, New York City, Westchester, Long Island (in the midst are the affluent Hamptons) and on TIME WARNER `On-Demand´. The station may be viewed world-wide in real-time via Live-Web-Stream on our website: http://www.WADTV.com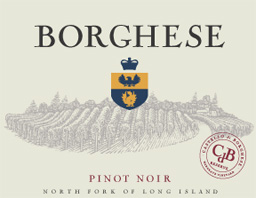 Castello di Borghese Pinot Noir

5 Stars and 5 Stripes
". . . Cabernet will throw you down and rip your clothes off; Pinot Noir subtly convinces you to take them off yourself." - Old French Saying
It was the rich heritage of Italian nobility that brought fame to Marco Borghese, founder of Castello di Borghese Vineyard & Winery but it was his passion and determination that brought him success. Borghese is teamed up with his wife Ann Marie who is blessed with a good business sense provides the necessary support to run this thriving business. The Borghese's bought the Hargrave vineyard in 1999, which was the oldest in Long Island and brought with them techniques and know-how that had been acquired over centuries of 'princely' family businesses in Tuscany.
Ever since the movie "Sideways" was released in 2004, Pinot Noir has become the wine of choice for those trying to escape the grip of overrated Merlot. Although the Pinot Noir grape has a reputation for being a particularly difficult varietal to grow, it provided the perfect opportunity for Marco to challenge common sense and go against the tide and produce a great vintage. In order to appreciate this particular vintage of the 2002 Pinot Noir from the Borghese Vineyards you obviously have to taste it and pair it with food.
To begin with, wine tasting not only a tradition but an educated art that combines experience, knowledge and the cultured use of the three senses involved: sight, smell and taste. With the basics of wine tasting, anyone can find it quite enjoyable even though it would take years of practice to recognize certain wines and their area of origin. A wine is said to be balanced when all of its individual components, alcohol level, acidity, tannins, flavors and sugars are in perfect harmony and none overwhelms the others. The Borghese 2002 Pinot Noir offers subtle aromas of mocha and berries followed by exotic flavors of chocolate, black cherry and currants. It is a delightfully balanced classic Burgundian style wine and has a firm yet delicate finish.
The Castello di Borghese Pinot Noir is the perfect choice for salmon, duck or beef and has the stand alone quality to appreciate on its own as it will reveal itself straightforwardly. "In vino veritas!" (In wine, truth) - Pliny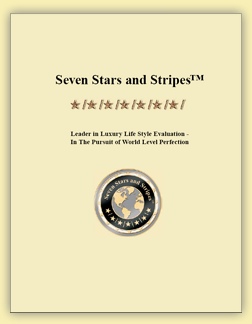 Our long-awaited book Seven Stars and Stripes™ - 2003 to 2006 world-edition, is now available. Over 300 pages - featuring only the finest establishments and fascinating cuisine art images from around the world. All beautifully compiled in this full-color collector's edition. ISBN# 1-4259-4267-9
Seven Stars and Stripes Awards for: