Caravelle Hotel, Ho Chi Minh City - Vietnam
Eric Weiss and Monet's Palate
Asian Reflections, Ho Chi Minh City - Vietnam
Vietnam Airlines, Business Class
Next Gazette: Furama, Danang - Vietnam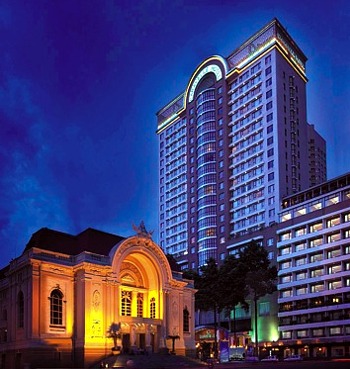 Caravelle Hotel
Ho Chi Minh City - Vietnam

5 Stars and 6 Stripes
Our arrival at the Caravelle Hotel's main entrance, after less then an hour ride from SGN airport in a Mercedes E 200, was nothing shy of 'grand'. The 1st district of Ho Chi Minh City is the heart of one of the most pulsing and adventurous cities of the world and we just couldn't wait to get our fill. Not to forget that four million mopeds and bicycles are carrying anything and everything, besides people. The Caravelle is located opposite the famous opera house and in the midst of shopping, commerce, art, museums and all what they call 'controlled chaos'; a wonderful base for all kinds of excursions.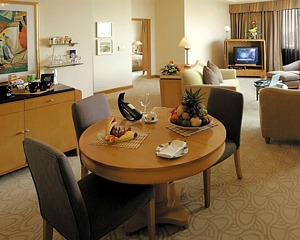 This landmark hotel (first opened in 1959) received a complete rework in 1998 and a 24-story tower was added to the 10 story existing hotel, today offering over three hundred spacious accommodations, an in-house casino, a spa and salon and a top-of-the-line fitness center. The Caravelle grants breathtaking views of the Saigon River, downtown Saigon and features a couple of restaurants and bars. Our gracious accommodations displayed a unique combination of elegant, but stylish colorful living comfort.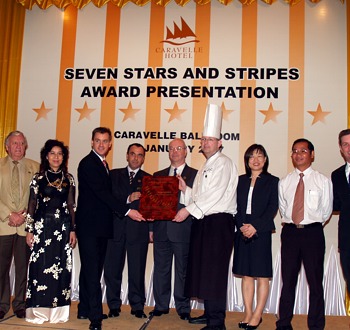 Congratulations to all, from your Guests and from Seven Stars and Stripes:
For your visible commitment to excellence.
For your willingness to be recognized for your latest innovations.
For your devotion to your staff and company.
For your ability to receive.
For your decision to raise the bar.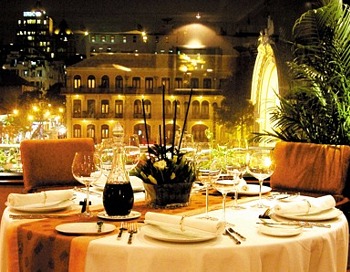 Ho Chi Minh City - Vietnam
Chef de Cuisine: Timo Reuss

5 Stars and 5 Stripes
As we were seated in the main dining room next to the window overlooking the business center of Ho Chi Minh City (Saigon), we were immediately handed lightly perfumed cold towels to refresh ourselves reminding us of the sub-tropical location of the city. Executive Chef Reuss has made it his mission of building a capable cooking team by training them to compete at the level of the international community. It was obvious to us by the unique cuisine being presented at this dinner that Chef Reuss was achieving his goals rapidly.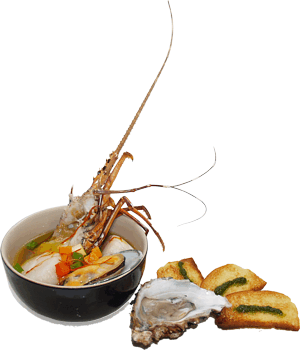 Next up was the unusual seafood combination of New Zealand Green Mussel, French fine de Claire Oyster, Vietnamese Red Lobster Tail, Giant US Scallop and Red Snapper Filet. It was refreshing to see that the preparations of seafood, which is held in reverence in Vietnam, displayed the same careful arrangements of their time-honored recipes. Also served was a Miso Crusted Norwegian Salmon with Arborio risotto and Szechwan chili paste. This proved to be an outstanding blending of cultures combining north and south Europe with the orient added for spice.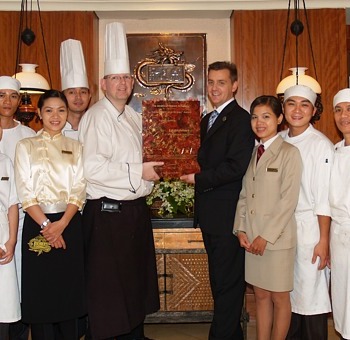 Luxury Product Recognition:
* Maybach - Transportation for the Elite
* Rimowa - Luggage for the World Traveler
* Pictured at Emirates Palace - U.A.E.
| | | |
| --- | --- | --- |
| Dear Friends, | | |
Happy February and Happy Valentines to All!
February is indeed a great month to travel; lovers all over the globe wouldn't miss this one for the world. Though not officially an international 'holiday' - February 14th is a great day for many of us searching for a romantic escape or a change in season - after all February in the Northern Hemisphere is the seasonal equivalent to August in the Southern Hemisphere, and vice versa. But a true international holiday is the International Language Day on February 21st, first proclaimed in 1999 by UNESCO! The world is a village, indeed. Let me introduce you this month to one of the most adventurous cities of the world: Ho Chi Minh City, Vietnam (formerly known as Saigon) and one of its finest hotels - the Caravelle. Meet Eric Weiss, one of our Seven Stars and Stripes Advisory-Board Members & President of Service Arts, Inc. who moderated recently a discussion about Monet's Palate and the connections between food, art, wine and music. And don't forget to order a box of sinful Neuchatel Swiss Chocolates for your Valentine.
Thorsten Buehrmann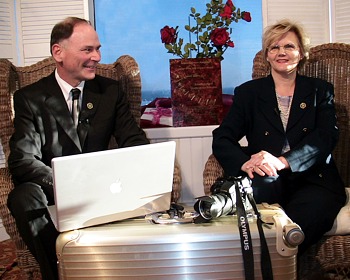 Watch the Seven Stars and Stripes
Award TV Show on
Hamptons Televisions WVVH World-Wide

Featured here on the set of the Seven Stars and Stripes Award TV Show are co-hosts Ingrid Lemme and John Lomitola, VP of Seven Stars and Stripes, Inc. WVVH Hamptons TV is a commercial cable and broadcast TV station airing NOW also in New Jersey, New York City, Westchester, Long Island (in the midst are the affluent Hamptons) and on TIME WARNER `On-Demand´. The station may be viewed world-wide in real-time via Live-Web-Stream on our website: http://www.WADTV.com
Eric Weiss,
Seven Stars and Stripes Advisory-Board Member & President of Service Arts, Inc. moderated a discussion about Monet's Palate and the connections between food, art, wine and music.
Panelists included; Charles S. Moffet, Vice-Chairman, Modern and Contemporary Art at Sothebys and former senior curator of the exhibition "Monet's Years at Giverny" at the Metropolitan Museum of Art, Terrance Brennan, Chef/Owner of Picholine and Artisanal Restaurants, Michel Nischan, Chef/Co-Owner with Paul Newman of The Dressing Room Restaurant and Ms. Bordman, President of AFB Productions and founder of www.monetspalate.com. As a culinary-musical coda, Mr. Weiss introduced his latest presentation, "The Taste of Music, The Sound of Food and Wine." Master Violinist Jennifer Choi interpreted the lush and captivating Cabernet Sauvignon, "Monet's Palate,"2004, with a corresponding musical selection.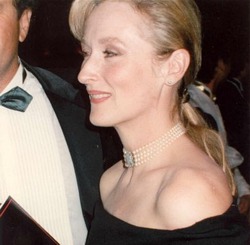 Meryl Streep - © photo by Alan Light
Meryl Streep's opening narration took the viewers through the painter's home and gardens in the pastoral region of Normandy. The film also highlights London where the artist lived, painted and dined at the Savoy Hotel. Great Chefs such as Roger Verge, Daniel Boulud and Alice Waters share their thoughts about the cuisine Monet adored. The film was has been screened at various film festivals over the past two years and was presented at MIP Cannes in April. It received the Directors Citation Honorable Mention in February from the prestigious Thomas A. Edison Black Maria Film Festival.
Seven Stars and Stripes Awards for:

Business Class

5 Stars and 4 Stripes
On board, the 11-hour non-stop flight experience was delightful considering that the individualized entertainment system was unfortunately not functioning. This did not compromise the well orchestrated, caring service, which we experienced by Ms. Ngvygn Thi Giang Teang and her team. The airhostesses were conversing in charming accentuated English and were well dressed in stylish native uniforms. I was able to work on my lop-top instead and we both slept quite well for several hours in the almost horizontal flat beds. Let me give you an example of the small things that make service superior. VA is the first airline we have experienced where the hostesses placed paper flowers (besides the fresh ones), they had personally created on board, in a mouthwash glass and then drizzled them with a couple of drops of Campari to give them the right color. I told my wife about it and she couldn't wait for her turn to see them, and came back with a smile.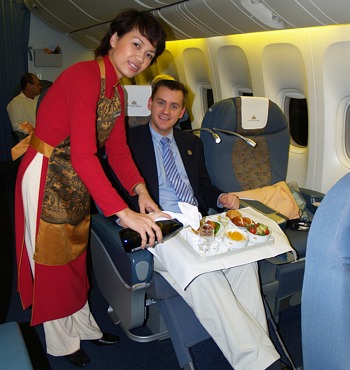 In Next Gazette:
* Furama Resort, Danang - Vietnam
* Fairplay Golf Hotel & Spa, Spain
* Restaurant Hradcany, Prague - CZ