Furama Resort & Spa, Danang - Vietnam
Fairplay Golf Hotel & Spa, Andalusia - Spain
Osborne, Andalusia - Spain
Restaurant Hradcany, Prague - CZ
Cafe Indochine, Danang - Vietnam
La Table de Philippe, Andalusia - Spain
Next Gazette: Giardino di Costanza - Italy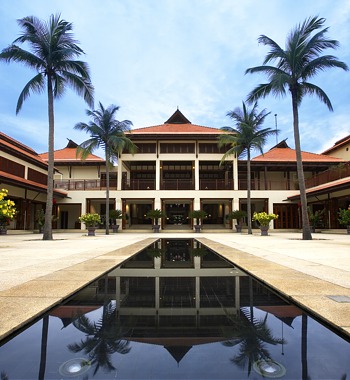 Furama Resort & Spa
Danang - Vietnam

6 Stars and 5 Stripes
We reached our destination, one of the most luxurious oceanfront resorts on the Vietnam coast, safely within fifteen minutes. As we arrived, we were simply enchanted by the first overall impression and the incomparable oceanfront location. This is still one of the finest, secluded, white sandy beaches of the world. The resort architecture could be defined as a blend of contemporary Asian and French colonial, sometimes a little playful always clean and flawless and without a doubt inspiring. Fuji Television, one of the largest private television stations in Japan, had recently featured the Furama in their serious: "High Vision World", which is considered as a great honor.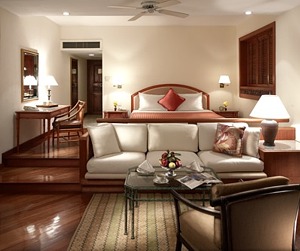 The next morning it was as if we were waking up in paradise. A small but sufficiently sized walk-in dressing room granted us the utmost privacy within the suite and was appropriately located adjoining the precious pale-colored marble bath. The facilities were equipped with very spacious open-showers and double sinks, besides other luxurious necessities and we found it fascinating with its play of attractive, precious woods and highly polished marble.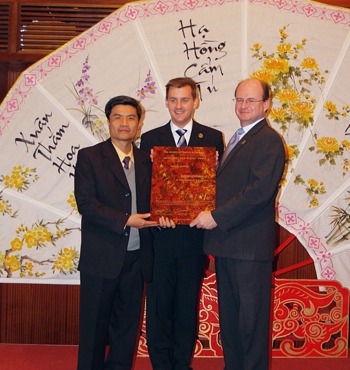 Congratulations to all, from your Guests and from Seven Stars and Stripes:
For your visible commitment to excellence.
For your willingness to be recognized for your latest innovations.
For your devotion to your staff and company.
For your ability to receive.
For your decision to raise the bar.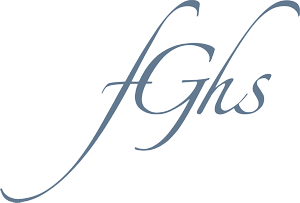 Fairplay Golf Hotel & Spa
Andalusia - Spain

6 Stars and 5 Stripes
As we entered the resort area we were won by the simple architecture of the white buildings and Andalusia's color palate. Check-inn does not exist here by conventional means at this 'all-suite / all-inclusive', modern distinctive resort; guests are welcomed in the Putting Lounge with exquisite champagne and freshly prepared hors d'euvres. Worldwide golfers usually pay high premiums for green fees; here all included. Our accommodations offered well-appointed, comfortable luxury. The elegant furnishings are imported from all over the world.
Proprietor Bernard Devos and GM Martin Schneck accepted their well-deserved Seven Stars and Stripes 2007 award with dignity and respect in the presence of their most excellent staff. Members of the Spanish and German press were present at the presentation of the Seven Stars and Stars Award to Fairplay Golf Resort & Spa, and it is featured in the March edition of the highly respected, affluent Finest Finance magazine.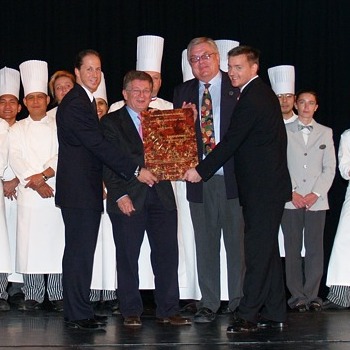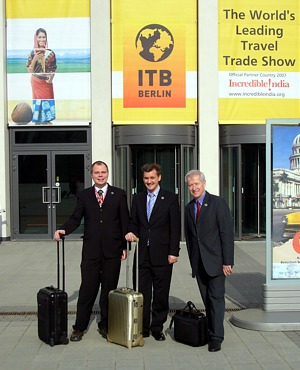 Seven Stars and Stripes: ITB 2007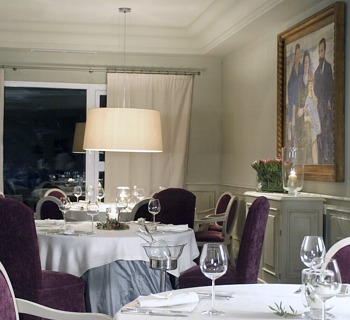 La Table de Philippe
Fairplay Golf Hotel & Spa, Spain
Chef de Cuisine: Jego Philippe

6 Stars and 5 Stripes
The cuisine at the La Table De Philippe clearly stands alone. Master Chef & 'Meilleur Ouvrier' de France Philippe Jégo, who, in his own words describes his cuisine as 'timeless classic and modern French', was directing. We knew that we were in for a treat. A country basket of freshly baked crusty stone oven bread appeared magically on the table while we were studying the simple wine menu. We reflected on the day; we had played golf, did some horse back riding and had indulged in a Chocolate 'wrap' at the marvelous spa…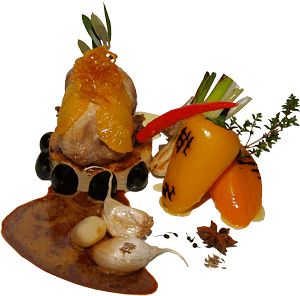 Our unforgettable main course: the 'Roasted Quail with Orange Supremes, Potatoe and Olive Pie & grilled spicy Vegetables' - heavenly with a Volnay, Jadot Bourgogne, 1996! I highly recommend this dish; The Quail was slightly pink but by no means undercooked. This one will stay with me forever. Each bite created harmony and pleasure; always enticing me to continue. This was followed by a display of a selection of international cheeses served with a preserve of fennel bulb and celery. Amazing! A Slice of Perfection is a piece of a Hazelnut Nougat Torte with golden leaves for dessert.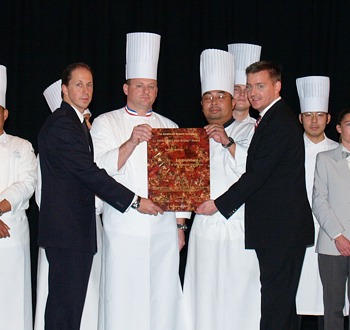 Luxury Product Recognition:
* Maybach - Transportation for the Elite
* Rimowa - Luggage for the World Traveler
* Pictured at Emirates Palace - U.A.E.
| | | |
| --- | --- | --- |
| Dear Friends, | | |
'Happy Martius' - considering that in ancient Rome March was called Martius, their name for Mars, the Roman god of war. Wherever you are traveling this month, remember March is in the Northern Hemisphere the seasonal equivalent to September in the Southern Hemisphere (and vice versa). There are so many holidays celebrated now all over the world that I cannot mention all but just a few: International Women's Day, Mardi Gras, Martenitsa, Norouz, St. Patrick's - and then some. March's birth flower is the Jonquil or Daffodil in common English; anyone will enjoy a nice bouquet of these freshly cut, yellow beauties. How about a fascinating trip to Vietnam? We recently visited the Furama Resort & Spa in Danang, one of the finest ocean front resorts on China Beach. Then we discovered a rather new resort in Spain the Fairplay Golf Resort & Spa and have also visited the world renowned historic Osborne Winery. Of course we didn't neglect to review the work of the exquisite chefs of these world resort hotels. Anyone visiting Prague this month? Please make reservations at the Hradcany at the Savoy Hotel and experience the earthy finesse that Chef Stangl applies to his creations. As you are reading this, one of our teams has returned from the ITB in Germany, others visited Sicily and Argentina and I am on the way to the USA - until then.
Thorsten Buehrmann
Watch the Seven Stars and Stripes
Award TV Show on
Hamptons Televisions WVVH World-Wide

Featured here on the set of the Seven Stars and Stripes Award TV Show are co-hosts Ingrid Lemme and John Lomitola, VP of Seven Stars and Stripes, Inc. WVVH Hamptons TV is a commercial cable and broadcast TV station airing NOW also in New Jersey, New York City, Westchester, Long Island (in the midst are the affluent Hamptons) and on TIME WARNER `On-Demand´. The station may be viewed world-wide in real-time via Live-Web-Stream on our website: http://www.WADTV.com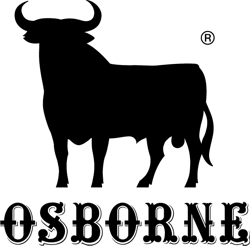 If you are an aficionado of fine wines and spirits, Andalusia might be the place for you, and a visit at the Osborne's is essential. Here the wines are still created in the old-fashioned, traditional way in US oak barrels, followed by a second period of bottle aging. Spain's winemaking tradition reaches back over two thousand years. Predominating in Spain is the Tempranillo, a red grape introduced by French monks in the Middle Ages. Southern Spain produces also one of the most famous sherries in the world.
Jose Gomez Ariza invited us to a personal tour in the wine cellar and we tasted the master's superb work right from the barrel. The wines were in perfect order and identified by appearance and nose, some leaving most aromatic legs down the inside of the glass, when swirled. It was a delightful and most educational afternoon. Then I was given the great honor to sign one of the historic wine barrels as heads of state and royals are allowed to do.
Seven Stars and Stripes Awards for: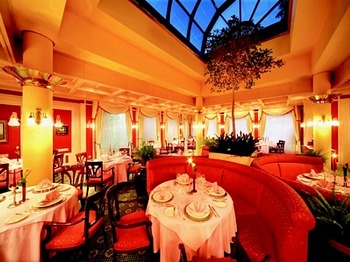 Restaurant Hradcany
at the Savoy Hotel in Prague, CZ
Chef de Cuisine: Josef Stangl

5 Stars and 5 Stripes
This charming and sophisticated restaurant sits just off the welcome center of the Hotel Savoy located in the historical Mala Strana district of Prague, and is one of the premier full service hotels in the city. Sommelier Vladimir now cautiously approached with a bottle of Chateau Radyne Brut sparkling wine from Bohemia in the Czech Republic. This wine is elegant and distinguished with a mature bouquet and long-lasting sparkle.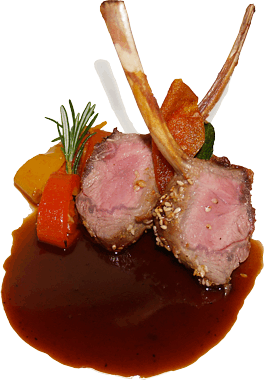 The highlight of the event was the surprising finesse with which Chef Stangl applied to the visual impact of his creations and the subtle but satisfying flavors he managed to convey to the diner. One of his outstanding dishes had to be the Marinated Salmon with Sweet-Sour Chilli sauce, Salad of White Radish, Wasabi and Caviar. The masterful assemblage of contrasting flavors offered a tantalizing balance of zest and subtle tang although we have to caution you to go easy on the sharp sting of fresh wasabi as it could overwhelm the caviar.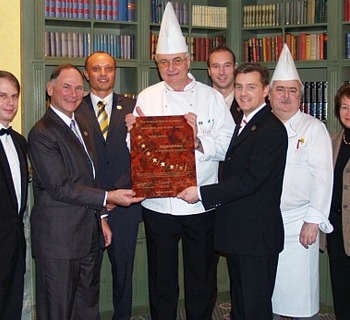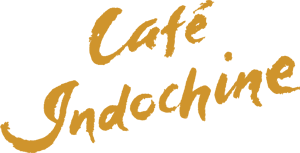 Furama Resort & Spa, Danang Vietnam
Chef de Cuisine: Nick Storie

4 Stars and 4 Stripes
The ambiance has been successfully supported by a few carefully placed period furnishings, as we found, a great place for an intimate dinner rendezvous. The very first gesture of the host was reaching us a basket with scented ice-cold towels; than an assortment of freshly baked, crisp breads and butter followed instantly. Old photographs and memorabilia on the walls enhanced the charm of this inviting place, while the French windows released the views of the palm trees which were dressed with thousands of sparkling little white lights. ...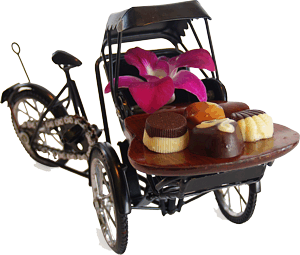 No romantic dinner would be perfect without a special dessert and what came next deserves a standing ovation. The Chocolate Roulade was uncompromising in flavor, texture and its ingredients and plain irresistible. But the grand finale 'The Little Chocolate Rickshaw' (though not edible), carrying little chilled Belgian Chocolate Pralines, were so playful, so infinite in its detail, that we must mention this. Bravo!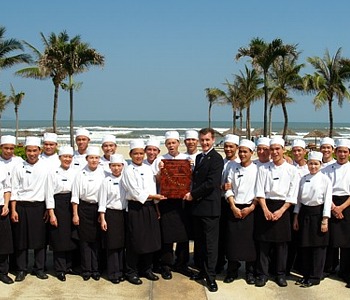 In Next Gazette:
* Hotel Giardino di Costanza, Sicily - Italy
* Rittenhouse Hotel, Philadelphia - USA