Fairplay Golf Hotel & Spa
Andalusia, Spain

Society - Extraordinary
February - 2007
6 Stars & 5 Stripes
Hotel & Service
The Ultimate Award:
Seven Stars and Stripes®
We entered Spain from Germany and landed in the early morning hours at Malaga's small tourist airport, granting direct access to many major European cities. It was a warm, sunny day with a radiant-blue sky, which enticed us to take off our jackets and leave the cold temperatures of Northern Europe behind. Our destination: The Fairplay Golf Hotel & Spa located in Benalup, a recently discovered small town surrounded by a nature preserve. The two-hour ride in a Mercedes S400 was a piece of cake considering the comfort of the latest edition of this German limo and the charming sights of Andalusia.
"It is said that three quarter of the population of Benalup is less than twenty-five years old." ~ TB
As we entered the resort area we were won by the simple architecture of the white buildings and Andalusia's color palate. Check-inn does not exist here by conventional means at this 'all-suite / all-inclusive', modern distinctive resort; guests are welcomed in the Putting Lounge with exquisite champagne and freshly prepared hors d'euvres. Worldwide golfers usually pay high premiums for green fees; here all included.
Our accommodations (two bedroom suite C-02) offered well-appointed, comfortable luxury. The elegant furnishings are imported from all over the world. The owner Bernard Devos. is a Belgian entrepreneur and an enthusiastic art collector. Many pieces of his collection are on display throughout the resort. I was especially impressed with the hand-embroidered bed linens complimenting the different suite styles. The resort is on WiFi from the earth-shingled rooftops to the oversized free-form sparkling pool.
The Benalup Spa Center, which is spread over two levels, wet and dry, allows for breathtaking views of the valleys . The upper level includes a spa reception area that overlooks the amazing pool and is also connected to the close-by medical centre. I had a chocolate treatment which was detoxicating as well as stimulating.
"The service was relaxed and by any means always present. Hands-on GM Martin Schneck,
always ahead of the game, is in the process of introducing also personalized butler service..." ~ TB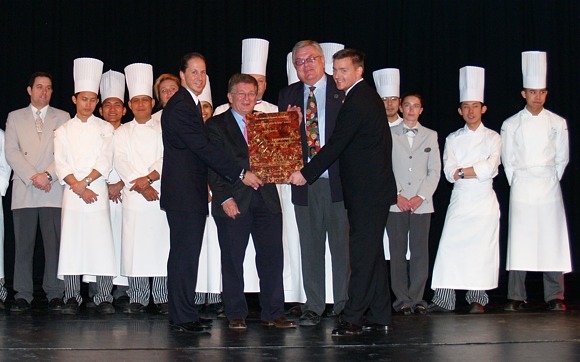 2007 Seven Stars and Stripers® - Award-Hand-Out at the Fairplay Golf Hotel & Spa - Spain
Proprietor Bernard Devos and GM Martin Schneck accepted their well-deserved Seven Stars and Stripes 2007 award with dignity and respect in the presence of their most excellent staff. Members of the Spanish and German press were present at the presentation of the Seven Stars and Stars Award to Fairplay Golf Resort & Spa, and it is featured in the March edition of the highly respected, affluent Finest Finance magazine.
by Thorsten Buehrmann & Arno Goudschaal

Editor: Ingrid Lemme

Editor-in-Chief: John Lomitola
© 2007 ~ Seven Stars and Stripes, Inc.