Forte Village, Sardinia - Italy
Park-Hotel Sonnenhof, Vaduz - Liechtenstein
Restaurant Belvedere, Sardinia - Italy
Restaurant Sonnenhof, Vaduz - Liechtenstein
Boulevard Magazine
Next: INDIA: "The Oberoi" & "Kairali"

Villa del Parco & Spa
Sardinia, Itlay

6 Stars and 7 Stripes
We entered the 'Garden of Dreams' resort through a solid secured stone gate surrounded by palm trees and exotic blooming plants, reminding us of an entrance to a luscious oasis. Soon we were welcomed at the 'Villa del Parco' from where we where escorted to our final destination 'The Cala del Forte', and my elegant suite: # 2010. Most soothing were the earthy colors and feel of my traditionally decorated domicile and my personal butler Fabrizio Usala, who was in two words: "a gem". Fabrizio welcomed me with a delicious glass of Vino Spumante - Torbato and lots of fresh fruits.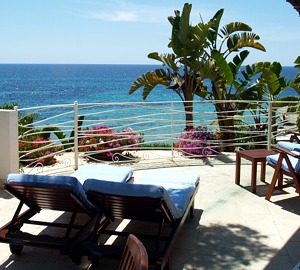 The views or my exquisite accommodations where of a tropical strip (a mile!) of a private sandy, white beach, evergreen palms, old growth trees and colorful plants, surrounded by turquoise crystal clear, warm water and sunsets to get lost in. ... Later that day after we had the pleasure of meeting Managing Director Lorenzo Giannuzzi, the patron, an interesting well-travelled gentleman who has lived and worked all over the world. Giannuzzi's exceptional management skills have made Forte Village to an incessant, international success. ...
Soon we were on the way to the Thalasso spa where six seawater thermal baths of varied temperatures replenish the body with essential minerals. Through the relatively high natural sea salt concentration, I kept on floating in the impressive large tubs.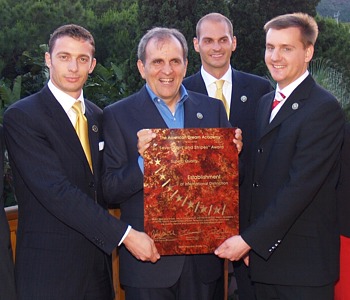 Congratulations to all, from your Guests and from Seven Stars and Stripes:
For your visible commitment to excellence.
For your willingness to be recognized for your latest innovations.
For your devotion to your staff and company.
For your ability to receive.
For your decision to raise the bar.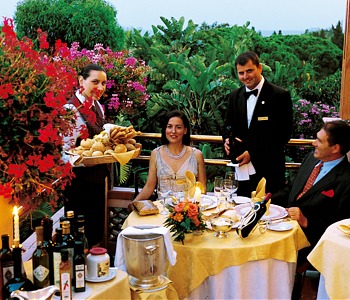 Restaurant Belvedere
Sardinia, Itlay
Chef de Cuisine: Antonello Arrus

5 Stars and 4 Stripes
Chef Antonello was decidedly in charge of our dining experience as most of the menu items featured on the tasting menu are his own individual creations, influenced by his cultural apprenticeship as a youth growing up in Sardinia. Our delightful tasting menu presented some outstanding selections from deep within the inspired mind of Chef Antonello. Of particular interest to us was the Citrus Tuna Tartar with "Cifraxiu" Bread Croutons and Ginger Chips, made with a typical bread of bran baked in very old ovens and tempered with the sharp flavor of ginger both adding character to the soft tender texture of tuna tartar. An appropriate bottle of Sardinian vermentino varietal in the form of Tuvaoes Cherchi 2006 featured surprising ...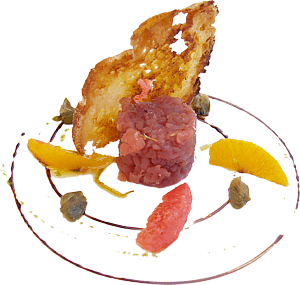 Another standout was the Toasted Fregola Pasta with Aspargina and Lobster Cassoletta essentially made with Sardinia's version of cous cous, which clearly illustrates the Arab influence on Sardinian cusine. The wine of choice was Santa Maria La Palma Chardonnay displaying an elegant velvety texture with straw-yellow color and soft bouquet reminiscent of golden apples and fresh mint. A fillet of fish offering proved unequaled as Chef Antonello presented the little known but tasty John Dory in Lemon Sauce over a 'Sfogliata' of sliced Potatoes and 'Calamaretti Croccanti'. ...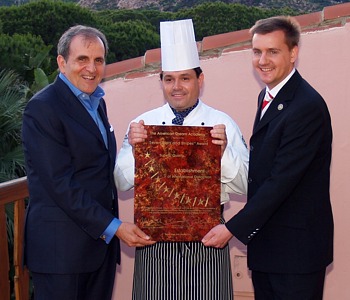 Seven Stars and Stripes Awards for: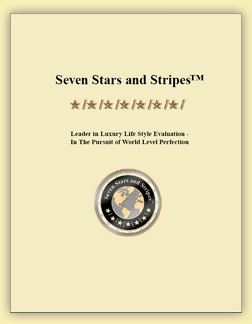 Our Seven Stars and Stripes™ book - 2003 to 2006 world-edition, is still available. Over 300 pages - featuring only the finest establishments and fascinating cuisine art images from around the world. All beautifully compiled in this full-color collector's edition. ISBN# 1-4259-4267-9
In Next Gazette:
* The Oberoi, Mumbai - India
* Kairali Resort Palakkad, Kerala - India
In The Press:
* Boulevard Magazine:
| | | |
| --- | --- | --- |
| Dear Friends | | |
happy June - many schools all over the world are soon closing their doors for a few weeks of well-deserved summer vacation and you might still be able to catch a couple of weekends before the real busy time begins. Early June Sardinia celebrates their 'Republic Day', commemorating the establishment of the Italian Repbulic and then of course Father's Day is celebrated in many countries throughout the world, though on different days. We may always find a reason to travel and if not for a holiday but for wanting to discover new countries, meet new people, taste a different cuisine - to then finally come home again. Our Seven Stars and Stripes teams travel all over the world and we have wonderful news and ratings for two truly deserving, spectacular resorts in Europe. One is the charming Park Hotel Sonnenhof located in one of the smallest countries of the world, 'Liechtenstein'. The other is 'The Forte Village Resort' on the island of Sardinia, a charming romantic get-a-way in a relatively unexplored corner of the world. No matter if you are dreaming of breathtaking mountain and valley views or turquoise, sparkling ocean and white sandy beaches, we experienced these resorts already for you and will love to tell you about it. One of our teams will be traveling to India soon and will be reviewing and reporting from that part of the world for the next gazette. Until then,
I am yours truly
| | |
| --- | --- |
| | |
| | |
| | Thorsten Buehrmann |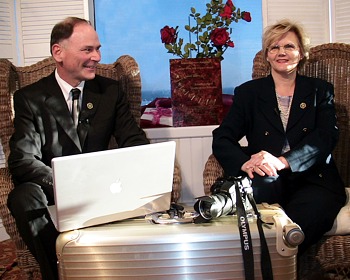 Watch the Seven Stars and Stripes
Award TV Show on
Hamptons Televisions WVVH World-Wide

Featured here on the set of the Seven Stars and Stripes Award TV Show are co-hosts Ingrid Lemme and John Lomitola, VP of Seven Stars and Stripes, Inc. WVVH Hamptons TV is a commercial cable and broadcast TV station airing NOW also in New Jersey, New York City, Westchester, Long Island (in the midst are the affluent Hamptons) and on TIME WARNER `On-Demand´. The station may be viewed world-wide in real-time via Live-Web-Stream on our website: http://www.WADTV.com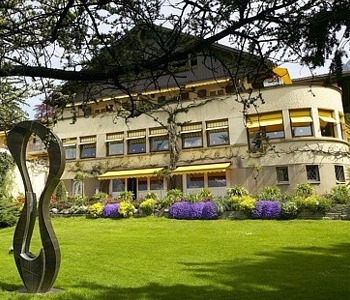 Park Hotel Sonnenhof
Vaduz, Liechtenstein

5 Stars and 6 Stripes
Getting to the Lilliputian nation in this idyllic setting is a mere one hour drive from Zurich on the autobahn, which tantalizes your senses through a series of close encounters with alpine lakes, villages and mountains before arrival at the seamless border across the Rhine. Our experience at check-in was like wayfarer discovering a hidden gem, both welcoming and relaxing while professional and efficient. Personnel at Sonnenhof seem to have a glowing tranquility while going about their work as if part of an extended family. A family it is of course, who are the proprietors of the Park Hotel Sonnenhof since 1952, when the elder statesman Emil Real and his wife Jutta fell in love with the then private residence and turned it into a guesthouse.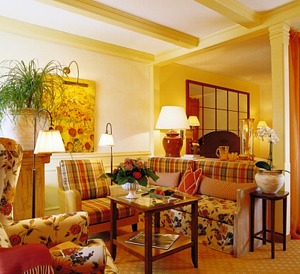 A quick glance around the front desk immediately focuses the eye to a photo wall of fame depicting various famous heads of state, royalty, stage and screen celebs and other notables posing with members of the family. It is a testimonial of sorts although more like a silent certification of the benefits of staying at Sonnenhof. A walk to the suites led us through spotless corridors decorated with fresh floral arrangements taken from the abundant selection on the grounds. As a member of the Relais e Chateaux association, Park Hotel Sonnenhof has maintained a level of quality and creativity that has attracted guests from all parts of the globe.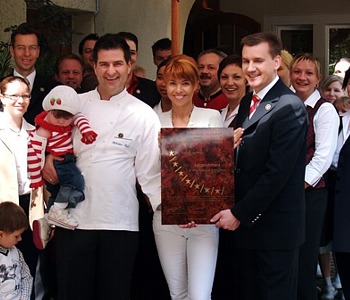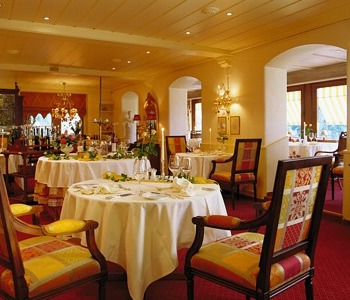 Restaurant Sonnenhof
Vaduz - Liechtenstein
Chef de Cuisine: Hubertus Real

6 Stars and 6 Stripes
A refreshing fluted glass of champagne flavored with a locally harvested and produced elderberry syrup reminded me of the benefits of using mostly seasonally available products. While sitting in the fireplace anteroom before dining, it all seemed to make sense now. One should slow down and enjoy the simple things in life; let the enjoyment penetrated the very fabric of your being and appreciate all the talents that are before you. Chef Hubertus was ready for us now and had prepared a special menu of some of the latest creations in his repertoire.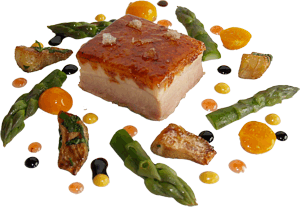 A third mention should be the Duet of Pata-Negra, with caramelized artichokes, Physalis (ground cherries) and chive potatoes. The Pata Negra pork is raised on a strict diet of acorns thus imparting a unique flavor profile of a delicate nutlike taste. Tender morsels of artichokes, sweetened during the cooking process were arranged next to asparagus tips and citrus-like Physalis going 360 degrees from salty, nutty, citrus to sweet and back to salty again with every bite. A bottle of Chateau Gloria, St. Juliens Cru Bourgeois 1997 with an elegant dark fruit nose and lovely texture did the right thing with the entrée at hand.