Villa del Parco & Spa
Sardinia - Italy
Society - World Level Perfection
May - 2007
6 Stars & 7 Stripes
Overall - 'Hotel & Service'
The Ultimate Award:
Seven Stars and Stripes®
We landed at Alghero-Fertilia airport in northern Sardinia with the intention of renting a car and taking a trip south along the west coast of this fascinating paradise island. It turned out to be an unforgettable ride of which we were clearly able to admire the iridescent clam and blue sea just below the breathtaking serpentine mountain roads, for at least an hour. Our destination: the seaside Forte Village Resort, located on the very southern tip of the island of Sardinia, close to the small fishing village of Santa Margherita di Pula. Fifty-five acres of aromatic pine forest surround the Forte Village Resort, offering seven luxurious hotels to choose from, ranging from four to six stars.
"The amazing location, the myriad sport and leisure facilities, over a dozen entertaining bars, over twenty
fabulous restaurants, an onsite theater with nightly entertainment, an ice skating ring (!) as well as a unique
Thalasso Spa - make this a vacation paradise as well as a perfect conference destination facility.." ~ TB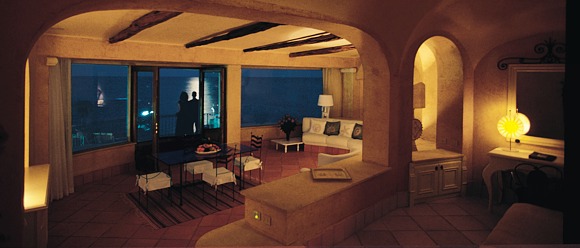 We entered the 'Garden of Dreams' resort through a solid secured stone gate surrounded by palm trees and exotic blooming plants, reminding us of an entrance to a luscious oasis. Soon we were welcomed at the 'Villa del Parco' from where we where escorted to our final destination 'The Cala del Forte', and my elegant suite: # 2010. Most soothing were the earthy colors and feel of my traditionally decorated domicile and my personal butler Fabrizio Usala, who was in two words: "a gem". Fabrizio welcomed me with a delicious glass of Vino Spumante - Torbato and lots of fresh fruits. The views or my exquisite accommodations where of a tropical strip (a mile!) of a private sandy, white beach, evergreen palms, old growth trees and colorful plants, surrounded by turquoise crystal clear, warm water and sunsets to get lost in.
"This dream resort grants complete privacy; its most affluent guests dress casual,
the kind of people that have reached the top and wish no longer to impress." ~ TB
Outdoor breakfast at the Cavalieri was an experience in itself, with birds singing, "field-of-dreams" flowers blooming all around the shady patios. All our wishes were accommodated, and then some. Later that day after we had the pleasure of meeting Managing Director Lorenzo Giannuzzi, the patron, an interesting well-travelled gentleman who has lived and worked all over the world. Giannuzzi's exceptional management skills have made Forte Village to an incessant, international success. After a period as CEO of the world famous Caribbean and Western Atlantic chain in '95 he returned to Forte Village of Santa Margherita di Pula in the position of General Manager and CEO, still acting as Vice President and CEO of the Le Meridien Group for Italy and the Southern Mediterranean.
"Giannuzzi's exceptional management skills have made Forte Village
to an incessant, overwhelming international success!" ~ TB
Soon we were on the way to the Thalasso spa where six seawater thermal baths of varied temperatures replenish the body with essential minerals. Through the relatively high natural sea salt concentration, I kept on floating in the impressive large tubs. The healing waters of the 'Thaermae' are monitored by Cagliari University and pumped from the sea. You bet that we were ready for a great dinner by the time we were done with our spa treatments. May we invite you …
by Edmund & Thorsten Buehrmann

Editor: John Lomitola

Editor-in-Chief: Ingrid Lemme
© 2007 ~ Seven Stars and Stripes, Inc.