Heinz Winkler - Venetian Restaurant - DE
The Oberoi Mauritius
davidburke & donatella, NY - USA
Residenz Heinz Winkler, DE
Air Mauritius - First Class A340
TOKU Restaurant, NY - USA
NEXT: Emirates Palace & Djibouti Palace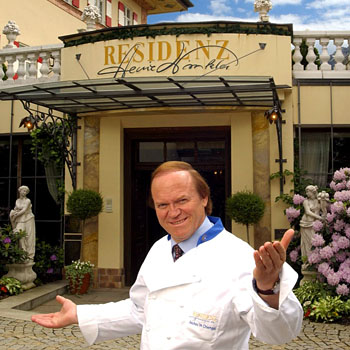 Venetian Restaurant
Aschau im Chiemgau - Germany
Chef de Cuisine: Heinz Winkler

7 Stars and 7 Stripes
As if in a storybook setting nestled between the stately Alps on the border of Austria and the old-world setting of Chiemsee, a grandiose Bavarian lake, is the Residenz Heinz Winkler. The location has all the earmarks of a gourmet 'Heidi-land' featuring the likes of award winning Chef Heinz Winkler, a sort of culinary Mad King Ludwig. His gastronomic creations have earned him numerous awards including 19 1/2 points from Gault Millau out of a possible 20 and a phenomenal 3 Michelin Stars a total of twenty times since opening. I have even seen it listed in Patricia Schultz's bestseller "1,000 Places to See Before You Die". Winkler has arrived it seems, although all those accolades and awards require hard work and preparation to develop the kind of consistency necessary to maintain such a legacy.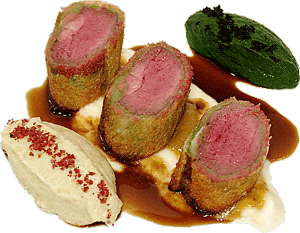 We were invited to the Venetian Restaurant at Residenz Heinz Winkler to see for ourselves and we were not to be disappointed. You could feel the pride, the nurturing and honor of working in a unique setting like this one. All this happiness and expertise is the work of inspired leadership and military-style good training. It was Head Maitre D Fabrice Kieffer who was responsible for my well being during our lengthy review and he too looked content. What could be better than living and working under the tutelage of certifiably the Best Chef in Europe and in the midst of 25,000 bottles of wine with everything from Latour to Lafite, I confessed to Fabrice. He answered Nothing!. After 18 years of ownership, Winkler has established himself at the culinary epicenter of Europe. ...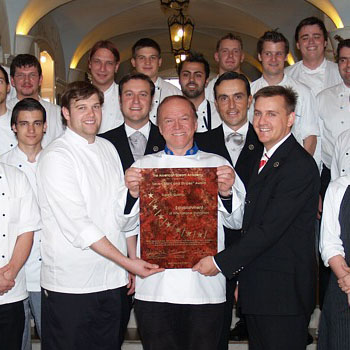 Congratulations to all, from your Guests and from Seven Stars and Stripes:
For your visible commitment to excellence.
For your willingness to be recognized for your latest innovations.
For your devotion to your staff and company.
For your ability to receive.
For your decision to raise the bar.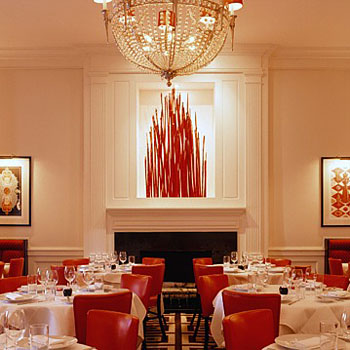 New York City - New York
Chef de Cuisine: David Burke

6 Stars and 5 Stripes
David Burke is an acknowledged culinary genius, with a flare for drama, and the unconventional all on display at the fabulous "davidburke & donatella" Restaurant on 61st Street and the Upper East Side. David partnered with Dona Arpaia, a lawyer turned restaurateur, and opened "davidburke & donatella" to rave reviews in January 2003. Their partnership works beautifully because Dona uses her people and managerial skills to keep the dining room happy, while David creates never before seen culinary fantasies in the kitchen.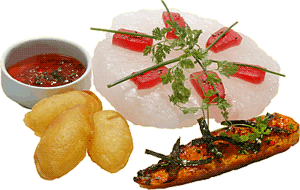 Arriving at the restaurant, we walked down a set of stairs to what once was an Upper East Side town house. The all white front room features a full length bar where power diners from the worlds of entertainment and finance can dine solo from the gourmet menu, or savor a fine wine, or liquor. The front and back dining rooms at both lunch and dinner are filled with the type of people you read about on Page Six, or Boulevard as well as regular businessmen and tourists ...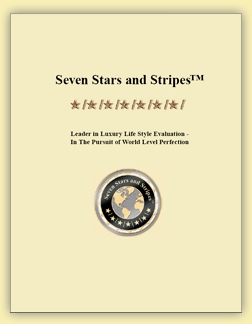 Our Seven Stars and Stripes™ book - 2003 to 2006 world-edition, is still available. Over 300 pages - featuring only the finest establishments and fascinating cuisine art images from around the world. All beautifully compiled in this full-color collector's edition. ISBN# 1-4259-4267-9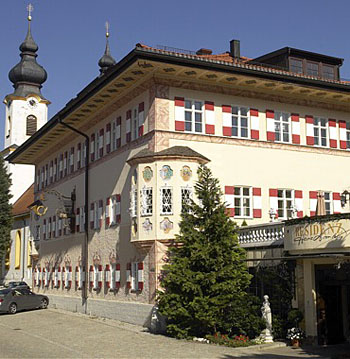 Aschau im Chiemgau - Germany

5 Stars and 6 Stripes
At the airport we were welcomed by two charming ladies. As true gentleman we insisted on lifting our luggage into the already waiting limo. Within less then an hour we arrived at Winkler's Residenz, in close proximity to a fairytale castle of Ludwig II of Bavaria, with the Alps breathtaking backdrop. Check in was a hart warming experience; traditional south German charm accelerating that home spun feeling. We were already adoring the stunning terrace as we explored our room in this one-of-a-kind resort setting. The Winkler Residenz offers an exceptionally maintained and designed health, beauty wellness spa. The VitalResort spa offers a Finnish rock sauna, a Roman sauna, a Kneipp roundel, ice showers, tepidarium, and pool with adjustable counter current.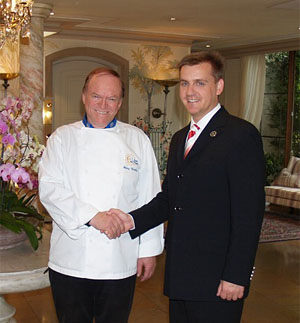 Winkler focuses on what nature has to offer in its simplest form… not only as ingredients for his dazzling cuisine, but also for their powerful anti-aging properties and as a foundation for physical and spiritual well being. The keepers of the inn and their staff seem to be happy and healthy people. This wonderful small inn that features 32 deluxe accommodations of which two thirds are elegant apartments created in 'maisonette' style. The service at the inn may be considered as traditional and charming and by any means a wonderful place not only for a connoisseur's palate. The breakfast at the inn is the kind that will blow your mind, without mattering from what part of the world you have come here to relax. Take a week. ...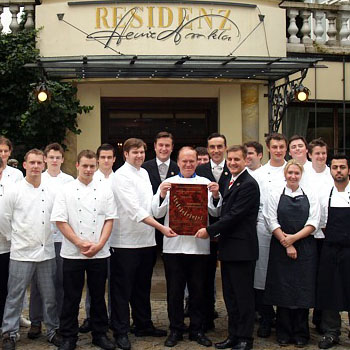 In Next Gazette:
* Emirates Palace - Abu Dhabi, UAE
* Djibouti Palace - Djibout, Africa
In The Press:
* Arrival at The Oberoi Mauritius
| | | |
| --- | --- | --- |
| Dear Friends | | |
Dear Friends, it's hard to believe that it's already November, once again. Unlike the natural seasons we experience each year, the seasons in our lives are not governed by time but by what we have been going through. There are plenty of people who live year-round in a mild climate and are desperate to see falling leaves or feel snowflakes on their faces. For those people, we discovered the charming, historic Residenz Winkler, south of Munich, Germany. Be prepared to taste one of the world's finest cuisines, Heinz Winkler was awarded all 7 'Seven Stars and Stripes' for his cuisine and service, a first in Europe. Or is it that you are craving for a suntan, perhaps over the holidays? We experienced the wondrous, colorful and turquoise water world of the Oberoi Mauritius and their luxurious pristine dream beach resort with the elite Oberoi Spa by Banyan Tree! On this trip, we flew Mauritius Air and little did we know that we would dine divine above the clouds. Or is anyone shopping yet for the holidays? How about New York City? We tasted the superb cuisine of fabulous, chic 'davidburke & donatella restaurant on 61st between Park and Lexington Avenues. Last but not least TOKU, the modern Asian restaurant that was opened last summer at Americana Manhasset on Long Islands Gold Coast. Whatever your plans are, be well, until next month from the Emirates Palace, Abu Dhabi, UAE,
I am yours truly
| | |
| --- | --- |
| | |
| | |
| | Thorsten Buehrmann |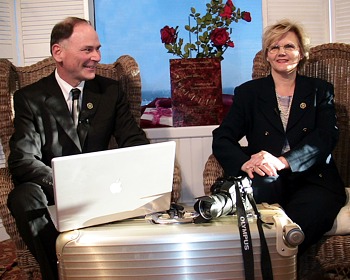 Watch the Seven Stars and Stripes
Award TV Show on
Hamptons Televisions WVVH World-Wide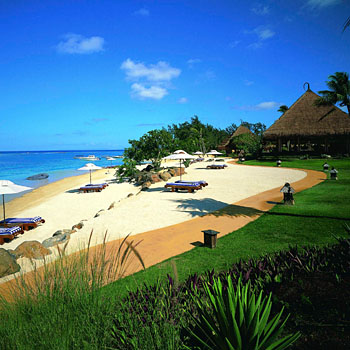 The Oberoi Mauritius

6 Stars and 7 Stripes
The Oberoi Maritius is found along the Baie aux Tortues (or Turtle Bay), along the meandering northwest coast, set in over twenty acres of enchanting, subtropical gardens with two thousand feet of white, wide, sandy Indian Ocean beach. It is still within easy access to the capital city of Port Louis (less then 10 miles away) and relatively close to the small by growing town of Grand Baie. We passed the Oberoi Mauritius welcome building, capturing the feeling of the island and we were kindly acknowledged with honest and open smiles and here again, cool towels were dispensed once again.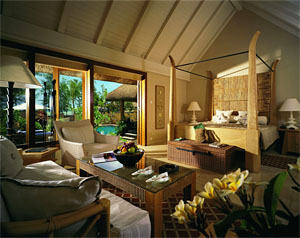 Within minutes we arrived at our accommodations, a luxurious villa with a natural palm-thatched-roof, a private swimming pool and a private pavilion, granting unobtrusive panoramic views of the unspoiled dreamy beach and these hard to describe, azure-blue warm waters of the calm tropical ocean. Our private, romantic villa was the perfect honeymoon accommodation, or "for couples who just need to get away and recharge or rekindle the spark that brought them together" - we agree here with the Oberoi Mauritius' hotel brochure one hundred percent. Relaxing neutral wood tones for furnishings, ceilings, and fabrics contribute to enhance the experience of wellbeing and convey the feeling of closeness to nature though these accommodations are not lacking state of the art technology throughout ...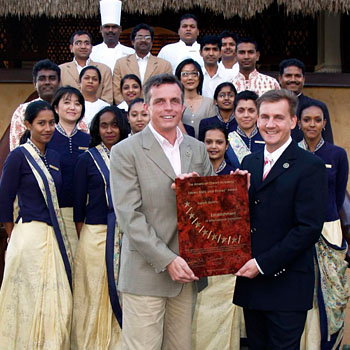 Seven Stars and Stripes Awards for: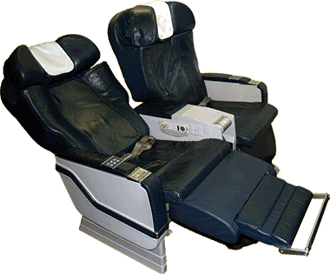 Air Mauritius - First Class - A340

5 Stars and 6 Stripes
On board our flight attendant addresses us in perfect English, the official language of Mauritian but supposedly almost everyone speaks and reads French in the country of our destination. The on-board entertainment system was simple but sufficient. The in-flight cuisine, presentation and service were above and beyond. The menu was presented in a tasteful leather & fabric bound book, carrying the embroidered mythological bird logo. Crossing the Alps by car is too easy compared to this. If you want to get a big kick out of these amazing mountains, you've got to seem them form above. Witnessing a picture so prefect as the Alps from so high that day, kept my adrenaline pumping. An unforgettable view.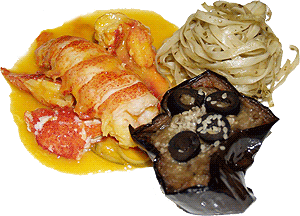 We were started with a choice of delicious canapés followed by a choice of pre-plated hors d'oeuvres. The main courses were then freshly assembled from an open buffet tray-cart and served on elegant, fine china - we truly enjoyed the shelled lobster and the honey glazed duck breast - followed by a selection of international cheeses, fruit basket and delicious desserts. All meals were presented with the outmost attention to detail and superb service while paired with inspiring aperitifs, a sparkling Cuvee and international wines,(some vintage). An assortment of digestives were offered. Very well done! ...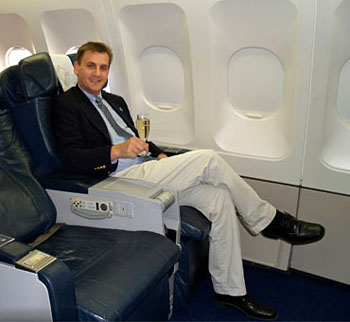 TOKU Restaurant
New York - USA

5 Stars and 6 Stripes
We next were served an assortment of Rock Shrimp Tempura, Pork Buns, and Steamed Sea Bass Roll. These appetizers were followed by an assortment of hot Foie Gras and Pineapple Skewers and a Peking duck Salad. Each course was fully discussed and explained by a well trained waiter/waitress. Our main courses were a mouthwatering "Miso Black Cod" along with cod shishito pepper salad, pickled ginger, and bonito shaving, as well as "Braised short Ribs" with Mushroom Chow Fun. Each dish was presented on fine china and cooked to absolute perfection.
No review of Toku would be complete without a description of the interior design and decorating elements visible at the restaurant... The Polls worked with Designer Paul Bentel, of Bentel & Bentel in Locust Valley, L.I., to help bring to life their vision of converting a simple restaurant interior into modern elegance and sophistication. However, even with its urban chic, Toku is warm and inviting, featuring a spectacular wood and illuminated onyx bar, and comfortable seating. The sleek wood paneled walls have a number of celebrated works of art by Li Jin of China. ...