Tabacón Grand Spa Thermal Resort - Costa Rica
Los Tucanes - Costa Rica
Tabacón Grand Spa - Costa Rica
British Airways - FIRST Class
NEXT: Falling Rock - USA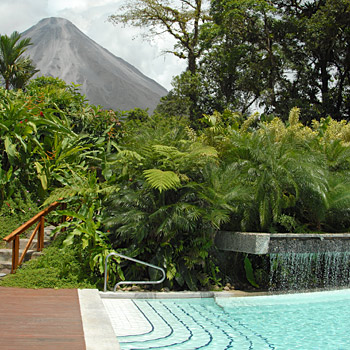 La Fortuna - Costa Rica

6 Stars and 5 Stripes
The Tabacón Grand Spa Thermal Resort is located circa two hundred miles from San Jose, Costa Rica's capital. During our pleasant ride to the resort we were offered exquisite specialties in form of delicious hours d'oeuvres. We arrived at the unique, inviting main-entrance of the resort, decorated, or rather 'naturally surrounded' by the luscious, wild and diverse flora and the sounds of the tropical rainforest. As we emerged from the perfectly AC'd SUV, we were pleasantly surprised by the comfortable level of humidity still in the early rain season. Costa Rica has only two seasons, which are called 'dry' and 'green', affording a mild climate and nice weather pretty much year-round. Besides, we got ...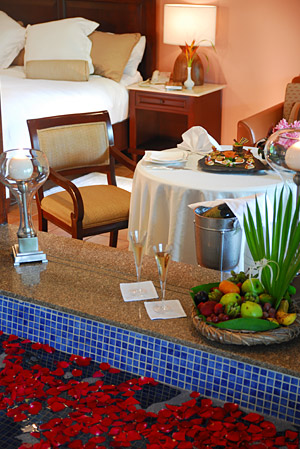 My accommodations were in one word 'handsome' featuring cool earthy floor tiles, dark wooden doors and trimmings. It was so uniquely laid-out that the suite appeared more spacious then it actually was. The bellman familiarized me in decent English with my accommodations and withdrew himself without expectations. The dark wooden furniture and natural fabrics challenged the relaxed colors of the suite. The open air bath facilities and the sapphire blue bath tub created the overall feeling of stylish, comfortably, serenely designed luxury. I dropped my laptop on the desk and here in the jungle of Costa Rica I was within seconds by WiFi connected with the world. Trust me, my Skype conversation with Europe didn't last long, I was too tired. Besides the melodious sounds and oblivious smells of the tropics were demanding my undivided attention. I poured a glass of superbly chilled champagne, nipped on some of the freshly sliced luscious fruits, gazed through the ...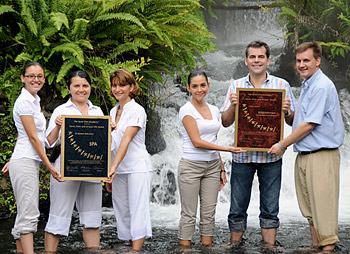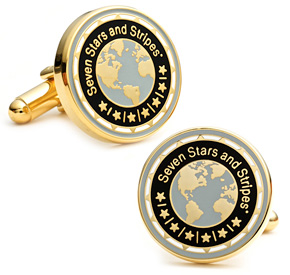 Seven Stars and Stripes Inc. now offers, for the first time, this extraordinary, custom designed 'His & Her Seven Stars Cufflink set. Limited Edition.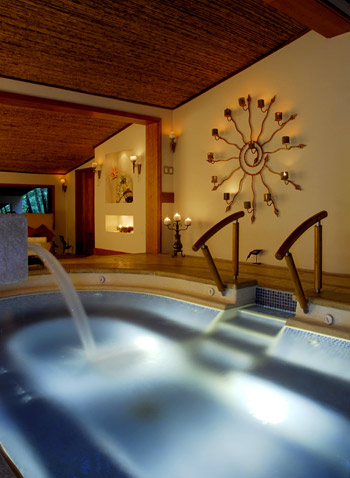 GRAND SPA
La Fortuna - Costa Rica

'Of Global Distinction'
Always seeking new innovations, The Grand Spa introduced the 'Huey Temazcal Aahuatlan', an exclusive therapy based on ancient Mesoamerican rituals, the first of its kind in Costa Rica. It is offered to the public and supposedly it is the only one in the world embedded in the energy of an active volcanic environment. Temazcal is a pre-Hispanic steam bath ritual that is widely used in Mesoamerican cultures, intended as both a spiritual and physical cleansing experience. The experience takes place in a womblike well rounded structure, where energy from the center of the earth and from all four winds is summoned and flows in circular motion in direct relation to the natural elements, which make up this magical place: Earth, Water, Fire and Air. ...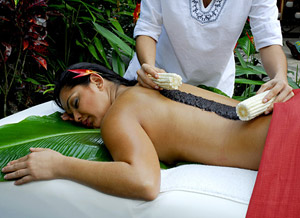 The Tabacón thermal mineral spa, directed by Miss Rosa Paulina Pèrez, earned the Seven Star Spa Award of Global Distinction with full accolades for: Exceptional customer service, genuine and unpretentious personal care that guests receive from the entire spa staff, and especially from Mr. Victor. The exquisitely maintained, natural and eco-friendly facilities. Innovation in development of new therapies and treatments and its one of a kind location. ...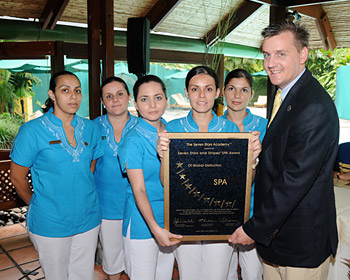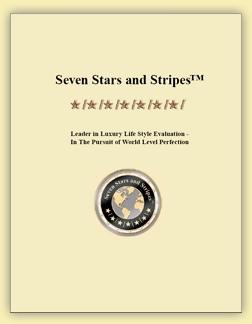 Our Seven Stars and Stripes™ book - 2003 to 2006 world-edition, is still available. Over 300 pages - featuring only the finest establishments and fascinating cuisine art images from around the world. All beautifully compiled in this full-color collector's edition. ISBN# 1-4259-4267-9
Congratulations to all, from your Guests and from Seven Stars and Stripes:
For your visible commitment to excellence.
For your willingness to be recognized for your latest innovations.
For your devotion to your staff and company.
For your ability to receive.
For your decision to raise the bar.
| | | |
| --- | --- | --- |
| Dear Friends, | | |
'Hello again', - this time from the famous Tabacón Grand Spa Thermal Resort in La Fortuna, Costa Rica located near the base of the majestic Arenal Volcano and the Arenal National Park. We expected an exotic paradise and found a Seven Star Spa and then some. It is a magical place, where water, fire, air and earth converge and welcome the one who is in dire need of rest with Mother Nature's embrace, the only one in the world embedded in the energy of an active volcanic environment. The friendliness of the Costa Ricans, Ticos (as they call themselves), besides the beauty of this country full of adventures, make Costa Rica a popular destination for visitors from all over the world. This beautiful Latin American country never fails to amaze us frequent global travelers, and the Tabacón Grand Spa Thermal Resort should be on your short term travel destination list. Nothing I can write will do any justice to the time spent at the Tabacón's Grand Spa. It isn't normally that easy for me to get lost in the moment and forget about the stresses of traveling around the world. On the way back to Europe our experience with British Airways First Class service between New York's Newark airport and London's Heathrow will reveal both world-class plusses and glaring minuses.
I remain yours truly
| | |
| --- | --- |
| | |
| | |
| | Thorsten Buehrmann |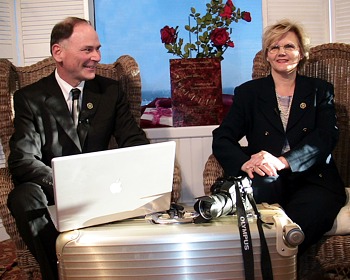 Watch the Seven Stars and Stripes
Award TV Show on
Hamptons Televisions WVVH World-Wide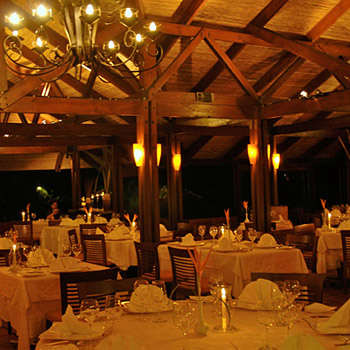 La Fortuna - Costa Rica

5 Stars and 6 Stripes
A second entrée was presented as Lamb Filet and Chop with a sweetened fresh Rosemary Sauce, reminding us of the exquisite preparation and care needed to keep the gamey flavor of lamb under control. Each of the two entrées was offered with a wine pairing of a superb Grand Cru Classé of Chateau Berliquet 2001, decantered in a graceful crystal bottle. It offered a timeless and stylish combination of merlot, cabernet sauvignon and cabernet franc in the perfect proportions leading to an opulent, rich structure with a decidedly black current and vanilla nose. I couldn't help savoring this elegant wine even long after the entrées were finished. ...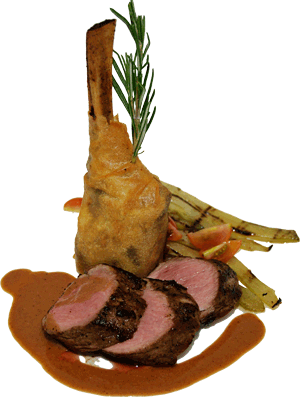 Chef Cortés spent years developing his own unique style loosely modeled after the alta cocina approach putting together international ingredients with ingenuity and panache. Chef Cortés sees himself as a sort of guarantor of utilizing the abundance of fresh local ingredients while applying Old World techniques. In his own words he revealed to us the secret to his incredible love for what he does: "To travel around the world, being in contact with other cultures, is the key for the creation of new recipes," he said. ...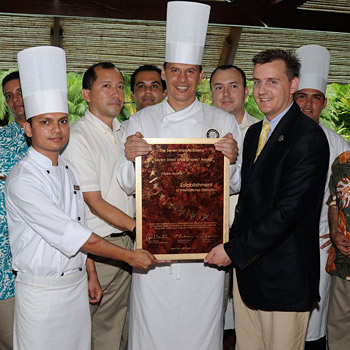 Seven Stars and Stripes Awards for: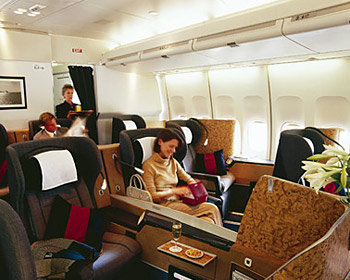 First Class

6 Stars and 5 Stripes
On the other hand, a first class dining facility was in fact available in Newark at the First Class Lounge for those passengers arriving a bit early and not wishing to interrupt their mid-Atlantic slumber with a wake-up call for in-flight dining. There was a three-course dinner with the proper wine pairings available and we took advantage of it since after the long wait in line at Emigrations left us famished. For starters we opted for the Southwestern Corn Chowder, which proved to be tasty with just the right amount of spice to accentuate the thick, velvety soup. The suggested wine pairing was Pouilly-Fuisse, George DeBoeuf 2006, a reasonably good traditional white Burgundy with sourced grapes from the region promising a consistent crisp and refreshing complement. ...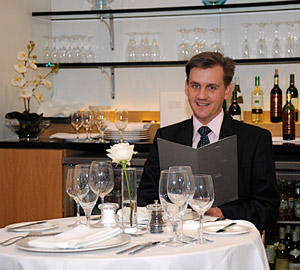 Upon boarding the aircraft, we found the first class compartment spacious, comfortable but seriously outdated. The antiquated entertainment system looked only slightly better when one compared it to some of the earlier Star Trek television shows. Macadamia nuts were promptly offered by a pleasant, friendly and ever present cabin crew. After take-off, a delightful Lobster Bisque was part of the menu and we took note of its delicious flavor but for the first time we were more interested in falling asleep than eating since we had already dined at the terminal. Before getting ready for bed I decided to try out the comfort factor of turning neighboring first class seats into a semi-private dining venue. Team member Edmund joined me in the opposite facing seat so that we could simulate eating together but were disappointed with the reality that you had to be quite slim to enjoy company for dinner. We did see that the bread was served using the proper utensil, a pair of tongs (not like BA's Business Class), while the wine was opened improperly when the flight attendant cut the foil too close to the rim of the bottle, allowing flavor contamination ...
In Next Gazette:
* Falling Rock, PA - USA
In The Press:
* Tabacón Grand Spa Thermal Resort -
AWARD-Hand-Out on National TV